De La Vega's Pecan Beer
| Sierra Blanca Brewing Company (Rio Grande)
BA SCORE
83
good
14
Reviews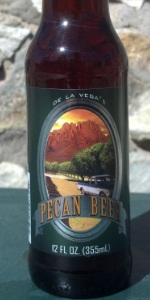 BEER INFO
Brewed by:
Sierra Blanca Brewing Company (Rio Grande)
New Mexico
,
United States
sierrablancabrewery.com
Style:
American Brown Ale
Alcohol by volume (ABV):
5.39%
Availability:
Year-round
Notes / Commercial Description:
No notes at this time.
Added by LXIXME on 06-07-2012
Reviews: 14 | Ratings: 45
3.48
/5
rDev
-3.1%
look: 3.5 | smell: 3.5 | taste: 3.5 | feel: 3.25 | overall: 3.5
Thanks to Eric for sharing this!
Served in a tumbler glass.
Bright amber color, thin layer of foam on the surface, spotty lace around the edges. Sharp clarity with some trails of carbonation rising through it.
Smelled a lot like movie theater popcorn for some reason, also nutty.
Taste was more in line with the name, discernible pecan flavor, nutty with a brief malt sweetness, and clean dry finish. Light to medium bodied with ample carbonation. If you're crazy about pecans, go nuts, otherwise it's just your average novelty beer.
540 characters

3.09
/5
rDev
-13.9%
look: 2.5 | smell: 3.5 | taste: 3 | feel: 3 | overall: 3
Poured from about an inch above the glass gave this clear reddish brown colored beer a medium sized well bubbled head that fell quite quickly into no lacing what-so-ever.
Sweet roasted caramel malts and pecan aroma dominate.
Sweet roasted almost burnt caramel malts and sweet pecans in the taste of this medium bodied beer.
The aftertaste is a very light dry with a little bit of the pecan and malt hanging around.
Tastes like Newcastle Brown Ale with pecans mixed in, cool for something different but not really anything special.
542 characters

2.84
/5
rDev
-20.9%
look: 3 | smell: 3.25 | taste: 2.5 | feel: 3.25 | overall: 2.75
Attractive amber color but barely a touch of foam. Fairly spritzy in the mouth.
A fruity and peculiar flavor greets the tongue. Sort of a tomato soup taste. A little malt makes an appearance. Some faint touch of hops. Rather anemic even for a Brown Ale. A little buttery with a dishwater finish. A touch of watered-down sweet vermouth.
From the 12 oz bottle bought at Jubilation Fine Wines in Albuquerque.
407 characters

3.33
/5
rDev
-7.2%
look: 4 | smell: 3.5 | taste: 3 | feel: 3.5 | overall: 3.5
Shared tonight with Mark, thanks for the opportunity.
Pours a deep amber color with a smallish off white head that dissipates rather quickly. The aroma is obviously nutty, but to say it was pecan would be a stretch. Sweet caramel and toffee as well as just a hint of earthy hops round out the nose. The flavor is sweet and sugary with a caramel and nutty taste. Medium body with a moderate level of carbonation and a sweet slick mouthfeel. This is an interesting brew that I'm glad that I got to try, although its not something that I think I could drink very much of or very often.
582 characters

3.56
/5
rDev
-0.8%
look: 3.5 | smell: 3.75 | taste: 3.5 | feel: 3.5 | overall: 3.5
Poured into a Seattle Beer Week pint glass. Pours a medium to dark coppery brown with a thin, slightly off white head that dissipates quickly to faint patches. Aroma is almost pure pecan with little malt. Flavor is mildly bready malt, pecans, hint of caramel. Finish is nutty and lingering with light grassy hops. Light bodied with peppery carbonation that seem over carbonated, probably due to the light malt. The pecan flavor in this ale is nicely done and tastes like genuine fresh pecans. Like the chili beer from this brewery I tried last night, it is quite one dimensional. Fortunately the nutty flavor is able to support interest even with a mild malt body and this is more enjoyable than the chili beer, which had great chili taste but mediocre malt interest. Delivers the pecans it promises, but an otherwise forgettable brown ale.
840 characters
3.11
/5
rDev
-13.4%
look: 3.25 | smell: 3.5 | taste: 3 | feel: 2.75 | overall: 3
Bottle from Whole Foods. Sweet brown ale with nice heady, nutty aroma. Pours out a caramel brown with soft soapy head. Nuts are mostly in the aroma, in the taste it just comes across as maple sugar sweetness. Finishes quick, leaves nothing to remember it by.
258 characters

3.92
/5
rDev
+9.2%
look: 3.5 | smell: 4 | taste: 4 | feel: 3.5 | overall: 4
Clear dark amber to light brown colored beer with a small tan colored head.
Smell is unique. Very strong toffee and butternut squash scent. Extremely nutty smelling. Strong aroma of toasted pound cake with some pecan aroma. Smells like a dessert.
Starts out sweet and buttery with a strong nut flavor. Taste like a pound cake with nuts. Strong taste of cake and vanilla along with nuts. A unique flavor to be sure.
Mouthfeel is good.
Interesting beer. I suggest you try it but don't try and drink a whole six pack of it. A Tasty dessert beer.
547 characters
3.78
/5
rDev
+5.3%
look: 3.25 | smell: 4 | taste: 3.75 | feel: 3.75 | overall: 3.75
Brown and Murky in color and appearance. Smells like toasted almond coffee. Nutty. Hmmm. Creamy. Kind of like a cream soda beer. Fairly dry. Not bad at all.
157 characters

4
/5
rDev
+11.4%
look: 4 | smell: 4 | taste: 4 | feel: 4 | overall: 4
Pours a clear light brownish pecan wood color with off-white head. Smells like candied pecans; follows onto the palate. Medium bodied. Finishes with pecan nuts, caramel sweetness, and some bread.
195 characters
3.37
/5
rDev
-6.1%
look: 4 | smell: 3.25 | taste: 3.25 | feel: 4 | overall: 3.25
A-medium amber color with a nice off-white head and good lacing
S-heavy pecan aroma, little malt, brown sugar
T-malt, brown sugar, pecans, mild bitter finish,
F-medium body with moderate carbonation, crisp
O-interesting ale, but pecan flavor overwhelms and has a bit of an artificial taste to it
300 characters

3.66
/5
rDev
+1.9%
look: 3.5 | smell: 3.75 | taste: 3.75 | feel: 3.5 | overall: 3.5
On tap. Nut brown color with a small head that leaves a small ring of lacing at the very top of the glass. Aroma of earthy malts with candied pecans. Taste is similar to aroma: Nutty malt makes the body with a caramel and candied pecan finish. The aroma and taste are fairly sweet, even for a pecan ale. Medium body with medium carbonation. No alcohol aftertaste but there is definitely a slightly syrupy aftertaste. It's definitely a dessert beer.
Overall, it's an interesting beer. It's definitely pecan flavored and is a sweet nuttiness that falls somewhere before pecan pie. I was done with it after one, but could definitely drink more if I was in the mood for something sweeter.
690 characters

4.25
/5
rDev
+18.4%
look: 3 | smell: 4.25 | taste: 4.5 | feel: 4 | overall: 4.25
A: Reddish brown with a 1/2 inch off white head, spotty lacing
S: Nutty Pecan pie, caramel, toast
T: Sweet candied pecans up front, gives way to a nutty bread malty flavor, the pecan stays in the aftertaste
M: Medium
O: Great beer in my opinion. Just as advertised with the pecan flavor really coming on strong. I for one am a fan of a sweeter dark beer like this one and I enjoyed it immensely.
406 characters
4.9
/5
rDev
+36.5%
look: 5 | smell: 5 | taste: 5 | feel: 4.5 | overall: 4.75
It starts out like a pecan bread flavor and then hours down smooth with a bit of a creamy feel to it. Fuller like a bock, but very refreshing on even the hottest summer days.
174 characters

4.31
/5
rDev
+20.1%
look: 4 | smell: 4.25 | taste: 4.5 | feel: 4 | overall: 4.25
There is an overwhelming pecan flavor that, if you were on a mission for a pecan beer, is exactly what you were looking for. It's extremely smooth, with a bold, organic color. It has a balanced, manageable head. Overall it's a fantastic flavored beer that I would have no qualms with enjoying in excess.
303 characters
De La Vega's Pecan Beer from Sierra Blanca Brewing Company (Rio Grande)
3.59
out of
5
based on
45
ratings.