Brewery Terra Firma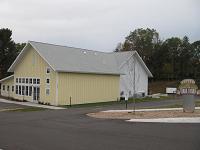 PLACE INFO
Type:
Brewery, Bar
2959 Hartman Rd
Traverse City
,
Michigan
, 49685-8838
United States
(231) 929-1600 |
map
breweryterrafirma.com
Notes:
No notes at this time.
Added by jt31914 on 08-08-2013
Reviews: 8 | Ratings: 37
3.82
/5
rDev
-4.7%
vibe: 3.75 | quality: 3.75 | service: 4.25 | selection: 3.5
Just south of the city and not far from my hotel. Would of liked to have walked there but it was too far and too dangerous to walk on dark roads. Not really in the country but in an area where the large houses occupy. Plenty of parking as it was a slow weeknight. Maybe 6 other cars in the lot. Nice looking building and property that gives a bit of country feel. A couple people were working and they were friendly and helpful. Had a couple nice conversations with them. No TVs so people are either talk to each other or fiddling with their phones. Selection was a little disappointing. Just a few pale ales and IPAs were on but all were solid. I guess people drank them out of everything else.
695 characters

3.79
/5
rDev
-5.5%
vibe: 3.5 | quality: 3.75 | service: 4 | selection: 3.75
Nice big place, clean and well taken care of by staff. Music is from the owner's massive vinyl collection. Just thought that was cool. At the time I visited, they had about 12 of their beers tapped plus 4 guest taps. Decent variety. Quality of the beers were anywhere between mediocre and good First, but I'd bet this could be a great place to bring non-craft fans as well.
380 characters
3.6
/5
rDev
-10.2%
vibe: 3.75 | quality: 3.5 | service: 3.25 | selection: 4
I had 3 different beers while I was here and while none of them were lacking in flavor, all of them were lacking in body and almost felt/tasted watered down. They have a large selection of beer on tap with well over 20 different beers on when I was there. Service was so-so as I had to keep reminding the bartender to bring me the 3rd beer I order which took him around 15-20 minutes to get it to me when I was sitting right in front of him at the bar. I will visit them again, but really hope that they are able to brew their beers with more body/balance to match the flavor profiles that they produce
602 characters

3.89
/5
rDev
-3%
vibe: 4 | quality: 3.75 | service: 4.25 | selection: 4 | food: 3
Started our tour of TC breweries here with a group of 8 near 11am. Place was not overly busy and we were helped out very promptly by the bar manager who was very knowledgeable and friendly. He explained that they did not have any flights but the $1/3oz. pours that came in the very cool wheel of 8 seemed like a flight to me and at a great price($1.50 I think for 3oz 8%abv or higher). Most of the beers were very good but lacked a solid mouth feel. I liked the Kharma IPA the best and would recommend staying away from the Basil beer(very heavy on basil). Not much for food options other than snacks. Overall a very nice place and will look to return when in the area.
669 characters
3.79
/5
rDev
-5.5%
vibe: 3.5 | quality: 3.75 | service: 3.75 | selection: 4
I like the idea of Brewery Terra Firma. I think it's righteous, and just. I'd like to think more breweries will adopt this approach in the future, and vertical integration of materials is a no brainer.
We rolled up after dark, which I regret because I didn't get a great lay of the land, all I saw was an old school barn in the back and this yellow farm style building near the road.
Building was a new, pole barn/timber frame style buidling...The building itself was likable, but at this point there wasn't much going on inside that would set atmosphere very well. The dry wall walls were empty and cold feeling...And I realize they just opened.
We had a sample platter split up among the four of us, so we all got to try a little bit of everything. The Double Dutch Chocolate Ancho Porter or whatever it was tasted pretty good, had a nice nose on it. I personally liked the IPA, and I was the only one from our group. I thought it was very well rounded and drinkable. The Beet beer was extremely interesting and tasted unique as well.
This is a place I would definitely revisit. Maybe the vibe was just off for me at the moment, not sure. Liked what they were doing, and will make it a point to revisit.
1,209 characters

4.06
/5
rDev
+1.2%
vibe: 4.5 | quality: 4 | service: 4 | selection: 4
My wife and I stopped here as part of a pub crawl in northern Michigan and the UP to visit the newer places (plus several others) that have opened since our last trip to this area. This brewery opened in July 2013, but for a new brewery they have things started very well. This is a nice semi-rural location for a new building (I had a feeling of being in Belgium or France for some reason, although the brewery does not specialize in beers from Europe), and all of the beers are brewed as if an experienced brewer is at work. Actually, an experienced brewer is at work here, and he has 20+ years brewing, most recently at Right Brain Brewery here in Traverse City.
This was a weekday mid-afternoon visit and they were not busy at that time so we were able to sit at the bar, and we ordered a 6-glass sampler flight (3 oz. glasses that vary in cost from $1 to $1.25) out of the 15 beers that were available that day. The other beers all had good-sounding descriptions in the beer list, so it was a tough decision to make our choices. We chose styles that we generally like, and we liked all of these that we chose. The individual grade scores that we assigned to them ranged from a B+ to a B- so these scores are indicative of a very good start for this new brewery.
There is no food available here (although they are food friendly), and it does not sound like the brewery has any interest in ever adding a kitchen, so some packaged snacks were all that was available. Weather-wise it was a chilly, rainy day, so we couldn't go outside to the patio at the rear of the building. It looked like a great place to spend a sunny afternoon drinking the beers that are available at this brewery. We'll be back again to enjoy the other brews that we didn't have time for on this trip.
1,785 characters

4.29
/5
rDev
+7%
vibe: 4.5 | quality: 4.5 | service: 4.75 | selection: 4 | food: 3
I only went to this place once and I thought it was a really friendly relaxing place. I do not remember any food being there. I tried two servings of a beer called the Lizard King which is a black IPA that was very hoppy and had hints of yummy dark chocolate. It was basically a chocolate IPA and I loved it. The service was really good and the waiter told me about some beers and said my choice was a very good choice. This place is a little out of my way and wish it was in a better location, but I will go back to this place. It was recommended by a friend that knows the brewmaster and I am very glad I listened to his recommendation.
638 characters
5
/5
rDev
+24.7%
vibe: 5 | quality: 5 | service: 5 | selection: 5
I heard about Brewery Terra Firma after a trip to 7 Monks and just had to check this new Traverse City Brewery out. After visiting, I want to find a way to dock the brewery from a perfect score, but I can't think of one part of the experience that wasn't outstanding!
We arrived and found the atmosphere to be great! Very relaxing, beautiful beer related art work lines the walls.
The service was great! We were waited on by Josh, who I have to assume is some sort of manager for the brewery. He was very friendly, but not overly forceful with the conversation, and was very helpful while we tried our brews. He explained to us how the brewery will be fully sustainable, and how they plan to use the large plot of land surrounding the brewery to farm all of the materials that will be used in house.
The beer was exceptional. Outside of my trip to Short's, this was definitely the best brew I tasted in town. I had a sampler of all 9 beers on tap at the time (for $1 per sample, which is infinitely cheaper than the $15 sampler at Right Brain), and all were delicious. My favorites were the Ancho Chile Chocolate Porter, Vanilla Porter, Nut Brown and Pale ale. All of the beers were very well crafted and had perfect balance - the flavors were natural and full but not overdone.
I loved Brewery Terra Firma! I went there with modest expectations, and ended up loving the beer so much I had to take a growler home for my family to try. Great beer, great service, great atmosphere!
1,483 characters
Brewery Terra Firma in Traverse City, MI
3.72
out of
5
based on
192
ratings.