Cocoa Cow

Sunriver Brewing Company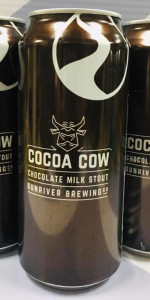 Rate It
Beer Geek Stats
| Print Shelf Talker
Style:

ABV:

7%

Score:

Avg:

4.17

| pDev:

7.67%

Reviews:

15

Ratings:

From:

Avail:

Rotating/Seasonal

Wants

Gots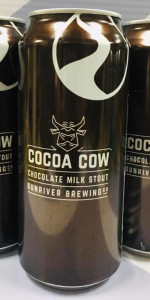 Notes:

barnzy78 from Illinois
3.99
/5
rDev
-4.3%
look: 3.75 | smell: 4 | taste: 4 | feel: 4 | overall: 4
16oz can, purchased at the Tillamook Creamery
PKG 5/6/21
L: very dark brown stout; thin tan head
S: chocolate, cream, cacao nibs
T: sweet milk chocolate & lactose, vanilla, caramel, grain, modest earthy hops
F: fuller body, ample carbonation, sweet yet quite balanced finish
O: this was enjoyable; I expected it to be too sweet but it wasn't
Monday at 04:07 AM

DanBrenda from Washington
4.51
/5
rDev
+8.2%
look: 4.5 | smell: 4.75 | taste: 4.5 | feel: 4 | overall: 4.5
We got these as singles and was our favorite for a while. We got four single tall cans, chilled and poured into an imperial pint glass.
Look: dark brown, almost black. Small finger sized tan head, Great lacing as we drank
Smell: chocolate (syrup, think Hershey's syrup) and notes of vanilla
Taste: sweet on the front, followed by heavy chocolate (Hersey's syrup flavor-ish) with hints of vanilla. Very slight bitterness on the back of the tongue that sticks around a bit
Feel: medium body, not syrupy at all. Nice carbonation that sticks around as it warms.
For a while this was one of our favorite go to desert types of beers because it is a smooth drinking, chocolate and vanilla beer that is light in body and refreshing. As it warms we get a tad more vanilla and love the look of the beer as we gulp the chocolates sweet goodness. Cheers everyone!
Jan 27, 2021

RyanK252 from California
4.14
/5
rDev
-0.7%
look: 4.25 | smell: 4 | taste: 4.25 | feel: 4.25 | overall: 4
Can poured into a Mountain Rambler Brewing Co pint glass
A: Pours dark brown with a slight mahogany tone and a frothy tawny brown head that settles to a light layer and leaves a little nice lacing.
S: Roasty, rich chocolate fudge, vanilla, a hint of earthy char, faint dark fruit, graham crackery malt, and caramel sweetness.
T: Big chocolate fudge dominates, vanilla, roasty, just a bit earthy, a touch of spice, faint hints dark fruit and herbal notes, graham crackery malt, and sweet cream (caramel + lactose) sweetness.
M: A bit on the fuller side of medium body, moderate carbonation, definitely got some creaminess happening.
O: A little on the sweet side (though not cloying), but a damn good chocolate milk stout none the less. Kinda feels like a bumped up version of Samuel Smith's.
May 11, 2020

Scotchboy from Idaho
4.34
/5
rDev
+4.1%
look: 4 | smell: 4.25 | taste: 4.25 | feel: 4.25 | overall: 4.75
16oz can into a pint nonic.
A: Fairly dark and opaque brown with minimal red highlights along the edge of the glass. Foamy khaki head collapses onto itself and laces OK.
S: BIG chocolate notes. Authentic, sweet cocoa. Creamy lactose as well. Underlying molasses, roasted malt, maybe a hint of caramel/vanilla but this is mostly chocolate milk.
T: Doesn't disappoint. Creamy milk chocolate, sweetened coffee with cream, roasted chocolate malt, molasses/tootsie roll, Hershey's bar...not over-the-top cloying, but pretty darn dessert-y bordering on decadent.
MF: Creamy, smooth, sweet, and very drinkable.
O: LOVED this one, for a chocolate milk stout the flavors were spot on and authentic. Big flavors and still approachable.
May 09, 2020

MaltsOfGlory from Oregon
4.47
/5
rDev
+7.2%
look: 4 | smell: 4.5 | taste: 4.5 | feel: 4.5 | overall: 4.5
16oz can
Pours a small finger of tan head into my nonic, retention is average. Initial lacing looks nice. Body is pitch black. Fine so far.
Nose is wonderful. Chocolate, vanilla, a little roasted malt, maybe a hint of cinnamon, some more chocolate. Smells very clean and not cloying.
Flavor is great, maybe a hair less potent than the nose. Chocolate, a smooth dose of milk (or lactose, whatever). Very faint roast. Cinnamon starts to manifest as graham cracker as it warms. Some more chocolate lingers in the finish. Not gross at all, indeed very clean. Fantastic.
Mouthfeel is also amazing. Carbonation is medium-low. Feel is silky, velvety, with a medium-light body. Sweet, but not at all cloying. Bitterness is only barely present in the finish.
Drinkability is great. This is damn tasty.
Appearance turned out pretty good. Kinda a lackluster start, but the lacing was thick all the way down.
Overall this is super yummy, flavorful, clean, and maybe most importantly - not cloying.
May 05, 2020

colts9016 from Idaho
4.34
/5
rDev
+4.1%
look: 4.75 | smell: 4.5 | taste: 4.25 | feel: 4.25 | overall: 4.25
I tried reading the date on the bottom of the can, no luck. The bottling date on the can is an Egyptian Hieroglyphic. I was looking over the selection of beer, and this sounded delicious. The beer released a delightful hiss as I popped the top. The pour of the beer produced a mammoth three finger head. The retention of the head is excellent and left lacing on the glass. A creamy and airy tan head topped the beer. The color of the beer is SRM 32. The beer is a lovely dark appearance.
The initial aromas in the beer are milk chocolate, coffee, dark roasted malts, and milk. Next, I smell molasses, cereal, caramel, char, and toffee.
The initial flavors in the beer are milk chocolate, coffee, dark roasted malts, oats, cream, molasses, cereal, caramel, char, and toffee.
The mouthfeel of the beer is creamy and silky.
The body of the beer is medium-plus, low carbonation, and a fuller finish.
This milk stout is phenomenal. The flavors blend seamlessly in even harmony. The back end of the beer, I get bittersweet chocolate and char. I enjoy the creamy mouthfeel, making the beer elegant. I am surprised by this beer and well made it is. It is a must-try for any stout lover.
Feb 10, 2020

NickSMpls from Washington
4.2
/5
rDev
+0.7%
look: 4 | smell: 4.5 | taste: 4 | feel: 4.25 | overall: 4.25
Exceptionally vibrant aroma of chocolate chips rise from a rich, dark brown pour capped with a dense light-brown head. It's chocolate milk for grown-ups. Sweet, of course, but not cloying. Pronounced mouth-feel, light carbonation. Normally, we're particular about our stouts and don't care for those that stray too far from the stout form, but we've made an exception for this.
Dec 21, 2019
StonedTrippin from Colorado
4.24
/5
rDev
+1.7%
look: 4 | smell: 4.25 | taste: 4.25 | feel: 4.25 | overall: 4.25
i have seen a lot of this thing come around lately, but this is in an entirely higher class than most of them. really one of the better beers in this style in the game right now, i knew it would be good, these guys always make nice beer, but it surprised me in its excellence, really its way ahead of the curve. its sexy and chocolatey and almost erotic, something to keep in mind for valentines day, it has that sort of regal character, almost a guilty thing to me right away. i think its greatest success is how forward the cocoa is without this ever being sugary, even in the middle. its got to be real nibs, very natural and forward, fudge-like but also earthy and bitter, decadent without being diabetic, hard to do, and they have nailed it! maybe a little lactose, but its more a feel thing than a flavor one, its smooth and slick and creamy to me, without being syrupy or staying too long on the palate after the swallow. the complexity is minimal, its just chocolate, sturdy grain, and a little bitter roasted element, almost more impressive that way than all done up. the chocolate character in this is just amazing, its rich and forward and honest, and it makes this beer. tons and tons of these in the market now, but this is head and shoulders better than most of the others i have had. really maybe the best beer these guys do in my experience. elite level, amazing chocolate profile, easy drinker for the style. bravo!
Nov 29, 2019

bobv from Vermont
4.15
/5
rDev
-0.5%
look: 4.25 | smell: 4.25 | taste: 4.25 | feel: 3.75 | overall: 4
16 oz. can.
Canned 10/02/19.
Moderate pour yields a light to medium tan head over a very dark brown body with nice lacing. Nose of cocoa, malted milk, milk chocolate, and a bit of dark chocolate. Taste of dark chocolate, milk chocolate, chocolate milk, and not too sweet. As it warms a bit there are dark malts coming through and even a slightly nutty flavor. Nice feel, although it is slightly thin, and a tad greasy...sort of...maybe. Overall, you've got your alcoholic chocolate milk right here! I would recommend and certainly have again.
Cheers!!!
Oct 24, 2019

Jwale73 from Rhode Island
3.83
/5
rDev
-8.2%
look: 4 | smell: 4 | taste: 3.75 | feel: 3.75 | overall: 3.75
16oz. can served in a tulip. Pours one shade shy of black with a loose, quarter inch, khaki-colored head that quickly disperses towards the edges. Nose gives off a bit hit of cocoa upfront, followed by hints of lactose. Taste consistent with nose; however, flavors come off a little artificial and there's some roast and char towards the backend. Mouthfeel is light in body with a mild, even carbonation. Overall, a decent milk stout; however, nothing particularly stands out. A fuller mouthfeel would enhance this beer in my opinion.
Oct 17, 2019
Imani
4.44
/5
rDev
+6.5%
look: 4.5 | smell: 3 | taste: 5 | feel: 5 | overall: 4.75
Thick and creamy, this beer pours more like a chocolate egg nog than a beer. A rich frothy head and gentle flavors of sweet cream, vanilla and cocoa will leave you satisfied and wanting to pour another.
Oct 03, 2019
DaveMaciolek21 from New Jersey
3.02
/5
rDev
-27.6%
look: 3.25 | smell: 3 | taste: 3 | feel: 3 | overall: 3
Interesting concept--a beer that plays like chocolate milk. Ghana cocoa nibs, chocolate and caramel with milk sugar really do make this more chocolate milk than beer. If that's what you really want to do.
Mar 14, 2019

NotAlcoholicJustAHobby from Vermont
4.09
/5
rDev
-1.9%
look: 4.25 | smell: 4 | taste: 4.25 | feel: 3.75 | overall: 4
L-The beer pours smooth and black with a 3 finger tan head. The head recedes to a thin film with a large central island. Lacing is strong and rings the glass.
S-The nose is sweet and chocolatey as the is befitting a "chocolate milk stout".
T- While the nose is primarily sweet, on the palate the beer is far more balanced. It starts out with some expected sweetness, but transitions to a more dark chocolate aspect. Some milk stouts can venture into an almost sour like taste due to the lactose, but this one never quite gets there which is fine with me.
F- Mouthfeel is on the lighter side of medium for which I give it a slight mark down. Carbonation is adequate, almost straying a little over where I would want it.
O- A very good example of a milk stout that is neither too sweet or overdone on the lactose. Despite a slighty thin mouthfeel I would recommend it to those concerned about the style being cloying and as well as overall.
Feb 26, 2018

Ghrymm from Canada (BC)
4.05
/5
rDev
-2.9%
look: 3.75 | smell: 4.25 | taste: 4 | feel: 4 | overall: 4
2017 Bottle 1 pint .9oz. This years is 7% ABV 28 IBU.
A super rich chocolate milk stout with a bitter hop kick to it.
A wonderful chocolate/coffee/toffee nose a fairly heavy body with a thick creamy mouth feel.
Well done.
Feb 01, 2018

Lone_Freighter from Vermont
4.62
/5
rDev
+10.8%
look: 4.25 | smell: 4.75 | taste: 4.75 | feel: 4.25 | overall: 4.5
Bottle poured into a nonic pint glass.
The appearance was a thick mostly dark brown almost black color with an eggshell white to almost tan foamy finger's worth of white head. Lace looked spectacular - the knitting of the spider web stuck finely to my glass and didn't seem to look like it was going to be shaken off of it at any point during my consumption.
The aroma had an absolutely wonderful blend of sweet milk cocoa powder projecting it's sweet yet mildly roasty cocoa bean-like quality about it. Sly bitter ends of the cocoa beans. Even a slighter touch of that sweet espresso-like quality seemed to really wrap exceptionally fine in and around the cocoa bean features.
The flavor leaned towards the sweet side like a "milk/sweet stout" should but allowed a really nice balancing roasty to even-stilled bitterness of the coffee/espresso-like character coming in as it does that seemed to hit the right "spot" in me. Very nice aftertaste of the milk chocolate and roastiness with that underlying even-killed bitterness.
The mouthfeel was about medium bodied, but a slight touch under yet still seemed a bit "heavier" than a bunch of other "milk/sweet stouts" that I have had. Carbonation felt good - somewhat mild, but there. ABV felt on par from the brewer. Finish was semi-sweet with a stifled bitterness and a sly roastiness, slight stickiness but really nice.
Overall, where did this come from? So many "milk/sweet stouts" on the market that become cloying in the feel and overly sweet in their aromas and flavors, but this one? Nope, not there. I believe I may have found a real gem in the "milk/sweet stout" wilderness.
Jan 07, 2018
Cocoa Cow from Sunriver Brewing Company
Beer rating:
91
out of
100
with
58
ratings