Gravel Bottom Craft Brewery & Supply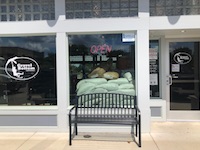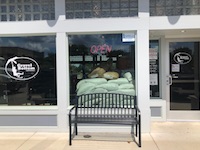 Brewery, Bar, Homebrew, Beer-to-go
418 Ada Dr SE
Ada
,
Michigan
, 49301-9105
United States
(206) 403-8563 |
map
gravelbottom.com
Notes:
Reviews by Danielr26:

More User Reviews:

Cotton_27 from Michigan
3.75
/5
rDev
-10.7%
vibe: 3.75 | quality: 3.75 | service: 3.75 | selection: 3.75
Jan 27, 2016
AdamSteve from Michigan
4.57
/5
rDev
+8.8%
vibe: 4.5 | quality: 4.5 | service: 5 | selection: 4.25
Jan 12, 2016
Shaskins80 from Michigan
4.13
/5
rDev
-1.7%
vibe: 4.5 | quality: 4 | service: 4 | selection: 4.25
Cool place, great home brew gear, and an on site brewery. Good beers. Very knowledgeable and helpful staff
Apr 09, 2015

archiebunkerjr from Michigan
4.35
/5
rDev
+3.6%
vibe: 4.5 | quality: 4.5 | service: 5 | selection: 4 | food: 3
I stopped by Gravel Bottom after dinner tonight with my wife, my brother and his wife. I'm glad we did. If I was to have a little brewery set up shop close to my house, I would want it to be just like Gravel Bottom. The three different beers that we had at our table were all solid. I noticed a growler sitting on a table but the taplist did not include growler prices. However, it did include prices for howlers. I think all of the six beers available were priced at $5.50 for a pint and howler fills were $7.00. A hair on the pricey side but like I stated already, they were very solid beers.
Mothergoose's review of Gravel Bottom is spot on. There is comfortable seating for approximately 30 to 40 inside the brewery. There were four to six picnic tables outside the brewery and there were a few people using them tonight when we arrived. Despite the smaller inside area and the fact that most of the chairs were filled tonight, it was not loud. I liked that. They had a 50 or 60 inch flat screen TV but it was not on. I like that too. If there is a big ballgame on, I appreciate being able to watch it. But if there isn't, I don't want some loud obnoxious TV running. They also had some board games available along with some cornhole boards and washer boards that could be taken outside.
The only food available at Gravel Bottoms was peanuts and something called hot and sweet popcorn. There was a small chalkboard near the door that listed nearby restaurants that would deliver to Gravel Bottoms. At least two or three of these restaurants are within a couple hundred yards so it wouldn't take much time at all for someone to deliver.
The service was very attentive. I didn't get a chance to get chatty with the gentlemen working behind the bar but they were on top of their game for us. I will definitely stop by Gravel Bottoms again.
Aug 09, 2014

PapaGoose03 from Michigan
4.31
/5
rDev
+2.6%
vibe: 4 | quality: 4.75 | service: 4.5 | selection: 3.75
I stopped here to try the beers of this new brewery (opened Sept, 2013) with my wife on Valentine's Day. (She didn't want a special dinner; she just wanted a pub crawl. What a gal!) The pub is located in a small retail strip building that is one of three similar buildings in this commercial development. The pub's building is situated behind a branch bank building that is at roadside, so you have to look closely to see this place. Inside, there is a small bar plus tables that have seating for probably 30-40 customers. The brewing equipment is located behind the bar. There is a wooden deck at the side of the building that looks like extra seating during warmer seasons. There was also a separate room to the other side of the taproom where I think homebrewing supplies are sold, but I forgot to look in there to evaluate it.
There were 6 beers available, so we ordered a sampler flight of 5. The barkeep also gave us a taster of the Ryenocerous, which is a bourbon barrel-aged stout, so we promptly ordered a glass of it since it was so good. I think the beers are rotated frequently here because none of the beers listed in the previous review were available during our visit.
For being a new brewery, they have done it right. Each of the beers is definitely dialed-in to the style, and each had an extra zing to it so that we rated all of them to at least a B grade. They have even already mastered the art of barrel-aging because the Ryenocerous was an outstanding offering that we really enjoyed.
There is no food available, but there is a chalk board that posts the names and telephone numbers of 6-7 local places where food is available to bring in (deliver?). A McDonald's is in the building across the parking lot.
For a new brewery to have beers this good says a lot, and I predict that this brewery will be very successful. I hope they add more taps if they're going to keep making beers this good. We'll go back sometime when we're in the area again.
Feb 15, 2014
jt31914 from Michigan
4.58
/5
rDev
+9%
vibe: 4.5 | quality: 4.75 | service: 5 | selection: 4
Really solid new Brewpub that opened this past fall/summer on the east side of town. The brewery is fairly small, seating maybe thirty to forty people at capacity. The atmosphere is relaxed, with folk and alternative music playing in the background.
The service was the highlight of the shop. Matt, Brett and Nick were all very helpful and knowledgeable. Another cool aspect of the brewery is that Matt gives very detailed tours of the facility at a moments notice - literally if you ask for a look around, someone will show you equipment and explain the brewing process. They were helpful and friendly.
The beer was very solid; I tried a sampler of the English Porter, a Galaxy IPA, Scottish Ale, Amber Ale, ESB, and Christmas Ale. My personal faves were the scottish ale, which was a great session brew and the Galaxy IPA, which had a great full hop flavor, and was still balanced. The Christmas ale was also good, but had perhaps a bit too much ginger. The amber and ESB were sessionable but not anything out of this world, and the English Porter had a nice flavor, but could perhaps have had a more robust chocolate presence. All of the beer was very drinkable, and I am excited to check out this new brewery again in the future.
Dec 14, 2013
Gravel Bottom Craft Brewery & Supply in Ada, MI
Brewery rating:
3.97
out of
5
with
22
ratings