Vincent Van Couch

Odd13 Brewing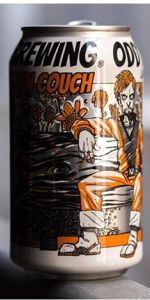 Rate It
Beer Geek Stats
| Print Shelf Talker
Style:

ABV:

4.6%

Score:

Avg:

3.92

| pDev:

7.4%

Reviews:

8

Ratings:

From:

Avail:

Year-round

Wants

Gots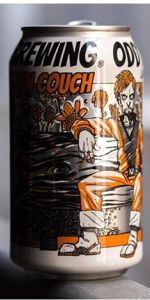 dcscientist from Colorado
4
/5
rDev
+2%
look: 4 | smell: 4 | taste: 4 | feel: 4 | overall: 4
I liked this beer, and its style in general, though I get bugged when breweries market it wrong. It's not a sour IPA - you don't have to put the letters IPA in everything to get it to sell better!! Just let the beer stand on its own. It is correctly classified here as an American Wild Ale, because it's a bit tart and sour but not overpoweringly so. It's closer to a tart saison than an actual sour, which is why I don't like the label on the can. But look past that and enjoy a nice low-alcohol whatever it is.
Apr 16, 2019

Jugs_McGhee from Texas
3.6
/5
rDev
-8.2%
look: 3.5 | smell: 3.5 | taste: 3.75 | feel: 3.5 | overall: 3.5
Sixer for $11.49 USD at a bottle shop in Colorado. Brief initial impression from a 12 fl oz pull-tab can:
"American Session Sour Ale." 4.70% ABV. "Kettle sour fermented with wild yeast and dry hopped with citra and mosaic."
APPEARANCE: Clear yet cloudy lemon yellow body. White coloured head fills ~60% of the glass. receding slowly (head retention is ~7 minutes).
AROMA: Mild bacterial sourness (~5/10) joins lemony citrus, doughy ale yeast, and faint subdued blueberry. Slight acidity. Hop pungency is too high for a sour ale, but the mosaic is mellow enough that it kind of works.
Aromatic intensity is average.
TASTE & TEXTURE: Acidic twang harmonizes wonderfully well with the mild (~4-5/10) sourness to good effect, with some mellow citrusy and blueberry-emphatic hop flavours in there too. Citrusy fruit, lychee, lemon, lime, smacky lactobacillus bacteria.
Smooth, wet, soft, light to medium-bodied, acidic, twangy, and approachable.
Not oily, gushed, hot, boozy, astringent, harsh, rough, or scratchy.
OVERALL: True to the premise, it's a sessionable drinkable sour ale with plenty of flavour and I can't complain about the price. A beer I look forward to revisiting given its obvious quality even if it isn't world class.
B / GOOD
***
2017.08.12 2nd impression from another can served cold into a tulip:
Aroma of blood orange and coating tropical fruit.
Taste is twangy and sour, delivering the "American session sour" premise
A surprisingly affordable sour ale that I'll return to so long as its quality and price per oz stay the same. In terms of the Colorado market for sours, this isn't on par with New Belgium La Folie or Odell Friek, but then it isn't really competing with them; it's a reasonably priced option with more drinkability, less sourness, and less complexity. A must-try for any sour fanatic and another good beer from Odd13, Colorado's fastest rising star.
B (3.60) / GOOD
***
08.20.17 impression from another can:
High B- / WORTHY
Aug 10, 2017

Wasatch from Colorado
4.25
/5
rDev
+8.4%
look: 4.25 | smell: 4.25 | taste: 4.25 | feel: 4.25 | overall: 4.25
12 oz. Can
Pours a hazy golden pale yellow color, very nice carbonation, with a very nice thick/creamy/foamy two-finger white head, which leaves some nice sticky lacing behind. The nose is hoppy, malty, yeasty, kinda wheaty, citrusy, tart. The taste is hoppy, malty, yeasty, sour, with some wheat/grass, citrusy. Medium body, with a pretty nice dry/bitter finish. Overall, this one surprised me, pretty tasty. My 2nd from this brewery.
Jun 06, 2017
BEERchitect from Kentucky
4.24
/5
rDev
+8.2%
look: 4 | smell: 4.25 | taste: 4.25 | feel: 4.25 | overall: 4.25
Remarkably seductive and with such mild alcohol to boot, the Odd 13 brewers tease and taunt the tastebuds with a "session" sour ale that's clean, fruity, dry and racingly briny.
Vincent Van Couch pours a nearly turbid hazy yellow golden color. Its honeycomb froth upholds a host of fruit perfumes. Citrus, tropical and vinous fruits strike the nose with a peppery and sour twinge. Sweetness frames a hard lemon candy character with a soft backbone of wheat and sourdough.
And as the ale reaches the middle palate, it sings and dances like bitter pop rocks on the palate. Lime, white grapefruit, lemon and succulent tangerines roll with a juicy dryness that stems into the tropical world of passionfruit, pineapple, gooseberry and kiwi. Easily confused with these fruit juice blends, any deviations come with a sour dryness and a bitter finish. Clean in taste, the beer's sourness trends dryly cidery and of white wine sangria, and with the tepid salinity of margarita.
Light, crisp and clean, the ale strips the thirst and refreshes the palate with absolute ease. A pleasure to throw down several in succession, the ale trails with citrus peels, bright chivy herbs, and a medium long bitterness of fresh grass clippings, verbena and sassafras tea.
May 26, 2017
StonedTrippin from Colorado
4
/5
rDev
+2%
look: 4 | smell: 4 | taste: 4 | feel: 4 | overall: 4
the art on this can is so awesome, and these guys really have the dry hopped sour thing down pretty well. this is a session sour, or so they say, pretty easy drinking, but im not sure how many i would want, there is still quite a bit of acid to this and im not sure my stomach would want more than maybe three of them. in any event, its a beautifully hopped tangy brew, super clean as the sours and wilds go, dry, and juicy as can be. i get a heavy lemon presence, fresh and zesty, seemingly both from lacto and from the hops, which are citra and mosaic i am pretty sure. the nose is amazing, the hops are accentuated by the puckery sourness, my mouth waters pretty hard. not much in the way of wood or anything, this is pretty clean and bright, probably done in stainless. notes of green apple and pineapple on the taste, with a gripping lemon acidity in the end. pretty minimal on the malt front too. this really is what these guys do best, and this is one of their better ones lately. a nice summertime drink for sure, cool that its being canned. these guys are becoming quite prolific! seems like they have something else in a can every other week, pretty rad!
Aug 28, 2016
Fcolle2 from Illinois
3.82
/5
rDev
-2.6%
look: 4 | smell: 3.25 | taste: 4 | feel: 4 | overall: 4
Pours pale straw yellow with a fizzy head. Aromas of herbal and spivey hops, lacto sour, lemon rind and as light sulfuric note. Taste has more herbal spicy hops and really light lacto sour. Lemon in the finish.
Jul 20, 2016
Uanof from Texas
4.04
/5
rDev
+3.1%
look: 4 | smell: 3.75 | taste: 4.25 | feel: 4 | overall: 4
This is probably the first canned saison i've had and it's drinking great, but i'm sure that this brew in green bottles would pick some nice good funk that will only improve the beer, maybe 3L green bottles?? It also gives out a funky note that would make a great base for some sour fruited brews. Appereance is good, but would have liked a bit more action on the head. Smells is of crackers an white pepper. Tastes dry, lemongrassy, somewhat like baked bread and a tad malty at the end. Finishes clean and dry. From can to a tulip.
Jun 07, 2016
JNForsyth from Pennsylvania
3.8
/5
rDev
-3.1%
look: 3.5 | smell: 3.5 | taste: 4 | feel: 4 | overall: 3.75
L - Cloudy pale yellow with little to no head.
S - Hint of hops and some funk, not much nose though.
T - Starts out tart with hops in the background, hint of funk on the finish.
F - Not quite mouth puckering, dry as a bone on the finish.
O - An interesting beer, really refreshing in this random November heat wave we're having.
Nov 07, 2015
Vincent Van Couch from Odd13 Brewing
Beer rating:
87
out of
100
with
42
ratings