Lehigh Pizza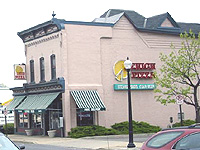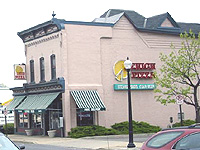 Bar, Eatery, Beer-to-go
13 W 3rd St
Bethlehem
,
Pennsylvania
, 18015-1221
United States
(610) 866-1088 |
map
lehighpizza.com
Notes:
Reviews by TheLongBeachBum:
TheLongBeachBum from California
3.5
/5
rDev
+7%
vibe: 3.5 | quality: 3.5 | service: 3.5 | selection: 3.5 | food: 3.5
Stop #3 after a recent tour of Reading with BA Erica.
Our previous stop, the Northeast Taproom was awesome however rather unfortunately it could only offer shelled peanuts; so after an hours ride back to Bethlehem, it was time to pick up some hot food.
Lehigh Pizza is one of those weird strange places that only seem to exist in PA, yet another PA Pizza joint that sells a good range of bottled beers. Located on the corner of 3rd Street and New Street (which crosses the River). Parking is easy, stick the jalopy next door in the good sized parking lot and it's a short walk.
Small interior but reasonably well laid out, the serving area is in front of you and this is where we waited to pick up our earlier phoned-in order for a large Veggie Pizza. The Pizza was ordered "to go", but this gave me time to check out the coolers situated down the right hand side of the interior, as well as exchanging some friendly banter with the employees. Heavy on Macro Six-Packs, but more importantly the range of Micro Six-Packs does intersperse these nicely, as well as a smattering of singles 'here and there' which seem to offer some respite from the Case-Crazy PA legislators. The best of the bunch seem to start with "S" - Sierra Nevada, Smuttynose, Sam Adams and Samuel Smiths with some Flying Fish and Troegs thrown in for good measure, lots of domestic and a good percentage of imports but nothing that unusual, the bonus is that you only have to buy 6 of them. I think I spotted a new label design Young's bottle in there too. Not exactly an earth-shattering selection, but given that this is a Pizza joint and you don't have to pick up a whole 24 bottles it is well worth noting and frequenting. The Pizza was rather good, and I noted the Menu expands a bit beyond the basic offerings. Prices are reasonable for both the beer and flavored dough. Neat!
Well worth popping in here if you fancy some take-out food and a picking up a few bottles of beer to accompany it.
Last Visit: Saturday 11th February, 2006.
Feb 28, 2006
More User Reviews:

JJKBeerLvr from Pennsylvania
3.88
/5
rDev
+18.7%
vibe: 4 | quality: 4 | service: 4.5 | selection: 3 | food: 4
I go to Lehigh Pizza frequently when I need to get something to eat and I'm in South Bethlehem. The food and service are great. The owners (Jimmy and George) are nice to talk to when they are out front. The beer selection is cold bottles and is OK. I go there for the food.
Sep 02, 2013

Knapp85 from Pennsylvania
3.34
/5
rDev
+2.1%
vibe: 3 | quality: 3.5 | service: 3.25 | selection: 3 | food: 4.25
Stopped in here one night after doing some serious damage at the Speakeasy up the road. The idea was to get some food then hit a Hookah bar that we never made it too. The place is a typical looking pizza shop. They have coolers of assorted drinks as well as some beers. From what I remember the selection was decent for a place that I wouldn't expect to find any beer at in general. The service was alright, they treated us well even though it was very late. The food was the best part obviously, I can't remember what I had exactly but I remember it hitting the spot. I never had a real reason to go back but if I was ever out on the town again I might stop in for a slice or two.
Jan 11, 2013
silver0rlead from North Carolina
3.33
/5
rDev
+1.8%
vibe: 3 | quality: 3.5 | service: 3 | selection: 3.5 | food: 3.5
stopped in for a quick bite and a sixer while visiting a friend in Bethlehem. They had a pretty good selection, especially for a pizza place, i saw Bell's, Troegs, Flying Fish, Sierra Nevada, Smuttynose and some others. The food was good but nothing above your standard pizza joint, though it was pretty inexpensive. I was thinking the sixers would be pretty expensive (since that seems to be the clamor on BA) but i got a sixer of Smuttynose IPA and Troegenator for about 8 bucks each which is quite reasonable. Anyways, this is a good place to stop if you just want a sixer of something tasty (you can get singles and they have a few belgians and british beers also) without committing to a case
Nov 22, 2005
99bottles from Pennsylvania
3.33
/5
rDev
+1.8%
vibe: 2.5 | quality: 3 | service: 4 | selection: 3.5 | food: 3
Lehigh Pizza is a little pizza joint on the southside that also has a pretty big cooler of beer and malt liquor. They sell cold six packs and singles of almost entirely macro offerings. Sam Adams is well represented as well as import Macros (heineken, corona, etc) The most outlandish thing you'll get is Sam Smiths or maybe a Young's or two. Not bad on prices, but still not as good as six pack shops in NJ. The food is also not bad, but there's better pizzas to be found. It's cheap food, plain and simple. They are undergoing a renovation to enlarge the place too. I'll swing in when I can't justify getting a case of something and waiting for it to get cold. Friendly service.
Mar 31, 2004
goindownsouth from Pennsylvania
3.5
/5
rDev
+7%
vibe: 3.5 | quality: 3.5 | service: 3.5 | selection: 3.5 | food: 3.5
Really, the primary redeeming factor is that this is one of the few places in which you can purchase six packs of Bier in Pennsylvania, unfortunately. The selection is not terrible, and their prices are relatively fair.
The food follows suit, with all of the expected pizza-type place offerings. Nothing wrong with stopping in for a six pack of brew and grabbing a stromboli or something...
All in all, if you are in the area, passing through to or from the Bethlehem Brew Works or McGrady's, this is a good stop for a road six pack of some decent brew to finish off the night.
Zum wohl!
Mar 25, 2004

francisweizen from Alaska
3.5
/5
rDev
+7%
vibe: 3.5 | quality: 3.5 | service: 3.5 | selection: 3.5 | food: 3.5
This is the only good place to get 6 packs of beer that I know of in the Bethlehem area. This place is right by the new street side of the bridge, and they have awesome pizza and about 2 fridges full of take out beer. Nothing crazy or spectacular but they do carry Sam Smiths Nut Brown Ale, and Sam Smiths Oatmeal Stout so that alone makes this a pretty great place. Pretty reasonable prices as well. By far this is the best place to by 6 packs in the area and one of the only options for us poor souls in the lehigh valley of PA who can't buy sixers or singles on a regular basis.
cheers.
Dec 22, 2002
Lehigh Pizza in Bethlehem, PA
Place rating:
3.27
out of
5
with
10
ratings