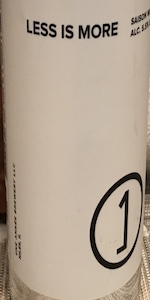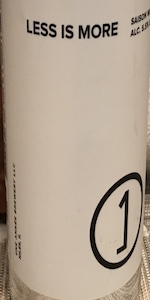 BEER INFO
Brewed by:
Une Année
Illinois
,
United States
uneannee.com
Style:
Belgian Saison
Alcohol by volume (ABV):
4.60%
Availability:
Year-round
Notes / Commercial Description:
Big is not always better. You'll find substantial hop flavor, a complex yeast presence and a hint of orange all in this small package. Low bitterness leads to a clean finish, proving that less is more.
Reviews: 10 | Ratings: 61

4.17
/5
rDev
+6.9%
look: 3.75 | smell: 4.25 | taste: 4.25 | feel: 3.75 | overall: 4.25
This is my second beer from Une Annee (the other was last year before I joined BA, and was their Quad.) I have yet to try their specialty of Wild Americans. But, I like what Une Annee is trying to do; take the home brewer's passion and make a commercial success.
This is an interesting beer in a good way. Looks like a saison.
Too often, American renditions of the Saison hop-up the ale instead of working through the complexities. Aside from the horse blanket Smell the Brett imparts, Less Is More seems like a typical saison.
However in the mouth and with a garlicky ratatouille, hops should be subtle and, instead, let the food work.
If this brewer intends to use Less hops to create More flavor, he doesn't convince me because he relies more on hops than Belgians typically do, I think he will achieve the style better if he works on the yeast strain to generate more flavor so he can use less hops. With less hops, an ale is friendly to more foods.
Three state distribution. If you find it, try Less Is More. I hope this is a true year-round.
6/28/17 Found again ! (Glad they are still making it.) Shared at lunch with two architect friends, so we all had a good laugh. (Less Is More is Mies' motto.) And the ale seemed to have less hops this year and more prominent yeasty flavors. Usually not a big fan of Brett, it seemed more subdued... creating an all-round great table beer. Increased Taste and Overall. And look forward to finding it again !
1,459 characters

4.24
/5
rDev
+8.7%
look: 4.25 | smell: 4.5 | taste: 4 | feel: 4.5 | overall: 4.25
500 mL bottle poured into a pint glass.
(A)- Pours a clear pale lemon yellow color. A nice frothy pure white head with good retention and lacing.
(S)- A fresh zesty dry lemon and orange peel meets light yeasty biscuit aromas. Bits of funk, but mostly clean.
(T)- Pretty similar to the smell. A bright, predominately orange meets dry lemon peel and zesty biscuit-like bready spice.
(M)- A lively carbonation level meets a light but flavorfully dry refreshing mouthfeel overall.
(O)- A superb saison from the midwest. Light, dry, but flavorful and refreshing
561 characters

3.77
/5
rDev
-3.3%
look: 4 | smell: 3.75 | taste: 3.75 | feel: 3.75 | overall: 3.75
In this case less is not more. Less carbonation would have been good though. Flavors are very mild, with hay, wheat, orange, brett, melon and biscuit malt. Smell is similar, orange brett and grains really. Feel is thin and way too bubbly. Meh
247 characters
3.85
/5
rDev
-1.3%
look: 3.75 | smell: 4.25 | taste: 3.75 | feel: 4 | overall: 3.5
Pours hazy yellow, almost white on the outside edges. Lots of fine bubbles which dissipate pretty quickly to a more "typical" level.
Citrus, grassy, earthy, pepper on the nose with some biscuit maltiness as well.
Less of the earthy, grassiness and more citrus in taste. Not as complex as I'd hoped while smelling it.
Mouthfeel is right on with the higher, fine carbonation. Light bodied. A good thirst quencher as it should be.
Overall, looks the part, smells fantastic but let me down somewhat with the taste. That being said, given more, I'd happily drink it (especially on a hot day). However, at $5 per pint at the liquor store, I won't likely buy it again.
673 characters
3.88
/5
rDev
-0.5%
Pours a hazy, straw color. 1/2 inch head of a white color. Good retention and decent lacing. Smells of yeast, sweet malt, slight hop, hint of floral, and a hint of fruit. Fits the style of a Saison / Farmhouse Ale. Mouth feel is sharp and crisp, with an average carbonation level. Tastes of yeast, sweet malt, hint of hop, fruit, and a hint of floral notes. Overall, good aroma, decent appearance, and a more traditional saison.
435 characters
4.5
/5
rDev
+15.4%
Opens with a peach and melon nose, yeast and light biscuit.
Pours hazy straw with a 2" lightly yellow tinted white foam cap that is persistent and finely bubbled.
The palate mirrors the nose with light biscuit, stone fruit, melon and a hint of funk.
Light, effervescent, dry and very crisp.
291 characters

4.25
/5
rDev
+9%
A: Beautiful hazy blonde-orange with a zippy off-white head.
S: Definitely some citrus, juicy, white cake, light clove, zesty.
T: Taste is nice and dry, with some lemon and orange skin, mild estery sweetness, mineral.
M: Again, very dry, light-bodied, springy carbonation.
O: Really nice. I'd like to see what some brett would do to this.
342 characters
4
/5
rDev
+2.6%
look: 4 | smell: 4 | taste: 4 | feel: 4 | overall: 4
Appearance: Arrives with a hazy goldenstraw color capped by a modest head that leaves a few streaks
Smell: Bready, with melon and lime tones joined by a hint of coriander and peppercorn
Taste: Bready, up front, with melon and lime starting off the fruit parade; herbal, in the middle, with coriander and pepper; the heat from the pepper builds a bit into the finish
Mouthfeel: Light to medium body with moderate carbonation
Overall: Refreshing and interesting; really like the herb/spice combo here
503 characters
4.08
/5
rDev
+4.6%
look: 4.25 | smell: 3.75 | taste: 4.25 | feel: 4.25 | overall: 4
Appearance: Pours with about two and a half fingers of head which was present while drinking. Straw yellow color which has a slightly cloudy body. Bright active carbonation continued to regenerate the head.
Smell: Subtle orange peel and lime zest on the front. White pepper and coriander open up on the body. Grassy hops on the body really accentuate the spices in this brew. Butter and doughy yeast notes round out the back end.
Taste: Clean front with some accents of tropical fruits, straw, and creamy buttery yeast. Oranges and some more straw warm up on the body, providing a very easy drinking experience. Lime zest and crisp hops finish on the back end, providing a refreshing dryness on the palate.
Mouthfeel: Nice crisp hop textures mesh well with orange additions and creamy yeast. Dry finish as stated above is not overly done, leaving a pleasant dryness behind. Carbonation is bright but fits very well here.
Overall: Another great offering from Une Annee. This brew really packs a punch, especially at 4.6%. This brewery rarely misses, this one is no exception.
1,080 characters
4.17
/5
rDev
+6.9%
look: 4.25 | smell: 4 | taste: 4.25 | feel: 4 | overall: 4.25
500ml bottle sealed with pressure cap.
a circular sticker hiding on the bottom of the bottle says "batch no. 38".
poured into SP Wine Stem.
Appearance: hazy yellow bodied beer with a large and frothy white head. Approximately 3 fingers of head resulting from a moderately hard pour. Nice lacing on the side of the glass. Head drops down to a thin cap.
Smell: Faint orange zest. Slightly sweet and quite a fruity yeast from this beer. Wheat malts. Grassy hops. Cloves are evident as the beer warms up.
Taste: Lightly bitter orange peel, sweet wheat and bready malts, honey, and overripe bananas all seem to hit the front of your tongue right away. Clove spiciness seems to increase as the beer warms up. Really nice authentic wheat beer flavor profile that is the backbone of this beer. Grassy, earthy, floral, and herbal hop combo that offers a low bitterness in the finish. Lot of flavor in this session beer.
Mouthfeel: low end of a medium bodied beer with moderate carbonation. Creamy and delicate mouthfeel with a slightly dry and crisp finish. Very very sessionable saison.
Overall: Wanted more orangey flavors from this beer especially when its brewed with both orange zest and orange juice. Its still a pretty great sessionable saison that will be a great thirst quencher on a hot day. This is my first Une Annee beer and I am pretty impressed.
1,361 characters
Less Is More from Une Année
Beer rating:
3.9
out of
5
with
61
ratings