Chocolate Ale
| O'Fallon Brewery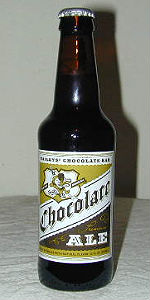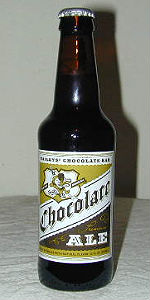 BEER INFO
Brewed by:
O'Fallon Brewery
Missouri
,
United States
ofallonbrewery.com
Style:
American Brown Ale
Alcohol by volume (ABV):
not listed
Availability:
Limited (brewed once)
Notes / Commercial Description:
No notes at this time.
Added by Bitterbill on 02-25-2009
This beer is retired; no longer brewed.
HISTOGRAM
Ratings: 11 | Reviews: 10
Reviews by BedetheVenerable:

3.27
/5
rDev
+11.6%
look: 3 | smell: 3.5 | taste: 3.5 | feel: 3.5 | overall: 2.5
Presentation: 12oz brown pop-top bottle; it says "Bailey's Chocolate Bar, Brewed for Bailey's Chocolate Bar by O'Fallon Brewery, O'Fallon MO"...for what it's worth, it's a nice, classy-looking old-school label
Appearance: Dark amber/medium brown hazy beer, capped by a fairly thin ivory head which soon fades to almost nothing at all
Smell: A mix between bittersweet chocolate cake and the super old-school chocolate creme sodas that my grandma used to buy when I was like five...very simple, and very chocolaty
Taste: Pretty much in keeping with the aromas, though the semi-artificial chocolate soda flavors are up front...it's not in any way bad really...actually, for a chocolate beer, it's pretty decent...the aftertaste is nice...but really, it's appealing to me in the fact that it reminds me of a taste of my childhood, not because it's a memorable beer.
Mouthfeel: Medium-bodied, a bit watery-feeling almost
Drinkability: One and I'm pretty much done
Conclusion: I feel like I'm being a bit harsh here because I really have a soft spot in my heart for O'Fallon...and for chocolate, for that matter...but this was just OK at best and the reason I liked it was that it was chocolate soda-esque...not sure what that says about a beer...for $9.09 a six pack...I'd probably pick up something else
1,306 characters
More User Reviews:

2.22
/5
rDev
-24.2%
look: 2 | smell: 2.5 | taste: 2 | feel: 3 | overall: 2
I'm not quite sure how this is a stout but it is sweet.
Pours a brownish color and smells like chocolate candy in a creme soda. Palate is the same with not much resembling a stout, but at least the bottle doesn't say stout i'm only commenting on that because that's the catagory it's listed as.
Tastes to me like a chocolate nut brown ale that in the end is just too sweet to drink. Might appeal to fireside nut brown fans but not much else. If you like beer avoid this one but if you have a girlfriend who doesn't, you might have her try it. Tootsie pops.
556 characters
2.74
/5
rDev
-6.5%
look: 2.5 | smell: 3.5 | taste: 2.5 | feel: 2.5 | overall: 2.5
Pours amber/brown with a pinky of sand colored head. Some head retention & no lacing
S: Much cocoa & nothing else
T: Sweet dry cocoa up front & some metallic hops, this screaming for some brownies to go with it. Dryness, brown sugar & cocoa as this warms. Finishes slightly astringent & too sweet
MF: Light bodied with fairly vigirous carbonation
Drinks a bit slow, too one dimensional, one with dessert might work, otherwise, pass
435 characters
2.68
/5
rDev
-8.5%
look: 2 | smell: 4 | taste: 2.5 | feel: 2 | overall: 2
Poured into a pint glass
Ok was a little taken by the appearnce, its a chocolate ale and its dark amber with a fizzy head like a soda, about 1 finger high and disapates much like a soda as well
Smells of wheat and sweet chocolate notes with some semi-sweet malt, almost candy sweetness.
It literally tastes like an M&M candy sweetness with a chocolate middle and slightly bitter finish. The finish is the only thing that remotely reminds me that it is beer
Water in the mouth and quite overcarbonated
Its way to sweet and maybe someone who likes to forget they are drinking beer might like this one but i really dont find it drinkable at all.
647 characters
3.65
/5
rDev
+24.6%
look: 3.5 | smell: 3.5 | taste: 3.5 | feel: 4 | overall: 4
Pours a clear dark maize/pale brown color. 1/3 inch head of a white color. Good retention and good lacing. Smells very strongly of chocolate and slightly of a biscuit aroma. Does not fit the style of a Stout, but it is brewed in the style of a American Wheat Ale with chocolate. Mouth feel is smooth and crisp with an average carbonation level. Tastes strongly of chocolate, slight roasted malt comes through next, and then some slight hops are present. Overall, if you like chocolate, then this is your beer of choice. Easily the most distinct chocolate flavored beer I've ever had.
583 characters

3.93
/5
rDev
+34.1%
look: 4 | smell: 3.5 | taste: 4 | feel: 4.5 | overall: 4
Enjoyed on-tap @ the Bailey's Chocolate Bar in Lafayette Square- St. Louis, MO. Brewed by O'Fallon's Brewery exclusively for this Chocolate Bar, I had to order. Presented into a 20 oz Pint Glass and Enjoyed Thoroughly!
Appearance- An Amber (Dark) Color with a Semi-Clear body. Half a Finger of Head with No lace afterwards.
Smell- Smells exactly like a Chocolate Brownie batch just taken out of the oven! Huge hints of the chocolate powder mix as well. Nothing like a Brown Ale though..
Taste- Tastes like one of the chocolate martinis I've had from this place. There are toasted malts in the background of this beer and balanced well with cherry and chocolate. Also much like O'Fallon's Cherry Chocolate Ale.
Mouthfeel- Medium-bodied, Smooth, and Huge amount of Carbonation. Chocolate flavor (fake, chocolate powder) was left on the palate afterwards as well. Great attribute here!
Overall- Would not drink more than 2 in one night but a great ale to mix with a Brownie Dessert or ice cream from this Chocolate Bar. I'm looking forward to having this one again in bottle or on-tap before it runs out! Would recommend highly but tough to call this style an American Brown Ale.
1,184 characters
1.86
/5
rDev
-36.5%
look: 3 | smell: 2 | taste: 1.75 | feel: 2 | overall: 1.5
I don't know how to review this. It has been added as a Milk/Sweet Stout, which it clearly is not. It's some sort of amber/brown ale that tastes like a Tootsie Roll. Basically it tastes just like O'Fallon's Cherry Chocolate Ale without the cherry. It's very sweet and really tastes like a Tootsie Roll. It seems very gimmicky and isn't worth picking up.
353 characters
2.12
/5
rDev
-27.6%
look: 2 | smell: 2.5 | taste: 2 | feel: 2 | overall: 2
As a note, I edited this from a Milk/Sweet stout to a American Brown Ale because this is in no way, a stout.
Poured a 12oz bottle into my Boulevard Smokestack goblet. I am assuming this was made in conjunction with or for Baily's Chocolate Bar in St. Louis. This beer pours a murky brown with absolutely no head and no lacing. The aroma is SWEET. It smells like imitation tootsie rolls. You know the kind, the ones you get in the off brand, massive candy bag on clearance after Halloween. Sweet sugar and fake chocolate. The taste is exactly the same. Fake chocolate and sugar. It really tastes like bad, water-downed, cold hot chocolate. The mouthfeel is full in the way that the beer is full of residual sugar that coats the mouth. This beer is really nothing more then a gimmick. I now know why it was in the Mix a Six section of a crappy liquor store.
856 characters


3.22
/5
rDev
+9.9%
look: 3 | smell: 3.5 | taste: 3 | feel: 3 | overall: 3.5
Bottle courtesy of russpowell. Thanks Russ!
It pours a light brown with a reddish tint and a 1 finger head of foam. It does a decent job of lacing my glass. That being said, this is not the overall appearance I expect or want from a Brown Ale.
The smell is like most of the candy bars you can pick up...lots of chocolate. Pretty much nothing else but a beer that calls itself chocolate...it does that job very well.
The taste fals short of the smell. Don't get me wrong, there's a nice chocolate flavour here but compared to the nose, it's way to weak though it does linger somewhat in the finish and aftertaste. There seems to be a dead zone here, right after the intial taste up until the finish. Fill that gap with more chocolaty goodness and I'd find it a better beer.
The mouthfeel is unusual. It starts off like it's going to hit the medium mark but then, suddenly, it turns to the watery side. No probs with the carbonation as it is on the low side of medium.
Drinkability? Not a hard brew to drink at all but the trip from first sip to the swallow leaves a bit to be desired.
1,088 characters
2.75
/5
rDev
-6.1%
look: 3 | smell: 3 | taste: 2.5 | feel: 2.5 | overall: 3
Clear coppery color with a modest off-white head that vanishes quickly.
The aroma is weak caramel malt with hints of cocoa and wheat.
The taste is the same but with a bit more chocolate presence, a bit like eating a tootsie roll while drinking beer, sweet but still a bit metallic at the finish.
Light bodied, drinkable, but I'm not sure what you would do with this, maybe with dessert? Interesting but not particularly inspiring.
436 characters
Chocolate Ale from O'Fallon Brewery
Beer rating:
2.93
out of
5
with
11
ratings