Fat Cat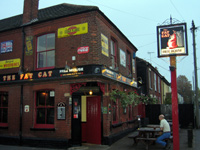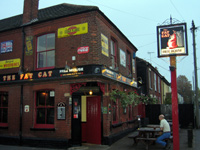 Bar, Eatery
47 West End Street
Norwich
,
England
United Kingdom
+44 (0)1603 624364 |
map
fatcatpub.co.uk
Notes:
Reviews by TheLongBeachBum:
TheLongBeachBum from California
4.8
/5
rDev
+8.8%
vibe: 4.5 | quality: 5 | service: 4.5 | selection: 5
However you Judge, Score, Rate, List, View or Perceive this Pub – it has to be without doubt one of the Top 5 Beer Bars in England, if not the UK.
Situated in the beautiful City of Norwich, which in itself is well worth a Pub Crawl for its historic pubs and sheer beer range, you could be forgiven for waiving that option & just spending the entire day in the Fat Cat. Located on a corner in a semi-residential area, a little out of the City & populated by locals & traveling beer geeks, er… sorry, enthusiasts, it makes for a good clientele mix, and helps the Bar with its high turnover of Cask-Conditioned Ales.
Outside it is a Victorian building covered in colorful enamel signs. Inside is a classic cozy boozer. Range is (deep breath) 25+ Cask Ales, 16 on Handpump, with the rest on Gravity dispense (straight from the tapped cask), has a Real Cider at all times, a very good range of Belgium Beers including several on draft (although why you would want to drink these with such excellent Cask beer available is beyond me), Fruit Wines (be careful) the list goes on and even caters for Bud drinkers, thankfully the ones with taste - Budvar!. For me personally though, the highlight is the sheer stunning range of Cask-Conditioned Real Ales, which is both astounding & outstanding. Quality is exceptional, the Fat Cat has the Cask Marque accreditation. I only ever drink Cask beer here.
The Bar itself is friendly, the staff always helpful & knowledgeable, but as it is compact inside, when it gets very busy at weekends – you will have to be patient & wait your turn to be served. The price of fame I'm afraid. Only really does Snacks, this is a Boozer after all. Note also, the excellent Breweriana and Old Signs on the Walls – it's all original!
Check the Website (above) – it is updated frequently, if not daily, and contains an "up-to-the-day" Beer List. Très Cool, I know one person who checks the beer list from his Mobile Phone before he gets to the bar so that he does not waste time deliberating over what to have!!!
A permanent Cask-Conditioned Real Ale Beer Festival set in a friendly Corner Pub. I have very fond memories of sitting outside on warm Summer afternoons, drinking my way through some of the very best Real Ales the UK has to offer. Life really doesn't get much better than this.
Dec 26, 2002
More User Reviews:

BlackHaddock from England
4.58
/5
rDev
+3.9%
vibe: 4 | quality: 4.5 | service: 4.5 | selection: 5
The first pub on a heavy all day crawl round Norwich. A taxi from the station brought us here, a corner pub on a non-discript corner in a quiet part of the outskirts, £7.20 between 4 of us, a bargin! On leaving here we slowly walked back to the staion, it took us 11 hours and a lot of drinking.
Saturday afternoon is a popular time to drink here, although I think it is popular most of the time every day.
12 Handpumps plus other cask beers not visable from the bar. A good selection of Belgian beers too, 'La Chouffe' on tap and Brigand, a host of fruit beers were also on tap. We were here for the UK cask stuff though. They may even have some Lager, but I didn't notice any.
My first was a 'Red MacGregor' from Orkney and very nice too. The other three all had a Fat Cat brewed beer, all again in top condition. My second was their Top Cat Best Bitter and very drinkable it was.
Mixed clientele, mostly male and middle aged, long hair and beer bellies being a common denominator. Friendly and inviting staff, locals were all fine as well, if somewhat stange in that Norfolk sort of way. Dogs, children and a few women made up the rest. Wood everywhere, posters and beery bits adorn the walls, old bottles collect dust on high shelves above you and a low hub of conversation is all that disturbs your drinking.
Probably the best Real Ale pub in Norwich, certainly the best we found, with 'The Champion' a close second (a Batemans pub I've asked to be added to Beerfly).
Mar 09, 2009
surfadelic23 from Florida
4
/5
rDev
-9.3%
vibe: 4 | quality: 4 | service: 4 | selection: 4
This was the last pub we hit on our Tuesday night pub crawl after the afternoon session and the Norwich Carma festival. It was packed, but we were still able to get beers fairly easily and found a table in their back room. We tried the fat cat bitter, honey, topcat, and marmalade. We also had some of the woodforde's wherry, and tim taylors land lord. All were tasty and in good condition. The oakham bishop's farewell was also really tasty. A very great selection of ales and some very cool brewing memorabilia all over the pub. Well worth checking out...
Nov 06, 2006

UncleJimbo from Massachusetts
4.44
/5
rDev
+0.7%
vibe: 4 | quality: 4.5 | service: 4 | selection: 5
I visited the Fat Cat with RobBeer after attending the Norwich Beer Festival on Oct. 30, 2004. We walked all over Norwich that day, but the Fat Cat is probably a 30+ minute walk from the train station.
Since it was the day of a beer festival, the Fat Cat was packed when we arrived around 6 pm. The interior is not huge, but not small either, but it was very full. Luckily we found a couple of seats in the rear (off the left beyond the bar). The seating was on wooden stools and benches. Unfortunately, this place was *very* smokey, but I guess I am getting spoiled by all the anti-smoking laws in the US. But I digress...
The beer selection at the Fat Cat was amazing. They had 32 cask: 20 on gravity feed and 12 on handpump. In addition there were 6 Belgian beers on tap, as well as a respectable selection in bottles. Very impressive. There was also a fair number of wines offered in addition to the beer and cider.
The pub was decorated with a lot of breweriana, and there were many old pub signs hanging on the walls (if they are not replicas, it is very impressive). The place had a comfortable, old, "lived in" feel to it, like it had been here as a pub for a while. There are even some tables outside at the front, which must come in handy during particularly busy times during the warm weather.
Here are a few outside pics: http://www.imagestation.com/album/pictures.html?id=2134297637&idx=62 . . . . thru 64
If you visit Norwich, be sure to visit the Fat Cat for their amazing real ale selection in casks, but try to visit during a less busy time.
Jan 12, 2005
GreenCard from Maryland
4.04
/5
rDev
-8.4%
vibe: 3 | quality: 4.5 | service: 3.5 | selection: 4.5
Well, I'll refrain from describing the place or the enormity of their selection, as a few reviews below have pretty much covered it. Having said that...
I've been living in Norwich for a little over three months now and I finally got my ass over to the Fat Cat. Enough procrastinating! Not too far of a walk from my apartment, so that's a happy thing. It was an early Saturday evening, so it was fairly subdued, though more clientele than most pubs at this time of day, I bet. It was a bit smoky. I believe there is a non-smoking section, but unfortunately, the more cozy parts of the pub are in the smoking section. So, I opted to put up with the smoke. Clientele seems to be a varied mix of locals, tourists, young and old. Low-key this evening, not even any music playing.
The beer selection is definitely respectable. This evening, there were 12 casks on handpump and 15 on gravity. The Belgian beer menu listed 26 beers, but most are indeed the "garden variety" as one reviewer said below. Still, it's good to see a varied selection in a UK pub. They were listed in the following categories: Lambic, Floris Garden, Wallonian, Flemmish, Trappist, Abbey, Wheat, Brown ales, Red ales, Strong Golden ales, and Saisons. Sort of a strange way of subdividing them, but not a problem.
This is definitely a pub worth visiting if you are in East Anglia, but perhaps more for the selection of real ales than the Belgian beer. The quality is good (clean classes, appropriate serving temperature, full pints, good cellarmanship, etc.). I'll definitely head back here again before too long.
Dec 04, 2004

Clembo1957 from England
3.6
/5
rDev
-18.4%
vibe: 3 | quality: 4 | service: 3.5 | selection: 3.5
I've visited The Fat Cat in Norwich on several occasions the last being around 2 years ago and to be honest i was a little disappointed on this visit. Ok the pub has a large selection of beer available, including a good selection of Belgian beers but the beer was of the 'common garden' variety i.e. stuff you can readilly get elsewhere. I felt the range of beers on offer this time was unimaginative. Theres a good case for having less beers but a greater variety. I like the Fat Cat, prior to our visit i gave it a rave review to my companion but she also felt disappointed. May be i visited on an off day, but of all the pubs in Norwich i visited The Fat Cat was the only one i was disappointed with.
Mar 05, 2004

RobBeer from England
4.78
/5
rDev
+8.4%
vibe: 5 | quality: 5 | service: 4.5 | selection: 5 | food: 4
This is one amazing pub, with around 25 cask-conditioned ales on tap at any one time, it is like having a beer festival every day. Many of these beers are served by gravity, directly from barrels in a tap room next to the bar. Now, it may be common to have multi-taps in the US, but cask-conditioned beer needs to be turned over fast and treated with care. It is to landlord Colin's credit that he has managed to do this considently since 1992, and in what is a "back street boozer" 15 minutes walk from the city centre. And if that isn't enough beer for you, they also stock 30 Belgian beers, four of them on draught.
The place is full of breweriana, including several restored exterior signs from other pubs. In fact, Colin has so much breweriana that he bought the house next door just to store it all.
The place can get very busy at weekends and it can take a while to be served at these times.
Food is not on the menu, though snacks are available including beef or ham rolls and pork and apple pies.
Dec 26, 2002
Fat Cat in Norwich, GB2, United Kingdom
Place rating:
4.41
out of
5
with
8
ratings