Groupe G Belgian RyePA
| Headlands Brewing Co.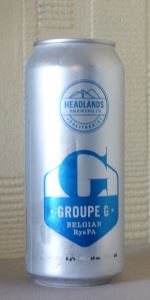 BEER INFO
Brewed by:
Headlands Brewing Co.
California
,
United States
headlandsbrewing.com
Style:
Belgian IPA
Alcohol by volume (ABV):
6.50%
Availability:
Year-round
Notes / Commercial Description:
No notes at this time.
Added by elNopalero on 10-07-2013
Reviews: 9 | Ratings: 43

4.38
/5
rDev
+22.3%
look: 4.75 | smell: 4.25 | taste: 4.5 | feel: 4.25 | overall: 4.25
a: slightly hazy burnt caramel orange color with some lighter yellow notes in there as well. off-white fluffy head pours 2 fingers then settles down nicely to 1 finger
s: apricot, rye, sweet citrus, resin, some earthy dank hops, pineapple and sweet malts. there is definitely malt in the backbone of the beer
t: taste follows the nose pretty well. pineapple, apricot, and rye upfront. there is a grapefruity citrusy bitterness right behind that cuts the sweetness from the fruit nicely. there is a little bit of spice and coriander in here as well from the Belgian yeast. Also, a small floral presence in here as well which adds a little herbal bitterness towards the back of the tongue. the finish is pineapple and rye with just a touch more of bitterness
m: lighter side of medium mouthfeel. carbonation is pretty strong but not overbearing. it works really well with the beer
o: this is quite an enjoyable beer. the rye adds a nice level of flavor that you don't get every day. flavor is good, and sweet and bitter balance nicely that makes each sip enjoyable. very nice IPA!
1,094 characters
4.38
/5
rDev
+22.3%
look: 4.25 | smell: 4.25 | taste: 4.5 | feel: 4 | overall: 4.5
Interesting, and excellent - a lot going on here. Head dissipates fairly quickly, typical Belgian and a little funk on the nose. Yeasty up front and then a moving menagerie (did I really use that word?) of flavors and aromatics that somehow work together really nicely. The rye malt makes for something of an acquired taste - but I got there. Definitely took a little time in the glass to open up - this isn't one to shotgun.
425 characters

3.99
/5
rDev
+11.5%
look: 4 | smell: 4.25 | taste: 3.75 | feel: 4.25 | overall: 4
Amber. Clear. Two-finger head diminishes rapidly to a cap but leaves plenty of lacing. Some visible carbonation.
Very prominent malt. Biscuit. Not overly sweet.
Medicinal, yeasty, bitter, dank. Not much evidence of the floral and tropical fruits that I associate with mosaic hops. The rye malt and Belgian yeast certainly make their presence known. Once in a while, this is a good thing.
Medium bodied. Some chewiness. Alcohol present. Swirl it a couple of times and it becomes very smooth.
Very interesting beer. Bit marmite - love it or hate it. Some will say "too yeasty". Some will say "too hoppy". I like it. But it's for savouring. Not a beer I'd drink down the pub, but one I would savour at home, maybe with salami and cheese.
738 characters

4
/5
rDev
+11.7%
look: 4 | smell: 4 | taste: 4 | feel: 4 | overall: 4
Can received in trade from MrBarleywine, thanks for the opportunity Mike!
Deep golden color with a huge frothy off white head that persists forever. Spicy earthy herbal notes with a bit of honey like malt sweetness to back it up. The flavor follows but adds a whole lot of peppery notes and a fair amount of hop bitterness. Medium body, moderate to high level of carbonation. I enjoyed the heck out of this beer!
412 characters

2.82
/5
rDev
-21.2%
look: 3.75 | smell: 3 | taste: 2.5 | feel: 3.25 | overall: 2.75
Handsome clear amber with ample suds in the tall tumbler. A little dank hop aroma.
The first sip is pretty good. Then it turns quite raspy and yeasty. It's like the dregs of a Saison plus the medicinal bitterness of a soapy IPA. This is clean and seemingly well-made, but the yeast and hop combination is a choke hold.
This is certainly one of the worst alleged Belgian IPAs I've ever had. From the 16 oz can purchased at Healthy Spirits in San Francisco.
January 26, 2015 update: Somehow I got hold of more of this stuff. It's just as bad as last year. Revolting medicinal bitter herbal taste.
598 characters
2.79
/5
rDev
-22.1%
look: 4 | smell: 3 | taste: 2.25 | feel: 3.25 | overall: 3
Great color and aroma, Belgian yeast is very present. Bright and sweet on the front of the palate. but rye kicks in at the end and leaves a funky after taste.
158 characters
2.76
/5
rDev
-22.9%
look: 3.75 | smell: 2.75 | taste: 2.25 | feel: 3.75 | overall: 3
A - Two finger foamy white head that dissipates in a few minutes. Translucent orangish appearance.
S - Smells mostly like a belgian with cereal malt characteristics. Can't find much hop in the aroma.
T - The belgian yeast completely dominates this flavour profile. Sour rye aftertaste is unpleasant and lingers. I was wishing for more IPA attributes from this one but something's just not working here. A bit of spiciness on the end.
M - Smooth upfront and a crisp carbonation at the back end. Pretty nice actually. The can helps it keep the smoothness.
O - The flavour doesn't do it for me on this combo. I like trying new things and new combos but the aftertaste on this will keep me from trying it again.
713 characters
3.49
/5
rDev
-2.5%
look: 3.25 | smell: 3.5 | taste: 3.5 | feel: 3.5 | overall: 3.5
Pours a hazy yellow-orange with a foamy bone head that settles to wisps of film on top of the beer. Small dots of lace form around the glass on the drink down. Smell is of malt, rye, earth, slight herbal hop, and Belgian yeast aromas. Taste is much the same with rye, herbal hop, and yeast flavors on the finish. There is a medium amount of hop and yeast bitterness on the palate with each sip. This beer has a lower level of carbonation with a slightly crisp mouthfeel. Overall, this is a pretty good beer with strong rye and Belgian yeast qualities in the aroma and flavor.
575 characters

3.89
/5
rDev
+8.7%
look: 4 | smell: 4.25 | taste: 3.75 | feel: 3.75 | overall: 3.75
This is a review of Headland's Groupe G, a Belgian-style RyePA, so named in honor of the General Sabotage Groupe of Belgium from WWII. (Via their website.)
This pours with a lightly golden toasted color. Mildly hoppy aroma with some pronounced esters on the nose. The floral note dominates the aroma. It comes across as I sip it as well, although its complemented by a rye spice, like a touch of cracked pepper, and a bit of a floral, herbal note to it. Almost a muted bitterness. The combination, while interesting, doesn't work for me as it feels like there's just too much going on when one or two of the combinations would have been fine. My first brew from these guys. I'm looking forward to trying more.
718 characters
Groupe G Belgian RyePA from Headlands Brewing Co.
3.58
out of
5
based on
43
ratings.