Belgoo Luppo
| Brasserie La Binchoise (Malterie des Remparts)
BA SCORE
84
good
11
Reviews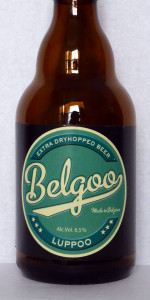 BEER INFO
Brewed by:
Brasserie La Binchoise (Malterie des Remparts)
Belgium
brasserielabinchoise.be
Style:
Belgian IPA
Alcohol by volume (ABV):
6.50%
Availability:
Year-round
Notes / Commercial Description:
No notes at this time.
Added by eallured on 02-08-2010
Reviews: 11 | Ratings: 28

3.91
/5
rDev
+5.1%
look: 4 | smell: 4.75 | taste: 3.5 | feel: 3.75 | overall: 3.75
Pours hazy yellow with huge white head, tons of laces, good retention.
Smell - citrusy, belgian yeasts, salty, herbal, very interesting.
Taste - yellow apple, citrus tones, hints of spices.
Medium body and carbonation, dry.
223 characters
4.19
/5
rDev
+12.6%
look: 3 | smell: 4 | taste: 4.25 | feel: 4.5 | overall: 4.5
750mL version
Looks: hazy, light golden (hay) color with a thick sticky coarse foam
Smell: lemon, tangerine citrus, almost barn-yardy
Taste: lemon/grapefruity estery, floral yeasty flavor upfront. there's certainly hop flavor that happens to knock on the door. subtle notes here. then when i think this lingering grapefruity note must be hop-driven, not yeast... interesting flavor (in very good way). almost saison like
Feel: dry finish. nice
Overall: a great beer. very balanced without in-your-face approaches I have encountered in belgian IPA category. I almost think this is closer to saison than belgian IPA.
626 characters
4.36
/5
rDev
+17.2%
look: 4 | smell: 4.25 | taste: 4.5 | feel: 4.5 | overall: 4.25
The only bottle of this I can find has been sitting for a few years in a cooler at a local retail establishment that prides itself in its massive selection. Popping the cap releases volcanic foam, but fortunately it subsides and quits running all over the counter just before it cascades over the edge onto the floor. I get enough for a decent pour. The nose is fruit and spice without a lot of hop. It pours pale, hazy peachy gold, clean with no chunks. In the glass it has a 2 – 3" pillowy foam cap. It is very creamy on the palate suggesting a peach foam or mousse joined by cantaloupe and coriander and nutmeg. There is some orange and a hint of banana in the background and a touch of pepper in the finish. It has a very effervescent texture with a little slickness like you would find in an oat stout.
812 characters

4.75
/5
rDev
+27.7%
One of my favorites of last year.
L: absolutely perfect; great top; thick foam; sticking to the glass;
S: nice soft smell which is quite surprising for such a hopped beer; green gras, citrus, cannabis, vanilla, milk, hops, wood,;
T: great softness in harmony with a small bitterishness;
M: absolutely 5 out of 5: great alcohol (not too heavy), great carbonation, round aftertaste, great-great-great drinkability; gimmemore!
O: absolutely top; the Triple Karmeliet under the extra hopped beers.
495 characters

2.97
/5
rDev
-20.2%
look: 4.5 | smell: 2.5 | taste: 3 | feel: 3 | overall: 3
750ml bottle. Chalice glass. Pale straw color, cloudy appearance. White froth, close & thick crown, copious lacing. Floral, Belgian yeast, green wood, green apple & fruit aromas rounded by lemon zest hues. Sweet, malty, slight tartar & citric flavors. Light to medium body. Moderate to high carbonation. Dried & dense mouthfeel. Sharp hoppiness & green wood notes in the middle. Bitter finish but a sweet steam trough it. Refreshing, hoppy & delightful.
453 characters

3.42
/5
rDev
-8.1%
look: 3 | smell: 3.5 | taste: 3.5 | feel: 3 | overall: 3.5
A-pours a very cloudy peach yellow with a thinner white head leaving a decent lace.
S-the nose is rather sweet, lots of peaches and a touch of leather underneath. a light citrus twang in the back. simple but no flaws.
T-the taste has lots of peaches and citrus hops, some faint yeast and touch of white pepper with a bit of tangy citrus and light to moderate bitterness.
M-medium creamy body, very juicy in the back, lacks the driness I would like to see. soft throughout, lighter carbonation.
D-tasty beer, very subtle, a little sweet and singular. actually surprised the yeast presence isn't stronger.
607 characters
4.08
/5
rDev
+9.7%
look: 4 | smell: 3.5 | taste: 4.5 | feel: 4 | overall: 4
Belgoo Luppo, on tap
Pours a pale straw yellow with a chill haze, bone white frothy head that leaves a sheet of lacing and retention runs strong here. Aroma is grassy, some Belgian yeast evident. In the flavor, tart Belgian yeast, a nice herbal, lemony citric quality and some bitterness. Malt sweetness mixes well with the euro hops, very unique flavor profile with some candy notes as well. A nice smooth feel with a semi dry finish. Overall, an impressive offering from Belgoo that I would not hesitate to order again.
522 characters
3.32
/5
rDev
-10.8%
look: 3 | smell: 3.5 | taste: 3 | feel: 3 | overall: 4
Poured from the bottle into a tulip at the hostel in Brussels.
A: Cloudy gold with a 1.5 finger head with ok retention.
S: Citrus and spices. Orange and pineapple predominant. Spices come though especially later.
T: Citrusy and yeasty without much complexity.
This was an ok beer but nothing special. Just a solid drinkable beer.
333 characters

2.95
/5
rDev
-20.7%
look: 3 | smell: 3 | taste: 3 | feel: 2.5 | overall: 3
Fresh grass aroma in a yeasty envelope.
This batch was over carbonated. When opened, half the bottle gushed out all over the place. Probably too much of a charge when bottled.
What was left in the bottle quickly foamed to the top of the glass when poured. The head rapidly dissipated, leaving a hazy, golden yellow brew with a typical Belgian yeast flavor. Not a lot of hop aroma or bitterness carried through, despite the "dry hopped ale" label. Soft and fruity with so much effervescence it nearly evaporates on the tongue.
Overall a mediocre experience for the price, although it was drinkable.
600 characters
3.6
/5
rDev
-3.2%
look: 3.5 | smell: 3.5 | taste: 3.5 | feel: 3.5 | overall: 4
Poured from an 11.2 ounce bottle into a cervoise. The label actually just says "Luppoo" not "Belgoo Luppo".
Appearance: Mostly head after the poor. Hazy yellow with some suspended yeast and an off-white head.
Smell: Kinda fruity/yeasty. Not a particularly strong smell to this beer.
Taste: Yeast, slight green apple, hops, mild bitterness. Nothing really stands out to grab my attention.
390 characters
4.08
/5
rDev
+9.7%
look: 4.5 | smell: 4 | taste: 4 | feel: 4.5 | overall: 4
Served in a belgoo chalice at the best beer bar in Mechelen (name?, also the intense classical music is amazing!) a cloudy golden amber color with large amounts of very fluffy white head that lasts and lasts.
Aroma is that peferct marraige of floral, citrusy hops and Belgian yeast derived esters (tropical fruit). Not phenolic (banana/clove). A moderate ethanol presence accentuates the fruitiness, but is without sharp solvent notes.
Taste follows aroma. It is not like drinking hops, but rather like drinking the rain while standing in a hopfield (in popperinge) during a late summer day. Not the most bitter of the hoppy Belgian beers, likely relying on late hop additions. A light caramel sweetness, like dulce de leche, also reduces perception of bitterness. Neither cloying nor bitter in the finish and aftertaste.
This beer has that wonderful quality that so many Belgians do of turning to whipped cream in your mouth. The high levels of natual carbonation turn the whole sip momentarily to foam, releasing the aromatics and lightening the experience.
Quite drinkable, lowish alcohol for an artisinal Belgian beer. If I didn't have a 30 page beer menu in front of me, I would no doubt have another or 6.
1,215 characters
Belgoo Luppo from Brasserie La Binchoise (Malterie des Remparts)
3.72
out of
5
based on
28
ratings.