Shapeshifter

Grimm Artisanal Ales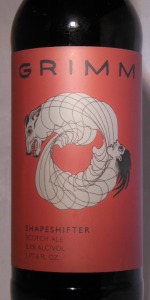 Rate It
Beer Geek Stats
| Print Shelf Talker
Style:

ABV:

8.3%

Score:

Avg:

3.94

| pDev:

10.41%

Reviews:

15

Ratings:

From:

Avail:

Rotating/Seasonal

Wants

Gots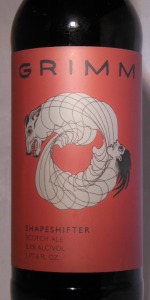 Notes:

avalon07 from South Carolina
4.03
/5
rDev
+2.3%
look: 4 | smell: 4 | taste: 4 | feel: 4.25 | overall: 4
L: Poured from a bottle to a pint glass. Had a dark brown color with ruby tints and a murky consistency. There was a small amount of off white, foamy head that lasted an average amount of time. Below average lacing.
S: A solid aroma of caramel, malt, some fruit, and a slightly boozy quality.
T: Tasted of a whole lot of caramel (especially in the finish), apple, plums, raisins, malt, and a sugary quality. The flavor here is much more fruit-centric than other Scotch Ales, but this works for it. Big, tasty, pretty well done.
F: A fair amount of carbonation with a lively finish. Full-bodied.
O: On the whole, this is a very drinkable beer. Robust and flavorful.
Jun 08, 2016

Suds from Missouri
3.32
/5
rDev
-15.7%
look: 3 | smell: 4 | taste: 3.25 | feel: 2.75 | overall: 3
From a 22 ounce bottle, this is an absolute gusher.....I lost 20% of the bottle, and the beer remained unimaginably, violently carbonated for almost 15 minutes. Unfortunate. The smell, although, is nice. Malty, breads, sweet. The flavor is similar, but extremely yeasty and the carbonation is distracting. Could have been so much better.
Aug 22, 2015

logicalparadox from New York
4
/5
rDev
+1.5%
look: 4 | smell: 4 | taste: 4 | feel: 4 | overall: 4
BAM! A scotch ale that impresses, where so many wee heavy ales can tend to be a wee bit "meh" (at least for me). The malts come through with dark fruits on this one: plum, apple, baked pear, and fig newton cookies. Big caramel nose and toffee on the palate. Candied sweetness, rounded out with an earthy, woody character from the aging process. Packs a punch at 8.3 ABV, but the alcohol is fairy well hidden, occasionally coming out to play with the fruits just enough so as to provide a light boozy fruit dessert effect (jubilee anyone?).
Very nice overall and would definitely try this one again.
Aug 10, 2015
zeff80 from Missouri
3.97
/5
rDev
+0.8%
look: 3.5 | smell: 4 | taste: 4 | feel: 4 | overall: 4
Poured a dark brown color with a small, foamy, khaki-colored head. It smelled malty and earthy with notes of caramel and toffee. Great blend of rich, sweet malts and bready/toasty flavors. A nice grassy/earthy hop bite.
Jul 14, 2015
Tone from Missouri
4.12
/5
rDev
+4.6%
look: 3.25 | smell: 4.25 | taste: 4.25 | feel: 3.5 | overall: 4.25
Pours a clear, brown color. 2/3 inch head of an off-white color. Decent retention and slight lacing. Smells of sweet malt, yeast, slight alcohol, slight caramel malt, hint of roasted malt, and a hint of herbal/grassy notes. Fits the style of a Scotch Ale / Wee Heavy. Mouth feel is sharp and crisp, with an average carbonation level. Tastes of sweet malt, caramel malt, a slight burnt sugar, hint of herbal/grass, slight spice, yeast, and a hint of alcohol. Overall, a really good Scotch, I thoroughly enjoyed.
Jun 19, 2015

Phigg1102 from New York
4.06
/5
rDev
+3%
look: 4 | smell: 4.25 | taste: 4 | feel: 4 | overall: 4
Pours a deep brown with a thin line of foam that flattens out quickly. Apple, pear, and cherry in the aroma with a strong earthy presence. Nice mix of sharp acidity and rounded sweetness. Earthy funk comes through towards the finish to linger with the tartness.
Jun 10, 2015

utopiajane from New York
4.03
/5
rDev
+2.3%
look: 4 | smell: 4 | taste: 4 | feel: 4.25 | overall: 4
The beer pours a sweet caramel orange color with lots of golden yellow hues. Fat creamy tan head that fell off well enough. Nose is wood, a slight but distinctive sweetness from brandy. Cherries give a bit of texture to the background. Earthiness from peat. A few sweet esters from alcohol. The taste is tart from the cherries but the earth and malt are smooth underneath. The brandy, is vague at times on the palate but is more often a woody, flowery character. The base beer has some dark fruits and caramel, even spice. Malty medium mouthfeel . Sweet, fruity , earthy and a touch of friendly warmth As it warms a touch of nuttiness comes over the nose and the palate. Finishes with brown sugar and cherries.
May 31, 2015
pjf4611 from Missouri
4.11
/5
rDev
+4.3%
look: 3.5 | smell: 4.25 | taste: 4.25 | feel: 3.75 | overall: 4
Really surprised me. Both styles are represented pretty well without conflicting too much. The beer smelled sweet like caramel and dark, dried fruits. The taste was pretty similar though the caramel became darker into an almost burnt sugar taste. The fruity flavors balanced out the sugar very nicely without becoming too sweet. Body was more like a Scotch ale, very light and moderately high carbonation. Overall, a very interesting concept that was really well executed, wouldn't mind finding another of these again.
Apr 21, 2015

barczar from Kentucky
3.76
/5
rDev
-4.6%
look: 4.25 | smell: 3.75 | taste: 3.75 | feel: 3.5 | overall: 3.75
Big toffee notes in aroma, with a hint of earthy hops. Flavor is toffee laden, buttery, nutty, and moderately sweet. There's a touch of plum and muted cherry dark fruit character. Diacetyl coats the mouthfeel.
Apr 17, 2015
BEERchitect from Kentucky
4.16
/5
rDev
+5.6%
look: 4.25 | smell: 4.5 | taste: 4 | feel: 3.75 | overall: 4.25
Are hops over-rated? If you think so, then Grimm Artisanal Ales has just the beer for you. Perhaps best suited for after-dinner aperitif, the sultry sweetness that supports and rounds this Scotch ale is the stuff of unapologetic decadence.
Shapeshifter pours the tawny, ruddish brown that gleams in the glass and simply exudes class as appearances of port wine and bourbon come to mind. Lavish sweetness rise to greet the nose with its dense malty perfume- maple syrup, butter pecan, peanut brittle, caramel and vanilla weave together for glimpses of creme brûlée and port.
Rich flavors coat the tongue with a film of caramel, toffee and cakey sweetness; perhaps more in barleywine fashion of England than the ales of Edinburgh. However behind all those sugary flavors are the underpinnings of bog, tobacco leaf, peat and smoky earthen sweetness. Peppercorn and grape esters flow in and out of the mix for a highly complex middle palate that play out under the veil of malt.
Its moderate oily texture carries a sugary and buttery weight, but never distracts the palate. Though squarely focused on malt complexity, the sweetness lifts slightly and allows for the pepper and earth to round out the finish and to highlight the warmth of rum and port wine in a long, savory closing act.
Apr 07, 2015
leroybrown10 from Missouri
3.34
/5
rDev
-15.2%
look: 3.75 | smell: 3.5 | taste: 3.25 | feel: 3.25 | overall: 3.25
Pours a rusty brown color. Shows major ruby highlights when held to the light. Thin light tan colored head which disappears quickly. Cream lacing left behind which also fades quickly.
Nose is caramel, sweet malt, a hint of smoke and leather.
Flavors are similar to the nose. Some caramel and toffee. Subtle smoke and earthiness. Sweet, bready malt. Some hints of dark fruit, Fig and plum. A bit of black licorice.
Moderate to medium mouth feel. A bit of creaminess. Moderate carbonation. Some dryness at the end.
This beer seems to have a lot of potential but in the end is lacking. Needs to have a bit more heft in the body. The flavors don't seem to blend together and complement each other. The flavors could also use more intensity as they were mostly rather muted.
Feb 15, 2015

LiquidAmber from Washington
4.14
/5
rDev
+5.1%
look: 4 | smell: 4.25 | taste: 4 | feel: 4.25 | overall: 4.25
Poured into a Gulden Draak tulip. Pours a dark, hazy mahogany brown with a half finger off-white head with good retention and lots of lacing. Aroma of caramel malt, dark dried fruit, particularly dates, dried and fresh plums, toffee. Flavor is caramel and candi malt, figs and dates, toffee, with more fresh dark fruit flavors coming in at the finish. Medium bodied with nice creaminess. More of a wee heavy, with no strong peat element, but with lots of dry caramel malt flavors. Interesting flavor progression. Very mellow and well integrated, the flavors seem subtle at first, but the flavor complexity changes throughout the taste. Very nicely done and flavorful, I'll watch for more from this gypsy brewer.
Feb 07, 2015

Billolick from New York
3.93
/5
rDev
-0.3%
look: 3.75 | smell: 3.75 | taste: 4 | feel: 4 | overall: 4
1/2 growler filled at Green Growler Grocery, Croton - on - Hudson, NY
Pours a rich shade of mahogany/dark honey amber, minimal head, lace, film etc.
Caramel, milk chocolate and dark bread malt on the nose.
Densely flavorful, with rum, burnt caramel sugars, chocolate, licorice.
Well done malty and heady brew
Jan 25, 2015
GreesyFizeek from New York
4.13
/5
rDev
+4.8%
look: 4 | smell: 4 | taste: 4.25 | feel: 4.25 | overall: 4
Bottle purchased at Nathaniel Square Corner Store in Rochester, NY.
Pours a slightly dark reddish brown, with a quarter inch head, and a little bit of lacing.
Smells like caramel and caramelized Belgian sugar, brown sugar, dark fruit, and toffee.
The taste is very similar- this is a nice Belgian scotch ale. There's some fruity ester like activity here, some dark fruits, burnt sugar, caramel, toffee, fig, and a slight bit of alcohol.
It's medium bodied, with a full and very drinkable mouthfeel, and a lower amount of carbonation.
Another great beer from Grimm, they seem to do no wrong lately.
Nov 01, 2014

Greywulfken from New York
3.51
/5
rDev
-10.9%
look: 4 | smell: 3.5 | taste: 3.5 | feel: 3.25 | overall: 3.5
Label reads: Shapeshifter is a hysbrid (sic) Belgian/Scotch ale that celebrates the long shared history between two great brewing cultures. It is brewed with Belgian dark candi sugar and cool-fermented with a Scotch ale yeast.
A: deep ruby brown with nice clarity; a thick finger of tan foam atop left some motes of lace behind as it trailed down the glass
S: fruitiness reminiscent of "fruit leather" - warm toffee and sweet resin - hints of earthy spice
T: candi and toffee sweetness underscore the dark resin and wet, leathery tones; dark fruits (like dates) are suggested, and something vaguely like cherry or currant - all of this lightly painted with shellac...
M: warming, smooth, and slim-bodied; slips across the tongue effortlessly; tiny hint of carbonation, maybe a tingle of spice; slight almost tangy aftertaste
O: a decent enough ale - struck me initially as a straight Scotch ale, but as I settled into it, I could identify characteristics I might attribute to a dark Belgian ale - oddly enough, a slight souring aftertaste that I thought might be from Belgian yeast - but no, as this ale used Scotch ale yeast - go figure... Not as tacky as many Scotch ales - a little lighter in body, but not necessarily more effervescent. Consumed near room temp, the ale even presented some flavors and feel similar to English ales I've had. Interesting but not stunning. Worth a buy and try.
Oct 24, 2014
Shapeshifter from Grimm Artisanal Ales
Beer rating:
87
out of
100
with
45
ratings