Pop! - Pineapple

Grimm Artisanal Ales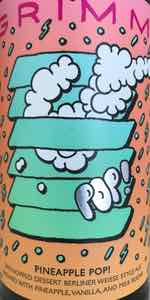 Rate It
Beer Geek Stats
| Print Shelf Talker
Style:

ABV:

4.8%

Score:

Avg:

4.12

| pDev:

5.83%

Reviews:

9

Ratings:

From:

Avail:

Rotating/Seasonal

Wants

Gots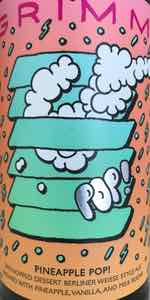 Notes:
Dessert Berliner with pineapple, vanilla, and milk sugar.

Phil-Fresh from California
4.07
/5
rDev
-1.2%
look: 4.25 | smell: 4 | taste: 4 | feel: 4.5 | overall: 4
Bottle.
A: Light pineapple, with moderate vanilla, and light sweetness.
A: Light bright yellow color, opaque, with a small, persistent, uniform head.
T: Moderate pineapple upfront, gives way to a creamy, lightly sweet, vanilla.
M: Medium bodied with moderately light carbonation and smooth mouth-feel.
O: Tasty; the beer has a moderate fruit flavor that's well supported by the vanilla and isnt over sweet, but very smooth.
Dec 31, 2017

bl00 from Pennsylvania
4.04
/5
rDev
-1.9%
look: 4 | smell: 3.75 | taste: 4.25 | feel: 4 | overall: 4
This was less sweet that I expected. I recall some of the other Pop's being sweeter and softer. Either way, a very enjoyable beer. Looking forward to more sours from Grimm in the future.
Dec 06, 2017
DrinkyMcDrank from South Carolina
4.04
/5
rDev
-1.9%
look: 4.25 | smell: 4 | taste: 4 | feel: 4.25 | overall: 4
Solid beer from Grimm here. Pours a light straw color and smelled of citrus. The taste comes in with mild tartness and pineapple flavor with a mildly creamy taste to it. No doubt from the lactose and vanilla. Personally wouldve enjoyed a bit more punch from the pineapple but overall a solid beer. Would recommend to try
Oct 19, 2017
mgrady3 from Missouri
4.37
/5
rDev
+6.1%
look: 4 | smell: 4.5 | taste: 4.5 | feel: 4 | overall: 4.25
Poured on draft into a tulip glass. Light straw color with minimal lace head that dissipates quickly. Wonderful citrus aroma. Definite pineapple flavor, tart not too sweet, I don't get any hints of vanilla, however. Lightly effervescent.
Glad I was able to try this and would recommend to anyone.
Oct 05, 2017
dbrauneis from North Carolina
4.11
/5
rDev
-0.2%
look: 4 | smell: 4.25 | taste: 4 | feel: 4 | overall: 4.25
A: Pours a cloudy pale straw yellow in color with moderate to heavy amounts of fine active visible carbonation rising quickly from the bottom of the glass and moderate pale golden yellow colored highlights. The beer has a finger tall fizzy foamy bright white head that quickly reduces to a couple of small patches of thin film surrounded by a large patch of very thin film covering the remainder of the surface of the beer and a thin ring at the edges of the glass. Light amounts of lacing are observed.
S: Light to moderate aromas of slightly tart tropical pineapple with light hints of slightly sour wheat malts, vanilla, and lactose sweetness. Light aromas of tart lacto.
T: Upfront there is a slightly heavier than light flavor of slightly sour wheat malts with a light presence of lacto. That is followed by slightly stronger than moderate flavors of tropical pineapple with a light flavor of vanilla and a light to moderate amount of lactose sweetness. The sweet fruitness slowly fades away and there is a very light lingering tartness.
M: Light bodied with moderate to heavy amounts of carbonation. Slightly heavier than moderate amounts of acidic prickliness.
O: Not sure that I think of a Berliner Weissbier as a dessert beer in general but this is enjoyable with the sweetness of the lactose + pineapple as well as the tartness. I easily enjoyed this bomber and I would definitely have this one again.
Oct 04, 2017
GreesyFizeek from New York
4.29
/5
rDev
+4.1%
look: 4.5 | smell: 4.25 | taste: 4.25 | feel: 4.5 | overall: 4.25
This one pours a very hazy creamy looking orange, with a firm small head, and lots of lacing.
This smells like sour candied pineapple, vanilla, lemon candy, lactose, and lactic acid.
I haven't had much of this series, but this is definitely highly enjoyable. Sour pineapple and vanilla is definitely a combo that works super well, as this feels like a tart pineapple milkshake, with the lactose making it taste very creamy.
This has a creamy and full bodied feel to it, with a good level of carbonation.
This is definitely a fun series, some of the best sours that Grimm does.
Oct 04, 2017
Buck89 from Tennessee
4.28
/5
rDev
+3.9%
look: 4.25 | smell: 4.25 | taste: 4.25 | feel: 4.5 | overall: 4.25
Hazy pale yellow just like pineapple juice. Frothy white head. Bright pineapple aroma with a hint of milk sugar. No off notes. Moderately tart with full pineapple flavor and a nice slightly sweet note from the lactose. Good body but not over the top or cloying. A nice balance with the sour. A great beer.
Sep 29, 2017

avas from New York
4.01
/5
rDev
-2.7%
look: 4 | smell: 3.5 | taste: 4.25 | feel: 4.25 | overall: 4
A: Very pale gold with about a finger of fluffy white head. Very cloudy, but not opaque. Looks like slightly watered down pineapple juice...
S: Surprisingly muted? I get a faint hint of underripe pineapple and a vague lacto tartness that manifests as a lemony/citric juiciness with some acidity along with it. No vanilla. Even as it warms, nose is not nearly as intense as other Pop! variants. Pleasant, I guess, but way too soft.
T: Ahh, that's more like it. Big, bright, fresh-cut pineapple with the lactose sugar helping transform it into a hardened candy form. Tart but not very sour. Little lacto yogurt flavor emerges mid-taste, but pineapple carries the day. Vanilla comes in on the finish to help smooth out an residual tartness and accentuates the aftertaste of pineapple hard candies.
M: Light in body with a generous amount of carbonation to give the beer a nice mouth-coating feel. Not too tart, but not too sweet either. As it warms, the lactose sugar begins to 'stick' to the tongue a bit more through the aftertaste, but it's not at all offensive.
O: Good Pop! variant, albeit not my favorite. I'm a big fan of pineapple, and this one definitely offers the 'essence' of the fruit in it's ripened form complemented nicely by the lactose and vanilla adjuncts. The nose is definitely the weakest point for this beer, as it is severely lacking compared to other variants. But the taste saves it and makes this a fun, enjoyable dessert Berliner.
Sep 27, 2017
CNoj012 from New York
4.31
/5
rDev
+4.6%
look: 4.5 | smell: 4 | taste: 4.5 | feel: 4.25 | overall: 4.25
This beer pours a very cloudy bright yellow color with a one finger, suprisingly dense, fizzy white head. Retention is better than expected and there are lots of thick foamy rings of lacing left all over the glass.
Smell is very bright and juicy pineapple, almost candied. There is also a hint of acidic sour and a layer of citrus in the background.
Taste is the same. Pineapple juice, candied pineapple, citrus hops, tart lemon and a touch of sweetness. The finish manages to be tart, sweet and bitter all at once. Truly a unique experience.
Feel is light and crisp with 7 out if 10 on the carbonation scale. Super drinkable.
Overall this is a great beer. This is the first of the pop beers I've sprung for bc a sugary sweet sour beer never seemed appealing, but my gf loves pineapple so we pulled the trigger. I am VERY glad we did. This beer is very unique and super tasty. Wish I grabbed a second bottle.
Sep 26, 2017
Pop! - Pineapple from Grimm Artisanal Ales
Beer rating:
90
out of
100
with
52
ratings