Hops Burger Bar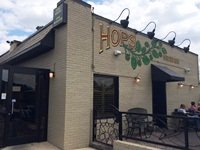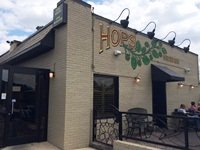 Bar, Eatery
2419 Spring Garden St
Greensboro
,
North Carolina
, 27403-2042
United States
(336) 235-2178 |
map
hopsburgerbar.com
Notes:

4.33
/5
rDev 0%
vibe: 4 | quality: 4.5 | service: 4.25 | selection: 4.25 | food: 4.5
Stopped in for lunch today early. Place was filling up nicely even before noon. Place is small on the inside, I can see this getting crazy packed at night. Good tap list and good bottle/can selection. Almost all "local" NC offerings on tap. Service was friendly and quick, not overbearing at all. Food was amazing as I expected. Burger cooked perfectly to order. Really one of the best gems in this town. A place I will frequent again and again...
447 characters

3.8
/5
rDev
-12.2%
vibe: 3 | quality: 3.5 | service: 4 | selection: 4 | food: 4.5
This is a very burger-centric restaurant with a nice beer selection. It seems to be very popular; went there for lunch on a Saturday, and five minutes after opening most of the tables were full (most of the bar too). Twenty minutes after opening there was a line down the sidewalk and staff had a wait list going.
The interior is close-quarters; it's not a very big place, and they have made the most efficient use of space possible, so it feels a bit claustrophobic when it gets full. The indoor dining area is not very well-lit, either, which probably contributes to that feel, and two of the folks that were with me later commented on a vaguely unpleasant smell that I didn't pick up on. Outside seating is a nice option if the weather is good- that's what we chose.
The menu is burger-heavy, as would be expected from the name of the place. There are ten different named burgers to choose from, with a few options for bun (brioche, potato roll, pretzel roll, and gluten-free) and burger (veggie, turkey, bison, grilled chicken), plus about a dozen different appetizer options, a few salad options, and a few different sandwich options. There is also a pretty comprehensive "build your own burger" option if none of the standard burgers are to your taste. Fries can be had with one of about a dozen different toppings; the base fry is a medium-sized breaded/seasoned fry similar to what Popeye's uses- good stuff. Prices are a bit high, but not outrageous.
Beer selection is very good for a burger joint; 18 taps and about 40 cans/bottles. The selection is very NC-centric, with Wicked Weed as a particular focus. Styles available run the gamut; there should be something here for everyone. Me? I had a Torch pilsner from Highland Brewing Company to go with my Hops Classic 8-oz burger.
Service was very good. Staff were pleasant, efficient, professional, and responsive to customer requests; they are obviously used to being quite busy, as they handled a full push at opening like it was business as usual. The wait time between ordering and the food hitting the table was very good considering how many orders must have gone in at once. Once the food was served, our server was attentive but not over-present. We cashed out at the same time as three other tables, and she handled the checks very quickly.
And the burgers? They were ace. Best burger in Greensboro? Probably not, that's a high bar. A top-notch option that I will make it a point to revisit next time I'm in town? Absolutely!
2,499 characters
4.18
/5
rDev
-3.5%
vibe: 3.25 | quality: 4.5 | service: 4.75 | selection: 3.25 | food: 5
The burgers are outstanding, definitely worth the trek. The beer selection is decent, there's usually something on the list worth spending time with. Outside seating is far preferred IMO, inside sometimes has a rather unpleasant smell going on. One of my go-to joints when I'm in the area.
289 characters

4.54
/5
rDev
+4.8%
vibe: 4.25 | quality: 4.5 | service: 4.5 | selection: 4.75 | food: 4.5
Best burgers and beer list in town. Their draft lineup is constantly rotating with a good mix of local, state, and national craft beers. They often have stuff from wicked weed, haw river, and foothills that can be tough to find in one spot.
I recommend trying any of their specialty burgers, The one that seems to get the most hype is the North Carolinian. I guess having fried egg, fried green tomato, bacon, and pimento cheese on a burger will do that. The spicy goat is great as are the daily specials.
The staff knows their craft beer and are friendly and attentive.
578 characters
4
/5
rDev
-7.6%
Sweet spot to get some grub and beer, but be prepared to wait a bit. This place has been packed every time I've been. In the warmer seasons there is some outdoor seating, so that helps a bit. Pretty unique menu of local and farm raised fare and some really different styles of burgers, as well as gastro pub apps and the sort. Pretty decent taplist of craft beers, with mostly local offerings. The tabled seating is packed in pretty tight, with some booths along the side wall, and the long, straight bar all the way in the back. There are some tvs above the bar for sporting events. This is a pretty cool spot if you are in the Triad area.
641 characters

5
/5
rDev
+15.5%
I love this place. They try to always have a great rotating selection of craft beers and consistently produce a great hamburger. If you are looking for a great place for lunch or dinner with your craft beer, this is one of the best places in Greensboro.
254 characters

4.75
/5
rDev
+9.7%
vibe: 4.75 | quality: 4.75 | service: 5 | selection: 4.5 | food: 4.75
This is the go-to spot in Greensboro, if you want the best burger in town!!! Their burgers are 100 % Angus fresh ground, they use local veggies, and local made cheeses. They have some cool burger ideas. The Diablo is my favorite.
Friendly, and knowledgeable staff!!
Their beer selection is quality vs. quantity. It would be nice to have a wider selection of beers on tap, but there is always something for everyone's taste buds. It is a busy place, so if you are going on a friday or saturday, expect a wait to sit down.
523 characters
3.99
/5
rDev
-7.9%
vibe: 3.75 | quality: 4 | service: 3.75 | selection: 4 | food: 4.75
I drove by this place, and knew it was what i wanted to go to once i saw the name "Hops Burger Bar"…
Confirmed via yelp the reviews spoke highly of this place and their rotating brew selection.
Got in and figured i'd drink local to see what NC was about. Went with the Foothills Hoppyum IPA…. paired with a Classic burger and Sweet potato fries.
Burger was AWESOME. Sweet potato fries came with this sweet cinamin butter type dip.
The beer itself may have not satisfied my palate but it's definitely not the restaurants fault.
I also tried Weyerbacher's Insanity barleywine which i believe is out of PA, very solid.
Overall good selection of brews on tap to choose from, and fantastic food. Everyone with me gave me an applause for calling the shot to stop by here for dinner.
788 characters
4
/5
rDev
-7.6%
vibe: 4.5 | quality: 4 | service: 4.5 | selection: 3.5 | food: 3.5
First day in NC, first bar that I'm trying out. Overall the experience was pretty great. The bartender was quick on the draw and the manager came up almost immediately with a fresh beer list. I started of with an old favorite, the Bell's Two Hearted. I asked the bartender for her advice on the menu and she suggested one of their signature burgers. The food was good, although the burger was way under cooked. Next up I ordered a second beer, a local Ginger IPA. It was way gingery, but I was warned to expect that. All in all it was solid. I will go back and also recommend it to others.
589 characters

4.03
/5
rDev
-6.9%
vibe: 3.75 | quality: 4 | service: 4.25 | selection: 3.75 | food: 4.5
In town on business and stopped in for dinner and a beer on a Tuesday night.
Very casual, chill atmosphere. Of course it was a Tuesday night. I'm veggie so I came as much for the beer as I did for the veggie burger selection.
A little disappointed by the beer selection. Maybe 10-12 beers on tap and a modest selection of bottles. If I wasn't from Chicago I probably would've enjoyed seeing the founders imperial stout but I enjoyed a foothills porter just the same.
The real highlight was the veggie burger. Unreal. They had three types of veggie patties so I asked the bartender if he'd had any if them. Without hesitation he said the nutty patty. He was right. So good. Would have gone back just for that if I would've had time.
Service was excellent and prices reasonable. I'd visit again.
797 characters

4.13
/5
rDev
-4.6%
vibe: 3.5 | quality: 4 | service: 4.5 | selection: 4 | food: 4.5
Went for lunch on a Sunday. The burger was delicious and reasonably priced. The selection wasn't the widest I've seen, but everything on tap was great quality. It's hard to go wrong with delicious, well prepared burgers and a great rotation of craft beers on tap. I would highly recommend anyone in the area check this place out.
329 characters
4.48
/5
rDev
+3.5%
vibe: 4.5 | quality: 4.75 | service: 4.5 | selection: 4 | food: 4.75
These guys have a great selection of beers, and some incredible food try the Diablo burger on the menu, oh man is it good. The staff was friendly and knowledgeable about the beer and the food. The food was slow coming out, but they were busy and that can happen anywhere you go. Plus that just gives you time to drink more great beer. A+
Hallabrew
348 characters
4.4
/5
rDev
+1.6%
vibe: 4.5 | quality: 4.5 | service: 4 | selection: 4.5 | food: 4.75
I started out with the goat cheese it was very flavorful and well presented. I got the Hops Classic and the flavor of the meat was incredible. Quality bread and high quality local cheese. There beer selection is great. 17 taps and plenty of craft bottles. Hops has everything beer wise you would want. Not to many, not to few. Great place!
339 characters
Hops Burger Bar in Greensboro, NC
Place rating:
4.33
out of
5
with
41
ratings