The Beer Shop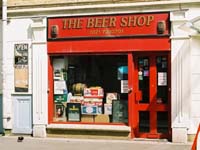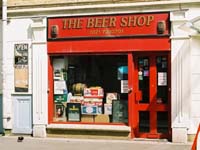 Homebrew, Beer-to-go
14 Pitfield Street
London
,
England
, N1 6EY
United Kingdom
// CLOSED //
Recent ratings and reviews.
Ratings by wl0307:
Reviewed by wl0307 from England
4.15
/5
rDev
-5.3%
This legendary beershop just next door to the Pitfield Brewery is a hit and miss in my opinion.

Great selection of beers from mainly Britain (more than 100) and some gems from Belgium (around 40?) and France (5?), with contribution from other countries as well--German beers, several bottles of Czech pilsners, Aussie, rare Swiss beers and even a beer from Vietnam, etc. Also for sale are some (very old) vintage bottles and beer glasses, along with quite a few self-brewing kit and equipments.

But the miss is this, that the owner doesn't care about the tidiness and cleanness in such a crowed and small shop, with dust all over the place. To complicate things further, beers are arranged on shelves quite randomly, with bottles of the same beers here and there and on the floor even. Even their own range of Pitfield beers are located in three different places... I admit I had a nice time browsing all their beers but wasn't impressed by the rather overly random style which makes shopping a bit inefficient if one doesn't have so much time. Quite a few British bottle-conditioned beers were expired, but the owner said he wasn't bothered by this fact coz there's no scientific conclusion about the shelf like of any certain beers. Although I quite share his comment, I equally have had some bad experience with expired British bottle-conditioned beers, thus not feeling so confident in his self-confidence.

Overall, this is THE place to be in Central London if one's going for a serious range of beers. Mind you, the price is not cheap, but it's hardly a criticism as this is London!!
Oct 05, 2005
More User Ratings:
Reviewed by twilight from Germany
4.45
/5
rDev
+1.6%
This was the very last stop on my first trip to London. I was there on business for three short days, and was mostly wrapped up in business stuff (though I did hit the Sainsbury's in the Vauxhall rea for some good stuff). I had three must-sees in London: The Tate Modern, The Millenium Bridge, and The Beer Shop.

This was on Pitfield Street a short walk from the Old Street Station on The Tube. 20 minutes from Vauxhall, and on the outer edges of the central city, but still, there are no excuses for not visiting.

My London Beer experience consisted of quaffing Bitters, so I asked the owner to recommend me some bitters after picking up the John Martin Belgium Special Export Guinness. I recognized most of the Belgian selection, a good, solid selection. I passed up the Rodenback Grand Cru because I was looking for the Alexander, and later kicked myself on it. Nevertheless, I did get a few gems. The shop owner recommended the Piffield Hoxton Bitter, and a few others which were wrapped up for me when I got back to Vauxhall and on the plane.

The left hand side of the shop was dedicated exclusively to homebrewing supplies, and while I am a homebrewer, I didn't focus on that section much. I was going to get an airlock (you can never have too many airlocks), but then saw the incredible beer selection. A couple of shelves arranged like bookcases along the right wall. The Belgian selection is quite nice, with standards that you can get in the states like Rochefort and Cantillon, as well as some odd ones like Poperinges Hommel bier. Also some German beer, and a single shelf for American Beers like Sierra and Anchor products. The owner said they didn't really move at all.

The real gem is the selection of British Beer. I didn't want to bring back any Fuller's, and I wasn't overly impressed by Young's, though they make some solid brews that you can't get in America. But the wall. I just stared blankly at all the British Ales. And I though I knew everything... Turns out, many of these are regional offerings, so they're not well known. Picked up a few of these and paid the man in quids. Packed my six bottles up in a double bag and I was off to brave The Tube with my take.
May 17, 2005

Reviewed by UncleJimbo from Massachusetts
4.15
/5
rDev
-5.3%
I visited The Beer Shop while in London the first week of November, 2004. Actually, I visited twice because the first time I arrived, the shop was closed. Liquor stores definitely close earlier in London than in the USA. So, check the hours before you go.

The shop is a short walk from the Old Street Underground station, and is located on Pitfield Street, adjacent to the Pitfield Brewery.

The shop is not very large, and is roughly rectangular in shape. The wall on the right is lined with shelves full of beer, and there are more shelves in the rear. The store has a good selection of English ales and some Belgian beers as well as others from Europe. Of course the store has an almost complete collection of Pitfield's beers, including their organic line (I believe the shop is owned by Pitfield Brewery, but I am not 100% sure). The store also had a good selection of beer glasses, and some homebrewing supplies. I found many beers to take home to the States here. It is small by American terms, but it is certainly one of the best beer shops I found in greater London.

The service was friendly and knowledgeable, but not overly intrusive.

Definitely worth a visit, and in the same area as Wenlock Arms if you want to combine visits.
Feb 05, 2005
Reviewed by ark57 from Pennsylvania
4.5
/5
rDev
+2.7%
This is one of the best places to go in London for beer. They have a great selection of ales from England and Scotland. They do have beers from other countries, such as a respectable selection of Belgians and a smattering from Germany, but they have the most most impressive stock of their own domestic beers. They also brew their own beers on site, which are also sold in the store. I regret that I only bought their porter and stout, which are both excellent. I just wish I had room for more. It was real fun carrying my stash back on the tube to the hotel.
Feb 13, 2004
Reviewed by GreenWBush from Oregon
4.65
/5
rDev
+6.2%
After months and months of visiting local wine-shops and grocers for beer purchases, I figured it was high time to find something special.

Beware: if you plan to make it to the Beer Shop, call first. I went on a weekday and found it closed.

This beer shop is quite tiny in American terms. You will be shocked by the amazing selection of UK and Belgian beers. I picked up a few specialties and two nice glasses: a Delirium Tremens glass and a Samuel Smith goblet. I had hoped to find a few American classics, but they only had some of the "common" US beers overseas.

There are many nice pieces of glass, but some are aged and overpriced. But the real deal is the ale selection. You'll find tons of micro-ish UK specialties and all the brewing equipment and information you need to get started.

A must stop for all BAers in the Great City.
Jan 21, 2004
The Beer Shop in London, GB2, United Kingdom
Place rating:
4.38
out of
5
with
5
ratings