Franklin Land Trust Preservation Ale
| Berkshire Brewing Company Inc.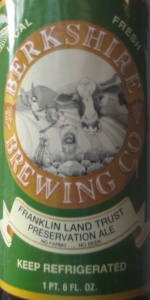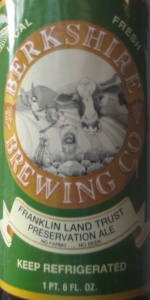 BEER INFO
Brewed by:
Berkshire Brewing Company Inc.
Massachusetts
,
United States
berkshire-brewing.com
Style:
English India Pale Ale (IPA)
Alcohol by volume (ABV):
not listed
Availability:
Rotating
Notes / Commercial Description:
No notes at this time.
Added by Jwale73 on 08-08-2011
HISTOGRAM
Ratings: 12 | Reviews: 8
Reviews by SirSketch:
4.61
/5
rDev
+22%
look: 5 | smell: 4 | taste: 5 | feel: 4.5 | overall: 4.5
A - Giant cream colored, shaving cream head. Semi-transparent beer ranging in color from burnt yellow to pumpkin yellow.
S - Piney, fresh hop aroma, as well as some English yeast character.
T - This beer has an extraordinary malt complexity! Light toasty bread, wheat, rye, smoked malt and sweet crystal malt flavor. Just enough hops to cut through the sweetness. Wonderful!
M - Frothy, creamy mouthfeel.
O - I've in love with this beer! Preservation Ale is an extremely well constructed brew
496 characters
More User Reviews:

3.58
/5
rDev
-5.3%
look: 4 | smell: 3.5 | taste: 3.5 | feel: 4 | overall: 3.5
22 oz bottle into a couple of tulip glasses.
Pours a hazed orange copper, with a ½ bright-white head. This maintains some foamy ringing around the edges, leaving back thick swathes of lace. The aroma smells grassy and earthy, with some soft citrus and light herbal accents. Green fruit and sweet malt add tanginess to this across the back of the nose.
The taste is more earth and herbs that surrounds more of a zesty feeling bitterness. Softer fruit notes takes some of the edge off, while bready sweetness from the malt does a fine job of balancing the bitterness, although the hops do return in the finish with some pith and a lingering dank feel. The mouthfeel is medium bodied and crisp on the tongue, with a slick firm creaminess that spreads out in the mouth.
I was a bit shocked to hear that this batch was actually brewed last summer (I purchased the bottle this past February); although I must say that this seemed to have held up pretty well. While this did lack some pop, this still had a solid breezy bitterness to it that was well balanced and helped make this a crisp and relatively easy drinking affair.
1,124 characters

4
/5
rDev
+5.8%
look: 4 | smell: 4 | taste: 4 | feel: 4 | overall: 4
Poured from a 22oz bottle into a mug glass.
A: The beer is a light amber color, with a large off-white head that fades slowly and leaves a thick lace on the glass.
S: The aroma contains caramelized malts, earthy hops and some citrus.
T: The taste starts out sweet with flavors of citrus and caramel. Then a decent hops presence comes in. The malt character is hearty but not too heavy and creates a good balance. The after-taste is slightly sweet.
M: Crisp and smooth, medium body, medium carbonation, finish is slightly sticky.
O: Tasty, goes down very easily, not too filling, mild kick, not too filling, good representation of style, this is a solid beer to pound down for a while.
689 characters
3.9
/5
rDev
+3.2%
look: 3.5 | smell: 3.5 | taste: 4 | feel: 4.5 | overall: 4
22oz bottle purchased as a single at Yankee Spirits, Sturbridge, MA. Bottle is printed with a Freudian slip "Best Buy 12/27/11".
Poured into an imperial pint glass, formed a 1/4" beige head over the almost clear orangey amber brew. Soda-style bubbled head fades promptly, with slow-falling, lasting lace. Aroma is sedately of nutty malts and lightly floral hops.
Taste starts with a light sweetness, lemony citrus bitterness in the middle, with a clean rounded close. Mouthfeel is smooth, and drinkability is easy. Good brew, good cause. "No farms, no beer." Indeed.
569 characters
3.58
/5
rDev
-5.3%
look: 4 | smell: 3.5 | taste: 3.5 | feel: 4 | overall: 3.5
Big creamy almost 2 finger head fades semi slowly with lots of lacing, hazy yeast filled tan golden orange color.
nose starts with light creamy pale malts, soft pilsner malts, then grassy floral hops, lighter hops overall, a slight herbal earthy rustic hop aroma.
Taste comes herbal and grassy, an earthy almost floral grassy hop brings light bitterness, then light grainy rustic almost bready malts. Finishes dry and grainy, with a bit more bitterness, more grassy herbal hops and light creamy malts. Light and sessionable.
Mouth is med to a bit lighter bodied, decent carb.
overall not bad, very light and sessionable ale, light grassy herbal earthy hops, light grainy malts, would be a nice late spring beer.
715 characters

3.41
/5
rDev
-9.8%
look: 4 | smell: 3 | taste: 3.5 | feel: 3.5 | overall: 3.5
I'll start this review off by saying that this beer is not fresh. Looking up articles online it appears this was brewed back in September. I remember seeing this in Table & Vine months ago, and now it just popped up in a local store. I love how BBC brews a lot of beers for local charities so I figured I'd chance it. 22 oz bomber into a SA perfect pint glass.
A - Dark yellow/light golden body. Very clear with lots of present carbonation. Soapy 3 finger heads settles down to edging and splotchy patches.
S - Hops have faded a bit, but I do detect some piney hops that are so typical of BBC. Very English in style with smooth caramel and biscuity malts being the dominant aroma here.
T - Matches the aroma. A slight hint towards piney hops followed by caramel, toffee, and biscuits. Very sooth and mellow with a pleasant finish. Mouth feel is light to medium with a nice level of carbonation.
O - BBC is one of the few breweries who I think can get away with an older IPA. Their beers always seem to have a tame hop profile, but an excellent malty backbone. Chewy and caramel and toffee rich, this beer still had some life left in it.
1,141 characters


3.71
/5
rDev
-1.9%
look: 4.5 | smell: 3.5 | taste: 3.5 | feel: 4 | overall: 4
Purchased at Ryan and Casey's in Greenfield on 8/5/11. To paraphrase the label - proceeds from the sale of this beer will be directed to support the FLT's conservation programs and the brew is reminiscent of what an India pale ale would taste like if brewed during the 1800's. I couldn't identify a style on the bottle, but it has a distinctive English IPA character.
Served in a nonic. Pours a beautiful hazy copper with a creamy, dense, one inch bright white head that loses its volume by half within minutes before settling into a thin, consistent cap. Delicate strands of fine lacing encircled the glass during the tasting. Not much happening in the nose - earthy notes, a light grassy quality and a faint smokey character at the finish. Earthiness translates to the flavor profile, as well as toasted malts, some citrus notes, a trace of caramel and a suggestion of hard water. Mouthfeel is light-medium in body with an even, lively carbonation. Not much complexity, but style consistent (if it is an English IPA) and easy drinking. I bet this beer would taste fantastic on cask.
1,086 characters
3.3
/5
rDev
-12.7%
look: 3.5 | smell: 3.5 | taste: 3 | feel: 3.5 | overall: 3.5
slightly hazy copper with an average sized almost white head that sticks around a bit and laces a bit.
pretty faint aroma of grassy/herbal/floral hops with some biiscuity malts behind that and some slightly toasty bread aromas.
a slight smokiness not present in the aroma comes through with some grass, hay, and toasted flavors.
medium bodied with a nice, soft carbonation and a smoky and bitter lingering flavor
its decent, but I probably won't revisit. the smokiness is just kind of odd with the English IPA flavors.
523 characters
Franklin Land Trust Preservation Ale from Berkshire Brewing Company Inc.
Beer rating:
3.78
out of
5
with
12
ratings