Strutter
| Bitter Old Fecker Rustic Ales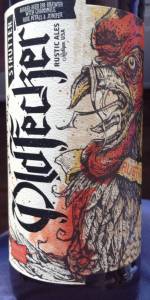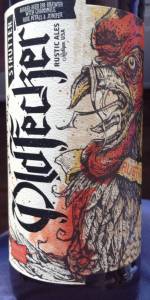 BEER INFO
Brewed by:
Bitter Old Fecker Rustic Ales
Michigan
,
United States
bitteroldfeckerrusticales.com
Style:
American Imperial IPA
Alcohol by volume (ABV):
10.20%
Availability:
Rotating
Notes / Commercial Description:
On a black-cold early Spring morning on the farm of Cecil K. Fecker,a bad-ass Brahma rooster marched into the yard from the field by the back swamp. Fourteen pounds of free-range spit 'n vinegar, as orn'ry as they come. That rooster decided he was the Alpha Bird on that old farm, and since that day he's gone after everyone and everything in his path. Get on Strutter's bad side, and you got a tattoo carved with talon and inked in blood. But don't be afraid of this righteous brew. Go ahead, grow a pair, and try a Strutter, named after the only thing cut from the same burlap as the old Fecker himself. Strutter Batch #1 Bottles; Quantity 816.
India pale ale brewed with chamomile, rose petals, juniper, and honey and aged in bourbon barrels.
Reviews: 13 | Ratings: 40

4.58
/5
rDev
+10.1%
look: 4 | smell: 4.75 | taste: 4.5 | feel: 4.5 | overall: 4.75
Batch 2, bottle 616/6233, poured into a tulip glass.
A: Pours a cloudy, ruby-orange amber color with a one finger head that dissipates ever so slowly. Tiny bubbly lacing prominent on the vessel.
S- Mostly floral, roses and lilacs at first, with notes of juniper and boozy bourbon present, but not overpowering. Flowers and hops dominate the nose.
T- Rose petals, chamomile, and hop bitterness progress into a concert of spices, juniper, and herbs with a mellow honey oaked bourbon finish. There is also a subtle hint of farmhouse funk, earthiness and citrus fruits. I cannot describe in words how all of these complex attributes come together in perfect harmony to deliver an exceptional sensory experience.
M- medium bodied with just the right amount of carbonation that allows the complex flavors to shine. Perfectly balanced.
O- This is unique and creative, a rare treat that is hard to describe in words. It's truly a 3-dimensional beer that Is stimulating on all levels. Highly recommended!
1,006 characters
4.4
/5
rDev
+5.8%
look: 3.25 | smell: 4.5 | taste: 4.5 | feel: 4.25 | overall: 4.5
We crack bottle 111 of 816 of Batch 1, pouring a brew with the look of fresh, unfiltered apple cider into our Founders snifters. A hard pour produces a half finger tall head of straw colored bubbles, showing soft retention. Patterns of spotted lacing are left around the glass, with a heterogeneous film left across the liquid's surface. Haze is infinite, so much so that it darkens the beer, and absorbs light. No outright sediment is noted, and carbonation appears to be active. The aroma gives a base of thickly pale and toasty caramel malts, and grassy, floral, and citric hops. Accenting this are notes of juniper berry, tangerine flesh and tartness, warmed booziness, buttery diacetyls, bourbon barrel woodiness, bright mint leaf, evergreen needles, black pepper, striking honey sweetness, lemon seed, earthy mineral and dirt, and sour Starburst juiciness. Our first impression is that the flavoring doesn't hold back on all of the added florals, which blend by the finish for a bitter goodbye. As we sip, the taste opens with resinous cherry and juniper berry skin and vine, canned peach syrupiness, peppermint bark, floral hoppiness, chamomile leafiness, fusel booziness, burning cedar woodiness, granular white sugar, pale and wetly wheaty malts, and lemon rind. The blend through the peak is even and smooth, with white sugar and commercial lemonade sweetness, oil of bergamot, walnuttiness, continued sweetly floral and herbal hops, caramel grain, rose and strawberry petals, light plastics, pencil woodiness, warming bourbon, and phenolic clove. The end offers fruitiness of fresh apricot and plum pulp, dark bourbon warmth, black tea tannins, lemon juiciness, peppery spice, light caramel and grainy sweetness, Graham cracker crumbles, buttery diacetyls, gravel, musk, and blue cheese moldiness. The aftertaste breathes heavily of fumy bourbon, clean and fresh wet woodiness, moss, black pepper, ethanol, vined greenness, maraschino cherries, dried twigs, bitter gingerbread dough, vanilla extract, dried parsley, celery vegetals, and phenolic plastics. The body is medium to thick, and the carbonation is high but not offensive. Each sip gives wonderful slurp, smack, cream, froth, and pop, coating the mouth thoroughly. This dries with quick astringency streaking across the hard palate, with moderate pucker to the base of the tongue. The abv is appropriate, and the beer drinks nicely.
Overall, what we enjoyed most about this beer was how ambitious it is, but also how incredible well it works. This is a brand new brewery, and as far as we can tell, this is their only beer as of yet. They don't just give some run-of-the-mill DIPA, but rather start with a nice base, slam it with honey, rustic herbs, and berries, and stuff it into bourbon barrels. All of these notes are wonderfully apparent throughout, especially through the nose, which gets better and better as it warms. The flavoring starts and ends bitterly, but through the peak it blends to become this even, sweet, bourbon-laden, herbal beer that hits the spot just right. So, for their first beer on the scene, they do it big, but they do it right, and "old Fecker himself" would surely be proud to sip this and have his badass name adorn its side.
3,240 characters

4.39
/5
rDev
+5.5%
look: 4.25 | smell: 4 | taste: 4.5 | feel: 4.75 | overall: 4.5
Poured from bottle #615/816. My third time drinking one of these.
Appearance- Cloudy, muted brownish-orange, with a thin, bubbly head that remains about 1/2 a centimeter, and leaves a lot of bubbly lacing on the glass. Note the "rustic" in the name. I'll be swirling this one with every sip.
Smell- Lots going on. A huge, spicy Juniper/Gin-forward nose followed by a sweet, bourbony bite, and lots of grassy, funky farmhouse yeast vibes. The bouquet as a whole has a big artisan Gin and Bourbon vibe. Herbal, medicinal, hoppy and yeasty. Super complex.
Taste- Spicy, Flowery draw- definitely some rose and chamomile characteristics here. Bourbon sweetness blended with solid hop character. Hop bitterness quickly moves into herbal gin notes, and finishes bitter with strong tingly Gin notes, but not overpowering. Awesome tastes melding together.
Mourhfeel- Super smooth and creamy, but finishes crisp and refreshing. Any denser or lighter, and I feel it wouldn't complement the complexity of the beer. Very well suited for this beer.
Overall- Super unique, super flavorful. A definite gem in the Michigan brewing scene. Not very easy to get, and very limited, paired with all the complexity in the brew, makes this a total knockout of a beer. Very well done, and I look forward too all of the BOFRA releases. Can't wait to get into a Kaplan.
Cheers!
1,356 characters
4.3
/5
rDev
+3.4%
look: 4 | smell: 4 | taste: 4.5 | feel: 4 | overall: 4.5
Poured from a 22oz bottle (labeled batch 02, 4594 limited, G233 edition) into a tulip. Purchased from the liquor/convenience store next to the brewery.
Pours with a 1/4-finger head of off-white foam. The beer is a cloudy golden.
The aroma is of spicy and floral hops, roasty malt with a slight candy sweetness. The taste follows the aroma in general but with more sweetness (cotton candy?) and sweet spice along with some funk. There is a balanced bourbon barrel aged character. The herbal characteristics are also in good balance.
The mouthfeel is appropriate for the style
This fascinating beer has a lot going on -- definitely more than I can discern and describe. I loved all the unusual elements and how each one was balanced with the rest of the beer and how each one maintained an almost mysterious subtlety. This is a special occasion beer -- pricey but worth it!
875 characters
4.22
/5
rDev
+1.4%
look: 4 | smell: 4.5 | taste: 4 | feel: 4 | overall: 4.5
22 ounce bottle into tulip glass; bottle # 554/816, no bottle dating but a very recent release. Pours very hazy deep orange amber color with a 2 finger dense cream colored head with good retention, that reduces to a small cap that lingers. Spotty soapy lacing clings around the glass. Aromas of big tangerine, pineapple, grapefruit, orange zest, orange rind, lemon zest, juniper, floral, herbal, grass, toffee, oak, light bourbon, light clove, light pine, bread, honey, light caramel, and floral earthiness. Fantastic aromas with great complexity and balance of bright hop notes with malt and the herbal/barrel notes; with great strength. Taste of big tangerine, grapefruit, orange zest, orange rind, pineapple, lemon zest, juniper, floral, grass, light pine, bread, honey, light caramel, toffee, oak, light bourbon, light clove, and floral earthiness. Fair amount of earthy floral/pine bitterness on the finish; with lingering notes of citrus, citrus zest, pineapple, orange rind, juniper, floral, grass, light pine, honey, bread, light caramel, toffee, and oak on the finish for a while. Damn nice complexity and balance of bright hops with malt, herbal, and barrel flavors; with a great hop/malt balance with zero cloying flavors after the finish. Medium carbonation and fairly full bodied; with a creamy, moderately slick, and lightly sticky mouthfeel that is nice. Alcohol is very well hidden with only a small warming present after the finish. Overall this is a highly excellent DIPA! All around great complexity and balance of hop, malt, herbal, and barrel flavors; and dangerously smooth to sip on for the ABV. A highly enjoyable offering.
1,647 characters
4.2
/5
rDev
+1%
look: 3.75 | smell: 4.25 | taste: 4.25 | feel: 4.5 | overall: 4
The complexity of this brew is painted out on the label, lets see how it holds up.
This beer is amber-almost brown color and hazy like described and just how I like it.
The smell is all over the place, potpourri, bourbon barrel, and the bit of hop freshness leads to an overall pleasant experience for the nostrils.
The taste is complex, leathery bourbon is not overpowering to the hops and the juniper and other aromatics are dancing on the tongue pleasantly and beautifully.
The liquid is medium bodied and supports the taste buds to break down the flavors uninterrupted, almost perfect for this brew.
I love this beer and don't tend to like barrel aged IPA's. I think that is because they went beyond the norm and added complex flavors and aromatics unlike any other IPA I've ever had. Enjoy if you are lucky enough to find it. Cheers!
846 characters
4.18
/5
rDev
+0.5%
look: 4 | smell: 4 | taste: 4.25 | feel: 4.25 | overall: 4.25
1 PINT, 6 OUNCE bottle
Served in a snifter
Batch 02
This beer pours amber with orange highlights and is hazy. It is topped with an inch of beige head that leaves decent lacing.
The aroma is oak and bourbon.
The taste starts out a little sweet. I get some caramel and vanilla. The juniper makes an appearance with some floral taste in the finish with mild bitterness.
Medium mouthfeel
This is a tasty beer. I bought it two years ago, so it loses some of its adjunct flavors. It still have great character and tastes a lot smoother than the Nihilist that I just had. I really like the couple of Bitter Old Fecker beers that I have tried.
642 characters

4.14
/5
rDev
-0.5%
look: 4 | smell: 4.25 | taste: 4 | feel: 4.25 | overall: 4.25
$ 11.69/bomber ($ 0.532/oz) at Oppermann's Cork N Ale, Saginaw, MI
Undated bottle (Batch 02, 2547/3996) at 42 degrees into hand washed and dried JK snifter
Aroma fruity, cider
Head small (< one cm, slow pour), off white, fizzy, diminishing to a two mm ring and scummy partial layer
Lacing – poor. A few narrow lines of tiny bubbles
Body medium orange, cloudy (Unfiltered), effervescent
Flavor – odd. Juniper predominates with the honey sweetness following. The alcohol shows up as an aftertaste. No malt, no hops, no diacetyl.
Palate medium, creamy, lively carbonation.
Appearance 4, Aroma 4.25, Flavor 4, Palate 4.25, Overall 4.25
643 characters

4.13
/5
rDev
-0.7%
look: 4.25 | smell: 3.75 | taste: 4.25 | feel: 4.25 | overall: 4.25
Beautiful pour. Super cloudy, golden orange with a two finger cap of head that sticks to the glass. Even with a stuffy nose I can tell immediately that this packs a punch. Would have guessed Barleywine if blind tasting. Restrained hop bitterness comes through first on the taste but the finish is boozy and resinous. Don't get a ton of bourbon but the wood is very present. Finish is very dry. The aftertaste reminds me of a gin & tonic (due to the juniper, presumably).
Over all really enjoyed this. Very complex. Worth seeking out
534 characters
3.99
/5
rDev
-4.1%
look: 3.75 | smell: 4 | taste: 4 | feel: 4 | overall: 4
Poured from a bomber into a snifter, the beer is a hazy, opaque, light tan coloring with a white halo of head. Caramel, cinnamon, and pepper notes, with overlays of roses and juniper. Flavors are very floral forward, heavy on rose petals, with a solid blend of tropical fruit notes, including melon and mango. Subtle spice blend of cinnamon and nutmeg, Very sweet and rich. Smooth and big bodied, with a floral and richly sweet aftertaste, and subtle hops bitterness. Smooth, spiced sweet linger throughout the slow, creamy finish. Pretty unique brew.
552 characters
3.95
/5
rDev
-5%
look: 3.75 | smell: 3.75 | taste: 4 | feel: 3.75 | overall: 4.25
the higher abv only indicated in alcohol aftertaste. Some tartness and smoothness (the honey). Moderate bitterness. Really..a strong ale. Herbal tea/chai tea aroma.Some lace lines.Smooth for the style.
201 characters
3.9
/5
rDev
-6.3%
look: 3.75 | smell: 3.75 | taste: 4 | feel: 3.75 | overall: 4
Poured into a Wicked Weed snifter. No freshness date.
A- Pours a murky dark amber color with a 1/2 inch off-white head that retains well before becoming a thin ring around the edge of the glass and a large center patch of sheer surface foam. Not-so-resilient lacing leaves tiny clots behind.
S- Very herbaceous aroma with notes of chamomile, orange peel and a bit of booze.
T- The juniper is very pronounced in this and the hoppy bitterness goes pretty well with it. It drinks like a craft cocktail with all sorts of herbs and spices plus the booze from the bourbon barrels. The vanilla notes from the barrel come through more as it warms.
M- Sharp from the hops and herbs with medium carbonation and a body leaning toward the fuller side.
O- I wasn't sure what to make of this beer when I started drinking the bomber but, now that I've gotten into it, it's pretty tasty though very unique.
899 characters
3.6
/5
rDev
-13.5%
look: 3.25 | smell: 3.75 | taste: 3.5 | feel: 3.5 | overall: 3.75
poured from a 22 pt. 6 oz. brown bottle - Batch 02 (2365/6233)
Strutter filled my tulip glass with a cloudy amber hue. A hard pour produced a thin 1/4-finger [at most] off-white head. The head was gone in no time and formed a thin ring of foam with no lacing. The nose is dominated by floral notes most likely from the chamomile plus a very light sweet aroma from honey. The taste is rather confusing to me. I [first] picked up a piney flavor probably from the juniper that added bitterness. The bitterness does build as you consume it. The alcohol is also noted and not very well hidden -perhaps from its time in the bourbon barrels. Mouth feel is a little sticky with active carbonation and high-medium bodied.
Overall, Strutter is an unique brew that I still am trying to figure out.
796 characters
Strutter from Bitter Old Fecker Rustic Ales
Beer rating:
4.16
out of
5
with
40
ratings