L' Ultime Atome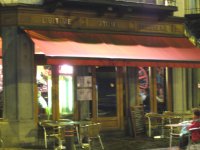 Reviews by 0711rconnoll:
0711rconnoll from California
4.2
/5
rDev
+3.4%
vibe: 4 | quality: 4 | service: 4 | selection: 5 | food: 3.5
I continued my trek through Brussels bier pubs last night at L' Ultime Atome, and was glad I had made the trek out to Ixelles for this one (although the headache today might suggest otherwise). A great beer list, I enjoyed a Witkap Tripel (one of my new favorites) and a few other 'rarely seen" labels. I should have looked at the date of the first review listed below, as I asked the server about Westvleteren and he looked at me like I had two heads. Ah well, the food was decent, a nicely executed carbonnade, but the beer/atmosphere was the real treat. The beer pricing was really cheap, too.
Bottom line: If you're in the area, hit this place up. I wouldn't go out of my way again to dine here, as the food and the beer can be had elsewhere without the hike.
Mar 25, 2009
More User Reviews:
Chinookie from District of Columbia
3.75
/5
rDev
-7.6%
vibe: 4 | quality: 4 | service: 3 | selection: 4 | food: 4
Thank you to whoever put this place on the map. It was close to the Sofitel, and even with a flight from Hong Kong as an excuse, room service in Brussels would have been a sorry affair.
And fortunately, L'Ultime Atome serves food until 12:30 a.m.
A Timmerman's Faro was the perfect restorative to counter my travels, served in matching glassware. That was followed by the carbonnade made with Grimbergen. Meat could be cut with a spoon and the sauce was fantastic: a bit sweet from the beer but also well balanced. Topped it off with a special: Ramee Blond, which I had not seen before and was excellent. This was on tap and also in the matching glass.
This is a neighborhood bistro with a mixed crowd of folks (and their pets). The interior is pretty cool, a kind of gilded fin de siecle retro feel with hip music and chalk boards advertising the daily specials all over.
Service is typical for Europe, which means you have to be proactive. But they were nice enough and the menu is in English and my waiter spoke English.
One of the nicest surprises is the pricing. Most beers are in the €3 range. Try getting a Rochefort 8 for under $4 in any U.S. restaurant!
Oct 09, 2011
BlackHaddock from England
3.14
/5
rDev
-22.7%
vibe: 3 | quality: 3 | service: 4 | selection: 2.5
Hit this place after a Sunday morning of market stall and antique shop staring, we'd walked miles and were getting thirsty: our mission was to 'do' Ixelles during the afternoon, from here it was a further walk down to Cafe Belga before finding Les Brassins for our evening meal. sadly Beermania doesn't open on Sundays or we could have done four places.
This bar close to St Boniface Church is an open plan, very plain almost boring place to look at, both inside and out. Cafe style in layout, decor and furnishings as basic as they come. My wife didn't like it at all.
The service was friendly and the joint was slowly filling up with families having Sunday lunch outings. I had their last bottle of 'De Konnick' and the wife a 'Palm'. Well behaved children now seemed to be the main customers, sat with their casually dressed young parents. We had eaten at a stall a little earlier, so didn't eat anything here. What food we saw however, looked good.
The beer list wasn't very interesting and although the bar is obviously popular with locals it isn't the sort of place a 'beerhunter' would find inspiring enough to stay long, so we left.
Other reviewers have stated how large the beerlist was, we were given a pretty large menu, but with very few beers on it. Having been given the last bottle of De Konnick might be an indication the beers aren't so important here any more?
Nov 18, 2010
Tut from New York
4.7
/5
rDev
+15.8%
vibe: 5 | quality: 5 | service: 4 | selection: 5 | food: 4.5
I've made a point of returning to L' Ultime Atome everytime I'm in Brussels since I first discovered it in 1998. I love it's euro-modern atmosphere and the local, youngish, and hip crowd that frequents the place. The beer list has plenty to interest me and their food is great.
Ixelles is a really interesting section of the city and, thankfully, tourist free. The previous reviewer gives the impression that Ixelles is a remote part of Brussels and quite a "trek". This isn't true. It's easy to get to(if you can use a map and public transit) and is the real Brussels, as opposed to the touristy Grand Place area. It's actually easier to get to than Sint- Gilles, where the original Moeder Lambic is located. There are lots of shops and cafes in the Ixelles area and you can easily spend an entire day wandering and exploring there, followed by beers and a leisurely dinner at L' Ultime Atome
--- or you could spend yet another day rubbing elbows with the tourists in the city center!
Mar 30, 2009
redpuck from Wisconsin
4.38
/5
rDev
+7.9%
vibe: 4.5 | quality: 4.5 | service: 4 | selection: 4.5 | food: 4.5
I was there on a busy night last month and had very much a similar experience as the previous reviewer. It had a very good "locals" vibe, outstanding food, and a very nice beer selection. The service was a little slow, but then again it was busy that night. There seemed to be a great cross section of people who were there enjoying a meal with friends. This contributed to the very pleasant atmosphere. I would definitely recommend it to people looking for a non touristy place to eat when in Brussels.
Mar 19, 2009
TheLongBeachBum from California
4
/5
rDev
-1.5%
vibe: 4.5 | quality: 4.5 | service: 3 | selection: 4 | food: 4.5
A superb bar in the Ixelles district, which is South-West of Brussels. Recently visited after unsuccessfully trying to hook up with a Brussels CAMRA meeting at the nearby Café Belga on the 27th November 2002.
Situated on a corner, nearby a local Church, this bar is rightly very popular with the beautiful people crowd. The beer list is 80+ and includes some great beers. Trappistes, Abbeys, Browns, Wheat's, Lambics are all there, plus more. Inspection of the list will reveal a few oft seen Belgium beers worthy of a try. Oh, and if all else fails, it also happens to serve my fave, Westie-12 as well!!! Service can be a bit slow at busy times which can be annoying.
The bar is a cross twixt Art Deco and a pseudo-minimalist well lit modern look that works well and is tastefully done. Basically it comprises one large opened out room with a centrally located bar, which means that you can sit and look at everyone else, who are looking at you, and watching for the arrival of their late friends who will no doubt not get a seat.
Food is absolutely excellent, and served 12-12, midday to midnight, a great place to have a high quality meal for a reasonable price, and with the 'right' beer of course! The already expansive food menu is always backed by specials listed on chalk-boards on the back wall. Local specialities are mouth-watering. When busy though, you will have to wait for the food with another beer. Damn.
Well worth the travel from the centre of Brussels, as Ixelles has several very good BeerBars and is worthy of a day trip. If so you must make this your first stop at it opens at 8:30am.
A beautiful Café, full of beautiful people, that serves beautiful food & beer.
Dec 28, 2002
L' Ultime Atome in Brussels, Belgium
Place rating:
4.06
out of
5
with
7
ratings