Gifted Branch

The Rare Barrel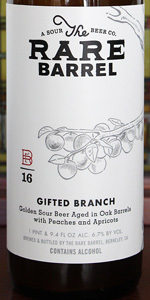 Write a Review
Beer Geek Stats:
| Print Shelf Talker
Style:

ABV:

6.7%

Score:

95

Avg:

4.39

| pDev:

6.15%

Reviews:

9

Ratings:

From:

Avail:

Retired (no longer brewed)

Wants

Gots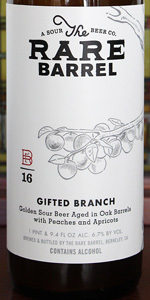 Notes: Golden sour beer aged in oak barrels with bushels of peaches and a dash of apricots. We formed layers of bright stonefruit character by blending a unique mix of microorganisms with our fondness for apricots and peaches.


4.09
/5
rDev
-6.8%
look: 3.75 | smell: 4 | taste: 4.25 | feel: 4 | overall: 4
Had this at Sour Sunday at Triple Rock Brewing on February 11, 2018. I was intrigued by the apricot and peaches, my two favorite fruits in a beer, on top of that, this is the brewery that makes map of the sun/moon, a phenomenal apricot beer, and what I consider to be the best of Rare Barrel.
This one pours golden but influenced by the orangeish fruit pulp providing a slight haze. Small 1/4" white head. The aroma indeed kicks down plenty of lemon, apricot and peach smells and sourness.
Taste is an easy drinking, somewhat higher end acidity kind of stonefruit wild ale. Well carbonated. Light golden body pale malt provides just a vessel to deliver everything else essentially. I don't think its quite as good as map of the sun/moon, but it is still very enjoyable. The real question is, would I buy bottles of it? I dunno, Rare Barrel seems to want $23-25 for most beers. . . Filmishmish or Cascade Apricot are $16-20 usually. Good beer, but prolly not buying bottles since I have lots of just as good apricot beers that can be acquired cheaper and easier.
1,074 characters
4.3
/5
rDev
-2.1%
look: 4 | smell: 4.5 | taste: 4.25 | feel: 4.25 | overall: 4.25
some of the first i have seen of rare barrel on tap in colorado, awesome, i hope more of it comes along as well. this one is a golden sour base aged in oak with peaches and apricots, and its one of the best beers i have had from these guys ever. just a little haze from the tap, bright and shiny and brassy, with a fizzy white head and an aroma that immediately makes my mouth water. its complex as can be with fresh juicy yellow peach right away, dried apricot fuzziness, and unique acidity, more than just a lacto tang, lemony and orangey and super enhancing of the fruit. some white wine woodiness and tannins in the back, this is so sexy! the flavor is almost as good as the nose, with the peaches well in front of the apricots, but both quite obvious and natural and distinct. the exact right amount of sweetness left from these ripe fruits, and a perfect acidic tang on the back end, not nearly as caustic and aggressive as so many of the other rare barrel beers i have had. great carbonation and a lot of lift there, lively and fun, so flavorful and honest, just really expert beer. i adored this, and hope for more of its kind from these guys. simple in some ways, old worldy and rustic and just so well refined. top notch.
1,231 characters
4.44
/5
rDev
+1.1%
look: 4.5 | smell: 4.25 | taste: 4.5 | feel: 4.5 | overall: 4.5
Pours light orange / golden with a small white head, disappears right away.
Aroma has sour lemons, apricots, peaches, hay, barnyard, oak, passion fruit, little funk.
Taste is much more fruity than the aroma, tons of apricots, peaches, raspberry, sour lemons.
260 characters

4.44
/5
rDev
+1.1%
look: 4.25 | smell: 4.5 | taste: 4.5 | feel: 4 | overall: 4.5
Bottle.
A: Lots of peach and apricot aromas with a moderately strong sourness.
A: Bright yellow color, hazy, with a thin white head that quickly forms a ring around the glass with light lacing.
T: Crisp and bright with moderate peach and apricot flavors, some oak, followed by a moderate sourness that lasts through the finish.
M: Medium-light bodied with moderate carbonation and lightly acidic.
O: Tasty; a great clean sour with awesome peach and apricot character. Very easy to drink and quite refreshing!
515 characters
4.72
/5
rDev
+7.5%
look: 4.25 | smell: 4.75 | taste: 4.75 | feel: 4.75 | overall: 4.75
Appearance: Pours hazy and golden with a modest head that leaves splashy lacing
Smell: Apricot and peach with a funky undertone; really fruity
Taste: Apricot and peach tones dominate, with a layer of funk building through the middle; the tartness builds, after the swallow, but the fruit flavors overwhelm
Mouthfeel: Light to medium body, with effervescent carbonation
Overall: I have enjoyed a few apricot and peach sours in my time but this one has taken me to the mountaintop; hard to imagine it getting much better than this
537 characters
4.77
/5
rDev
+8.7%
look: 4.5 | smell: 5 | taste: 4.75 | feel: 4.5 | overall: 4.75
Pours a hazy golden color with a medium head that quickly dissipates to a collar.
Wow! The aroma is just exploding from the glass with waves of apricot and peach! A nice backbone of funk and sour. More luscious fruit notes follow. This is just glorious to smell!
The flavor does not disappoint, with an abundance of stone fruits and funky goodness! Definitely mouth puckering, with a medium to high amount of sourness. The amount of peach and apricot present is stunning, but there's more than just the fruit here! The base sour is spectacular, and shines through splendidly!
The mouth feel is light to medium, with nice effervescent carbonation.
This is an absolute world class fruited sour! Definitely the best beer I've tried from Rare Barrel to date!
759 characters

4.62
/5
rDev
+5.2%
look: 4.75 | smell: 4.5 | taste: 4.75 | feel: 4.5 | overall: 4.5
Caveat, I am not a big sour fan. Look is golden yellow in the glass. Smellis apricot peach on the front end with a sour undertone. Taste is sweet fruit up front with a sour undertone that is not vinegar. Definitely get notes of stone fruit that is sweet fruit up front and sour on the back end. Feel is medium. Overall a great beer that is just fruited sour.
358 characters

4.77
/5
rDev
+8.7%
look: 4.5 | smell: 5 | taste: 4.75 | feel: 4.5 | overall: 4.75
On-tap at the brewery, tulip.
A: Lightly cloudy powdery lemon in color with a thin cap of off-white foam.
S: Nose is incredibly juicy with extremely fresh scents of ripe peaches. Smells like I'm smelling the skin of the fruit. Apricot is right there as well with a fresh and jammy quality, and to me it is sweeter more juicy overall than compare with, say, Map of the Moon.
T/M: Follows the nose with incredible fruit forward flavors of juicy peach and ripe apricots. Again, the fruit flavors in this are the real deal and taste exactly like the ripe fruit. The tartness is bright but definitely not overly acidic. This has TRB's characteristic tartness and yeast/bug profile. Drying finish with a punch of gritty tannins. Carbonation is splashy and smooth with no sharp edges. Acidic is balanced with no harshness. Doesn't become a chore to drink after awhile, but the acidity is high.
O: One of the best peach or peach/combo sours I've had, and probably my favorite beer I've had from TRB in recent memory. Amazing fresh flavor. My only small suggestion would be that since this beer is so juicy and fruit the flavors may benefit from a creamier more complex yeast profile. Regardless, I hope they make this regularly as it is fantastic.
1,245 characters
4.25
/5
rDev
-3.2%
look: 4.25 | smell: 4.25 | taste: 4.25 | feel: 4.25 | overall: 4.25
Perhaps one of the best stone fruit sours on the planet. Hazy orange with a stone fruit and citrus nose, and wonderful balance, the overwhelming character of this beer is huge apricot assertive flavor profile. There is an undertone of peaches but apricots just abound. Best apricot beer perhaps made in America at this point and give a certain prestigious Belgian brewery a run for it's money!
396 characters
Gifted Branch from The Rare Barrel
Beer rating:
95
out of
100
with
54
ratings