Preussen Weisse

The Monarchy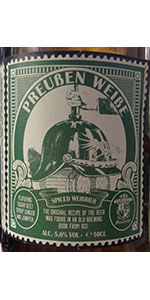 Write a Review
Beer Geek Stats:
| Print Shelf Talker
Style:

ABV:

5.8%

Score:

80

Avg:

3.49

| pDev:

11.75%

Reviews:

10

Ratings:

From:

Avail:

Retired (no longer brewed)

Wants

Gots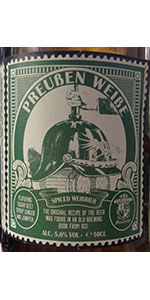 Notes: The beer is brewed by pure chance according to the purest purity law of Prussia which says that you should brew with the best ingredients you can get.

Our original recipe of the beer was found in an old brewing book from 1831, featuring sugar beet syrup, ginger and juniper. Until 1906, beers of that kind were not allowed to be brewed in some parts of Germany before the restriction enact as a law everywhere.

3.59
/5
rDev
+2.9%
look: 4.5 | smell: 4.25 | taste: 3 | feel: 4 | overall: 3.5
The smell clearly conveyed the spices, which were bright and prominent in the beer's flavor, almost on the verge of being overpowering. Some beers will claim to have certain flavors and you will not taste them at all. That is definitely not the case here. As the beer warmed, the balance between savory wheat beer notes, bitter spices, and subtle sweetness (from the beet perhaps?) began to shift more towards sweet and took on a medicinal/bubblegum quality that I found slightly off-putting.
The carbonation was gently and the color was a light golden amber. The beer had a slightly creamy mouthfeel, almost like a toned down version of a hefeweizen, that let the flavors coat your mouth but didn't keep them around forever.
Overall, I can honestly say I've never had a beer quite like this and it was a treat to drink something that fell somewhere on the beer spectrum that I didn't know was possible. It's definitely a brew worth trying, but it might be best enjoyed with a friend so that it doesn't get too warm and so that nobody has to drink the entire bottle if the beer is not to their liking.
1,103 characters

3.53
/5
rDev
+1.1%
look: 4 | smell: 3.5 | taste: 3.5 | feel: 3.5 | overall: 3.5
I'm very much thinking I have a bottle well past its prime. Not only does it taste so flat that I question whether it is beer, but more precise evidence is the stocking label is 12/06/16. However the last review of almost 11 months ago is open-minded and helped me understand Preussen Weisse... because this certainly is an odd beverage.
Having almost no bubbles, it is almost as crystal clear as sherry... a pretty one, too. In fact in a setting sun, it is gorgeous.
Not so with Smells, unless you don't mind having a cider when you thought you bought a beer. But also in the Taste, all the apple and sugary stuff is not there... so it is a very drinkable cider. I don't mind how it sits in my mouth.
But I finished it with a dinner of Brussel sprouts and potatoes... I'm speculating indigenous to Cologne.
811 characters
3.97
/5
rDev
+13.8%
look: 4 | smell: 3.75 | taste: 4 | feel: 4.25 | overall: 4
Poured into a stein and samples in glass to check out the color on 4/9/17. Looks like a perfect glowing gold, the yeast settled into a hard layer, had to scrape it to mix it in. Very little head to speak of in the mug but was able to form one agitating the remainder in the bottle. Without the yeast there's a warm cider-y nose, with baked apple, cinnamon, ginger, maybe even mango. Mit hefe the scent is the same but dryer. Flavor is again reminiscent of cider without actually getting appley, perhaps pear or asian pear induces salivation, tart with a nice round dry finish. With the yeast becomes lightly bready, faintly bitter. Complex and intriguing, very juicy, very unique. Feels clean, buttery, light, rich but watery in a refreshing manner. Only light carbonation, which fits perfectly. I see that it is supposed to be brewed with Juniper, but it doesn't stick out, seems to meld with and direct the overall flavor profile in a lovely way, in a ghostly way. I wonder if a similar taste could be achieved blending sahti, weisse, and a mild saison... This was a phenomenal one of a kind beer, I wonder if they are utilizing decoction mashing, and/or intentionally varied fermentation temperatures? Impact of drinking this fine beverage is compelling me to research. Looking forward to their sour alt even more after this one.
1,333 characters
2.54
/5
rDev
-27.2%
look: 2 | smell: 3.5 | taste: 2.25 | feel: 2.25 | overall: 2.25
Appearance is a small head and amber color. Aroma is wet grain, yeast, spice. Flavor is a mundane weisse, minus the good parts and substituting a little spice. Palate was kind of flat. Best thing about this beer is the label.
225 characters
2.76
/5
rDev
-20.9%
look: 3.25 | smell: 2.75 | taste: 2.75 | feel: 2.5 | overall: 2.75
Picked this up at random from the local beer store--noticed the scratched-out 'Best Before' date, figured it was legit (lol)....pours flat perhaps for that reason. Smells like a bitter Hefe, which for all I can figure, is exactly what it drinks like. A flat, sour, Hefeweisse. Supposed to have juniper and ginger in here, and I would imagine that that (sour) yeast and juniper overcome everything else--the sourness, while not harsh, makes this one-dimensional and lackluster. This is enjoyable, in that I found a unique attempt at a beer that I don't have to drink again.
576 characters
3.21
/5
rDev
-8%
look: 3.5 | smell: 3 | taste: 3.25 | feel: 3.25 | overall: 3.25
A: The beer is slightly hazy yellow in color and has a light amount of visible carbonation among with a few particulates floating in suspension. It poured with a finger high white head that died down, leaving a large patch of bubbles on the surface and a collar around the edge of the glass.
S: Light aromas of fruity yeast are present in the nose—apples seem to stand out in particular.
T: The taste follows the smell and has some flavors of apples along with faint hints of bananas. No spices are perceptible.
M: It feels light-bodied and slightly watery on the palate with a low to moderate amount of carbonation.
O: This beer seems more like a pale ale than a hefeweizen with the apple flavors and the low amount of carbonation.
Serving type: bottle
761 characters

2.7
/5
rDev
-22.6%
look: 4 | smell: 4 | taste: 2 | feel: 2 | overall: 2.5
Best before on the printed bottle label was July 2014, which was scribbled out with a pen and overwritten with '2015'. Didn't notice that before purchase, but it probably explains why it poured flat. A few bubbles but virtually no head and a very juicy, flat taste. The flavours are intriguing and I am curious to know what this would taste like properly carbonated. Great postage stamp design for the label.
408 characters
3.49
/5
rDev 0%
look: 3.25 | smell: 3.5 | taste: 3.5 | feel: 3.5 | overall: 3.5
Bottle pour at Shelton Brothers The Festival 2014 held at Crafted in San Pedro, CA.
Pours a clear gold with a foamy beige head that settles to wisps of film on top of the beer. Small dots of lace slowly drip into the remaining beer on the drink down. Smell is of malt, wheat, smoke, and earth aromas. Taste is much the same with wheat, smoke, and fruit flavors on the finish. There is a mild amount of smoke bitterness on the palate with each sip. This beer has a lower level of carbonation with a slightly crisp mouthfeel. Overall, this is a pretty good beer with a nice combination of smoke and fruit aspects.
Serving type: bottle.
635 characters

4.06
/5
rDev
+16.3%
look: 3.75 | smell: 4 | taste: 4.25 | feel: 3.75 | overall: 4
Hefeweizen brewed with sugar beet syrup, ginger, juniper and probably sour yeasts.
Hazy orange pour, low one finger head, a thin long lasting lacing after a minute. Floating bits.
Tartness, rooty ginger, milder banana-wheat-clove combo, apple jam, lots of spiciness, candi sugar, a really nice smelling beer.
Taste is mostly fruity, with the expected sweet banana, apple and pear syrup, but also acidic green apples, some sour musty grapes (+ extra dry cause of the juniper) and lemon zest. Lots of complex spices here: a rooty vegetable feel, with nice prickly ginger, pricklier even with white, pink, black pepper, then a bit of clove, faint coriander and anise. A light wheaty blanket. Herbal finish, spicy and just a tad bitter. Crisp and prickly aftertaste, with the nice aromatic spices lingering.
Medium body and bigger carbonation, perfect with the general spiciness of this beer.
Not your average weizen, not entirely a ginger beer, but something in between, with some nice extra stuff even. Great!
1,007 characters
3.1
/5
rDev
-11.2%
look: 1 | smell: 3.5 | taste: 3 | feel: 3 | overall: 3.5
Pours with a very hazy, but ugly light brown/golden color. Topped with a small white head that soon disappears.
The aroma is pleasant - some fruits and some nice sweet spices.
The taste is slightly soury and quite fruity with some spices towards the end. The finish is surprisingly sweet.
If it doesn't look like a nice beer, it does taste like one.
351 characters
Preussen Weisse from The Monarchy
Beer rating:
80
out of
100
with
25
ratings