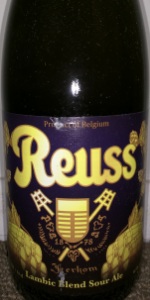 Write a Review
Beer Geek Stats:
| Print Shelf Talker
Style:

ABV:

5.8%

Score:

Avg:

4.07

| pDev:

6.88%

Reviews:

15

Ratings:

From:

Avail:

Rotating/Seasonal

Wants

Gots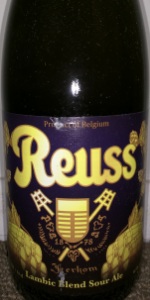 Notes: Reuss is produced for the Bink festival. Marc Limet blends the lambic with a less bitter version of Bink Blond (38 IBUs versus 52 IBUs.) Reuss was the name of the first beer brewed at Kerkom in 1878.

Bitterbill from Wyoming
4.3
/5
rDev
+5.7%
look: 4.25 | smell: 4.25 | taste: 4.5 | feel: 3.75 | overall: 4.25
750ml caged and corked bottle. Cork reads 07 04 15.
Pours a clear pale gold, bringing heaps of foam, lots of sticky lacing.
Big tart notes in the smell, light Brett, acetic, yet something in there presents a sweet note or two.
Tart more than sour, light Brett, acetic presence minor, some sweetness. Lovely.
Mouthfeel is fine, finish is on the dry side.
I'm glad that I picked up this bottle. It's very pleasing.
Second pour and the foam got all wild and tried to overflow. Lots more bubble action as well. No deductions of points for that.
Sep 27, 2019

SHODriver from North Carolina
3.75
/5
rDev
-7.9%
look: 3.75 | smell: 3.75 | taste: 3.75 | feel: 3.75 | overall: 3.75
A: Poured into a Duvel tulip to a clear and bright gold topped by a dense and rocky three finger head with excellent retention and lacing
S: Smells of light sourness, funk, and oak
T: Taste is bright tartness up front that doesn't quite reach sour with some funk and oak. A little fruity at times as well with some slight chalkyness. It also has some slight bready malt going on too. Swallow is more tartness with some lingering yeasty funk and a little more oak.
M: This beer is fairly light but not watery with nice carbonation that's just slightly prickly with a dry finish
O: Overall this is a pretty nice beer. It isn't super sour and has a nice pleasant tartness. Decent complexity and flavors as well keep this one interesting throughout the drink. Overall worth a try but not really worth seeking out if you like your sours on the strong side.
Dec 06, 2016
wisrarebeer from Wisconsin
4.19
/5
rDev
+2.9%
look: 4 | smell: 4.25 | taste: 4.25 | feel: 3.75 | overall: 4.25
Well-made beer. Blend of lambic and golden ale. Decent head but dissipated over time. Nice lambic undertones with golden ale malty qualities. Slight unusual perfume-like taste in the finish.
Dec 11, 2015
Kurmaraja from California
4.32
/5
rDev
+6.1%
look: 4.5 | smell: 4.25 | taste: 4.25 | feel: 4.25 | overall: 4.5
Very under-rated IMHO. Tastes very much like something SARA might do - a la Bright Sea Blonde, a funked up Belgian Blonde. Pour is beautiful, abundant head, golden / copper hued, clear and vibrant. Smells of apples, hay, lemon zest, wildflower, biscuity malt. Flavor is more of the same - what it lacks in depth it makes up for in vivacity. Bright funky cider flavors with a slight barnyard. Quencing. Crisp finish, tart more than acidic. The rare beer where I feel it's more than the sum of its parts.
Sep 10, 2015
StonedTrippin from Colorado
4.4
/5
rDev
+8.1%
look: 4 | smell: 4.5 | taste: 4.5 | feel: 4.25 | overall: 4.25
this beer is fabulous, i was turned off when i say it coming in around 20 bucks a bottle, and jumped on a 7 or 8 dollar markdown. its really tremendous, gueuze type, although i dont think all the beers blended in are lambics, although that classic funked to high heaven old worldy lacto thing is absolutely leading the charge here. its hazy and blonde, looks like it should, with a slighltly suppressed white head, more bubbly than foamy, plenty carbonated on the palate. it smells awesome, a hint of that green bottle skunky weirdness that flatters some wilds and saisons so much that jester king is actually using green glass to develop this flavor that some would consider to be oxidation. it works here though boy, my mouth is watering from a distinct but not over the top lacto lemon acidity, and there is an appreciable dry cereal wheaty element to the base beer. it tastes a lot like it smells, nowhere near as sour as some lambic and gueuze types, but it has all the maturity of a carefully blended wild beer, and the lambic pucker is right there. its majorly farmy too though, even with just the moderate acidity the other yeasts, if there are some, are unique and delicious. if its just lacto, than id first be surprised, and second really intrigued about process. notes of preserved lemons, musty oak, wet basement, boxed seeded crackers, and cheap white wine, all positives. as dry as they come, and frankly really different than what i thought i was getting in to. as drinkable as any with the lower acid level, and just a beautiful depth to this. the best i have had from these guys by miles and miles, and probably even worth it at the 20 dollar level.
Aug 04, 2015

bobv from Vermont
4.21
/5
rDev
+3.4%
look: 4 | smell: 4.25 | taste: 4.25 | feel: 4 | overall: 4.25
750 ml. bottle poured into a Russian River glass.
Looks nice, 1/2 inch head reduces to a ring .
Slight funk on the nose, gueuze-like.
Taste follows nose, very nice.
Feel is nice.
Overall, more gueuze than BPA. I like this one.
Aug 01, 2015

kevanb from Illinois
4
/5
rDev
-1.7%
look: 4 | smell: 4 | taste: 4 | feel: 4 | overall: 4
750ml bottle, 2014 vintage, poured into a Cantillon Bar Volo 2014 Zwanze Day stemmed glass. Enjoyed on 6.20.15, reviewed from Tasting Journal.
The beer pours a bright copper color, golden hues, hazy, cloudy with a finger or so of white head that has good retention and lace. The aroma is nice, lots of funk and oak, citrus, aged hoppy bitterness, barnyard, pale grain, definitely getting the belgian pale/saison base here. It's got a nice balance of earthiness and brightness. The flavors are quite nice, citrus peel, light bitterness, loads of funk, chewy oak, a bit of candi sugar, wildflower, aged hops, must, and crusty pale grain that has a nice barnyard lingering note. The mouthfeel is good, coating, zippy and lively, strong carbonation with a delicate finish with a light funky and sour bite.
Verdict: A nice blended lambic beer from Brouwerij Kerkom. Definitely getting the Belgian Pale Ale base, almost saison like when blended with the lambic. Mildly reminiscent of a gueuze with good complexity, funk and brightness.
Jul 31, 2015
metter98 from New York
4.1
/5
rDev
+0.7%
look: 4 | smell: 4 | taste: 4.25 | feel: 4 | overall: 4
A: The beer is clear golden yellow in color and has a moderate amount of visible carbonation. It poured with a finger high white head that died down and consistently left a short head covering the surface.
S: Moderate aromas of sour funk are present in the nose; the funkiness becomes a bit stronger as the beer warms up.
T: Similar to the smell, the taste is both sour and funky. It also has hints of fruits such as raspberries.
M: It feels light- to medium-bodied and a little tart on the palate with a moderate amount of carbonation.
O: This is a very interesting hybrid of a lambic and a pale ale, although the sourness is stronger.
Serving type: bottle
Jul 04, 2015

Slack from Virginia
4.3
/5
rDev
+5.7%
look: 4.5 | smell: 4.5 | taste: 4 | feel: 5 | overall: 4.25
Poured into several glasses. Some yellow to golden and hazy, some golden and clear. A lot of head.
Smell is grass, funk, and some floral notes.
Taste is mild tartness, earthy, and sour.
Mouthful is light and highly carbonated.Very palate cleansing.
Beer reminds me of a champagne in smell and taste. Very nice.
Apr 12, 2015

VelvetExtract from Massachusetts
3.84
/5
rDev
-5.7%
look: 4 | smell: 3.75 | taste: 3.75 | feel: 4 | overall: 4
Bottle. Pours a slight hazy yellow color. Tight white head. Aroma is a blend of Belgian Pale and Gueuze. It has some sweetness and Belgian yeast elements but it also has a tart, tangy and rustic scent. Flavor is also an even split between the pale, Belgian, yeast-driven flavors and the Gueuzey, tart, barny, earthen and unripe Wild flavors. The body is light and inviting. So is the carbonation. A unique hybrid beer that brings out the strengths of both styles. Cool!
Mar 28, 2015

emerge077 from Illinois
3.61
/5
rDev
-11.3%
look: 4.25 | smell: 3.75 | taste: 3.5 | feel: 3.5 | overall: 3.5
Bright brassy orange, copious white foam, spotty flecks of lace around the edges.
Aroma is fairly mild, minerally with some hay notes. Apple and lemon at first that quickly fade. Not especially similar to lambic.
Tart lemon, crabapple, crackers. Dry finish, somewhat bland. Lacking barrel character, slightly fruity. Dry and well carbonated, a little thin. Overall it's a bit one dimensional, like Petrus Aged Pale but less sour. Style wise, this is a mixed fermentation blend, a Belgian wild ale and not a Gueuze.
Mar 11, 2015
kkleu357 from Wisconsin
4.23
/5
rDev
+3.9%
look: 3.25 | smell: 4.5 | taste: 4 | feel: 5 | overall: 4.25
Very carbonated. Reminded me of opening champagne. Light straw body. Big tart lambic aroma. I wish I knew how to describe the smell better, just don't know how to describe that typical lambic aroma. Very bubbly mouthfeel. Feels almost like champagne. Very tart sour taste. Some berry like flavors. Very good.
Jan 16, 2015
UCLABrewN84 from California
3.94
/5
rDev
-3.2%
look: 3 | smell: 4 | taste: 4 | feel: 4 | overall: 4
Bottle pour at Shelton Brothers The Festival 2014 held at Crafted in San Pedro, CA.
Pours a hazy honey orange with a foamy khaki head that fades to nothing. No lacing on the drink down. Smell is sour with malt, grain, fruit, and honey aromas. Taste is much the same with sour grain, honey, and fruit flavors on the finish. There is a mild amount of acidity on the palate with each sip. This beer has a good level of carbonation with a crisp mouthfeel. Overall, this is a good beer with solid sour qualities all around.
Serving type: bottle.
Nov 10, 2014
gnoff from Sweden
3.82
/5
rDev
-6.1%
look: 3 | smell: 3.5 | taste: 4 | feel: 4 | overall: 4
Sample (about 10 cl) from the tap at Akkurat in Stockholm, Sweden, in November 2005.
Called Bink Reuss 2003.
Hoppy beer, not like a lambic at all.
Missing the clear sour taste that symbolizes lambic, may it be sweetened perhaps?
Lots of hops as well, not something that is characteristic in labics either.
It's nice though, very nice, just not what I expected when I heard it was a lambic.
May 08, 2006
stcules from Italy
3.13
/5
rDev
-23.1%
look: 3.5 | smell: 3 | taste: 3 | feel: 3 | overall: 3.5
This beer is a blend of blond beer with 3 years old lambic from 3 Fonteinen (and not a witbier as listed).
It has a good yellow color, slightly opalescent, and a beautiful white and creamy head, with a lot of laces. Good appearance.
In the smell a light hop, but resolute in the same time.
At the taste, a very hoppy start, with some sourness of the lambic behind.
Very drinkable, due to the generous hopping.
Interesting idea, lambic and hoppy beer... Good.
The aftertaste is light bitter again, well balanced with the sourness.
Really interesting.
Mar 19, 2006
Reuss from Brouwerij Kerkom
Beer rating:
91
out of
100
with
63
ratings