Hop Verdomme
| Brouwerij Kerkom
BA SCORE
82
good
10
Reviews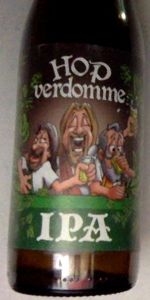 BEER INFO
Brewed by:
Brouwerij Kerkom
Belgium
brouwerijkerkom.be
Style:
Belgian IPA
Alcohol by volume (ABV):
7.00%
Availability:
Rotating
Notes / Commercial Description:
This beer is a response to the very bitter beers that are brewed worldwide. The description IPA is not here for India Pale Ale but for Incredible, Powerful & Amazing . Instead of mostly American hops we use 7 Flemish hopping from the Flanders Fields.
Obviously we taste a beer that is very bitter here but one that does in " balance "is so drinkable and is inviting to the next ....
Added by beerdrifter on 07-08-2013
Reviews: 10 | Ratings: 38

3.5
/5
rDev
+1.7%
look: 3.5 | smell: 3.5 | taste: 3.5 | feel: 3.5 | overall: 3.5
Continental hop aromas. Spicy, grassy. Not pungent. No cat pee. Just pleasant. A bitter kick but not too much. Belgian malt sweetness. Hoppy Belgian ale. Ok but not great.
171 characters
3.63
/5
rDev
+5.5%
look: 3.75 | smell: 3.75 | taste: 3.5 | feel: 3.5 | overall: 3.75
A: Copper with swirls of rusty yeast within like hurricane from a satellite. Topped with 3 fingers of yellow beige head.
S: Pineapple candy, pine, light black pepper.
T: Citrus, turpentine, pineapple, gold, light pine, big dull bitter finish.
M: Thick and syrupy with lots of foamy carbonation.
O: Ok as in an 8 out of 10 Belgian IPA. Love the picture of Jesus drinking beer with his disciples on the label. Got in Kunming, drank here April 16th, 2015.
467 characters
3.77
/5
rDev
+9.6%
look: 4 | smell: 3.25 | taste: 3.75 | feel: 4 | overall: 4.25
Yellow, amber, slightly turbid.
The head of a large fine bubble with a few larger holes. Glass paints quite a long time.
The aroma of tropical fruits are very faint floral notes and hop.
The taste, however, is a big hit of bitterness (80 IBU) and for the moment there are touches of fruity, floral and something like dried tobacco. Each sip of sour ending to finish a raise. Gentian, which Verdomme Hop is its backbone is dry, grassy, long, long and long.
Behind and slightly pulls. To sum up, cool IPA has helped me digest disputes dinner.
540 characters
3.71
/5
rDev
+7.8%
look: 3.25 | smell: 3.5 | taste: 3.75 | feel: 4.25 | overall: 3.75
Pours a hazed golden color with a white soapy froth that has excellent retention. The aroma is full of estery, Belgian yeast and earthy, herbal hops. The yeast has a bit of fruityness like peach or pear.
In the taste, more of the fruity, lightly spicy yeast and hops coming in with more spicy herb, pine, and citrus. There are elements of damp hay, bubblegum, white pepper, and chai tea from the hop/yeast interaction and the European pale malts used in brewing.
Smooth, medium to full bodied ale with a good medium-high level of carbonation. The finish is relatively clean and moreish if anything.
Overall, this is a really smooth Belgian IPA that has a lot more yeast character than American versions of the style. It takes away from the hops alittle bit, which is fine with me but may put others off. Just a hopped up Belgian pale.
837 characters
3.53
/5
rDev
+2.6%
look: 4.5 | smell: 3.25 | taste: 3.5 | feel: 3.75 | overall: 3.5
Nice three-finger head that settles slowly and in a rocky fashion. Webby, clumpy lace. Dark gold with a yeasty haze.
Low hop nose for the style. More sour than anything. I smell faint green olives and light Belgian yeast.
Sour malt flavor in the beginning but there's a strong black pepper-like hop bite in the swallow. Bitterness lasts a long time through the aftertaste. Belgian yeast flavors throughout the tasting. Good body with an elevated level of carbonation.
469 characters
3.69
/5
rDev
+7.3%
look: 3 | smell: 3.25 | taste: 4 | feel: 3.75 | overall: 3.75
Poured into a Palm glass.
A - A golden hazy beer with a nice finger of head. Head disappeared quickly.
S - Pepper, gloves, spice, and hops. Touch of sweet bread.
T - A really nice Belgian ipa. Characteristic Belgian character and hops. Really nice balance with the character of the yeast and hops.
M - Very easy drinking and a little different take. Lingers pleasantly.
O - I would gladly buy this again when I see it. As someone stated this is a Belgian IPA not an American. Really well done and cost $3 a bottle. Worth trying
534 characters
3.5
/5
rDev
+1.7%
look: 3.5 | smell: 3.5 | taste: 3.5 | feel: 3.5 | overall: 3.5
The color is a deep, both brightly shining and slightly hazy gold-orange color. A half finger of head keeps itself up pretty well and falls at a reasonable pace, leaving mostly spotting as it does.
The smell and the taste are essentially the same. It starts off with some dank, marijuana-like notes before distinctly Belgian notes of bubble gum, pale fruits and spices come out, but lightly. It comes together for a little more depth in the flavor. The bottle's claim that it's insanely hoppy shows how far ahead American brewers have come with hop integration, though this beer unquestionably is hoppy. It's simply not as hoppy as all that.
The hop character is pretty well integrated in the feel as well but not perfectly, as the pith draws a little too much chalkiness into the finish. Otherwise, it has a good body, about a medium level but fairly bright, nice crisp bite, and some smoothness before it goes that little bit harsh at the end.
945 characters
2.95
/5
rDev
-14.2%
look: 3.5 | smell: 2.75 | taste: 3 | feel: 2.75 | overall: 3
Poured from a bottle into a snifter, the beer is a bright, copper-gold coloring that is slightly hazed, with a slow carbonation bubbling throughout. Filmy, sparse, whispy, white surface coat of head. Aromas of tropical fruit, melon, spearmint, bubblegum, and a cluster of spices, including clove, jasmine, and nutmeg. This nose is quite a jumble. Flavors are roasted forward, with a very tangy blast of tropical fruits, including melon, pineapple, mango, and grapefruit quickly following. Tangy caramel and toffee backbone, with a funky Belgian spice blend including bubblegum, cotton candy, clove, and all spice. The spices are more muddled than blended, and seem to clash with all of the tangy fruit characteristics. Light, smooth bodied, with a tangy sweet and lingering spice aftertaste. Slightly filmy and frothy finish due to the carbonation, with a tangy linger. This beer is all over the place.
902 characters
2.73
/5
rDev
-20.6%
look: 3.75 | smell: 3.25 | taste: 2.5 | feel: 2.25 | overall: 2.5
Started out nice enough, deep orange color, sticky lace in the glass and pretty good coverage.
Smells like bubblegum and cooked veggies.
Overly sweet, residual sugars, that stale bubblegum in a baseball card pack. Piney bitterness, aspirin and cooked greens. Medium bodied, sticky sweet, harshly bitter aftertaste. Tastes like a ham-fisted DIPA homebrew attempt with all bittering hops and a weird Belgian yeast strain. Terrible.
433 characters

3.03
/5
rDev
-11.9%
look: 3.5 | smell: 3.5 | taste: 2.75 | feel: 2.75 | overall: 3
Picked this up at a great little beer store in Arlon, Belgium, Miorge Mihoublon. Clear yellow-orange pour with a one finger white head with minimal retention and lacing. The nose is all Belgian IPA. Citrusy and yeasty with hints of lemon, grass, white pepper, and a touch of banana. The taste follows suit and is pretty typical for a Belgian IPA. Lots of grass and citrus along with hints of bubblegum, soap, lemon, pine, and an off-putting taste of cleaning fluid on the finish. The mouthfeel is somewhat harsh and acrid with little to no balance and a dry, bitter, soapy finish. Overall, this was very disappointing. Kerkom is a fine brewery with some stellar beers, but this was not up to their standards.
708 characters
Hop Verdomme from Brouwerij Kerkom
3.44
out of
5
based on
38
ratings.