Carolina Custard

Fonta Flora Brewery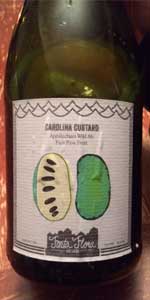 Write a Review
Beer Geek Stats:
| Print Shelf Talker
Style:

ABV:

5.9%

Score:

Avg:

4.14

| pDev:

7.97%

Reviews:

11

Ratings:

From:

Avail:

Rotating/Seasonal

Wants

Gots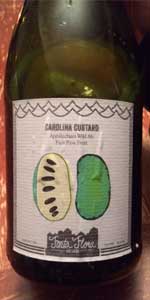 Notes: Fonta Flora Carolina Custard is a white wine barrel aged wild ale featuring paw paw fruit, a fleshy, tropical fruit, indigenous to North America. Custard is fermented with a blend of Brettanoymces and Lactobacillus.

Treyliff from West Virginia
4.24
/5
rDev
+2.4%
look: 3.75 | smell: 4 | taste: 4.5 | feel: 4 | overall: 4.25
375ml bottle poured into a tulip
A- pours a slightly hazy pale straw color with a one-finger foamy white head that reduces to leave nothing behind
S- big topical fruity notes on the nose, along with lacto & brett, some vinous white wine notes. There's a big guava and papaya note throughout
T- the tropical fruity notes up front, pineapple, papaya & mango. Mid-palate gives a slight tartness, along with some lacto and brett. The finish gives more tropical fruit
M- medium body with light carbonation, slightly foamy mouthfeel and finish
O- the paw paw fruit gives some nice tropical fruity notes that work well with the slight tartness
Dec 15, 2018

bobv from Vermont
4.16
/5
rDev
+0.5%
look: 4 | smell: 4.25 | taste: 4.25 | feel: 4 | overall: 4
Moderate to vigorous pour yields a less than 1/2 inch white head over a slightly hazy golden body with no lacing. Head dissipates down to a very thin ring in a matter of minutes. Nose of funk and fruit. I have no knowledge of paw-paw whatsoever, but the beer smells like a cross between sauvignon blanc grape from the wine barrel and some kind of kiwi-like fruit. Tastes sour with wine-like flavors dominating the palate. Good feel and overall, an interesting offering from Fonta Flora (my first!) Cheers!
Apr 09, 2018

Ciocanelu from Romania
4.1
/5
rDev
-1%
look: 4 | smell: 4 | taste: 4.25 | feel: 4 | overall: 4
Sample at Mikkeller Beer Celebration Copenhagen 2017, yellow session. Aroma is quite malty with some honey notes and generic fruitiness. Taste is tart and fruity with caramel, toffee and some malt sweetness. Light body, high carbonation.
May 24, 2017

Sabtos from Ohio
3.69
/5
rDev
-10.9%
look: 3.75 | smell: 3.5 | taste: 3.75 | feel: 3.75 | overall: 3.75
Hazy tan yellow with a thick white blanket.
Smell is pineapple banana, Monterey Jack, and peanut butter.
Tastes like salted peanut butter, tart pretzel, lemon lime, and longan.
An unusual combination of attributes, but enjoyable.
Nov 10, 2016

Stevedore from Oregon
4.2
/5
rDev
+1.4%
look: 3.75 | smell: 4.25 | taste: 4.25 | feel: 4 | overall: 4.25
750ml bottle, dark green wax. Served in a snifter glass.
Light, hazy yellow body, appropriately fluffy white head with short retention time. Smell is a rich tropical fruit, with more of an earthy twist to it, tart like a kiwi, tempered by a somehow lighter lactic acidity, light vinous character, wood. Flavour follows, with the tropical fruit bite being sort of like a tart passion fruit, but with a distinctly kiwi-like sweetness which is hard to really describe in a way that makes sense. It is a little bit like papaya. Light vinous flavour, lactic acidity, light graininess, hay. Mouthfeel is medium bodied, appropriate for style and carbonation, very easy to drink and a tasty wild with a different kind of tropical fruit flavour to it. Enjoyed this one a fair amount!
Jul 16, 2016
Sammy from Canada (ON)
4.03
/5
rDev
-2.7%
look: 3.75 | smell: 3.75 | taste: 4.25 | feel: 3.5 | overall: 4.25
Fantastic sour. Tart with the paw paw generating a "pie crust" dry quality. Brightened by the white wine. This is why I like the style, gentlemen! Pours big head.
May 05, 2016

trial_by_hedgehog from Georgia
4.45
/5
rDev
+7.5%
look: 4 | smell: 4.5 | taste: 4.5 | feel: 4.25 | overall: 4.5
An interesting beer I'd sat on for a good occasion, which happened to be New Years eve.
750 mL bottle poured into a few wine glasses and shared between friends. This was an opaque amber-orange color forming a thin white head and unnoticed lacing. Odor is bursting with ripe tropical esters and cut by a pleasant lactic acidity. The taste follows with a well done lactic acidity, papaya esque fruits, some melon, and even vinous flavors. This felt quite effervescent from carbonation, and even had a curious mouthfeel of being slightly gritty, I wonder if this is the so called custard texture of the pawpaw.
Overall, I enjoyed this a lot and will seek out more Fonta.
Jan 12, 2016
CavemanRamblin from North Carolina
4.46
/5
rDev
+7.7%
look: 4.25 | smell: 4.5 | taste: 4.5 | feel: 4.25 | overall: 4.5
750 ml bottle poured into a pair of Westbrook tekus, sharing this one with the wife. Bottle #227 of 577.
A - Pours a hazy, glowing light-orange color with a pillowy white head. Looks quite inviting.
S - Vinous and acidic, but softened by hints of bright fruit. Wine barrels very apparent.
T - Similar to the smell, a combination of acidity and light fruitiness. Pleasantly sour, but very drinkable. Aftertaste offers a hint of earthiness.
M - Perfect level of carbonation for me, which is substantial but not overly so. Medium-bodied.
O - My first chance to try one of Fonta Flora's wild ales and I will certainly seek out more of them based on this experience. I can see why they have such a loyal following here in NC. A fantastic brew that is quite unique and has a bit more complexity than most other wild ales in the state.
Aug 16, 2015

Immortale25 from North Carolina
3.99
/5
rDev
-3.6%
look: 3.75 | smell: 4 | taste: 4 | feel: 4 | overall: 4
Poured into a Saint Somewhere wine-style glass. Back label says Bottled May 2015.
A- Pours a light amber color with a 1/2 inch white head that retains a bit before becoming a thin ring around the edge of the glass and a large center patch of sheer surface foam. Nearly no lacing.
S- Straightforward lactic acid aroma. I don't know what paw paw fruit tastes or smells like so I don't know what to look for as far as that's concerned.
T- Again, straightforward hit of lactic sourness. Not particularly complex although I do start picking up some melon notes in the aftertaste as it warms.
M- Moderate amount of pucker with medium carbonation and a light body.
O- A solid beer, though I don't see it as any different from your typical blonde sour.
Aug 04, 2015
Alieniloquium from Florida
2.99
/5
rDev
-27.8%
look: 4 | smell: 2.5 | taste: 2.75 | feel: 4 | overall: 3.25
750 mL bottle poured into a snifter. Hazy orange. Medium white head. Smells like celery? Lightly fruity and acidic. And celery. Tastes sweet and tart. Lots of vegetal flavors and a bit of that celery flavor remains, especially in the finish. White wine is prominent, too. Light tartness. Medium light body. I don't know what Paw Paw is, but is it supposed to taste like celery?
Jul 21, 2015
brentk56 from North Carolina
4.47
/5
rDev
+8%
look: 4 | smell: 4.5 | taste: 4.5 | feel: 4.5 | overall: 4.5
Appearance: Presents a hazy honey-colored appearance with a small head leaving a smidge of lace
Smell: Fruity aromatics; having some familiarity with paw paw (as distinct from papaya), I can clearly pick up its aromatic tones; the tartness comes through, along with some vinous tones
Taste: There is a hint of the subtle sweetness of the paw paw and then a slightly vinous, lemony tartness takes over; the overall effect is a bit like a tart lemon meringue pie; there is also a hint of herbal elements underneath
Mouthfeel: Light to medium body with prickly carbonation
Overall: Another masterful concoction from Fonta Flora; the subtle sweetness and herbal tones present a lovely foil for the tarter elements; another example of why Fonta Flora clearly deserves to be counted among the very top breweries in the state
Jun 28, 2015
Carolina Custard from Fonta Flora Brewery
Beer rating:
91
out of
100
with
58
ratings