Fonta Flora Brewery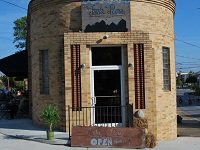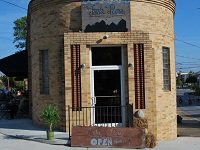 Brewery, Bar, Eatery, Beer-to-go
317 N Green St
Morganton
,
North Carolina
, 28655-3324
United States
(828) 475-0153 |
map
fontaflora.com
Notes:
Reviews: 15 | Ratings: 52

4.5
/5
rDev
+0.9%
vibe: 4.5 | quality: 4.5 | service: 4.5 | selection: 4.5
I visited Fonta Flora on 4/20/18.
V - The taproom was very nice. There a singer performing while we were there.
Q - I found all of the beers we tried to be tasty.
S - There were 2 bartenders working, and both of them were very helpful. They were quick to offer a sample if you weren't what beer you wanted to try.
S - I was very impressed with the beer selection. There were about 16 beers available and all were pretty different.
431 characters

4.5
/5
rDev
+0.9%
vibe: 4.5 | quality: 4.5 | service: 4.5 | selection: 4.5
Visited for the Rhythm Rug release/anniversary party. Beautiful decor, nice tap list, friendly and helpful employees, all despite being fairly crowded and busy. Can't ask for any more.
184 characters
3.99
/5
rDev
-10.5%
vibe: 4 | quality: 3.75 | service: 4 | selection: 4.25
I stopped in Fonta Flora briefly on the way to Asheville. Easy walking distance from Brown Mountain Bottleworks (a great shop/bar). Very cool place, nice-sized bar, brewing processes in clear view, plenty of sitting/standing room. Service was fine, if not tremendous...the bartender seemed fully engaged in a conversation with someone, but she "made time" for me, as it were. There was a very good selection of house beers available, as well as a couple collabs, and I believe there was a local cider on as well. I opted for the good old trustworthy sampler flight, 5 glasses to it. Nothing really wowed me honestly, but everything I had was at least solid. Obviously saisons are the big deal, and in fact 3 of the 5 beers I had were sessiony saisons, with the other 2 being IPAs. A good amount of merch for sale, and with the occasional bottle release (in fact there was only one bottle left when I was there), this place has a lot going on.
I kind of wish I had more time to sample the beers here, and get more of a feel for them, since I most likely will not be back in the area for a long time. Hopefully I can return one day. Check these guys out for sure, if your journeys take you to Morganton.
1,202 characters

4.31
/5
rDev
-3.4%
vibe: 4.75 | quality: 5 | service: 3 | selection: 4.75 | food: 4
Awesome brewery! Excellent beer, decor, & location. The only negatives were the service (bartender wasn't BAD, but not the best I've ever seen either) and only a couple snacks to choose from food-wise... Although the hummus and chips were incredible. Overall they have some amazing saisons and IPA's, you just better be ready to drink without food.
352 characters
4.3
/5
rDev
-3.6%
vibe: 4 | quality: 4.5 | service: 4.5 | selection: 4.5 | food: 3
Arrived on a Thursday night around 8 PM. Warm spent grains in big buckets outside. Awesome smell of brewing when I walked in. The small setup is right there in the open along with the bar and tables. Great assortment of bottles and beer mags laying around. Not crowded when I was there. Nice selection of beers and all were very, very good. Service was great. Top notch place.
376 characters
4.33
/5
rDev
-2.9%
vibe: 4.25 | quality: 4.5 | service: 4 | selection: 4.5
In way the hell out of Ashevilletown, an excursion post Pisgah and late morning barbecue, not at all in that order. Somewhat detoured but undeterred by the Morganton Festival. This way and that, the town absolutely packed but still landed a sweet slander spot right out front, or off to the side anyway…
Funny rounded corner spot off a roadway split. Through the pen space, a pair of curbside tables and in. 'L'ish wood slat topped bar, with a short lip, panel base, & squared foot bar; seating for 9 on metal chairs. Horizontal boards on the barback showing those which have 'surfaced'; Beer, style, ABV, IBU, the glass style drawn in pint or goblet, and $. Some show prefix markers; a 'heart' (local ingredients), an 'exclamation point' (last keg), and a 'star' (guest tap, of which there are two). Further down the board are 'next to surface' (Salted Brown Porter, Appalachian Grisette, & Appalachian Kvass), and upcoming events. 14 leaf handles taps from the wall below the beer board, 2 of which are nitro. Glassware & books over the sill; growls, hats, & rolled up shirts around the bend where a small kitcheny prep area happens (sign for victuals just spotted; meat & cheese, hummus, ships & crackers).
Wood slat floors & white painted ceiling with 3 drop spinnys. Drop wide pan lamps along the perimeter and single drop bulb filaments caged tracing the bar. Brick walls rounded to a door (currently blocked by band play this Saturday afternoon), over slate blue vertical plank lowers with wrap around bar counter ledges. Windows on both sides white trimmed up, and 6 stooled formica-like hightops riddled about; 2 here, 3 on this side, and 1 fronting the small brewing set up off the entrance, each holding a 32oz medicine jar growl on them. A single flatscreen, local art/paintings for sale, barrels in the hallway, & dead soldier guest bottles running the I-beam sill above from the brew room out.
A bakers dozen taps surfaced; 10 house beers (Pontoon Parade, sprite melon & bee balm Saison, 4.9%, okay, it was probably the weakest of the lot; Appalachian Bitter, Ordinary Pale Ale, 4.2%, nice malt backbone, a good bitter; Boom Bap, Brass Monkey style white Saison, 3.5%, most floral, good stuff; Hop Beard, Mountain Man IPA, 6.1%, nice IPA; Bandit, Smoked English Mild, 3.9%, solid effin' mild, only slightly smoky; Danktron 30/30, Fresh IPA on nitro, 5.2%, dank as actual fuck, winner!; Baba Budan, coffee IPA, 6.6%; collaboration with Appalachian Mountain Brewery; Wu-Weisse, rustic tart Saison, 6.2%, tart, pleasant, very good; Beets, Rhymes, & Life, local beet Saison, 5.9%, really, really beety & earthy, not my thing, as I don't much care for beets, but it won a gold at the GABF like a month later, so what do I know?; Petal to the Metal, local rose petal petite Saison, 3.1%, not overly floral, also very nice), + an organic house made raspberry lemonade, and a pair of guest non-beerys (Lenny Boy Brewing Good Ol' Ginger Kombucha & Pure Intentions organic cold brewed coffee). Bandit, Danktron 30/30, Wu-Weisse, & Petal to the Metal were the best of 'em but there was really nothing clunkery.
Rear room with some seating. Exposed brick beneath the dry wall; a North Carolina flag, a house quilt, and a state of North Carolina shaped piece. 3 tables pushed together to seat 24 down the middle of the room. We immediately made friends with a 6 year old name Claire, who was kind enough to let us sit with her. We're now BFF's. Her parents were amused, anyway (Oh, Phenway).
Good Jazz play and friendly people. Comfortable house, and some really interesting beers (They use locally sourced ingredients; vegetables, fruits, herbs, spices, etc.) And 5 Saisons is pretty badass. Well worth the drive out.
3,762 characters

4.2
/5
rDev
-5.8%
vibe: 4.5 | quality: 4 | service: 4.25 | selection: 4.25
Fonta Flora is located in a sleepy southern town filled with awesome southern hospitality from the time you enter the town to the brewery. Patrons are initially reserved but warm up to you after a few of the good brews offered by Fonta Flora. Nice looking building with a small nicely refurbished wooden interior. Small in size with connecting outdoor space but limited in indoor and outdoor tables. The tasting offering seemed slightly expensive. A buddy of mine had come two weeks before and was disappointed in the beers. He thought the quality of the beers was below that of Wicked Weed. Maybe so but I enjoyed the flight although I was surprised by the lack of distinctiveness in most of the beers. Fonta Flora does real well with Saisons and the Coffee IPA is just outstanding. No Imperial Stout the day I went and no Porter. The other American IPA offered was unremarkable as well as two other beers which are the day-to-day brews. Fortunately they had on tap what they offered for the bottle release early that day and those beers were outstanding along with the beet saison. Overall Fontal Flora is an outstanding place to drink.
1,150 characters

4.61
/5
rDev
+3.4%
vibe: 4.75 | quality: 4.75 | service: 4.5 | selection: 4.5
visited on a sunday afternoon. authentic space, interesting brick corner building with lots of light & charm. everything about the various spaces is purposeful, yet aesthetically pleasing. bar is small -seats maybe a dozen or so with various tables scattered in the front room. back room has one long table with comfortable bar stools (love those small backs) that could handle another 40-50 ppl or so. active barrels share the back space along with a kickass fonta flora quilt & exposed brick outline of NC. outdoor seating is available, too. love the small assortment of growlers with fresh flowers positioned throughout.
enjoyed two full flights while playing old school battleship in the back room. beets rhymes & life and wu-weisse were easy favorites available at the time. all the beers were good, unique, and well crafted. beers focus on locally and/or uniquely sourced ingredients. great offering of styles. we settled with a couple of pints, enjoyed some Roots crackers & hummus and continued our battleship battle. i missed seeing that the bottles were for on-site consumption only, so i missed out on brutus & vestige bloom.
easily a favorite. first encountered fonta flora at scratch brewery's 2nd anniversary party, and wanted to visit firsthand ever since. it was a great sunday afternoon that i'll remember until my next visit hopefully soon.
1,365 characters
3.98
/5
rDev
-10.8%
vibe: 4.25 | quality: 4.25 | service: 3.5 | selection: 4
As I live & breathe, I would've never thought Morganton would have a place like this , emphasizing Saisons & exotic beers, many made from veggies,fruits, herbs & spices, plus other things
Nice busy buzz to this place on a Saturday afternoon, nice cozyness to the place
Beers were all good or better, the two I got try
They were slammed, apparently there was some sort of fund-raiser going on. All I know is we had a pretty good wait the bar & all the tasting flight glasses were dirty, so no tasters for us. servers were apologetic & once recovered were fine
Nice selection of beers as long as you don't require the cookie cutter beers, about 9 taps going. I will certainly go back, I will try not to pick a busy time to be sure. Well worth a go. I'm sure my score on this place will go up on the next visit...
819 characters

4.69
/5
rDev
+5.2%
vibe: 4.75 | quality: 5 | service: 4.5 | selection: 4.5
Visited on a Sunday afternoon with the fam. At the time the place was steady, but not packed which was nice. All the beer there is quality stuff. They have some board games, and my wife and I got to sip on some beers while keeping my kids entertained. Made for a fun Sunday afternoon. Would definitely recommend.
318 characters

4.07
/5
rDev
-8.7%
vibe: 4 | quality: 4 | service: 4 | selection: 4.25
Couldn't have a better vibe. Crazy cool space, small but we'll designed and what a wonderful building. Just take a look at the picture. Great selection of beers, crazy good saisons. Check this gem out if you get the chance.. Cheers!
232 characters

4.5
/5
rDev
+0.9%
Cool intimate setting just on the edge of downtown Morganton. Neat building and interior. I love the rail side as the foot rail at the bar. Great lineup of unique brews that is constantly changing. If you are in the area, you have to check it out.
251 characters
4.9
/5
rDev
+9.9%
I love this place. They always have something unusual and fun to try. They have terrific collaborations and use as many local suppliers as often as they can. They have a few signature beers that are (almost) always on tap. The Hop Beard is a very good American IPA. They also embrace the funk.
The facility has character and looks great. The people are helpful and very friendly. And if you are lucky, Todd Boera might be sighted. The brewer is always willing to share his passion for beer.
4.9. The deduction is only because their capacity is small and sometimes they don't have what my palate was looking for!!
620 characters
5
/5
rDev
+12.1%
vibe: 5 | quality: 5 | service: 5 | selection: 5
Its the perfect brew pub. Laden which character, cozy and homey but clean and open. Relaxing, but busy and engaging at the same time. And the beers speak for themselves....best $4 you'll spend guaranteed. This is not your very average fabricated brew pub looking to make a buck off the craft beer craze. This is the real deal community brewery with an absolutely stellar product and mission.
391 characters
4.25
/5
rDev
-4.7%
vibe: 4 | quality: 4.5 | service: 4.75 | selection: 4.25 | food: 2.5
Fonta Flora Brewery in Morganton, NC is a local crafter brewery and small pub. The interior and exterior have a charming decor and inviting feel. The pub is small and seats are limited, but you can usually find a spot at the bar. They have about 10 different beers on top with wine and non-alcoholic (root beer) options. The beers change fairly regularly and have some serious diversity. The brewer likes to use different locally sourced ingredients such as beets, carrots, and kiwi to craft different types of saisons, belgians, and ipas. Some of their best beers, in my opinion, are the darker porters and stouts. They currently feature an imperial stout and a porter that are fantastic. The imperial stout is rich and complex with a sweet finish, while the porter is deeply robust with hints of nutty chocolate. Seasonal beers that have since gone off tap, the oyster stout and oyster biere de garde, where also among my favorites. However, a tap regular, their Hop Beard Mountain Man IPA, is one of the best IPAs you can get. They also offer lighter table beers which go great at any time. Some of their flavors seem to tend more towards the sour sometimes. There are locally made chips and dips available as snacks. Fonta Flora often partners with restaurants to feature themed food events such as oysters and wings at different times. Check out Fonta Flora Brewery!
1,371 characters
Fonta Flora Brewery in Morganton, NC
Brewery rating:
4.11
out of
5
with
1444
ratings