Dismiss Notice
Ciuc Premium
| Heineken Romania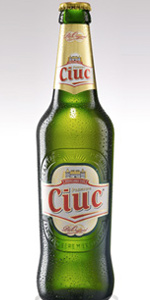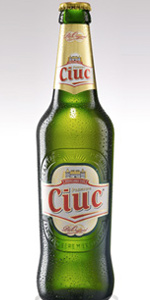 BEER INFO
Brewed by:
Heineken Romania
Romania
heinekenromania.ro
Style:
Bohemian Pilsener
Alcohol by volume (ABV):
5.00%
Availability:
Year-round
Notes / Commercial Description:
None provided.
HISTOGRAM
Ratings: 13 | Reviews: 4
Reviews by TMoney2591:

2.5
/5
rDev
-15.5%
look: 3.25 | smell: 2.5 | taste: 2.25 | feel: 3 | overall: 2.5
Served in an Ohio State shaker pint glass.
We begin a miniature European tour in Romania, with a beer whose name I likely can't properly pronounce. Right on. It pours a clear straw topped by a finger or so of dirty white foam. The nose comprises vague musty grains, a hint of grass, and a touch of dust. The taste brings in more of the same, along with a touch of corn-like something. The body is pretty light, with a light moderate carbonation and a watery feel. Overall, this is a pretty weak little light lager-y thing, nothing that stands out amongst the trillion other examples out there.
600 characters
More User Reviews:

3
/5
rDev
+1.4%
look: 3 | smell: 3 | taste: 3 | feel: 3 | overall: 3

2.75
/5
rDev
-7.1%
look: 2.75 | smell: 2.75 | taste: 2.75 | feel: 2.75 | overall: 2.75
Clear golden color with white head. Aroma has a hint of bready malt and earthy hops, very faint. Taste follows, really clean malt profile, a hint of earthy hop bitterness on the finish, really watery with medium carbonation. Overall it's quite clean but extremely boring.
273 characters
2.3
/5
rDev
-22.3%
look: 2.25 | smell: 2.25 | taste: 2.5 | feel: 2.25 | overall: 2

2.9
/5
rDev
-2%
look: 3 | smell: 2.25 | taste: 3 | feel: 3.25 | overall: 3.25

4.12
/5
rDev
+39.2%
look: 3.5 | smell: 4 | taste: 4 | feel: 4.5 | overall: 4.5
Had the unfiltered from them before so I simply had to go back to the basics and taste their Premium.
This feels like the "good old lager of old times", looks proper, smells somewhat like a cellar or a pub for old alcoholics that somehow brings about this feeling of nostalgia about the beer and the taste is nice, crisp and clean. Very positive that there is no stinky German lager or Euro lager yeast in this beer. Feels quite pure with no aftertaste. Wonder how the original used to be before Heineken bought them, but this one is absolutely drinkable, very good indeed for a lager!
585 characters
3.04
/5
rDev
+2.7%
look: 3 | smell: 2.75 | taste: 3.25 | feel: 3 | overall: 3
3.5
/5
rDev
+18.2%
look: 3.5 | smell: 3.5 | taste: 3.5 | feel: 3.5 | overall: 3.5
This beer is all malt with no corn or other adjuncts.
The head and lacing are good as is the stream of carbonation rising up my tall pilsner glass.
The aroma is very muted but has a mild herbal note along with bready lager aroma.
The taste is crisp clean and refreshing with a notable level of hop bitterness in the finish.
Overall this tastes like a not quite so good replica of a German pils. That's not necessarily a bad thing as German pils taste wonderful whereas this just tastes pretty good.
Available in some stores in London selling east europoean beer and food This 500ml can was very cheap.
A good beer that is not particularly remarkable but good for a session.
75/100
691 characters

3.25
/5
rDev
+9.8%
look: 3.25 | smell: 3.25 | taste: 3.25 | feel: 3.25 | overall: 3.25

2.49
/5
rDev
-15.9%
look: 2.75 | smell: 2.5 | taste: 2.5 | feel: 2.25 | overall: 2.5

2.68
/5
rDev
-9.5%
look: 2.75 | smell: 2.75 | taste: 2.75 | feel: 2.5 | overall: 2.5

3
/5
rDev
+1.4%
look: 3 | smell: 3 | taste: 3 | feel: 3 | overall: 3

3
/5
rDev
+1.4%
look: 3 | smell: 3 | taste: 3 | feel: 3 | overall: 3
Ciuc Premium from Heineken Romania
Beer rating:
2.96
out of
5
with
13
ratings