The Dog & Cask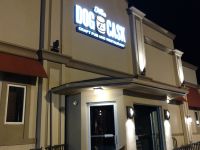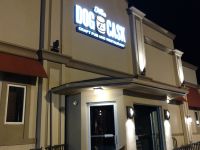 Bar, Eatery
55 State Rt 17 S
Rochelle Park
,
New Jersey
, 07662-4212
United States
(201) 845-5101 |
map
thedogandcask.com
Notes:
Reviews by Gtwreck45:
Gtwreck45 from Missouri
4.56
/5
rDev
+10.1%
vibe: 4.5 | quality: 4.5 | service: 4.75 | selection: 4.5 | food: 4.5
May 27, 2015
More User Reviews:

Jsalz21 from New Jersey
4.24
/5
rDev
+2.4%
vibe: 4.25 | quality: 4 | service: 4.75 | selection: 4
Sep 26, 2017
jmdrpi from Pennsylvania
4.16
/5
rDev
+0.5%
vibe: 4 | quality: 4.25 | service: 4.25 | selection: 4 | food: 4.25
had dinner and some beers. nice modern clean, gastropub. moderate sized bar, and dining tables around. About 20 taps of high quality craft beer, plus a bottle list - good variety of styles. informative bartender. food was quite good.
Sep 12, 2017
BourbonYeti from New Jersey
4.41
/5
rDev
+6.5%
vibe: 5 | quality: 4.5 | service: 4 | selection: 4.25 | food: 5
Jan 27, 2016
slander from New York
4.21
/5
rDev
+1.7%
vibe: 4 | quality: 4 | service: 4.5 | selection: 4.25 | food: 4.25
A place I would never reasonably be if it weren't for a Monday work minor holiday and my needing to visit mall hell for stuff. Sucky 17; especially that stretch downed to 2 lanes approaching 80, which is super sucky. On the side of the road in a 'if you missed it, it'll be a 20 minute loop excursion' kind of way…
Dead on a Monday at 2pm, as I like it. Long wide room, but not too deep. An easy push to the rear. 'L' shaped wood slat topped bar, horizontal plank base, & pebbled foot box; seating on brown leather chairs for nearly a dozen and a half. Barback holds a 12 tap barbell tower and a pair of 4 tap uprights, 1 to each side of center. Black trim unit above with a slat blackboard listing 12 beers (brewery, beer, state, ABV). A trio of flats atop shelving units with booze & booze fronting mirrored panels to each side, and glassware countered below. More glassware shelved down under and cooler doors to both sides. And lest we forget the pair of handpumps on the bar.
Slat wood floors, exposed duct work drops on rafter ceiling & painted play around the sunken center, drop buttercups. Wood plank front wall with blinded windows and flats. A dozen tables about the room; some shorty rectangles on shared benches to both sides of the door, raised roundies riddled, & a shared 10 seat hightop just off the bar.
Room on the end behind glass paneled doors holding a dozen+ tables. Track spots, blinded windows, dog prints. And a more open space on the other end; a half dozen+ 2 seat shortys to both sides on benches wall to wall, and 2 rows of 4 larger tables down center. Carpeted area, painted play over framing below, dog & farm prints, mounted baby lamps & candle like lights, drop gumdrop lamps over the seating & cluster buttercup trios and singles. And a 'lil room at the far end of there with a pair of tables, a fireplace, and shelving to both sides with a fuck ton of guest bottles drank (Lawsons, Tired Hands, Fantome, Cantillon, Three Floyds, Hill Farmstead, Oxbow, Cascade, Russian River, Alchemist).
12 taps on a stainless steel barbell tower on barback center. 1/3 New Jersey local (Brix City Amber Ale, Bolero Snort Blackhorn, Kane Fall Saints, Carton Boat Beer), 1/3 regional craft (Maine Another One, Allagash White, Smuttlabs Cherry Short Weisse, Troegs Scratch #210 American IPA), and 1/3 craft afar (Founders Harvest Ale & Breakfast Stout, Terrapin Moo-Hoo Chocolate Milk Stout, Lagunitas GravensTime Apple-esque). And a pair of cask beers; Bolero Snort Boovember & Carton Harvest 2015 El Dorado. I drank the Maine Another One, Smuttlabs Cherry Short Weisse, & Founders Breakfast Stout.
And bottles; 3 dozen, mostly American craft with nearly a dozen good imports (Professor Fritz Briem 1809 Berliner Weise, Ayinger Celebrator Dopplebock, Rochefort 10, Chimay Blue, Rodenbach Grand Cru), and a Gluten Free & Cider.
They also do burgers, sandwiches, entrees, snacks & small plates, dogs, etc. Oh, the old chili or wings dilemma. The struggle continues. I opted for the D&C short rib chili of awesome; beer braised short rib, red pepper, black beans, shredded yellow cheese undefined, and it comes with blue corn chips for the scooping of. I did a bowl, statistically twice as good as a cup.
My revisit with Jed & D a few weeks back brought wings peach habanero, and a few beers (Maine Peeper, Founders Breakfast Stout, Carton BDG). Okay, so the tunes are excellent (acoustic Stones, Page & Plant Kashmir, Allman Brothers, Cream, other chillness from my internal playlist). Seantender knows his game, I suspect he drinks well with others. Good crowd of grownups and regulars. Solid list and fine eats. Works for me.
Dec 07, 2015

MKuryllo from Nevada
4.55
/5
rDev
+9.9%
vibe: 3.75 | quality: 4.5 | service: 4.75 | selection: 4.75 | food: 4.5
Apr 02, 2015

Will_Rivera from New York
4.81
/5
rDev
+16.2%
vibe: 4.75 | quality: 4.75 | service: 5 | selection: 4.75 | food: 4.75
This is NJ at it's best great beer selection amazing Bartenders who know there beer great events and food at it's finest I drive from NYC to Jersey for this place any day
Jan 01, 2015


The Dog & Cask in Rochelle Park, NJ
Place rating:
4.14
out of
5
with
14
ratings