Busted Sandal Brewing Company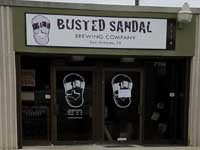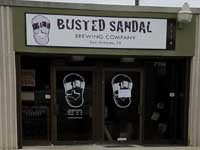 Brewery, Bar, Beer-to-go
7114 Oaklawn Dr
San Antonio
,
Texas
, 78229-3021
United States
(210) 872-1486 |
map
bustedsandalbrewing.com
Notes:
Reviews by chinchill:

chinchill from South Carolina
3.29
/5
rDev
-14.8%
vibe: 3 | quality: 3.25 | service: 4.25 | selection: 2.5
very small start-up brewery in an industrial area. Only 4 beers on tap,; none of them unusual or extreme. As usual with such places, there was knowledgeable and friendly service. Sample pours of ~ 4oz. available for $1 each. Has a flat screen TV and music system.
Jun 22, 2014
More User Reviews:
WillieThreebiers from Connecticut
4.39
/5
rDev
+13.7%
vibe: 4.25 | quality: 4.25 | service: 5 | selection: 4
Cool little spot hidden in a corner of old shopping center/ industrial park. Small bar seats 5, some counter space in side room. 9 beers on tap, the two I had were excellent. Bartender was top notch, personable beer guy. Great experience.
Mar 16, 2019
StonedTrippin from Colorado
3.49
/5
rDev
-9.6%
vibe: 3.75 | quality: 2.75 | service: 3.5 | selection: 4.25
this was one of the last breweries we hit around san antonio, and there was a good mix of chatter about them in the places we visited previously, some really favorable commentary, some not so much at all. the place was really simple and minimal, a small bar area with some high top tables in a tricky to find strip mall sort of location. not much more than the bare taproom essentials here, a view to the brewery through the back. i was surprised to see like a dozen beers on tap, at least ten, and some pretty ambitious recipes too. we ended up with a flight to try them all, and it was a pretty interesting experience. they have some hits and some misses, just like any brewery, but most of the beers, no matter what style, had a similar phenolic fermentation profile that we really didnt care for, like everything was done way too warm, almost chemical in a lot of them, and it hurt some flavors more than others. we all liked the hefeweizen best, with the robust porter not far behind, those were the two i would do by the pint. they had an unnamed experimental ipa on that was decent as well. the brown ale was probably the worst among them, but just about all of them seemed tainted by this phenomenon. it seems like if they could clean this up in the beers they would have a nice range of drinkable and approachable beers in here, but that wasnt the case when we were in, it was almost like they all had some amount of cleaner in them or something. the guy serving was nice and welcoming, and the space was chill, but the beer was not good enough that i will be in a hurry to go back when i am in town again. i felt bad leaving that we really didnt love any of the beers we tried, but they cant all be winners. some serious figuring out needs to happen in here if these guys are going to make it...
Mar 10, 2019

Pug from Minnesota
4.06
/5
rDev
+5.2%
vibe: 4.5 | quality: 4 | service: 4.25 | selection: 3.75
Jun 29, 2015
Gagnonsux from Texas
3.82
/5
rDev
-1%
vibe: 3.75 | quality: 3.75 | service: 4.5 | selection: 3.25
Jun 09, 2015




CRV334 from Texas
4.2
/5
rDev
+8.8%
vibe: 3.75 | quality: 4.5 | service: 4.5 | selection: 3.75
Visited this place a few months ago. Their tasting room is small, but they are in the process of expanding. They had 5 of their beers on tap (including some that were pretty much out of circulation like their pumpkin porter) and we tried 4 of them.
It was a Saturday afternoon and they were brewing. The girl behind the bar was attentive and could answer all of my beer-nerd questions. One of their staff members was in the tasting room preparing coriander, lemon peel and orange peel for the wit they were brewing. We struck up a conversation with him and he offered us a tour of their facility.
They make some pretty good beer and are willing to experiment, test, and experiment some more. I see a lot of good things in their future.
May 11, 2014
AlCaponeJunior from Texas
3.89
/5
rDev
+0.8%
vibe: 4 | quality: 4.5 | service: 4 | selection: 3
Just found out this place was there, so I stopped by to try it out. Their location is pretty easy to find and right off the main roads, close to a major highway intersection, so it's convenient.
The taproom itself is small, as is the entire facility, but the staff was great and very talkative about their beer and about homebrewing. Any place that supports homebrewers is ok with me, (and it's refreshing that nowadays most craft breweries are).
They don't have a huge selection, but there were five of their beers to sample, and a guest tap. It's definitely a "micro" craft brewery, so that's ok too.
Certainly my first trip there made me want to go back, and I will because it's close to home and their beer is tasty. Great to see more locally made craft beer in Tx. Can't wait till they start bottling because I'd love to see their beers for sale in local supermarkets and liquor stores.
Mar 09, 2014

ONovoMexicano from New Mexico
3.74
/5
rDev
-3.1%
vibe: 3 | quality: 4 | service: 4 | selection: 3.5
A local friend of mine hipped me to this nascent operation---a tiny little brewery whose customers consisted of my friend, two of his friends and me---and I ate the $70 in cab fare to get here and back and still have nothing but kind words.
Right off the bat one of the brewers offered me a tour of their site, then realized I was beerless and said something to the effect of "What am I thinking? Beer first", hit me with the Busted Sandal IPA and then showed me the rounds. I'm a sucker for that down-to-earth sort of treatment, where the same person serving you has made you that offering and then walks you through to see where all the magic happens. I need not tell folks how rare this sort of things is nowadays. We need more of this.
Oh, and the IPA? Excellent. A well-balanced ale with good bitterness and aromatic hops but a smooth, malty backbone to make it plenty easy to sip as I walked through the brewery.
The place being small, the tour didn't last but 10-15 minutes, but I was impressed by the passion the brewery demonstrated for his craft and some of the ingenuity he and his team have employed in getting their business running. The homemade wort-cooling contraption they pieced together was truly the stuff of beer geek legend and inspired me while simultaneously bringing me shame at my own engineering ineptitude.
After going through all the stops, it was back to try the darker side of the Busted Sandal repertoire with their El Robusto Porter. As the name suggests, you get a thick-bodied, coffee-and-chocolate-note-heavy brew that was still smooth as silk. The lingering taste of cocoa on my tongue is making me want another as I write....yet I'm so far away. I really enjoyed this beer and recommend it.
Afterwards, it was on the seasonal pumpkin offering, which is clearly a requisite beer for any brewery in the US today (for better or for worse) and what I got with the El Gourdo was essentially a variation on the El Robusto (read: still tasty) but with heavy notes of pumpkin and maple syrup. Good stuff, but I reverted from there to the El Robusto for the rest of the night as that one had already won my heart over.
We pretty much closed the brewery down and, in fact, even stayed after closing hours and it all felt like I was hanging at someone's house. Certainly, this place has very little in the way of ambiance and is really just a place to get your beer on, but like Chris Rock said about corn bread, "Ain't nothin' wrong with that."
Amen, brother. Amen.
Nov 26, 2013
Busted Sandal Brewing Company in San Antonio, TX
Brewery rating:
3.68
out of
5
with
205
ratings