VolksfestBier
| Dinkelacker-Schwabenbraeu AG
BA SCORE
82
good
15
Reviews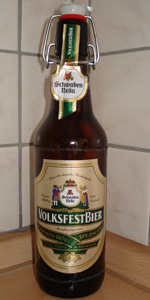 BEER INFO
Brewed by:
Dinkelacker-Schwabenbraeu AG
Germany
dinkelacker.de
Style:
Märzen / Oktoberfest
Alcohol by volume (ABV):
5.50%
Availability:
Rotating
Notes / Commercial Description:
No notes at this time.
Added by TheSarge on 08-11-2008
Reviews: 15 | Ratings: 45

2.81
/5
rDev
-19.7%
look: 3.5 | smell: 2.5 | taste: 3 | feel: 3 | overall: 2.5
Picked this up at my local getraenkemarkt. Clear yellow pour with two finger quickly fading head and minimal lacing. Somewhat sweet and grassy nose with a hint of metal to it. The taste is slightly herbal with a touch of toasty malts adding to the sweetness. Slight bitterness on the finish, but the balance is on the sweet side. I'm getting a bit of the metal from the nose in the taste along with a hint of lemon. Slightly carbonated and tart finish, but the sweetness dominates and hurts the drinkability for me.
515 characters
2.86
/5
rDev
-18.3%
look: 3.5 | smell: 3 | taste: 2.75 | feel: 2.75 | overall: 2.75
Seems like the Brewmaster was told to make an Oktoberfest style beer, but had to brew it with existing inventory. Beer has a slight toffee aroma. Flavor is sweet, a little malt, and some carbonic tang and that's about it. Appearance was a small creamy head. Body is strange- all the parts stand apart and don't work together and are somewhat unpleasant Totally forgettable beer. Give the bottle to a homebrewer.
411 characters

3.03
/5
rDev
-13.4%
look: 4 | smell: 2.75 | taste: 2.75 | feel: 3.75 | overall: 3.25
Bottled
Bright golden body with big foaming white head
Smells like good white bread baking
Malt and silver coin flavour
It does have a good mouthfeel though
158 characters
3.09
/5
rDev
-11.7%
look: 3.25 | smell: 3 | taste: 3 | feel: 3.25 | overall: 3.25
Very malty with a musty aroma. Taste is of bread and grass. Pretty average for a marzen/festbier . Much better enjoyed in the tent at the Cannstatter fest.
155 characters
3.38
/5
rDev
-3.4%
look: 3 | smell: 2.5 | taste: 3.5 | feel: 4 | overall: 4
Old fashioned 500ml swing top bottle. This bottle has a cream colored shield label with the Schwaben Brau crest that has a man and a woman in traditional German clothing on opposite sides. The man on the left is playing the trumpet and the woman on the right is playing the cymbals. I don't know hat kind of music will come out of those two instruments together, but it can't be good. Below the couple is the name of the beer and brewery in gold letters inside a green banner. The back label has the same picture on the front and 2 big paragraphs written in German. At the bottom of the back label is the barcode and a best before date. My bottle was best before January 16th 2009.
Appearance: I decided to pour this German Lager into my Brooklyn Brewery Imperial pint glass. Out of this old fashioned bottle came a beer that was clear, pale, and a bright sunshine yellow color. This yellow color was a shade under being a gold color. On top of this yellow beer was a 3/4 of an inch head of pure white foam. This head of foam quickly fizzled down into a string of white rings and about 3 small spots of white lace. Standard German Lager appearance.
Smell: The aroma of this beer was very grainy. The good thing about this grainy aroma was that it was grainy with toasted malts. You know it couldn't have been brewed corn and rice since it was brewed in Germany. Behind the malts was a hint of apple juice and a smidgen of crispy floral hops. I thought that was the end of it, but when the beer really warmed up, a dash of black pepper, a touch of caramel, and little lemon zest emerged. Even when those new aromas emerged, I still thought it was too grainy.
Taste: After the grainy aroma, I thought this beer was going to be very grainy with malts followed by a touch of hops. That wasn't the case with this beer. Instead, the taste was lightly toasted with toasted malts, a splash of lemon zest, a touch of green apples, and plenty of crispy floral hops. Even though it was better than what I had thought it was going to be, it was still slightly above average for the style. It was nothing too special.
Mouthfeel: This was a light bodied beer with plenty of crispy carbonation and a slightly toasted aftertaste of toasted malts, a little lemon zest, and crispy floral hops. I liked the strength of the aftertaste and the fact that it didn't wash away at a drop of a hat.
Drinkability: This was another above average session German Lager. I was just glad that the taste of this beer wasn't as grainy as the aroma. That would have been a disaster if it had done that. Even though it was another above average German lager, I would still like to thank Donny2112 for giving me the chance to try this only available in Germany Lager.
2,735 characters
3.42
/5
rDev
-2.3%
look: 3.75 | smell: 3.5 | taste: 3.25 | feel: 3.5 | overall: 3.5
Bottle. Straw colour. Thick head which dissipates after about a minute.
Metallic aroma. Hops and cereal noted. Fruit detected.
Sweet malt flavour. Very light spice. Apple core dryness to finish.
Medium body and moderate carbonation.
232 characters
3.49
/5
rDev
-0.3%
look: 3.25 | smell: 3.5 | taste: 3.5 | feel: 3.5 | overall: 3.5
Appearance: This one pours a clear golden color with a white head a good two fingers worth of head.
Aroma: Lemon zest, grassy, caramel malts, faint spice, apple, light cinnamon.
Taste: Malty sweetness in the front along with a smooth mouthfeel. Citrus and floral hop that brings a slight dryness but that mellows out. Caramel malts, cinnamon, faint pear and apple.
Notes: Overall this one is tasty and drinkable not a bad find either. Prost.
456 characters
3.5
/5
rDev 0%
look: 3.5 | smell: 3.5 | taste: 3.5 | feel: 3.5 | overall: 3.5
Poured into a standard 16 oz. ale glass. Clear golden color with an off-white 1 1/2" head which hung around for 1-2 minutes. Overall, the look, feel and taste were all pretty much just above average.
201 characters

3.58
/5
rDev
+2.3%
look: 3.75 | smell: 3.75 | taste: 3.5 | feel: 3.5 | overall: 3.5
Poured from a 0.5L swing top bottle into a flared pint glass. Moderate hand. Stamped 18513 06.
A: Rather hazy, honey-colored body with 1 finger of mostly white head. Good retention. Light lacing.
S: Yeast, bready malt. Wheat-esque fruit notes, including apple and banana. Slight spice. Somewhat light, but nice.
T: Slightly spicy yeast opens. Tempered wheat and malt notes quickly transition to a noble hop-fueled bitterness. Closes mostly dry. Minimal alcohol presence. Lingering floral hops and hints of wheat in the aftertaste.
M: Moderate to high carbonation with a fairly prickly feel. Light to medium body. Lacks a certain smoothness.
O: The flavors on this one seems a bit muted. Somewhat muddled overall. The wheat notes were unexpected. I do like the hopping, which is probably the high point.
Prost!
841 characters
3.7
/5
rDev
+5.7%
look: 3.5 | smell: 3.5 | taste: 4 | feel: 3.5 | overall: 3.5
Enjoyed this swing-top bottle out of a large snifter glass.
A: Pours a dark golden hue with a 2-finger white hue that quickly dissipates leaving a wispy lace.
S: Grain aroma followed by a mild lemon zest and mild hops.
T: Toasted malt flavor with that hint of lemon zest as was present in the smell. Finishes slightly hoppy and bitter.
M: Medium body and medium carbonation.
O: Decent beer and worth a try but nothing I would drink on a regular basis.
457 characters
3.76
/5
rDev
+7.4%
look: 5 | smell: 4 | taste: 3.5 | feel: 4 | overall: 3.5
I visited the Cannstatter Wasen in Stuttgart on 30SEP09, the counterpart to the München Oktoberfest. In the Schwabenbräu tent, I scored a Maß of their festbier, for 7.90EU.
I sat outside, on an upstairs balcony overlooking the fairgrounds. In front of me sat a 1 liter stein of beauty. Not only was the glass itself decorated with a colorful, festive motif, the contents were equally gorgeous. This Festbier was a clear, rich, copper color, with sporadic carbo slowly heading upwards. It had a creamy, light tan head which lasted well through the night, leaving a solid layer of froth and excellent lacework. A bready aroma meets the nose, with light florality mixing in. Solidly smooth on the tongue, the liquid was of medium body.
Light malts are present, with some toasty notes and a bit of biscuit. It's easy on the sweetness, though with just enough to sate you. The finish has floral hops doing their thing, but with more of a spicy bite, somewhat akin to Sam Adams Ofest. Better looking than tasting, but still hits the spot, especially in this particular location. Zum Wohl!!
3.95
look: 5 | smell: 4 | taste: 3.5 | feel: 4 | drink: 3.5
1185
1,155 characters
3.92
/5
rDev
+12%
look: 3.5 | smell: 4 | taste: 4 | feel: 3.5 | overall: 4
'Tis the season for fest beer and this one is a nice example! Pours a bright coppery golden color with a nice creamy head. Very bubbly. Nice smell: Subtle barnyard, floral and spice aroma. The first taste seemed a bit skunky but it improved quickly. Smooth, fizzy, creamy and drinkable with a slight bitterness at the end. All I'm missing is the beer tent and the German band.
376 characters
3.94
/5
rDev
+12.6%
look: 5 | smell: 3.5 | taste: 3.5 | feel: 4 | overall: 5
VolksfestBier comes in a flip top half liter bottle. When poured it produces a vast amount of off white head, which sticks around for a good while. The body is light amber in color; also it's quite clear and bubbly.
Aromas and taste are husky and grainy with slight metallic and herbal hops character.
This brew is quite smooth, crisp, and well balanced. It finishes with a unique creaminess.
All the way through this is a great beer. A prime example of a fest beer.
475 characters

3.96
/5
rDev
+13.1%
look: 3.75 | smell: 3.25 | taste: 4.25 | feel: 4.5 | overall: 4
Poured into a dimpled mug.
Look: It looks like a mug of melted caramel with a light cream colored top. There's not a lot of lacing, but the head settles to a nice film.
Aroma: Admittedly, there's some skunk but otherwise faint caramel, toasted malts, and toffee.
Taste: Very easy on the palate, soft caramel and toasted grains ease their way down the gullet. There's some tea tanginess in the finish.
Mouthfeel: Light and creamy, very easy going down.
Overall: Very drinkable, and very smooth. Nice price point as well.
524 characters
4.02
/5
rDev
+14.9%
look: 3.5 | smell: 4 | taste: 4 | feel: 4.5 | overall: 4
Dark gold color with a pale white head. Great, strong smell that almost reminds me of an ESB. But the taste is great! Strong, but not overpowering, tastes engulf your palate.
Overall this is a great beer. I really like it. I don't think it's sold anywhere other than the Stuttgart area unfortunately. If anyone can get there hands on this beer, then you should definitely do it.
379 characters
VolksfestBier from Dinkelacker-Schwabenbraeu AG
3.5
out of
5
based on
45
ratings.