Tuborg Pilsner
| Tuborg Deutschland GmbH
BA SCORE
74
okay
11
Reviews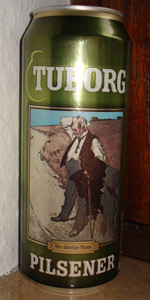 BEER INFO
Brewed by:
Tuborg Deutschland GmbH
Germany
tuborg.de
Style:
German Pilsener
Alcohol by volume (ABV):
4.90%
Availability:
Year-round
Notes / Commercial Description:
No notes at this time.
Added by stoutman on 12-25-2006
Reviews: 11 | Ratings: 41
1
/5
rDev
-63.6%
look: 1 | smell: 1 | taste: 1 | feel: 1 | overall: 1
Tuborg in India is worse than even the Kingfisher! Very bitter the beer is difficult to follow. The only reason why people like this beer is because it comes with an easy to open bottle cap. I personally do not like the taste of the beer. The colour is like any pilsner, pale golden in colour with carbonation. It is usually served very cold and that probably masks the taste.
376 characters
1.96
/5
rDev
-28.7%
look: 3 | smell: 2 | taste: 2 | feel: 2 | overall: 1.5
Tuborg Pilsner….on tap at hotel bar in First Hotel Vesterbro…Copenhagen
Appearance-light pale gold, medium sized head that fizzes up and then goes away quickly.
Smell- mild hop aroma, alcohol, cooked grains, small spice, not much
Taste/Mouthfeel-muddled instead of crisp, light mouthfeel, adjunct flavors mixed with grain alcohol and light hops, watery, seems very filtered like an American beer. Grain comes back near the end and lingers on the tongue.
Overall-not up to par, not even to Carlsberg and other mass Danish and Scandinavian beers, avoid.
559 characters
2.2
/5
rDev
-20%
look: 4.25 | smell: 2.25 | taste: 1.75 | feel: 3.5 | overall: 1.75
L:
-pours a clear golden with a small to medium,foamy,white head
-medium carbonation visible
S:
-honey,grainy,spicy,corn sweetness,toasted grain,cereals
T:
-grainy,spicy,metallic,herbal
-finishes dry
-low to medium bitterniss for the style
F:
-medium to high carbonation
-light to medium body
O:
This is simply not good
319 characters
2.23
/5
rDev
-18.9%
look: 2.5 | smell: 2 | taste: 2 | feel: 3 | overall: 2.5
Got this bottle at the nearby Supermercado Disco here in Recoleta, Buenos Aires. Was second back on the shelf, but nevertheless, it's green glass - you pretty much know what you're going to get. And you do. Or I did. Poured with a white head, that mostly disappeared and no lace. Right away upon opening I pick up the skunk. Not overwhelming, just enough to bother me. Also some malt, bitter hop and a bit of spicy sweetness. Flavor's about the same. Body's not too bad; decent carbonation. Eh.
494 characters
2.57
/5
rDev
-6.5%
look: 3 | smell: 2.75 | taste: 2.5 | feel: 2.25 | overall: 2.5
This rating is for the German version brewed in Hamburg under license. To start a plastic bottle with screw off lid...released in time for the European Football championships. Nice malty aroma, and decent appearance poured into a pilsener glass (roughly). Foamy lasting head and fizzy carbonation. But the taste falls flat, bordering on an American mass market lager. Watery and unimpressive.
392 characters

3.15
/5
rDev
+14.5%
look: 3.5 | smell: 3.5 | taste: 3 | feel: 3 | overall: 3
Bottle of 500 ml, bought in Germany on a recent trio there. ABV 4,9%, made of water, barley malts and hops. Poured into a pilsner glass. Golden yellow colour. Lots of activity in the glass. Head is two fingers in height at first, half of it is gone fast and the remaining hald has an average retention. Head is soapy n thexture, once gone, a thin layer of it still remains back to cover the beer's surface.
Aroma is a very typical pilsener one, maybe more hoppy.
Very hoppy on the taste too,slighty bitter aftertaste with short finish.
Medium-thin body and very carbonated.
Good one, it could do with less carbonation.
618 characters
3.3
/5
rDev
+20%
look: 3.5 | smell: 3.5 | taste: 3 | feel: 3.5 | overall: 3.5
This brew is a standby brew available at all gas stations located throughout Germany. That said, many other acclaimed beers are available in German gas stations, so don't snub your nose too much.
This brew produces a good amount of bright white head, and has an ultra clear golden body.
The aroma is a bit stony if you get my drift. It also has slight lemon zests and hay like fragrances.
This actually tastes quite good. I bit better than I remember from five years ago. Well balanced with lemon drop and tart bitterness.
Overall not to bad and not expensive at all. Look for the thirsty man on the shiny green can.
621 characters
3.35
/5
rDev
+21.8%
look: 3.5 | smell: 3.5 | taste: 3 | feel: 3 | overall: 4
500 ml. can, german version. Pours a crystalline yellow colour, with a good creamy fizzy head that last for a while and leaves a good lace. Smell of herbs, some lemon and grains. Light body. Taste is lemon, grains, somehow ruined by the metallic notes from the can. Refreshing. good, and probably better in bottle.
314 characters
3.42
/5
rDev
+24.4%
look: 3 | smell: 3.5 | taste: 3.5 | feel: 3 | overall: 3.5
Pours a bright, transparent, golden color and a medium white head. Aroma is bready and herbal, somewhat, slightly skunked. The flavor is slightly sweet with a little hop finish. Low to medium bitterness. The lightly dry and malty start ends in a pleasant bitter aftertaste perhaps even a little acidic. More of a german dry pilsner, and similar to Jever although in a can. This one is not too bad, and I generally dislike canned beer.
434 characters

3.5
/5
rDev
+27.3%
look: 3.5 | smell: 3.5 | taste: 3.5 | feel: 3.5 | overall: 3.5
This is new to me as I always see and drink the gold can. The biggest difference between the two is that the finish in the pils is dryer and the hops are more pronounced. Pretty good pils in a nice tall can. I actually will drink this over the gold version.
257 characters
3.7
/5
rDev
+34.5%
look: 4 | smell: 4 | taste: 3.5 | feel: 4 | overall: 3.5
Bottle: 33cl; Served: Pokal; Bought: Local store.
This beer is a typical German Pilsener, quite hoppy (especially in the very beginning). The colour is maybe a bit too stramineous, but still very pleasant. The carbon dioxide level is just perfect (not too much and not too watery). The foam fresh and quite firm. This beer's taste is nothing special, just a good pilsener, a bit bitter and quite bracing.
Seems to be perfect for grilled sausages or grilled pork (unfortunately I have not tried it this way).
507 characters
Tuborg Pilsner from Tuborg Deutschland GmbH
2.75
out of
5
based on
41
ratings.