Alexandra Tavern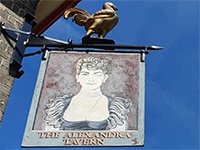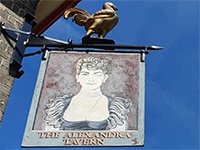 Bar
16 Stafford Street
Norwich
,
England
United Kingdom
01603 627 772 |
map
Notes:
Reviews by TheLongBeachBum:
TheLongBeachBum from California
4
/5
rDev
-3.1%
vibe: 4 | quality: 4 | service: 4 | selection: 4
Norwich is a lovely historic picturesque City that offers a lot to Tourists. But more important, it is a really great place for a full Weekend Pub-Crawl, for it has a plethora of great Pubs. One of which is the Alexandra Tavern, or "Alex" as it is sometimes referred to. Fortunately it has remained pretty much unaltered throughout the years, and survived the bastardization that befell so many others in the ruinous heights of the tasteless 1980's, during the scourge of Pub refurbishments by pub-design companies that were led by trendy pony-tailed wine-drinkers. Oops, on my Soap Box again. Sorry.
The interior has a multi-roomed layout, quite rare these days for Victorian establishments for the above reasons. This means that the Alex can cater for a wide spectrum of clientele, and indeed it does. The main bar has a basic boozer characteristic, beer stained wooden floorboards that echo and often creak to every footstep. There is another room that has softer furnishing and offers a quiet refuse at busy times if you want to enjoy your partners company, and Ale, or both, in relative peace.
Beer range is very good. There are always 2 permanent Cask beers from the nearby Chalk Hill Brewery. These are Chalk Hill Brewery Tap (3.6% ABV), a highly quaffable session Bitter, and the CHB (4.2% ABV) which is a really fruity Bitter. Other Chalk Hill beers do make appearances year round - my own favourite, and occasionally available as a "Guest", is the Chalk Hill Flintnapper's Mild (5.0% ABV), a strong mild with a superb roast character. The Brewer at Chalk Hill is ex-Woodfordes, so the Chalk Hill beers are of high quality & pedigree and come recommended.
In addition to these beers, other Guest Beers are available all the time, most, if not all, are from Independent Regional Brewers, so NO big boys beers here – highly commendable. I think there are around 6 Handpumps in total, check the chalkboards as you enter for details. It also sells a Real Cider at all times as well.
Has a Pool Table and a Juke Box, but these do not intrude, and you can avoid them both if needs be, by making the most of the other Rooms, or even going outside in the Summer.
A solid Victorian boozer and a great Pub, that is well worth seeking out, or adding to your Pub Crawl which will undoubtedly run into double figures in Norwich.
Jan 01, 2003
More User Reviews:
champ103 from Texas
4.34
/5
rDev
+5.1%
vibe: 4.5 | quality: 4 | service: 5 | selection: 4
This is an excellent pub for quality real ale. As you walk in the bar is right in front. There are two sections that are split in half by the wrap around wood bar. Lots of wood tables, and a couple of fire places. Very cozy. There is a pool table off to the right and darts in the other half of the bar. A very nice little patio is outside. During the great summer evening that I visited, both doors were open that let in a wonderful breaze. There are no TV's, which means it is not a football pub, and dogs are very welcome. Overall a really relaxed and peaceful place for a few pints.
The service is great. The bartenders know the beer on cask to a T, and are very enthusiastic. I wanted to eat here, but was unable to because they stopped serving at 7:00. Though the bartenders were able to point me to a good Turkish place just down the road. They also called a cab for me to get back to my hotel. Just excellent.
On to the beer! They have five cask beers available. Three from the very good local Chalk Hill brewery, one from Caladonia, and Old Speckled Hen. It looks like they rotate casks often as well. I noticed lots of brewery clips for the hand pumps behind the bar. The other typical macro stuff on drafft as well. Though there is plenty of cask options to keep your interest. Every thing seemed to be in good order a far as quality.
This is a really enjoyable place to come for cask beer. Homey and worn in, just the way I like my pubs. Great service, and good beer. You can't ask for much more.
Jun 28, 2010
GreenCard from Maryland
4.03
/5
rDev
-2.4%
vibe: 4 | quality: 4.5 | service: 3.5 | selection: 4
Since LBB covered the architectural points (among other things), I'll just mention a few subjective remarks.
Great atmosphere, really laid back. The bartenders are easy to talk to and knowledgeable about the beer. It's not filled with "lager louts" or tons of undergrads from UEA. Just people looking to relax while drinking some good beer.
They have the standard keg and bottle stuff as even the best real-ale pubs are forced to do. But I was psyched to be greeted by three pump-handles worth of a local brewery, Chalk Hill. They make some fantastic beer. The Flintknappers Mild and CHB are scrumptious! Also on tap, Adnams Bitter, but why bother when you can drink the great stuff from Chalk Hill (not that Adnams is a poor fallback).
I'll definitely be going back here at some point. It's close to Fat Cat and Reindeer, too. Perfect for a pub-crawl!
Mar 04, 2005

Clembo1957 from England
4.14
/5
rDev
+0.2%
vibe: 4 | quality: 4 | service: 4 | selection: 4.5
Real Ale drinkers in Norwich are definitely spoilt for choice, during my recent visit to Norfolk i visited all 14 pubs listed in the 2004 CAMRA Good Beer Guide and some of the ones left out looked pretty good as well. The Alex is a superb 'local' situated on Stafford Street not far from the Fat Cat and The Nelson which are also worth a visit. Beer is from Chalk Hill Brewery and includes CHB and Chalk Hill Tap which i sampled on my visit 3.6% so weakish but a good session beer. Check out The Alex if in Norwich!
Mar 05, 2004
Alexandra Tavern in Norwich, GB2, United Kingdom
Place rating:
4.13
out of
5
with
4
ratings