Circus City IPA
| Big Top Brewing Company
BA SCORE
81
good
14
Reviews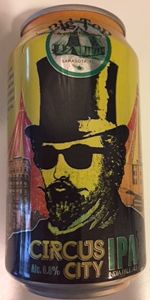 BEER INFO
Brewed by:
Big Top Brewing Company
Florida
,
United States
bigtopbrewing.com
Style:
English India Pale Ale (IPA)
Alcohol by volume (ABV):
6.80%
Availability:
Year-round
Notes / Commercial Description:
No notes at this time.
Added by PorterLambic on 12-03-2013
Reviews: 14 | Ratings: 106
4.71
/5
rDev
+36.1%
look: 4 | smell: 4.25 | taste: 5 | feel: 4.5 | overall: 5
Nice Copper color, aroma smells like cascade. Nice malt and hope balance. Very well done for an English IPA. I can drink this one in the heat and have more than one!!
166 characters

4.04
/5
rDev
+16.8%
look: 3.75 | smell: 3.5 | taste: 4.5 | feel: 3.75 | overall: 4
A great beer that hits my sweet spot. I didn't give it a higher rating for a great beer because it's overall flavor and color are clones of bells two hearted ale although the smell is not nor the mouth feel. Enjoyed from a can in a tulip glass. Cans have been recently changed. I have in the past couple of years enjoyed this on trips to Florida.
347 characters
4
/5
rDev
+15.6%
Deep. Mello. Not fruit. Ale with hop dash and no rash. Sweet afternotes and nice job all around. Not amazing but I have to hand it to the boys and girls at Big Top, being a Sarasota local me-self. We are on the way to making a place on the map for craft wetness.
268 characters
3.67
/5
rDev
+6.1%
look: 3.75 | smell: 3.5 | taste: 3.75 | feel: 3.5 | overall: 3.75
Circus City IPA has a thick, off-white head, a hazy, sort of darkish amber-gold appearance, some bubble streams, and rather heavy lacing left behind. The aroma is of fruity, tropical fruit hop oils, but NOT canned grapefruit, which is so usual, these days. Taste is of sweet, slightly bitter, somewhat olive oil? resin (a la Anchor IPA), with sweet bread crust. Mouthfeel is high medium and very nearly heavy. Big Top Circus City IPA finishes on the dry and very interesting side of things.
RJT
496 characters
3.66
/5
rDev
+5.8%
look: 3 | smell: 3.25 | taste: 4 | feel: 3.5 | overall: 3.75
As a non ipa lover, i was pleasantly surprised. Hoppy, but not overwhelming. Malty, but not sweet. A relatively balanced brew with a very hazy appearance.
157 characters
3.64
/5
rDev
+5.2%
look: 4 | smell: 3 | taste: 3.75 | feel: 3.75 | overall: 4
Arrives a dark honey color with red running throughout. The white head is small with little retention and no lace to speak of.
Smell is notes of hops and malt and not much else.
Taste is a well balanced mixture of hops, malt and grass notes. Not the hop bomb that is so prevalent in most American IPA's, that's why it's listed as an English IPA.
Medium bodied with a lighter than expected effervescence. Drying from start to finish. A little oddly, to me, also a slight warming aspect to it. Very nice.
Well done for a first release. And on a 75 F early December day just a few miles from the brewery, it was well received by all I talked to who partook. Hope the tasting room opens soon.
689 characters
3.4
/5
rDev
-1.7%
look: 4 | smell: 4 | taste: 3.75 | feel: 1 | overall: 3
Just as good as Jai Alai IPA from Cigar City. Florida beer is getting much better.
Revised review 2/12/15 - The most recent six pack I bought was not good. Flavor not as good. Flatter, less citrus. The BIG PROBLEM is the canned beer was over carbonated. Some cans (cold from the fridge) would foam over as soon as I opened them. All cans created a HUGE HEAD when poured. I know how to pour a beer to minimize the head. This is impossible with Big Top IPA. It foams to the top of a pint glass with only about 1 inch of beer on the bottom. You have to let it settle for 10 minutes, then pour some more, then let that settle, then finally pour the remainder of the can.
667 characters

3.26
/5
rDev
-5.8%
look: 4 | smell: 3 | taste: 3 | feel: 4 | overall: 3.5
Not a particularly robust IPA. The aroma was highly subdued, bordering on vacant and the bitterness that proceeded did not provide a particularly impressive hop character. Overall, a decent beer but not an IPA that I would actively pursue. The hop character on all levels was faint and one would expect, given that Citrus is in the name, that the hop character would lend a substantial citrus character, but it did not
418 characters

3.21
/5
rDev
-7.2%
look: 2.75 | smell: 3 | taste: 3.25 | feel: 3.75 | overall: 3.25
Brown in color with a tight off-white head and lots of yeast sediment.
Aroma of caramel and juicy tropical fruit.
The taste mixes a quick sharp metallic bitter bite with tannin-like tea-like flavors and sweet malt that reminds me of breakfast breads. The bitterness fades quickly and doesn't linger.
Smooth and creamy body.
Overall a sweeter take on the American IPA.
371 characters

3
/5
rDev
-13.3%
look: 3 | smell: 3 | taste: 3 | feel: 3 | overall: 3
Pours an amber shade of gold with off-white head. Floral notes, malt, and some hay and grass on the nose; follows onto the palate. Finishes with a bready note. Too malty for me.
177 characters
2.83
/5
rDev
-18.2%
look: 3.75 | smell: 2 | taste: 3 | feel: 3.25 | overall: 3
A-Copper in color, with an off-white head
S-No real hop aroma that I can detect. Malt is not pronounced either. I get a yeast, bread odor
M-Medium to light body, with carbonation being modest and not over powering
T-There is a distinct sweetness at the front end with a weak and mellow bitterness in the finish
O-This beer is as vague and uncharasmatic as its description of itself on the can...read the can, uninspiring.
423 characters
1.49
/5
rDev
-56.9%
look: 3 | smell: 2 | taste: 1 | feel: 1.75 | overall: 1.25
The first six pack I bought of this was spoiled. We all know that good beers can keep on the shelf, yes even some IPAs if they are well made and have shelf dexterity. I just bought this a second time to give them the benefit of the doubt. Not many craft beer gas stations in North Pinellas County. I like to get singles sometimes-- this is one of the few they even have here. Anyways, the nose is very bad malty. The aroma is a tell-tale generic, amateurish IPA malty nose with a light cat-pee smell and no hops except something bitter with no taste. The mouth feel is heavy syrup body with a lingering alcohol effect. The taste is not much different than the nose (very disappointing). The taste is similar to other American start ups that have IPA's in which the hops lend only bitterness and nothing in the way of flavor.
833 characters
1.49
/5
rDev
-56.9%
look: 2.5 | smell: 1.5 | taste: 1 | feel: 2.75 | overall: 1.5
This stuff is horrible. It's an IPA, but it tastes like coconut water. It even smells like coconut water. Now, I typically like coconut water, but not when I'm supposed to be drinking an IPA.
For instance, I like the smell of fried chicken when it's fried chicken. But if it's my grandmother's feet that smell like fried chicken, it's an entire different ball game.
I bought a can of this today and it's f'n horrible. I'm currently halfway through it and debating calling it quits. I never leave a beer unfinished, but this is a unique situation.
Sorry for not breaking this beer down into notes and tones, but this beer is something I'd much rather forget.
Sorry, Sarasota, but this brew should be called "Clown's Nutsack". Ugggggggggh.
749 characters
1.03
/5
rDev
-70.2%
look: 1 | smell: 1 | taste: 1 | feel: 1.25 | overall: 1
This is the worst beer I've ever tried. I even returned it to the store and I never do that. It tasted overly hoppy and I'm pretty sure they used cheap pellets and too much at that. There was no balance of malt and hop. It was overly powerful with cheap hops and a sour hint of the malt they used, likely cheap. Also Sarasota city water is really bad and disgusting. I doubt they filtered it. People wonder why some breweries move to Manatee county, apart from better economic opportunities regarding brewing, the water is much cleaner and better tasting.
If I could rate it 0, I would. And for $9.99 a six pack, you're better off just throwing that cash in the garbage disposal.
681 characters
Circus City IPA from Big Top Brewing Company
3.46
out of
5
based on
106
ratings.