New Holland Existential: Hopwine
| New Holland Brewing Company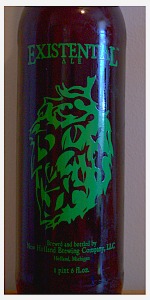 BEER INFO
Brewed by:
New Holland Brewing Company
Michigan
,
United States
newhollandbrew.com
Style:
American Double / Imperial IPA
Alcohol by volume (ABV):
10.50%
Availability:
Limited (brewed once)
Notes / Commercial Description:
No notes at this time.
Added by alexgash on 01-04-2007
This beer is retired; no longer brewed.
Reviews: 137 | Ratings: 142
4.35
/5
rDev
+13.6%
look: 4.5 | smell: 4.5 | taste: 4.5 | feel: 4 | overall: 4
Poured from a 22 oz. bomber. Leaves a one finger tan head that has very good retention and very good lacing. Body is a clear orange tinted amber.
Smell - caramel, toffee, and candied fruit fill the nose. Some pine resin and toatsy malt biscuits as well.
Taste - caramel, toffee, pine resin, candied fruit, toasty malt biscuits, and spicy alcohol. Very yummy, this tastes like an American barleywine except with much less hop emphasis than is usual in an American barleywine.
Mouthfeel - full bodied, much hop oil slickness, and slightly semi-dry.
Drinkability - this is very, very good ale, only the high abv limits sessionability. This is listed here as a DIPA, but I think this is a Barleywine, especially since I find the hops to be relatively subdued for a DIPA, or for that matter, a Barleywine ( American-style, that is ), but it's very good whatever you want to call it.
889 characters
4.37
/5
rDev
+14.1%
look: 3.5 | smell: 4 | taste: 5 | feel: 4 | overall: 4
I got this MONSTER ALE down at the Headkeepers on the way home from dropping off a resume. It's a beast of an IPA...very hoppy, bitter and satisfying. I poured 3/4 of the 22 oz. botlle into a crystal wine glass. The head was almost gone as soon as I returned from returning the bottle to the fridge. The color was a light orange with a twang of gold. The aroma was full of hops and citrus. The taste was lovely. Good and bitter, with a lingering after taste. This is definately a beer to try out!
496 characters

4.37
/5
rDev
+14.1%
look: 4 | smell: 4.5 | taste: 4.5 | feel: 4.5 | overall: 4
Existential...22 ounce bottle, 10.5% abv, tons of everything according to the label...
Hazed dark orange coloring, full 1/2 " creamy white head...
Citric hop aroma, pine resin, pineapple, ...brandy, candy, and cherry cough syrup...peaches and apricots....
Bing, bang, boom! This is a blast of hops into the mouth...a barrelling, blistering battering of bitterness onto the palate and all around the caverns of the mouth..
Full passage into the mouth, dripping juicy fruit and hop bitterness...then comes the pucker, the reaction to the overwhelming hop attack, the smash against the tongue, the explosion on the tastebuds...the scattering of flavors through the tops, the edges and the corners... there's no relenting and no remittance...
Every gulp and sip returns with the smack of grapefruit and orange, lemon and pine, that brings joy to these lips.
damned delicious, damned refreshing to these hop-addicted lips....yum...this is the stuff!
958 characters

4.38
/5
rDev
+14.4%
look: 4.5 | smell: 4 | taste: 4.5 | feel: 4.5 | overall: 4.5
The beer has a beautiful amber-blond shade to it. It has some decent viscosity to it, and leaves a slightly bubbly, slow-slumping film on the inside of my glass.
The aroma is very hoppy, as the name would suggest, with some malt backing it up if not slightly overpowering it. There's a tinge of sweetness intertwining with a kick of alcohol that gives away the 10.5% ABV boasted by this brew.
Texture-wise it is a little creamy, breaking up and thinning out as I twirl it on the end of my tongue.
The flavor starts off buttery sweet, candy/caramel/toffee blending with a powerful backend. One can almost sense the bitter hoppy aftertaste, but before it really kicks your tongue it is brilliantly masked by the other flavors.
This is described as a hopwine, and I think that is an appropriate name as this blends the crisp boldness of a strong IPA with the strength and sweetness of a barley wine.
Summary: Drink this beer if you want a well crafted beer that is unabashedly hoppy, but not obnoxiously so; that's strong and sweet; that's creamy, but not sludgy.
1,066 characters
4.4
/5
rDev
+14.9%
look: 4 | smell: 4 | taste: 5 | feel: 4 | overall: 4
Bright cloudy orange with a deep, thick looking orange sherbet colored head.
Smells mostly of caramel and pineapple. Very strong, deep scents. Not too complex, but it smells delicious. Reminds me of Devil Dancer.
Like the nose, the taste is not overly complex. However, there is a lot of a few good things going on here. Namely, caramel malt, and piney, earthy hops. If I had never had Devil Dancer, this Existential might have completely blown my mind; it could pass for a (slightly) tamer version of Devil Dancer. But if you take it by itself, this is a phenomenally well done beer. It's well-balanced, but packed with flavor, both hops and malt. Maybe leaning a bit more towards the malty side. The mouthfeel is thick and chewy with enough carbonation to go around.
This brew is DELICIOUS. There is no sign of alcohol on the palate, which is just a little bit crazy for a beer with an ABV like this. Existential Ale is dangerously easy to put back.
I have been wanting to try this beer for over a year now because of its name (double major in Philosophy and Russian Studies here). But it took me a while to get around to it because I heard some bad things about it from someone (I don't even remember who it was now). After trying it for myself, I have now reached the conclusion that this beer is vastly underrated. It's become an instant favorite of mine.
1,365 characters

4.42
/5
rDev
+15.4%
look: 4 | smell: 4.5 | taste: 4.5 | feel: 4 | overall: 4.5
22 ounce bomber, purchased at Sicilianos's in Grand Rapids MI. (sheesh, what a great place!) No bargain @ $8.19, but you get what you pay for and this one did not disappoint. Poured clear, glowing and glistening amber. Loose medium tan head, and better then average lace left on the glass. Bold, earthy, grassy and minty nose. Bursting with flavor, bold hops jumping onto the palate, alcohol present but mostly kept to the rear. High quality, very enjoyable heady stuff. Went great with a sand wedge of spicy humus and stinky blue cheese. Love these kinda big, bold and hoppalicious, over the top, all American beers...Bring on the bold flavors!
645 characters
4.47
/5
rDev
+16.7%
look: 4 | smell: 4.5 | taste: 4.5 | feel: 4.5 | overall: 4.5
This beer doesn't come around here very often where i'm from.But since i'm a huge New Holland fan and mad hatter freak,I just had to try it.Poured a slightly cloudy amber orange with 1/4 inch head.The head disapated fairly quick but laced the glass nicely the whole way down.The smell insantly reminded me of Mad Hatter but stronger with the fruitiness and malt character.In the mouth...a explosion of hop variety that should satisfy any hophead with a nice malt balance.I thought with the 10.5% ABV it would not be what i wanted,well i was wrong.If this succulant DBL IPA was not 6.99 per bottle i would drink it more frequently.If you love a good double IPA,do not deny yourself this pleasure
694 characters
4.5
/5
rDev
+17.5%
look: 4 | smell: 4 | taste: 4.5 | feel: 5 | overall: 5
poured this bomber into my Brooklyn Imperial pint glass. The body of the beer is translucent red/amber, the head starts off big and fluggy and fades into a film that leaves notches of lace curtains as the beer is drained down the glass, the only carbonation visible is sourcing from the edge of the glass and the nucleation etches on the floor of the glass
caramel, lots of caramel and brown sugar on the nose with a bit of citric, piney hop back
The overall combination of flavors made me think of a red grapefruit with a hint of sugar. It is an extremely sweet beer that gets cleaned up nicely by a balancing, crisp, piney, citrus rind hop finish.
This is definetly a big beer and the body is quite full, nice moderate carbonation, snappy citric astringence at the end
In my opinion the term "hopwine" is more logical to me then calling this a double IPA. American Barleywine could also be a good name for this one. I have to say I think this is a fantastic beer, it's huge and flavorful it has a nice astringence and the carbonation lend it superior drinkability. Fantastic beer.
1,086 characters

4.52
/5
rDev
+18%
look: 4 | smell: 4.5 | taste: 4.5 | feel: 4 | overall: 5
Poured from the tap into a Lindeman's Framboise glass.
Appearance- Beer pours a clear golden with a very creamy looking half finger head. Lacing is very ample, and baby gots her some very nice looking legs. Head never dies down, merely subsides to a murk of foamy goodness across the top.
Smell- Oh sweet gluey jesus, perfumery and powerful pine hops that will never subside, I can tell already. The damn drunken smokers next to me are making this beer harder to smell, but the hops still leap out at me. Grapefruit, cat piss, antiseptic, I catch oak, but I think it's all in my head.
Taste- Rich hoppy goddess! This elixir is filled to the brim with sweet pine freshness, lush citrus, biting, slightly burning alcohol, the taste lingers and metamorphoses on the tongue. Lightly soapy, but just about every other hop nuance is on the mouth as well, so it'll pass.
Mouthfeel- Creamy, warming, thick, gluey, full bodied, lightly astringent, highly carbonated, sticky, excellent.
Drinkability- Higher drinkability than the bottle, a pleasure and I would love to have it on tap at home.
1,087 characters
4.59
/5
rDev
+19.8%
look: 3.5 | smell: 4.5 | taste: 5 | feel: 5 | overall: 4
Very clear deep amber colored brew, small white bubbly head trails a bit of lace. The scent reminds me more of a barelywine than a IIPA at first blush, fairly large malt presence along with some bitter hops and a bit of dark fruit scents. Same barelywine feel for the taste. Huge malt front, some bitter hops but fairly muted compared to the malt. Spicy alcohol is certainly present. Pretty creamy mouth, and the beer sticks to the mouth.
Yum
444 characters

4.62
/5
rDev
+20.6%
look: 4.5 | smell: 5 | taste: 4.5 | feel: 4.5 | overall: 4.5
A deep amber color, that fades down the glass. An inch high head forms, cream in color, and it laces slowly along the glass. The aroma is fantastic, starting of with a pine and grass scents at first, followed by a twinge of citrus, and ending with a touch of malt sweetness. The malt comes out right the start of each taste, then halfway through a grassy flavor begins to dominate, slowly blends with a mild citrus bitterness tofinish it all off. It hits the palate almost like a medium-heavy feel, but it gradually thins as rolls to the back of the palate. There is a warm feel of alchol on the throat as well. A strong offering, a well blended flavor, incredible aroma, followed by a mor than favorable feel, make this a must try for craft beer lovers.
754 characters

4.62
/5
rDev
+20.6%
look: 4 | smell: 4.5 | taste: 5 | feel: 5 | overall: 4
Bright burnt orangey color with a small capping of tinted ivory bubbles that sticks around very well. Lacing is in thin stretched out strings and some spotting. Lots of thick bubbles stay consistantly frothed at the rim top of the beer.
Aroma is heavily oiled in a malt laden tropical twisted scent of sticky mango, sweet peach, pineapple, orange oil, and there's some piney dryness trying hard to top it off but barely getting by its big beefy sweet fruity malt.
Big on tropical taste with way more pine sinking in then what the aroma hints to. Thick and orange oil heavy with hints to white raisins, peach, grapefruit, pineapple, and mango sweetness. Toasted slightly, but mostly heavy with tropical sweet fruityness. Lots of orange oil pithyness and mango juices. A piney swift bite of bitterness swings in just past midway and carries through to the finish with a huge twist of hoppy greased resin thats oily, thick, and juicy. Mixing into a thickly despersed mountian of broad hop tones and flavors that last well and don't quit til late into a lingering toasty finish and hoppy warmth.
Feel is pretty damn big and beefy. Rich, heavy on oily sensations and a creamy malt laden thickness that really coats the palate well. Leaving just enough room for the hoppy extras to seep in with tropical sweetness, pine, and other mentionables noted above.
Only a slight heat is experienced in through the nose at some of the bigger sips and then on the back of the throat and palate. So between that and its hugely thick and creamy malt tropic center, it makes for a hoppy treat that can't be consumed as easily as one would like I think. But damn if it ain't one tasty solid treat!
1,682 characters
New Holland Existential: Hopwine from New Holland Brewing Company
3.83
out of
5
based on
142
ratings.