New Holland Existential: Hopwine
| New Holland Brewing Company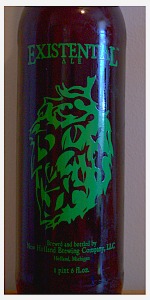 BEER INFO
Brewed by:
New Holland Brewing Company
Michigan
,
United States
newhollandbrew.com
Style:
American Double / Imperial IPA
Alcohol by volume (ABV):
10.50%
Availability:
Limited (brewed once)
Notes / Commercial Description:
No notes at this time.
Added by alexgash on 01-04-2007
This beer is retired; no longer brewed.
Reviews: 137 | Ratings: 142
3.7
/5
rDev
-3.4%
look: 4 | smell: 4 | taste: 3.5 | feel: 4 | overall: 3.5
22 oz bomber for $6.49. Tried this at the MI Winter Beer Fest, was a nice surprise to see it on the shelfs. I believe it was advertised as a "Hop Wine" at the fest.
A: Pours a copper/amber that is pretty clear, with a small head.
S: Smells 'sticky', as in I expect a big boozy beer. Quite fruity/floral. Not smelling the hops like I expected.
T: Sweet and fruity, with tastes from the nectarine/apricot families. Has plenty of bitterness, but somewhat lacking on hop flavor. Pretty hot right now. Brutally bitter finish, which isn't necessarily bad, but I expected a little more.
M: Thick and sticky. Nice body.
D: A nice sipper. A pretty big beer, both ABV and palatte wrecking, for a bomber. 12 oz might have been enough.
Usually I don't like aged DIPA's, because I love the fresh hop taste and smell. However, I think its is better catergorized as a barleywine, and I think it could use some time. I remember liking it better at the Fest, but I think everything tasted great by that point...
1,018 characters
4.2
/5
rDev
+9.7%
look: 4 | smell: 4 | taste: 4.5 | feel: 4 | overall: 4
A-Midnight black rising carbonated body with a country off white head that held 3/4".
S-Sweet, toasted malts, tad bit of yeast, and fruity.
T-On the draw it was very sweet with slight hop tingle and on the way down it was heavy in the alcohol esters, but yet very smooth.
M-Like syrup initially followed by a dry and hop-laden after-taste.
D- It is extremely drinkable and I am sorry to say that I wasn't at the pub for their stout marinated burger, but it was purchased for me and I love it.
492 characters
4
/5
rDev
+4.4%
look: 4 | smell: 4 | taste: 4 | feel: 4 | overall: 4
A- Very orangish brown tint to this beer. Head was very minimal, but what was there was a tan color. It did have good retention of such a little head. Lacing was prominent.
S- WOW. Smells very complex. Initially some huge pine hops, and a nice caramel malt scent in the background.
T- Completely opposite of what I'd expect due to the hop scent. The beer itself is really sweet. Get some caramel malty sweetness throughout the time that this is in your mouth. Once you swallow, you're left with a very bitter piney hop taste. Overall, very much more balanced than I'd have imagined by the smell.
Not your typical hoppy IIPA taste however.
M- Chewy, thick, a tad syrupy. The bitter backend to this beer really sticks around for a long time, which I really like. Alcohol is noticible after you swallow it too, and it sticks out in my mouth.
D- High ABV makes it a horrible beer to session, but rating drinkability by enjoyment, I've gotta give it a 4.
Should have tried this sooner. Had some real barleywine like characteristics. I like it!
1,049 characters
4.37
/5
rDev
+14.1%
look: 3.5 | smell: 4 | taste: 5 | feel: 4 | overall: 4
I got this MONSTER ALE down at the Headkeepers on the way home from dropping off a resume. It's a beast of an IPA...very hoppy, bitter and satisfying. I poured 3/4 of the 22 oz. botlle into a crystal wine glass. The head was almost gone as soon as I returned from returning the bottle to the fridge. The color was a light orange with a twang of gold. The aroma was full of hops and citrus. The taste was lovely. Good and bitter, with a lingering after taste. This is definately a beer to try out!
496 characters
3.03
/5
rDev
-20.9%
look: 3.5 | smell: 3 | taste: 3 | feel: 3 | overall: 3
Pours a relatively light amber/yellow. Slightly lighter than most DIPAs. Head faded very quickly and the lacing is minimal.
Smells moist, hoppy and a little sweet.
Taste up front is intense bitter hops. Through the middle though a decent amount of the sweetness from the malt comes through. A little more than I usually like in my DIPAs. Strong hop bitterness finishes this one off as it goes down. There is a burnt characteristic to this one as well that I'm not necessarily a fan of.
Mouthfeel definitely has some chewy/sticky characteristics to it.
Drinkability for me personally isn't too high just because the sweetness from the malt comes through a little too much for my taste.
688 characters
3.87
/5
rDev
+1%
look: 3.5 | smell: 4 | taste: 4 | feel: 4 | overall: 3.5
A: Pours thick tan-orange with a little tan head.
S: Sweet and strong. I was able to smell the hops it without holding the glass up.
T: Sweet fruits, hoppiness. Alcohol burns in its aftertaste.
M: Thick with good carbonation.
D: This is a solid imperial IPA. I recommend trying it.
281 characters
3.86
/5
rDev
+0.8%
look: 4.5 | smell: 3.5 | taste: 4 | feel: 4.5 | overall: 3.5
Second of the day, stared with BORIS the Crusher and sipped slow, really enjoying it. Took a break and the hop head in me wants to get some love. So like any good coach, I revisited my game plan.
I recently got a New Holland Existential Ale from New Holland Brew company in a trade (thanks again wisrarebeer) and decided to pull the trigger. The pour coincides with the Seahawks slowly driving on my Pats... hopefully this New Holland Mojo will change things:
This 22 oz bomber comes via their High Gravity Series. The bottle explains that this "Is what it is." Amen, only if it all were that simple.
Holy soap bath, rubber ducky and all...bubbles explode on top of a golden straw color liquid that turns darker as it takes a tour of the glass. Once filled, the soap suds settle down on top of an inch thick light tan head... but they keep on popping. (shoot, 7-0 Seahawks.. that drive was to long and too easy) Nice lacing... beehive lacing that clings strong and tight. And the lacing lasts, no rings here... this lace sticks like peanut butter, leaving a coat down the glass.
Lots of pine on the nose, mixed in with caramel... nice smelling beer. Not over powering by any means, and the malt driven characters are get stronger as you smell. Kind of like back seat drivers, they don't control this leg of the drive, but they sure as hell want you to think they do. Shit, I just dunked my nose in the friggin beer... god damnit, the Pats can't stop the run and I can't smell a beer....
Hmmm? Where did the piney hop smell go and hide... very sweet, actually very sweet with strong honey and caramel. It's as if the malt and honey brokered a deal where the hops would take the smell and the malts would handle the flavor... but then both of them tried to finagle their way into the other half of the deal, showing up late to the party with a tuxedo on... demanding to be noticed. The aroma was hop on the front with a nice caramel maltiness lingering around and the complete opposite happened for me on the taste... honey, caramel, vanilla on the front with some hop on the finish. The problem is, the Malt showed up in an all white tux with blue suede shoes... out performing the hops. Me thinks this might be better off called Winehop.
It is full bodied and creamy. Plain and simple? It feels good in my mouth. (wow, I was going to erase that and rewrite, but I deserve to be responsible for my initial thoughts... and the pats are down 14-3, this Mojo is NOT doing what I had hoped)
It's a big beer, that is for sure. I recently had Southern Tier Back Burner, which I didn't care for to much... but this takes the sweetness that I did enjoy out of that beer and put it on a platform that suits my style better. I just wish the hops had the fancy tux at this dance. The bottle really summed it up nicely, this beer is what it is.
2,839 characters
3.74
/5
rDev
-2.3%
look: 3.5 | smell: 4.5 | taste: 3.5 | feel: 3.5 | overall: 3.5
Pours an orange drank color, haha its so true though! Very little lacing, very little head. To start this off, the nose is very sound. The hops are incredibly pronounced on the nose, showing tropical fruit canned base and have a hint of showing a bitterness at the first taste. The palate consists of a very simplistic barley wine, with malts dominating with hops on the background showing only a slight bitterness. The main flaw that i notice is the sheer alcohol presence which is unbalanced. Not a terrible beer, but I wouldn't bring this beer home for a double dip
568 characters
3.26
/5
rDev
-14.9%
look: 4 | smell: 3 | taste: 3 | feel: 3 | overall: 4
Pours out a fairly standard pale orange with minimal head. Smells of sweet florals with a background of pine. Taste is overwhelmingly sweet with a weak bitter aftertaste. Cloying sweetness only lasts a little bit making it fairly drinkable. Little to no taste of the 10.50% makes this a dangerously sweet brew.
I prefer my DIPAs to be more bitter than sweet, but if you like a less bitter DIPA, this may be a good beer for you.
428 characters

2.61
/5
rDev
-31.9%
look: 3 | smell: 2 | taste: 2.5 | feel: 4.5 | overall: 2.5
Picked this up at Dennis Brothers in Cottage Grove, MN.
I've tried a couple other of the big beers from New Holland and have to say that this one disappointed me a good bit. I have enjoyed their Dragon's Milk Ale on several occasions.
Poured a nice darkish orange into a snifter with about an inch of just-off-white head. Lacing was present, but underwhelming.
Aroma was disappointing. Nothing stood out to me. No big piney or grapefruit hops, no toffee, no candy. Sure, those aromas were present, but nothing stepped forward and took hold like a DIPA should. Everything seemed muted.
Flavor was another disappointment. They call this a "hop wine" but there weren't any big hop flavors showing up. If anything, it was a little sweet from a-bit-too-much malt. The malt stood in front of the hops and wouldn't let it get by. Alcohol was pronounced, but not too overbearing. I was expecting a palate-shredder of a hoppy ale, but alas.... This beer didn't know if it wanted to be a DIPA or Barley Wine or something else entirely.
Mouthfeel, on the other hand, was very good. Nice and thick. It's by far the best aspect of this particular beer, imo.
Drinkability was low due to the high ABV and the fact that the hops in this hop wine aren't very assertive at all.
Overall, if you're into DIPAs, you might take a chance on this one if you see it. It ranks near the bottom of the DIPAs I've tried. Who knows, I may have had a bad bottle, but I don't think I'll try it again.
1,479 characters
4.47
/5
rDev
+16.7%
look: 4 | smell: 4.5 | taste: 4.5 | feel: 4.5 | overall: 4.5
This beer doesn't come around here very often where i'm from.But since i'm a huge New Holland fan and mad hatter freak,I just had to try it.Poured a slightly cloudy amber orange with 1/4 inch head.The head disapated fairly quick but laced the glass nicely the whole way down.The smell insantly reminded me of Mad Hatter but stronger with the fruitiness and malt character.In the mouth...a explosion of hop variety that should satisfy any hophead with a nice malt balance.I thought with the 10.5% ABV it would not be what i wanted,well i was wrong.If this succulant DBL IPA was not 6.99 per bottle i would drink it more frequently.If you love a good double IPA,do not deny yourself this pleasure
694 characters

4.05
/5
rDev
+5.7%
look: 4 | smell: 4 | taste: 4.5 | feel: 3.5 | overall: 3.5
From a 22 oz. Bomber bought at Hyde Park Wine & Spirits served in a Duvel tulip glass
A-Orangish hue, almost to a slight amber color. Has a light, inch and a half white head that dissipates relatively quickly. It does leave a fair amount of lace around the glass
S-Dominated upfront by piney notes from the hops, also can get a whiff of the alcohol, which at 10.5% is not surprising. There is some underlying maltiness, but the smell is dominated by the hops.
T-First and what stands out the most is piney, syrupy hops. Not completely overwhelming but definitely dominant. In the middle and towards the end is light,fruity maltiness, and than back to the pine at the end with finish of warming alcohol notes.
M-Has a syrupy feel, with some light carbonation that has some sweetness and alcohol at the end. The syrup is there for the entire ride.
D-This has a nice balance between malt and hops with the hops dominant but not overstaying their welcome. It's a nice sipper but you can taste the alcohol in the finish. Definitely a sipper.
O-A darn tasty brew. I love hops and you get plenty here, but they don't destroy the flavor with too much bitterness. Well balanced with the malt and the alcohol kick. I can see where people see this more as a barleywine. It lacks the overall hop kick that a DIPA would suggest, but again there is plenty of piney, hoppy notes in this brew. I definitely look forward to trying this again!
1,443 characters
New Holland Existential: Hopwine from New Holland Brewing Company
3.83
out of
5
based on
142
ratings.