Cabin Fever

New Holland Brewing Company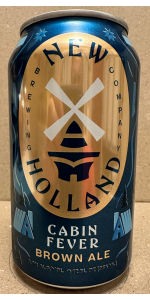 Write a Review
Beer Geek Stats:
| Print Shelf Talker
Style:

ABV:

6.5%

Score:

Avg:

3.7

| pDev: 12.7%

Reviews:

313

Ratings:

From:

Avail:

Winter

Wants

Gots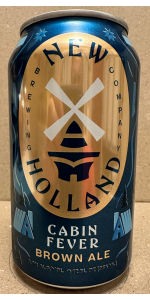 Notes:
Reviews: 313 | Ratings: 1,013
4.3
/5
rDev
+16.2%
look: 4 | smell: 4 | taste: 4.5 | feel: 4 | overall: 4.5
Had this at a pizza joint on-tap and I was quite happy to see it back after several years. Very rich amber color tending more towards brown then red. Not much of a head, surprisingly full nose of malty coffee. Wonderful malty chocolaty coffee taste, although malty, not overly sweet, making it extremely drinkable. It was served at a great temperature and the carbonation level was perfect. I had it out of a bottle several nights later not knowing what to expect, but it was pretty close to the on-tap version. I will definitely be keeping a six pack of these around during the next month or two.
597 characters
3.2
/5
rDev
-13.5%
look: 3 | smell: 3 | taste: 3.5 | feel: 3 | overall: 3
Bottle poured into a tall pilsner glass.
A - It has a deep brownish/reddish color with almost no head with no lacing. Very low carbonation.
S - Chocolate, nuts, coffee/toffee?.
T - Chocolate and nut tones, almost no hop presence as the malt/nutty flavor dominate the beer.
M - Again very low carbonation, which I like in brown/porters/stouts.
D- I would say you should be able to drink a couple at a time, you may feel full afterwards, but overall, very tasty!
My impression is that it's a tasty brown ale with a low alcohol stature.
Good fall beer!
557 characters
4.14
/5
rDev
+11.9%
look: 3 | smell: 4 | taste: 4.5 | feel: 4 | overall: 4
Bottle poured into a imperial pint glass.
A- It was a nice deep brown, but never really developed a head. There was a light tan lace that made for decent sticking. It had a light-medium carbonation.
S- Roasted chocolate malt, coffee, and nuts.
T- Rich roasted chocolate flavor with nutty tones. It sounds odd, but I almost picked up some sort of peanut flavor.
M- Nice light carbonation and a solid feel.
D- Very drinkable.
Overall- Very flavorful brown ale. Good cold weather, lower ABV option.
501 characters
3.97
/5
rDev
+7.3%
look: 4 | smell: 4.5 | taste: 3.5 | feel: 4.5 | overall: 4
Poured in to an imperial pint glass this selection pours a woody amber with bright ruby highlights. The creamy beige head holds fairly well and leaves some solid lace.
Much more in the nose than many beers of similar style. Malty and sweet with some yeast. Fades in to some warm roastiness, molasses and a bit of fruit. Citrus and honey. A hint of caramel in there too; very nice.
Roasty sweet malt and some caramel. Many of the flavor characteristics that the nose implies. Not quite as complex however. Just a hint of vanilla and smoke perhaps; very subtle. Pleasing and well rounded but not quite as robust as I'd hoped. Still very nice and a great session beer.
Smooth, velvety, and mostly full-bodied. Low carbonation ups the syrupy sweetness a bit. A very solid beer none-the-less. Another fine creating from New Holland.
831 characters
3.7
/5
rDev 0%
look: 4 | smell: 4 | taste: 3.5 | feel: 4 | overall: 3.5
Poured from a 12oz bottle into a pint glass. Thanks to HeatherAnn for the assist!
A: Pours a hazy dark brown with a creamy 1 1/2 finger head that's off-white in color.
S: Toasted malt dominates. Also with notes of vanilla and caramel.
T: Toasted caramel malt, mild dark chocolate, ant tangy raisins. Hops are there, but not enough.
M: Thick with a touch of hop bitterness at the finish.
D: Pretty good but I believe it could use a more assertive hop presence.
464 characters
4
/5
rDev
+8.1%
look: 4 | smell: 4 | taste: 4 | feel: 3 | overall: 4.5
Pours a deep, beautiful mahogany with a thick finger and a half of head.
Aromas of nuts and honey mingle with soft, roasted notes and fleeting hints of licorice root.
Lovely toffee and honey flavors are balanced by roasted bitterness on the finish. A slightly over-caramelized (read: burnt) sweetness resurfaces on the finish, somewhat diminishing the overall enjoyability of the brew.
The beers' only weakness, a touch thin and yet over-carbonated at the same time. Still, this is a winner from a rather uneven stable of beers from New Holland. I would absolutely revisit this. My only concern is how this came to be listed as a red ale; it's fucking brown!?!
663 characters
3.64
/5
rDev
-1.6%
look: 2.5 | smell: 3.5 | taste: 4 | feel: 4.5 | overall: 3
$1,80 for a 12 oz bottle. No information on New Hollands website. Pours to a slightly hazy dark mahogany, barely able to eek out a small light tan head. Minimal retention, absent lacing. Very limpid carbonation. Unfilitered fine yeast in the bottom of the bottle. Aroma of carob and artificial chocolate (like a tootsie roll)Mouthfeel is sleek and smooth with a medium body. Nice mouthfeel. taste opens up with a touch of herbal hops, followed by chocolate and lightly roasted malt. There is mild to minimal bitterness and an odd fruity sourness, which makes me think it will be plaqued by the kiwi fruit bacteria that will inevitably turn this beer into vinegar. It would appear this is a completely different beer than that reviewed here. ESB...dark red? Wow. Mine is definitely dark walnut, and definitely a brown ale.
Pretty good now, but I wouldn't recommend storing this one away. For an experiment, save a bottle and taste it in 6 months. It will taste like a bowl full of pennies soaked in vinegar, guaranteed.
1,019 characters
4.08
/5
rDev
+10.3%
look: 2 | smell: 4 | taste: 4 | feel: 5 | overall: 4.5
Pours a dark red with virtually no head. Smell is strong with nutty roasted malts aromas. Taste is sweet and alcohol content seems high. Bitterness and carbonation are moderate. Mouthfeel is extremely smooth with a slightly bitter aftertaste. Except for the lackluster appearance this is an exceptional beer. I defiantly have to pick this up again.
348 characters
4.32
/5
rDev
+16.8%
look: 4 | smell: 4.5 | taste: 4.5 | feel: 4 | overall: 4
This growler was brought back from the brewery by my roommate. It held up wonderfully. The beer pours to a dark red color with a nice thick off-white head. Nice carbonation and lacing.
The smell is good. Mild biscuity malt flavors with some nice fruity esters. Reminds me of Fat Tire, but less biscuity and more fruity. The taste is just the same, but with a touch of the hops as well.
Nice medium body with a great bitterness. Seems to stimulate every small bit of my palate. The growler will probably go down quick.
523 characters

3.85
/5
rDev
+4.1%
look: 3.5 | smell: 3.5 | taste: 4 | feel: 4 | overall: 4
A light copper with a tan head creamy, frothy in appearance. Some lacing left behind. Very clear as well.
Sweet caramel, malt, hoppy fruit burst to follow. Hints of pine and floral aspects, rosebud comes to mind.
Sweet thick caramel and toffee malt. Big toffee in the finish. Hoppy ending that balances the sweet malt. Creamy yet tannic not cloying at all.
Delicious!
376 characters
4.1
/5
rDev
+10.8%
look: 4 | smell: 4 | taste: 4 | feel: 4 | overall: 4.5
First stop of the West Mich BA Gathering took place at New Holland and this beer accompanied my pizza.
Pour was a hazy copper color with an airy light yellow head that fades. Aroma is of a husky grainy sweetness with rye, floral hops are there, and there's a bit of light fruits in the background. Flavor gives me more sweet malts upfront with caramela and toffee. Rye is definitely the base of this beer and provides ample backbone. Hops are abundant but not overpowering. They begin fruity like red delicious apples then turn more floral then spicy and finally finish bitter. Body is decent, not real big but really makes this beer drinkable. Went great with the pizza. This is definitely a beer I think they should bottle. I liken it to a slightly fruitier, slightly less intense Founder's Red Rye. Almost ESBish. I'd like this on cask.
842 characters

3.75
/5
rDev
+1.4%
look: 4 | smell: 4 | taste: 3.5 | feel: 3.5 | overall: 4
Pours slightly chill-hazed dark red and amber. hin head evaporates immediately but leaves straks of lace on the Ball glass jar.
Aroma is sweet, fruity hop juice, rye and a some underlying caramel and pale malts.
Flavor of caramel and biscuit underpinnings coupled with the lsight sourness of the rye and a strong but mostly lighter hop profile.
Mouthfeel is solid. Rye and light, sweet flavors up front combine with fruity and bitter hop notes to a produce a fairly well-balanaced beer.
Drinkability is very solid. Not outstanding but a solid seession brew that kind of grows on you.
587 characters
3.53
/5
rDev
-4.6%
look: 4 | smell: 3.5 | taste: 3.5 | feel: 3.5 | overall: 3.5
This really reminds me of an ESB. Very malty and and a lot of grapefruity hops in the aroma and character. Despite the dark reddish-brown color of the beer and the light reddish-tan of the head, this beer's flavor is surprisingly light Yes, it definitely malty but with the level of hops in the profile, it seems lighter that you'd expect. Not a bad beer.
355 characters
Cabin Fever from New Holland Brewing Company
Beer rating:
84
out of
100
with
1013
ratings