Charkoota Rye
| New Holland Brewing Company
BA SCORE
82
good
132
Reviews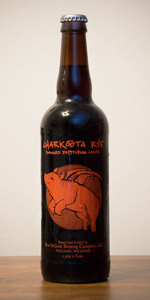 BEER INFO
Brewed by:
New Holland Brewing Company
Michigan
,
United States
newhollandbrew.com
Style:
Smoked Beer
Alcohol by volume (ABV):
7.79%
Availability:
Fall
Notes / Commercial Description:
Charkoota Rye - Smoked Doppelbock Lager
Charkoota Rye is a Smoked Rye Dopplebock. Charkoota Rye's malty backbone is derived from a blend of rye and four other malts, including malted barley smoked over cherry wood by our very own brewers, John and Jeff.
Its smoke-forward body is balanced with tones of deep mollasses and caramel, with a crisp, clean lager finish.
19° Plato, Alc. 7.75% by Vol.
Added by Deuane on 01-04-2009
Reviews: 132 | Ratings: 240
4.25
/5
rDev
+17.4%
look: 4 | smell: 4 | taste: 4.5 | feel: 4.5 | overall: 4
Whoa! Man, love this beer right off. Yummm.... Served with a large, foamy, light tan head and a little lace. Color is deep dark amber with chestnut hightlights. Aroma is a luscious, rich, smokey, dark malt, raisins, dark ripe fruit, leather, and a bit of dark cocoa. Flavor's about the same with sweetness coming out at the end. Great body and carbonation. Boozy at the very end. A session beer for slow, easy quaffing.
419 characters
4.06
/5
rDev
+12.2%
look: 2 | smell: 3.5 | taste: 4.5 | feel: 4 | overall: 4.5
From 22 oz bottle to tulip. ABV 8.17, Batch code 14036 22013.
Pours almost no head - a light skim of tan that's gone in two seconds. Dark brown liquid, fairly clear, especially considering all that's in here.
Strong jerky aroma. Some earthiness, and maybe a hint of toffee, but not much cuts through the bacon. Not as powerful as Schlenkerla out of the bottle, but quite strong.
It's surprising how much of the dopplebock character is in here, with the rye and smoke as well. The major flavor is from the smoked malts, but there are plum and brandy flavors filling the background. I can't pull out a noticeable rye flavor. Overall rich, complex, and balanced, even with no noticeable hop presence.
Medium mouthfeel. Very drinkable - no noticeable alcohol burn, and I'm not getting any rauchbier fatigue.
807 characters

3.87
/5
rDev
+6.9%
look: 3.5 | smell: 4 | taste: 4 | feel: 4 | overall: 3.5
Offered at South Park Tavern in Dayton OH. Listed as "NH Stone Dopplebock Lager" but after looking on the New Holland website, this seems to fit the description and be the same brew.
Pours an extremely dark, opaque color, with crimson red highlights when held to light. No head in my pint pour, and no carbonation in the glass, but the sample originally given had a rich, brown foam.
Scent, as with the flavor, is incredibly unique. As the bartender intimated, an acquired taste. I'm still at a loss to fully describe it...somewhere in the range of mahogany wood, smoked meat, and burnt rubber. It can either be off-putting or deliciously unique, depending on your mood.
The woody, smoky, spicy scent is replicated in the flavor as well. While overpowering, it is backed up by the prototypical dopplebock brown sugary malt.
Thick and dense in the mouth; could use a bit more carbonation but doesn't taste flat.
Drinkability depends on one's tolerance for smoked beers; I personally enjoyed its uniqueness, and a good rachbier in general, so perhaps you will too.
1,063 characters
3.77
/5
rDev
+4.1%
look: 3 | smell: 3.5 | taste: 4 | feel: 3.5 | overall: 4
poured from a 22 ounce bottle into a pint glass. 8.17% abv.
Appearance: Appropriate sized fizzy brown head, drops way too fast. Dark dark red body.
Smell: Less smoke than I was hoping for, but the smell is still mostly smoke. Mmm...smells porky.
Taste: First the malt sweetness. Than the porky smokiness. Smoke lingers on the tastebuds for a while and I get hints of chocolate in the aftertaste. Much more mellow and balanced than I was expecting.
450 characters
4
/5
rDev
+10.5%
look: 3.5 | smell: 3.5 | taste: 4.5 | feel: 3.5 | overall: 4
pours dark dark amber brown with a 1/2 finger head that leaves no lacing
smell is very smokey (campfire) - and is all i can pick up on
taste is also very smokey - sweet carmel and dark friut malts - the after taste is chocolate and roasted malts
mouthfeel is a medium body beer with just enough carbonation that to give it a creamy finish
drinkability is good - i had no problems drinking the bomber but i would not want anymore then that in a night
453 characters
4.04
/5
rDev
+11.6%
look: 3 | smell: 4 | taste: 4 | feel: 4 | overall: 4.5
Painted bomber featuring a flying pig, kinda Pink Floydish lol. Poured into a goblet.
Deep dark mahogany with copper edges. Not much for foam or lace with a ring surrounding thin wisps.
The nose is sweet, yet within style with a bit of smoke in the back. Ghostly hops and alcohol.
The malts are pretty assertive upfront with a flash of dryness that becomes enveloped in in a woody smoke. Lingering smoke and dryness in the aftertaste. I do also pick up some bitter hop flavors that linger and fit right in with the smoke.
Nice moderate to full mouth that has ample carbonation with a slight "slickness" that I associate with Dopples.
I would have liked more smoke, like some of the Bamburgs have, but there is enough to keep me interested and certainly enough to pair with pulled pork. I'm not the biggest fan of dopples, but I could see myself having another.
865 characters

3.97
/5
rDev
+9.7%
look: 3.5 | smell: 4 | taste: 4 | feel: 4 | overall: 4
On tap at The Hop Cat in Grand Rapids. A new brew from NH, a smoked rye d-bock, cool.
A-Deep, brown tinted copper with a thin ring of light tan, spotty lace.
S-Light hickory smoked bacon aroma and a bit of sour mash malt.
T-Hickory smoke up front with supporting notes of chocolate, rich caramel malt and a sour mash tartness. Dry finish creeps in thanks to the rye malt.
M-Medium bodied and silky smooth. Smoky flavours linger nicely.
D-Well done, only the second smoked D-bock I have had, the other being Left Hand Goosinator. This one is about as good. A variation on a classic style I am really liking.
622 characters
Charkoota Rye from New Holland Brewing Company
3.62
out of
5
based on
240
ratings.