Charkoota Rye
| New Holland Brewing Company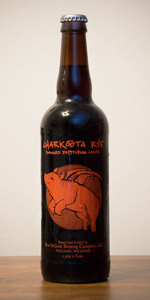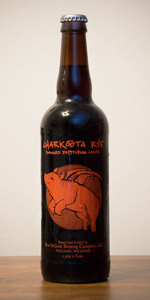 BEER INFO
Brewed by:
New Holland Brewing Company
Michigan
,
United States
newhollandbrew.com
Style:
Smoked Beer
Alcohol by volume (ABV):
7.79%
Availability:
Fall
Notes / Commercial Description:
Charkoota Rye - Smoked Doppelbock Lager
Charkoota Rye is a Smoked Rye Dopplebock. Charkoota Rye's malty backbone is derived from a blend of rye and four other malts, including malted barley smoked over cherry wood by our very own brewers, John and Jeff.
Its smoke-forward body is balanced with tones of deep mollasses and caramel, with a crisp, clean lager finish.
19° Plato, Alc. 7.75% by Vol.
Added by Deuane on 01-04-2009
HISTOGRAM
Ratings: 240 | Reviews: 132
4.42
/5
rDev
+24.5%
look: 3.5 | smell: 4 | taste: 4.5 | feel: 4.5 | overall: 5
22oz bottle poured into a cervoise.
A - Reddish chestnut with a thin, light tan head that reduces to a lace almost instantly.
S - Pumpernickel, molasses, smoke, dark berry fruit, dank and earthy. No trace of hops.
T - Excellent - everything is in perfect balance. Rich, sweet malt flavors play off spicy rye plays off subtle smokiness. Bitterness is just enough to keep the malt in check. Lacks the heavy-handed meaty bacon flavor found in other smoked beers and goes more for the evocative wood and brown sugar character. While the alcohol isn't hidden, it isn't at all distracting.
M - Medium-full body, very silky. Almost undercarbonated, though it works.
D - High drinkability for its strength. I'm a sucker for rye beers, so when I saw a smoked rye doppelbock, I knew I had to give it a try. At the same time, I've had mixed feelings about rauchbiers in the past, so I was pleasantly surprised to find something with a more subtle smoke flavor that didn't overwhelm the rest of the beer. Well done, New Holland!
1,021 characters

3.97
/5
rDev
+11.8%
look: 3 | smell: 3.5 | taste: 4.5 | feel: 3.5 | overall: 4
22 oz. new-style bomber.
Dark maple syrupy brown body. Clean. Small, wispy, light beige head. Not much lacing. Brown sugar, caramel apples, hints of metal, smoked bacon, and cooked veggies. I want more smoke!
Thankfully, the taste delivers the smoke. Ashy campfire smoke up front. Herbal bitterness tries to hide in the background. Smoked meats and sweetish fruits blend nicely mid-palate. A little rummy cookie dough near the finish. Lingering smoke and malt sweetness. Some herbal bitterness. Medium-full body with a syrupy, slightly under-carbonated feel. I wish this was in 6 packs...we need more smoked beers!
616 characters
4.27
/5
rDev
+20.3%
look: 3.5 | smell: 4 | taste: 4.5 | feel: 4 | overall: 4.5
22oz bottle labeled as 8.17% abv poured into a Duvel tulip a not dark brown almost black with a decent light-tan head that diminishes to a ring and leaves no lacing on the glass. Aroma is an interesting blend of burnt caramel and sharp rye. The taste is a wonderfully complex blend of rye, burnt caramel, dried fruits and mild cocoa. The beer is on the heavy side of medium with some warming alcohol and mild carbonation. This is a very unique and enjoyable beer, one I'd certainly have again.
493 characters
2.4
/5
rDev
-32.4%
look: 3.5 | smell: 3.5 | taste: 1.5 | feel: 3.5 | overall: 2
As served at the brewery on tap into a clean, clear pint glass during my visit there within the past week. Review from notes of course.
A Dark brown, translucent body with minimal head. 3.5
S Rye, dopplebock dankness, musty, farmhouse smell with some alcohol. 3.5
T Farmhouse taste like the smell of graxing sheep, not good. Grains, yeast conspire to make a very unwelcome taste. I have tasted other dopplebocks that share this unwelcome taste quality but this beer demonstrates it the most severe way. I really like New Holland as a brewery, evidenced by the visit I am making at this time, but this is not a good beer in my opinion. 1.5
M Full with grain tastes, ABV. 3.5
D Not good due to the taste that is not pleasing to me. 2.0
738 characters
4.43
/5
rDev
+24.8%
look: 4 | smell: 3.5 | taste: 5 | feel: 4.5 | overall: 4.5
Poured into pint glass
A: Moderate pour yields 1/4 finger off-white head with poor retention - more please. Clear deep crimson and brown liquid. Lack of head is offset by the beauty of the red in the liquid.
S: Smokehouse, wood stove, camp fire. Weak due to the lack of head. What is there is good though.
T: Sweet and smoky with a fair amount of wood flavor. Very smoky, equal to a rauchbier. Barbeque pulled pork sandwich. Very enjoyable, this is a wow/great beer.
M: Chewy, thick, silky
D: Amazingly high for a smoked beer. I want another pint and I'd like to buy again. Alcohol seems high though.
600 characters

3.78
/5
rDev
+6.5%
look: 4.5 | smell: 4 | taste: 3.5 | feel: 3.5 | overall: 4
A smoked rye doppelbock...hell yeah.Poured a a full deep amber with a large off white head that settled very slowly,just nice to llok at.Aromas are big in fruity malt with a tinge of sharpness I am guessing from the rye,the smoke is faint at first but some hardwood comes through as it warms.Flavors show of the light smoke the most,not much fruit and or sharpness, some molasses and brown sugar come into a lingering finsish,the mouthfeel is light to medium.Iam guessing its food friendly, but it just seems to be missing something.
533 characters
3.24
/5
rDev
-8.7%
look: 4.5 | smell: 3 | taste: 3 | feel: 3.5 | overall: 3.5
Served in a New Holland high gravity glass @ Bad Apple.
This dark brew glints scarlet in the light. A very attractive tone, jewel like with a tight cap of khaki foam topping it off. Retention is pretty good too, lasting for the duration.
Aroma is smoky, peaty with a pronounced sterile gauze/band aid note. Not a fan. This carries over into the flavor too unfortunately. At room temperature, there's an underlying warm maltiness and light rye spiciness. Even carbonation and a full body. A sipper probably best paired with cured meats. Not the best use of smoked malt, hope they reformulate with less band-aid in the mix next batch.
636 characters
3.97
/5
rDev
+11.8%
look: 4 | smell: 4.5 | taste: 4 | feel: 3.5 | overall: 3.5
A dopplebock rye lager? This could be good though I am definitely not a fan of lagers. I am a fan of deep ryes though, so I am looking forward to it.
I nice foamy head forms with a rather aggressive pour (which I tend to do with bottled beers). It settled into a nice film after a few minutes over a deep red body slightly redder than the color of the bottle itself.
I can smell the sweet rye malts in the sniffage of Charkoota. Light hops, but none of the lager character. That's a good thing. It's almost like a burnt cranberry smell.
Definitely burnt. The rye is great, but a little too much burnt smoked flavor to me. I think that I would like this better if the malts were slightly less-roasted, but I get what New Holland is going for as the CHARkoota is a "smoked dopplebock lager". That does make Charkoota taste more like a porter than a dopplebock.
The mouthfeel is typical of a medium-bodied lager. Carbonation density is typical, but pleasant. With such a porter flavor I would expect it to be heavier, but it's not.
Overall, I think the smokiness of the roasted malts overpowers the rye flavor, which I think should be more present. Ryes are supposed to be sweet and rich, not robust and charred. It's almost like drinking charred bbq ribs.
1,259 characters
4.25
/5
rDev
+19.7%
look: 4 | smell: 4 | taste: 4.5 | feel: 4.5 | overall: 4
Whoa! Man, love this beer right off. Yummm.... Served with a large, foamy, light tan head and a little lace. Color is deep dark amber with chestnut hightlights. Aroma is a luscious, rich, smokey, dark malt, raisins, dark ripe fruit, leather, and a bit of dark cocoa. Flavor's about the same with sweetness coming out at the end. Great body and carbonation. Boozy at the very end. A session beer for slow, easy quaffing.
419 characters
4.06
/5
rDev
+14.4%
look: 2 | smell: 3.5 | taste: 4.5 | feel: 4 | overall: 4.5
From 22 oz bottle to tulip. ABV 8.17, Batch code 14036 22013.
Pours almost no head - a light skim of tan that's gone in two seconds. Dark brown liquid, fairly clear, especially considering all that's in here.
Strong jerky aroma. Some earthiness, and maybe a hint of toffee, but not much cuts through the bacon. Not as powerful as Schlenkerla out of the bottle, but quite strong.
It's surprising how much of the dopplebock character is in here, with the rye and smoke as well. The major flavor is from the smoked malts, but there are plum and brandy flavors filling the background. I can't pull out a noticeable rye flavor. Overall rich, complex, and balanced, even with no noticeable hop presence.
Medium mouthfeel. Very drinkable - no noticeable alcohol burn, and I'm not getting any rauchbier fatigue.
807 characters

3.87
/5
rDev
+9%
look: 3.5 | smell: 4 | taste: 4 | feel: 4 | overall: 3.5
Offered at South Park Tavern in Dayton OH. Listed as "NH Stone Dopplebock Lager" but after looking on the New Holland website, this seems to fit the description and be the same brew.
Pours an extremely dark, opaque color, with crimson red highlights when held to light. No head in my pint pour, and no carbonation in the glass, but the sample originally given had a rich, brown foam.
Scent, as with the flavor, is incredibly unique. As the bartender intimated, an acquired taste. I'm still at a loss to fully describe it...somewhere in the range of mahogany wood, smoked meat, and burnt rubber. It can either be off-putting or deliciously unique, depending on your mood.
The woody, smoky, spicy scent is replicated in the flavor as well. While overpowering, it is backed up by the prototypical dopplebock brown sugary malt.
Thick and dense in the mouth; could use a bit more carbonation but doesn't taste flat.
Drinkability depends on one's tolerance for smoked beers; I personally enjoyed its uniqueness, and a good rachbier in general, so perhaps you will too.
1,063 characters
3.77
/5
rDev
+6.2%
look: 3 | smell: 3.5 | taste: 4 | feel: 3.5 | overall: 4
poured from a 22 ounce bottle into a pint glass. 8.17% abv.
Appearance: Appropriate sized fizzy brown head, drops way too fast. Dark dark red body.
Smell: Less smoke than I was hoping for, but the smell is still mostly smoke. Mmm...smells porky.
Taste: First the malt sweetness. Than the porky smokiness. Smoke lingers on the tastebuds for a while and I get hints of chocolate in the aftertaste. Much more mellow and balanced than I was expecting.
450 characters
4
/5
rDev
+12.7%
look: 3.5 | smell: 3.5 | taste: 4.5 | feel: 3.5 | overall: 4
pours dark dark amber brown with a 1/2 finger head that leaves no lacing
smell is very smokey (campfire) - and is all i can pick up on
taste is also very smokey - sweet carmel and dark friut malts - the after taste is chocolate and roasted malts
mouthfeel is a medium body beer with just enough carbonation that to give it a creamy finish
drinkability is good - i had no problems drinking the bomber but i would not want anymore then that in a night
453 characters
4.04
/5
rDev
+13.8%
look: 3 | smell: 4 | taste: 4 | feel: 4 | overall: 4.5
Painted bomber featuring a flying pig, kinda Pink Floydish lol. Poured into a goblet.
Deep dark mahogany with copper edges. Not much for foam or lace with a ring surrounding thin wisps.
The nose is sweet, yet within style with a bit of smoke in the back. Ghostly hops and alcohol.
The malts are pretty assertive upfront with a flash of dryness that becomes enveloped in in a woody smoke. Lingering smoke and dryness in the aftertaste. I do also pick up some bitter hop flavors that linger and fit right in with the smoke.
Nice moderate to full mouth that has ample carbonation with a slight "slickness" that I associate with Dopples.
I would have liked more smoke, like some of the Bamburgs have, but there is enough to keep me interested and certainly enough to pair with pulled pork. I'm not the biggest fan of dopples, but I could see myself having another.
865 characters

3.97
/5
rDev
+11.8%
look: 3.5 | smell: 4 | taste: 4 | feel: 4 | overall: 4
On tap at The Hop Cat in Grand Rapids. A new brew from NH, a smoked rye d-bock, cool.
A-Deep, brown tinted copper with a thin ring of light tan, spotty lace.
S-Light hickory smoked bacon aroma and a bit of sour mash malt.
T-Hickory smoke up front with supporting notes of chocolate, rich caramel malt and a sour mash tartness. Dry finish creeps in thanks to the rye malt.
M-Medium bodied and silky smooth. Smoky flavours linger nicely.
D-Well done, only the second smoked D-bock I have had, the other being Left Hand Goosinator. This one is about as good. A variation on a classic style I am really liking.
622 characters
Charkoota Rye from New Holland Brewing Company
Beer rating:
3.55
out of
5
with
240
ratings