Stones Bitter
| Coors Brewers Ltd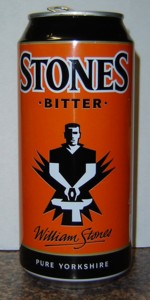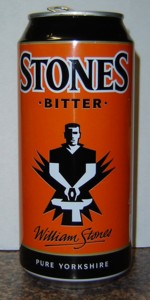 BEER INFO
Brewed by:
Coors Brewers Ltd
England
,
United Kingdom
coorsbrewers.com
Style:
English Bitter
Alcohol by volume (ABV):
3.70%
Availability:
Year-round
Notes / Commercial Description:
No notes at this time.
Added by jahsausage on 07-31-2004
Ratings: 10 | Reviews: 5
Reviews by Naerhu:
1.94
/5
rDev
-23.9%
look: 1 | smell: 2 | taste: 2 | feel: 2 | overall: 2
Found this beer at Seijo-Ishi in Chiba.
Oddly over-carbonated orange-yellow body with sickly head.
Very weak aroma, wet paper towels?
Taste was exceedingly mild and not very interesting. Washed out malt.
Overcarbonated and insipid.
I finished a third of this beer at most. It just has nothing going for it at all.
319 characters
More User Reviews:

2.58
/5
rDev
+1.2%
look: 3 | smell: 2.5 | taste: 2.5 | feel: 3 | overall: 2.5
A 440ml can with a BB of April 2013. Picked up cheap from Morrisons a while back. The can is a vibrant shade of orange that draws the eye, and features a manly man hitting an anvil with a hammer. A nod to the past when this beer was brewed for the steel workers of Sheffield.
Poured into a straight pint glass. A clear golden-amber colour with good carbonation. Forms a large head of white foam that lasts for a few minutes before settling. A mild aroma of grainy malt with hints of husk, fruity ale yeast and faint stewed leaves. Blandly inoffensive.
Tastes of light malt with a bitter finish. Faintly grainy, with hints of stewed leaves and mild fruity yeast esters. Surprisingly bitter upon swallowing, but this is somewhat harsh and has a metallic twang to it. An unpleasant solventy note lurks in the background. Mouthfeel is smooth, tingly and dry, but underwhelmingly thin. Body could use improvement. Slightly astringent, with an aftertaste of bitter stewed leaves and solvent.
Pretty dull and forgettable. Not much going on in the nose, and the taste isn't great either. A shade more bittering hops than similar ales, but this doesn't raise it much in my estimation. The metallic/solvent hints aren't nice. Like a number of beers that have become watered-down 'brands' owned by big brewers, I suspect this was better in the past. Oh well - give it a miss.
1,367 characters

2.69
/5
rDev
+5.5%
look: 2 | smell: 3 | taste: 3 | feel: 2.5 | overall: 2
This beers can has a slogan "pure yorkshire" but the fact that COORS had something to do with it. made me rather suspiscious (although unfortunately I only looked at the fine print after i'd bought it). Tastewise it is an ale that aims high but achieves low due to the probable cheapness of its ingredients. It has a metallic taste to me although another flatmate described as having a barley sugar taste. Its kind of a half-arsed beer really it tastes like there is something quite good hidden under the crappy tastes although I suspect that in reality i've got that sentence the wrong way around. The dodgy taste overwhelms this attempt at an english ale...
659 characters
2.4
/5
rDev
-5.9%
look: 2.75 | smell: 2.75 | taste: 2.25 | feel: 2.25 | overall: 2.25
2.88
/5
rDev
+12.9%
look: 3 | smell: 2.5 | taste: 3 | feel: 3 | overall: 3
well, if i had noticed the "coors brewers ltd." on the can while in the bottle shop, i probably would have gone with something else. as it turns out, i wasnt too disappointed.
attractive orangeish hue, with a fine thin white head.
aroma is just barely noticeable. fresh hops is the first thing that comes to mind.
flavor is mostly malty sweet, with some hop flavor backing it up. just a hint of bitterness at the end.
and just when i was starting to think this was pretty good, some metallic taste to go with it all. not strong but it is there. had to knock back the tatse form 3.5 to 3.0, yeah, im going soft in my old age.
mouthfeel is ok, but would have preffered a nitro-can (hey. i think they're cool).
quite a bit of flavor for something with 3.7%abv. maybe not the best english bitter, but im sure there are worse. now if they can only use better cans (nitro ones!!).
883 characters



2.71
/5
rDev
+6.3%
look: 3.5 | smell: 2.5 | taste: 2.5 | feel: 3 | overall: 3
The beer poured fairly nicely with an orange-copper colour and about an inch of white head. Lacing was slight. The smell was barely existant and i couldnt really discern any distint aromas, however i found a general fruityness apparant. The taste was interesting, slight sweetness up front, and a strong bitter finish. This would be fine normally, but the bitterness has a somewhat metallic character that takes some getting used to. Mouthfeel is ok, light bodied and more carbonated than usual for the style. Drinkability could be good, but i just didnt enjoy the taste that much to warrant making this a session beer. Overall i found the taste unbalanced and even though i did enjoy the beer a little more midway through it, if i was in the mood for a bitter i would more than likely skip this one.
800 characters
Stones Bitter from Coors Brewers Ltd
Beer rating:
0%
out of
100
with
10
ratings