Buddha Nuvo
| Rockyard Brewing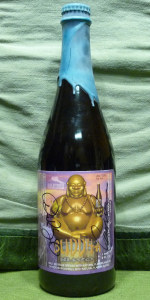 BEER INFO
Brewed by:
Rockyard Brewing
Colorado
,
United States
rockyard.com
Style:
American Wild Ale
Alcohol by volume (ABV):
12.00%
Availability:
Limited (brewed once)
Notes / Commercial Description:
Collaboration between 13 breweries in Colorado.
Added by BEERchitect on 11-14-2011
This beer is retired; no longer brewed.
Reviews: 3 | Ratings: 21

3.38
/5
rDev
-8.9%
look: 4 | smell: 3.5 | taste: 3.5 | feel: 3 | overall: 3
Standard appearance for the style. Decent lacing, some retention, appropriate head development. Carbonation is a bit lighter than I'd expect.
Smells like a baby butthole. The phenols, minor sulfur, plasticity, tannins, white grape skins, vinuous-ness. Its just too much and nothing blends. All together weird beer for the nose. So much fighting to be identified and muddied at the same time.
Flavors are stronger in wine power. The chardonnay comes through beyond belief, but so do the tannins. They really really overdid the pear on this. It comes out, it has a light pear sweetness, but all that fruit leaves a citric acid and tannic bitterness for the finish that drives you wild.
It also is boozy as hell from the wine characteristics. The phenols are sulfury light, some plastic, some barn wall tastes, but also banana and tropical fruit to go along with the pears.
Way too syrupy in body, too boozy, not dry enough, just overall missing a lot of things in mouthfeel that are not worth mentioning. It was average...
I know what they were attempting to do, but I dont think they succeeded at all. Too many shits in a pot turns the thing into a stopped drain.
1,168 characters
3.75
/5
rDev
+1.1%
look: 4 | smell: 4 | taste: 3.5 | feel: 4 | overall: 3.75
I guess this is around three years old, still costs $40 and still not worth the price of admission. That being said it smells pretty good, Chardonnay and funky bacteria. Flavor was honey, slightly sour, high alcohol. Overall not bad but what a joke of a price.
260 characters
3.97
/5
rDev
+7%
look: 3.5 | smell: 4 | taste: 4 | feel: 4 | overall: 4
A Rockyard collaboration beer with the help of 13 other Colorado breweries who leant a hand in ingredients, techniques, or design- this Brett-infussed, chardonnay barrel aged Saison-style ale carries a ton of complexity from exotic fruits of Buddha's hand, pumpkin, and honey.
The beer pours a zesty yet dull golden color with a diffused yeasty haze. Carbonation fuels a spritzy and cottony white head that eventually falters underneath the weight of the alcohol and barrel tannins. Lacking lace and quickly falling to a still status, the beer turns somewhat lifeless in a hurry.
Spicy and fruity, the nose quickly assumes the aromas of Saison ales, but with an Orval-like briney scent of must, sweat, and sandalwood. Fruity with white wines, limes, passion fruit, mangos, appricots, and papayas all take turns rounding out the complex nose. Lightly plastic-like, the spicy phenols have a heavy hand in the aroma matrix.
Flavors show similar fare- light sweetness of white grapes, mild honey, and an overall grainy sweetness are just enough to support the exotic esters that are represented in tropical fruit flavors: along with appricots, mangos, papayas, and passion fruit, the flavors also hold spiced pears, peaches, apples, limes, and under rippened berries. Very spicy with white pepper and raw wood tanins, the beer's flavorful bite eventually morphs into the leathery brine of yeast, old woods, dusty, musty, and somewhat plastic taste. Low on hops, only an herbal woody note brings the malt sweetness and spicy/fruity yeast character together. Very complex flavor spread, but perhaps a bit muddled.
Medium bodied to start, the carbonation disipates sooner than expected and leads to a dull and heavy mouthfeel for a Saison or otherwise Wild Ale. Alcohol dryness and fleeting malt sweetness allows for a fruity dry finish with light peppery and powdery texture. Light astringency with the heat of 12% allow for an extended earthy, woody closure.
A very complex ale with a lot of varying flavor and melding of a lot of ingredients. But the overbearing phenolic character, in conjunction with the barrel tanins dominate the beer and don't allow for the estery balance to form. Inconsistent carbonation makes the beer feel more dull and lacking of life than the flavors deserve. Hats off to the recipe and experimentation of the beer; but unpredictable in execution hurts in the end. Age will surely allow for better melding of flavors and development of yeast character.
2,491 characters
Buddha Nuvo from Rockyard Brewing
3.71
out of
5
based on
21
ratings.