Dostal Alley Brewpub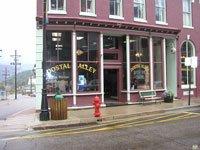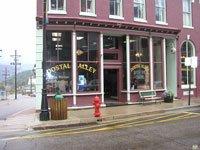 Brewery, Bar, Eatery
1 Dostal Alley
Central City
,
Colorado
, 80427-0189
United States
(303) 582-1610 |
map
casinocity.com
Notes:
Recent ratings and reviews.
| Log in to view more ratings + sorting options.
Ratings by Ristaccia:
Rated by Ristaccia from Nebraska
1.73
/5
rDev
-42.5%
vibe: 1.5 | quality: 2 | service: 2 | selection: 1.25
Aug 07, 2016
More User Ratings:
Reviewed by StonedTrippin from Colorado
3.79
/5
rDev
+25.9%
vibe: 4.5 | quality: 4 | service: 3.5 | selection: 3.5
i have been meaning to get up here for awhile now, but never really had occasion to do it, despite its close proximity to denver. central city is a small mountain casino town reminiscent of deadwood or something, pioneer times, probably hasnt changed much since, great charm and a little seedy, but clean and friendly feeling upon first impression. cute shops, casinos, and little pubs. this place nestled right into the center of town. we come in from the bottom where there is some parking for the casino (this place does double duty). its all wood and mirrors and video poker, yet somehow still cozy, low lit with a tiny bar, only a handful of seats and maybe five or seven beers on tap, all made in house. i absolutely loved their mild ale with local hops, one of the better examples if the style i have had in colorado, perhaps a little less english than some, but uniquely flavored and super well balanced and with a cools sweet thread in it. we also enjoyed their take on a hazy ipa, which was less impressive but plenty passable. a weird crowd on the weekend as the regular day crowd faded into the city slickers starting to fill it up. mellow downstairs. we rolled upstairs to check out their humble brew house and the bar up there, which has more of a taproom vibe and goes out to the main street level. natural light in here and an old mountain feel. service was just okay, distracted and relatively univested it seemed, but friendly enough. i liked it here a lot though, i liked their mild enough to drive back for it frankly, and if you are going up here to try your luck, you might as well stop in for a couple pints to loosen you up. cooler than i thought it would be and with much better beer, they even have a couple of gabf medals to their credit! who knew?!
May 08, 2018
Reviewed by Mebuzzard from Colorado
3.28
/5
rDev
+9%
vibe: 4 | quality: 3 | service: 3.5 | selection: 3 | food: 3.5
Hit this place on my way to Black Hawk for a wine tasting. I needed beer before hand.

This place is a cross between an old cowboy tavern and a show-hall of the 1920's. Cozy and cute. Slot machines everywhere, the bar has them, which disappointed me--no room to relax and have a beer.

Friendly small-town mountain service. Nothing fancy upstairs. Downstairs is tight and a palace of mirrors. Kind of dark.

Food was simple and tasty, nice portions. Not cheap, but reasonable.

I had two beers, and unfortunately could not have more b/c a) time and b) they were not that good.
Still, if in Central City and need to relax with a beer and filling food, stop by
Jul 10, 2011

Reviewed by Oxymoron from Colorado
2.7
/5
rDev
-10.3%
vibe: 3 | quality: 2.5 | service: 3 | selection: 2.5
Central City is not the easiest to get around with tight streets, random one ways and of course the mountains. But after driving around we found a parking spot. Kind of odd as they (Dostal Alley) had a parking lot and an attendant who was sun bathing to make sure that patrons are there for the casino/brewpub. She was cute so I'll let it go.

Once in side the place is rather tiny. There are slot crammed down stairs. Up a steep stairway which leads you into the bar area. There is a second entrance to the street side and a decent sized bar for the location. Up against the far wall is the small sized brewing equipment. Very nice equipment which looked used but still in good shape. The bar itself had slot machines for each seat, but we ended up sliding a few table together. There was a second room with more slot machines but tiny. The walls had a few painted pictures which seemed like some locals but never really got the story behind them.

The selection was limited but for where we were at still good. They had 5 beers on tap with most an English flair. A pale, wheat, mild, amber and stout. All the selections were pretty light in ABV or at least had that feel. There was a house taste with most of the beers having a slight sudsy flavor.

There was one guy behind the bar and he was really clueless about the beers and style. He called the Mild the "brown." And the Wheat the "yellow" even though the pale and the wheat were very close in color. At least he knew what a stout was. I would rip more but truthfully he was super nice and that goes a long way in my book. Very friendly and didn't mind us beer geeks kind of descending in is calm casino life.

The beers might have lacked in flavor but for the price, it was shockingly cheap. A pint was $1.75 and a few of us had root beer and the bar tender didn't charge us. Awesome price. We didn't eat there nor was there a menu so if you go, you'll have to tell me about it. Overall I don't think I would purposely go to Dostal again but it was ok.
Jul 03, 2008
Reviewed by rrwiltse from Colorado
3.4
/5
rDev
+13%
vibe: 4 | quality: 3 | service: 3.5 | selection: 3.5
I don't really like Central City--I mean, I love the history and old buildings, but it's too bad that only casinos could save this place. It really ruins everything. So, finally tried Dostal Alley--it looks a bit divey and like a locals hangout, but don't let that bother you, go on in! If you can ignore the casino games built into the bartop, the main room is pretty cool and obviously retains alot of its old character. The bartender was super friendly, and I had a good time hanging out there over a brew. Even spent a buck in a slot machine, which I never do. They had a handful of beers to choose from--an English Mild, a Stout, an English Ale, a Pale/IPA (can't quite remember) and an "unclassified beer", which I can't remember the name of! Tried the English Mild, which verges on a brown ale--tasty, good session beer. Also had the "unclassified", which had hints of citrus(especially lemon) and a good little hop bite to it (the bartender said it was dry-hopped), with a nice rich golden color. I really liked it! All in all, not worth making the trip just to Central City for (like I did), but certainly worth swinging in to if in the area! And I have to mention that my pint only cost $2.25!
Oct 26, 2007
Reviewed by benito from Oregon
2.89
/5
rDev
-4%
vibe: 2.5 | quality: 2 | service: 4 | selection: 3
A dual brewpub-casino, Dostal Alley had me skeptical from moment one. Rightly so. Was this an oasis for locals amidst the gambling chaos that is Central City and Blackhawk? Is it a casino looking to corner a piece of the market with some brewpub cachet? Which was more important the slots or the sparge?

As it turns out, Dostal Alley almost overcomes the sketchy, casino-slots atmosphere that defines the entire Central City area. Almost is the key word, since I never really could get over the fact that my beer was sitting atop a slot machine built into the bar. Nonetheless, there is some fun 'wild west' paraphanalia adorning the walls and a few pieces of beerania as well.

They had five beers on tap--four (pale ale, bitter, mild/amber, stout) are there flagship brews, and all had a slightly sour aroma, as though the lines hadn't been cleaned out in a while. Both the mild and stout were passable, the former having a little more cachet since it is hopped with locally grown buds. Their seasonal, a bock, was sour and astringent.

The thing with Central City is that it's not really on the way to anywhere except for itself. I guess the road biking crowd peddles through for part of the Peak-to-Peak ride, but my guess is that they're not looking for a brewpub at mile 9 of that slog. My point is, given its location, Dostal Alley didn't do enough for me the first time to pique interest in a second visit. Take a pass and stick to the better, more accessible brewpubs along the Front Range.
Jun 04, 2007
Dostal Alley Brewpub in Central City, CO
Brewery rating:
3.27
out of
5
with
41
ratings