Den Haas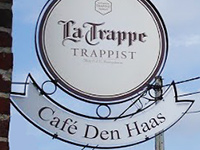 Reviews by TheLongBeachBum:
TheLongBeachBum from California
4.36
/5
rDev
+1.2%
vibe: 4.5 | quality: 4.5 | service: 4 | selection: 4.5
Den Haas belongs to that handful of rare establishments these days; it can be classed as a true Lambic Café, that is to say that it is located in the Payottenland / Senne Valley, and sells a draft Lambic and traditional Gueuze & Kriek. Usually, my cut-off for inclusion of a Belgium Café into the BeerFly is a beer list of around 50 as a minimum. However, I would always make an exception for any Lambic Café, because the very rare draft Lambic alone makes them worthy of inclusion.
But Den Haas is different, because it has a Beer List of some 60 beers, as well as the traditional draft lambic, so it is well worth the walk out of the centre of Gooik towards the Church. It lies on a hillock, just outside of the centre, but it is not that far to walk, or cycle, the latter being a very popular mode of transport here.
A smart well presented brick building that has an upright wooden Boon cask near the entrance, with brightly red painted steel hoops and white lettering "Lambic Boon" painted on the wooden centre. My mouth is watering all ready. The "Hare" has a true rural setting and is obviously a centre for the local community. As such, there is a bowling alley next to the Café, called a 'BolBaan' I believe. If it's quiet, or unused, have ago - it's a good laugh. The local club members do get priority though, so you may have to make way for them.
Never mind, you can always peruse the beer list of 60, or so, offerings, and marvel at the great range of beers. Try a sweet Quintine from the 3 handled ceramic mug. Or of course, you could just go for the draft lambic, comes from either Boon or Girardin, it seems this rotates, it was Boon when I was there. Also sells Gueuze and Kriek from Boon and Girardin, as well as having a few Bottles of De Cam which may become a regular as well. Hope so. All the beers were very reasonably priced. No food, only snacks though.
If its a nice day, you can sit out the back on the Bier Terrace, listen to the silence, and absorb the wonderful relatively unspoilt view of green rural Payottenland countryside at its best, whilst drinking your traditional lambic of course. Stunning.
The "Hare" is indeed another classic Lambic Café, Gooik is well worth a nights stay if you can wangle it. If you have time you can visit the De Cam Stekerij & the De-Cam Café opposite, the In De Groene Poort (see BeerFly) and Den Haas, all are easily done in one day and on foot or cycle.
Come here - and leave it all behind, well, for a while anyway.
Jan 01, 2003
More User Reviews:

emerge077 from Illinois
4.26
/5
rDev
-1.2%
vibe: 4.25 | quality: 4.5 | service: 4 | selection: 4.25
Proper lambic cafe and eatery on the backroads of Gooik, near a dairy farm and some great hiking paths.
Rustic farmhouse with an outdoor garden patio that has a jaw dropping view of the pastoral landscape.
Cheap 750 of Girardin and Plattekaas, the perfect lunch. Quaint, rustic decor. A little basic Dutch helps.
Supposedly there's a feather bowling alley in the back, but we didn't have time to explore it.
I recommend a stay in Gooik at the De Nieuw Kam B&B, housed in a former lambic brewery (Walravens).
Plenty of hiking, biking and beery options nearby like De Cam and the adjacent volkscafe and Cafe Stuivenberg.
TheLongBeachBum deserves a medal for uncovering these magical places so many years ago...
May 12, 2019
Den Haas in Gooik, Belgium
Place rating:
4.31
out of
5
with
2
ratings