Red Eye Rye
| Dainton Family Brewery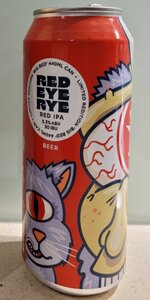 BEER INFO
Brewed by:
Dainton Family Brewery
Australia
Style:
Rye Beer
Alcohol by volume (ABV):
4.80%
Availability:
Rotating
Notes / Commercial Description:
No notes at this time.
Added by lacqueredmouse on 03-01-2014
Ratings: 9 | Reviews: 4
Reviews by Kroehny_Loves_Hops:
More User Reviews:
3.8
/5
rDev
-4%
look: 3.5 | smell: 3.5 | taste: 4 | feel: 4 | overall: 3.75
500ml bottle purchased from Slowbeer in Melbourne.
Pours a clear, faintly red-hued amber, but possibly not even dark enough to be out of the category of an IPA. Head forms a thin mesh of off-white, leaving a few specks of lace as it goes. Body is quite light, although the carbonation is fine. Looks decent enough.
Nose is pleasant enough, with a muted hop presence giving a decent dollop of fruit above some lingering sweetness. There's a slight herbal tone to the hops as it warms a little, but the fruit-salad component genuinely wins out. Decent again, without being spectacular.
Taste is clean and rather good. Light, hoppy and fragrant while avoiding being overblown, but then bolstered by a solid malt presence which holds up the back of the palate. Lingering flavours suggest pineapple and papaya, with a sweetness and body that steps in to support it. The mouthfeel seems fuller as a result as well.
Yep, overall, this is pretty decent and tasty stuff. It smacks a little bit of "seen this before", and has an atmosphere of generic craft to it, but that's not necessarily a bad thing. It's not a beer that redefines a genre, but it's a fairly solid interpretation.
1,177 characters
3.04
/5
rDev
-23.2%
look: 3.25 | smell: 3 | taste: 3 | feel: 3.25 | overall: 3

4.04
/5
rDev
+2%
look: 3.75 | smell: 3.5 | taste: 4.25 | feel: 4.25 | overall: 4.25
Appearance –
Pours a murky dark copper colour, and a thick mocha head. Foamy, 3 finger head. Can't comment on effervescence due to the opacity of the brew, but the head dissipates rather quickly to a thin layer. Leaves plenty of lacing.
Smell –
Pine, mango, passionfruit, pineapple, dried apricots, caramel, cinnamon and spice. A little subdued.
Taste –
Malts, biscuit, honey and toffee up front, with a strong hop presence bringing out a tropical fruit salad flavour, including grapefruit, pineapple, apricot and mango flavours. A good balance of fruits, hops and malts make for a very rich tasting beer. Only critique is that I would have liked the bitterness dialled back a notch to balance it better.
Mouthfeel –
Effervescence is like pop rocks on the tongue but not over-carbonated. A good consistency – smooth, creamy and full bodied with just the right amount of foam. Finishes cleanly and refreshes.
Overall –
A very tasty beer overall. Lots of tropical fruit flavours to enjoy, and a good balance between hop and malt flavours gives it a nice richness. Not a game changer, but worth another drink.
1,125 characters

4.32
/5
rDev
+9.1%
look: 4 | smell: 4.5 | taste: 4.25 | feel: 4.5 | overall: 4.25
330ml poured into a tulip glass
L - dark ruby red, pours a 1cm lumpy pale brown head, clear
S - bread, dates, huge chunk of tropical fruit odours (mango, papaya, passionfruit) some spices (cardamon).
T - rye backed up with grainy malt and pointed toffeeand nectarine, slightly resin like bitterness towards the peppery spicy finish
F - slick texture, moderate carbonation - very smooth, moving towards the fuller bodied side
O - more complex than I thought - this really is a great rye based beer with a good malt backdrop mixed with a health hop and spice presence. Feels like it should be a stronger ABV, but this makes it all the more sessionable.
660 characters

3.48
/5
rDev
-12.1%
look: 3.5 | smell: 3.5 | taste: 3.5 | feel: 3.25 | overall: 3.5

4.02
/5
rDev
+1.5%
look: 4.25 | smell: 4 | taste: 4 | feel: 4 | overall: 4

4
/5
rDev
+1%
I had a 500ml bottle.
Appearance: golden amber to red colour with off-white malt coloured head that remains and has legs.
Flavour: warm toasty caramel toffee malt flavours and a creamy mouthfeel. Low carbonation which suits the style and flavour. Nice bitter palate and finish makes this a great tasting beer. Definitely a keeper.
Aroma: this beer excels in aroma. Fresh and strongly evident fruits and pine. Even my wife liked the aroma here and recalled honey notes. As the beers warm towards the end of the glass I'm getting more caramel and "stickeys" on the nose.
Overall: this is a cracker beer. I loved the warm malty flavours, mild bitter finish, creamy medium body and fruit hop aromas. A beer to try again.
717 characters
Red Eye Rye from Dainton Family Brewery
3.96
out of
5
based on
9
ratings.