Birra Antoniana
| Birrificio Antoniano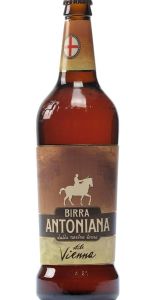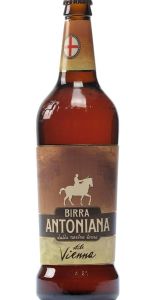 BEER INFO
Brewed by:
Birrificio Antoniano
Italy
birrificioantoniano.it
Style:
Vienna Lager
Alcohol by volume (ABV):
5.40%
Availability:
Year-round
Notes / Commercial Description:
No notes at this time.
Added by RblWthACoz on 01-02-2014
HISTOGRAM
Ratings: 14 | Reviews: 4
Reviews by stoutman:
2.75
/5
rDev
-14.6%
look: 2.75 | smell: 2.75 | taste: 2.75 | feel: 2.75 | overall: 2.75
Malted aromas, roasted, caramel, slight hopped. The taste is soft and sweetened, caramel, below average bitter and spiced with floral notes, cereals and hay. Clear dark golden color, small white head. Smell and taste lightly malts, a bit sweetish, something else I can't identify. Average body and carbonation. Balanced for a Vienna style. Rather bland and deserves a below average arting in my opinion.
405 characters
More User Reviews:
2.96
/5
rDev
-8.1%
look: 2.75 | smell: 3 | taste: 3 | feel: 2.75 | overall: 3

3.46
/5
rDev
+7.5%
look: 3.75 | smell: 3.25 | taste: 3.5 | feel: 3.5 | overall: 3.5

2.53
/5
rDev
-21.4%
look: 2.5 | smell: 2.5 | taste: 2.5 | feel: 2.75 | overall: 2.5
BOTTLE: 75cl. Brown glass. Pry-off crown cap. Appealing label art & design, but note that contrary to the brewery's website, the label does not have the word "Vienna" on the green band below "dalla nostra terra;" it's blank. Purchased at a bottle shop in Sofia, Bulgaria.
Served cold into a pilsner glass. Expectations are average.
HEAD: .5 inches wide. White colour. Foamy, frothy, creamy, and soft-looking. Leaves light uneven lacing on the sides of the glass as it recedes. Retention is above average - ~3-4 minutes.
BODY: Translucent murky dull copper. No yeast is visible within. Not the vibrant colour you'd expect in a great Vienna lager.
Appears well-carbonated. Pretty average, all things considered.
AROMA: Buttery notes/diacetyl off-notes. Unwelcome caramalt, with an accompanying candy-like sweetness. Maybe some grassy hops (Noble)?
Aromatic intensity is average. This is way off-base for a Vienna lager, and even outside of style conventions it isn't even really generally appealing.
TASTE: Overly sweet caramalt ruins the balance, but the build is underwhelming anyway. Its vague floral hop presence coupled with a weird almost honey-like raw sweetness does little to fit into the Vienna lager paradigm. Poorly put together, with poorly selected hop varietals and a malt base/grain bill that's just plain wrong for the style. It almost leans into English styles what with all the biscuit malt character. And the buttery diacetyl off-notes really turn me off to it.
It's not offensive or boozy, but it's way off the mark for the style. Hard to like.
TEXTURE: Medium-bodied, unrefreshing, smooth, wet, and moderately thick. Buttery. Overcarbonated.
Fails to elevate the beer or to accentuate specific notes.
OVERALL: A poor example of a Vienna lager, but nevertheless a beer whose 75cl bottle I will still be able to finish. I wouldn't bother with it again, and minor tweaks to the grain bill wouldn't save it - you'd need to just start over with a new recipe. Not that it affects my rating, but it's worth noting the price is pretty awful as well (~5 euro - in Bulgaria - though the size of the bottle mitigates this slightly).
Low C- (2.53) / BELOW AVERAGE
2,183 characters


3.1
/5
rDev
-3.7%
look: 3 | smell: 3 | taste: 3.25 | feel: 3 | overall: 3

2.9
/5
rDev
-9.9%
look: 3 | smell: 3 | taste: 2.75 | feel: 3 | overall: 3
3.67
/5
rDev
+14%
look: 3.25 | smell: 3.75 | taste: 3.75 | feel: 3.75 | overall: 3.5
2.96
/5
rDev
-8.1%
look: 2.75 | smell: 3 | taste: 3 | feel: 2.75 | overall: 3
(Review saved from December 19th 2013)
My first Italian beer, I believe. Best by October 30th 2014. Poured into a shaker pint.
Appearance: A murky orange sort of color with a fizzy head on top that leaves a wispy amount of foam on top of the beer. Sediment at the bottom of the glass. Basically no lacing. The bottle itself is sort of fancy... I'm not sure of the cost of this beer, but they get their own glass made for their beers.
Smell: Sweet, bready/biscuity malts with a good bit of caramel notes in there as well. I pick up a sort of adjunct-like corn aroma as well, but the ingredient label (to my surprise, there is one) lists only water, barley, hops, and yeasts. It gives that sort of aroma though... just a bit. Still smells pretty decent.
Taste/feel: Actually surprisingly decent. Hops are there in a subtle but welcome way to take away some of that sweetness (this really is a pretty sweet tasting beer). Finish is a touch spicy from hops, and a little bitter, but more sweet than anything -- in that way, it reminds me of an adjunct lager. Also, the carbonation is pretty high. Pretty thin mouthfeel also makes this an easy one to drink. An inoffensive and pretty decent beer overall. Much better when it's quite cold, as the beer starts to taste sort of "cheap" the warmer it gets.
3/5
1,306 characters

3.53
/5
rDev
+9.6%
look: 4 | smell: 3.5 | taste: 3.5 | feel: 3.5 | overall: 3.5
Dark orange pour, lots of fizzy strings sustaining a half finger white head, but not for long, and a nice curtain and traces are left as it subsides to a small lace.
Smell of biscuits and caramel, mostly malty, with some oranges, some faint grassy hops, apple peel, pretty much a Vienna lager, as they say on the label.
Taste surprises with quite a lot of citrus up front (orange, lime, grapefruit) and the biscuity maltiness falls second, with lots of caramel and some faint floral honey notes. Finishes with some mildly spicy hops and a decent bitterness, but there's also a small bad lagery note in the aftertaste, that reminds of not-so-fancy looking and bad-tasting beers.
Medium body, aggresive carbonation, not one to chug down.
It's a decent beer, especially if you don't expect anything extraordinary.
810 characters

3.21
/5
rDev
-0.3%
look: 3 | smell: 3.25 | taste: 3.25 | feel: 3 | overall: 3.25
Birra Antoniana from Birrificio Antoniano
Beer rating:
3.22
out of
5
with
14
ratings