Half Time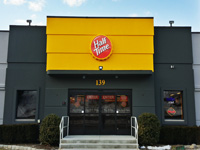 PLACE INFO
Type:
Store, Homebrew Store
139 Hoyt Ave
Mamaroneck
,
New York
, 10543-1834
United States
(914) 341-1666 |
map
halftimebeverage.com
Notes:
No notes at this time.
Added by slander on 01-02-2014
Reviews: 12 | Ratings: 34
3.43
/5
rDev
-22.6%
vibe: 4 | quality: 2.25 | service: 3 | selection: 5
Finally got to visit this place. While the selection was phenomenal, a lot of the prices were CRIMINAL. I've never seen such a markup before, this place was more expensive than DeCicco's! Beverage stores are typically a little less expensive than supermarkets, delis, gas stations, etc. Just to give an example, a six pack of Carlsberg Elephant was $14.39! Not that I was interested in buying it, but there's no way its worth that much. And I could tell that the beer that seemed reasonably priced was outdated/old. Amazing store but too much money, I won't be returning any time soon.
I rated the quality as 2.25 based on price, not sure how the ratings for this work. The service I marked a three. Even though nobody asked to help me, its not something I care that much about as I prefer to explore on my own.
814 characters
4.58
/5
rDev
+3.4%
vibe: 4 | quality: 4.5 | service: 4.5 | selection: 5
This has the vibe and feel of a big box store. The selection here is amazing. Found everything that I wanted and more. Plenty of local and national breweries represented. The prices here tend to be a bit higher than other places around it, but I suppose that is the premium paid for one stop shopping. Certainly the place I would go to if I am in the area.
361 characters

4.22
/5
rDev
-4.7%
vibe: 4 | quality: 4.25 | service: 4.25 | selection: 4.25
Great selection and service. I love the ability to buy virtually any beer as a single. My complaint is that prices are high but maybe it only seems that way to me as a visitor from MD.
184 characters

5
/5
rDev
+12.9%
vibe: 5 | quality: 5 | service: 5 | selection: 5
Awesome place. Great beer selection, singles for sale- make your own 6 pack. Home brewing section, meads ciders. Beers on Tap for Growler filling with free tasting before committing, Some beers were a little pricier, Prairie Bomb was $11 and $8 down the street at DeCicco's. Overall great place.
296 characters

4.84
/5
rDev
+9.3%
vibe: 5 | quality: 4.5 | service: 5 | selection: 5
I stopped in on my way back from NY to CT. The amount of beer here is amazing. I was able to purchase many beers that I dont have access to in CT. I also bought and filled a growler, where the staff was very helpful. Be careful on some of the bottle dates for IPAs, if you are the type to drink "super fresh" beers, non issue to me but I did see some 2014s.
361 characters
4.64
/5
rDev
+4.7%
vibe: 4.5 | quality: 4.5 | service: 4.5 | selection: 5
Half time has a great selection of beer and a decent home brew section. Their knowledge of beer is fantastic however their home brew skills are mediocre. Overall a great place, the employees are incredibly helpful.
214 characters
4.6
/5
rDev
+3.8%
This is a grocery store for beer. I've only been there a couple of times and haven't spoken to the staff, so i can't rate their knowledge. Well organized place with a great selection.
184 characters

5
/5
rDev
+12.9%
Hands down my favorite beer store, if not favorite my place on Earth and you're not likely to find a larger selection of beer anywhere. Huge sales floor with knowledgeable and friendly staff on hand to assist the novice to the most experienced craft beer enthusiasts. Large, rotating tap selection available with growler service and there are often free tasting events on weekends. This place also has craft soda and cigars although I only ever go there for beer. If you can go to only 1 source for craft beer ever again, this is the place.
542 characters
3.24
/5
rDev
-26.9%
vibe: 2.5 | quality: 3.5 | service: 2.25 | selection: 4.25
Big selection but the prices are at least 25% more expensive than other comparable stores. They don't carry anything that special that couldn't be found for less money somewhere else. No way id buy a beer from this place. I walked out empty handed based on price alone.
Nice little homebrew supply area though - just for essentials. I wouldn't get major supply, but big hop selection.
390 characters
4.16
/5
rDev
-6.1%
vibe: 4 | quality: 4.5 | service: 3.5 | selection: 4.5
Atmosphere
Huge. Welcoming. Bright. Well-designed. Areas of the establishment are clearly defined and labeled. Long, spacious rows are not yet filled, but offer a promising glimpse into what this place can be in the future.
Quality
They've got some fantastic stuff here, not all of it easy to find elsewhere. Craft beer fans can spend at least an hour in hear perusing the aisles before deciding what their budget will get them. Because the place is so new, so are the products. Nothing dusty, nothing damaged, nothing expired (that I saw).
Service
A couple of sales folks were doing the rounds. Folks were available for questions but were not overbearing by any means. Check-out people were friendly. Manager/owner seemed a bit overwhelmed (they opened before scheduled because customers were banging on their doors daily).
Selection
Best I've seen at a beer store thus far. Craft Beer from the US, South America, Belgium, Russia, Germany, Italy, Spain. The list goes on. Entire sections dedicated to Gluten-Free (not my thing, but this is indicative of their breadth of selection). Their tap wall (for growler fills/refills) features 22 rotating taps.
They also have a home brew supply selection. As a home brewer I'd sooner go to my preferred Local Homebrew Supply shop, but this place could do in a pinch.
The soda and crap beer selection is also plentiful, but rightly segregated towards the rear of the store, clearing the way for their customers to bask in their craft beer selection.
Value
Fair prices that seem aligned with the market. Prices and availability of product are attainable on their website (http://www.halftimebeverage.com/).
Overall
Huge. Accommodating. Varied. Easy to access. Knowledgeable staff.
1,728 characters

4.14
/5
rDev
-6.5%
vibe: 4 | quality: 4 | service: 3.75 | selection: 4.75
If you have been to the Poughkeepsie location this new spot will bring no real surprises.
Selection is huge, with well stocked aisle after well stocked aisle of quality beers. 20+ taps for your growler filling needs. Huge cooler wall in the rear. You will find everything beer here, including glass ware, gift baskets, home brew supplies. If its available in the general area, this place will have it.
My question is will they be able to move enough beer to make this giant location profitable. With every gas station, super market and convenience store seemingly stocking a decent array of craft beer, this sort of out of the way location seems kinda iffy...we will see
674 characters

3.93
/5
rDev
-11.3%
vibe: 4 | quality: 4 | service: 4 | selection: 3.75
The store is tremendous. Still aisles with empty shelves, but it's only been open for a few weeks now. Has potential but still pricey like the other New York stores. For a guy from CT this place will be a go-to since it's only 25 min away. Still wish selection was a bit more vast for the sheer size of the building. The entire back wall is cooler doors. Glassware and goodies from breweries available which I thought was cool as well as beer gift baskets. Staff was really friendly and knowledgable. My favorite part of the store is the 22 taps for growler fills. Especially the first I've ever seen, THE 16oz Growler!!!! I love this concept for a growler that size. Perfect sampler and price point (around $5-6).
Overall I will return and hope to see other new things as the store continues to grow.
803 characters
Half Time in Mamaroneck, NY
4.43
out of
5
based on
34
ratings.