Head Of Steam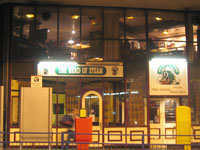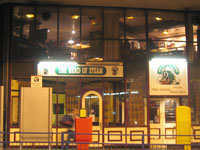 Bar, Eatery
1 Eversholt Street, Euston
London
,
England
United Kingdom
// CLOSED //
Notes:
Recent ratings and reviews.
Ratings by bark:
Reviewed by bark from Sweden
3.24
/5
rDev
-17.1%
vibe: 2.5 | quality: 3.5 | service: 3.5 | selection: 3
Somewhat tucked away at 2nd floor at a office building just at the bus stop outside of Euston Station, I found this rather crowded pub. It is stuffed with train and railroad memorabilia, which is a pleasant change from all the usual old photos and (more or less) mock old signs and commercials.

The bar offers ale from Fuller's, but there are also some four-five ales from varying micros. The beers were all in good condition and were served in a proper way. Although the place were at time very crowded the service were always good. Prices are average.

The premises are, even for being an English pub, very smoky. There is a non-smoking area, but two times of three, it was reserved (one time for a company of two (!) people).

Being a pub near a train station, most of the customers spent a rather short time in the place. I sat and observed beer and folks during two hours during late afternoon, and in that time round 80% of the customers came and went.

A pub that, located in London, gets a rating of "a little above average" that would, placed in Scandinavia, be a fantastic place.
May 14, 2006
More User Ratings:
Reviewed by wl0307 from England
3.6
/5
rDev
-7.9%
vibe: 3 | quality: 4 | service: 3 | selection: 4
30/01/06:
This place is going down-hill. It now closes at 5:30pm on Sundays because "most last trains come to Euston around then and not enough customers would be around", says the barman. Well, when I hung out there on Sunday evenings before it was taken over by the Fuller's, it was not short of real ale drinkers around! Real-ale selection is much more limited now, with Fuller's range, two Hopbacks, a cider and only two micros. Besides, no beerfest. info. is posted and I presume their previously-famous mini-beerfest. featuring regional brews no longer exists? In sum, it's a different pub now--one I like less and less.

21/08/05 (a: 3.5, q: 4.0, ser: 3.5, sel: 4.0--overall: 3.83)
O.K. this is my first time back to this pub since it was taken over by the Fuller's. Slightly change to their range of handpulled beers, of course, with four Fuller's regulars: Chiswick, ESB, Discovery and Pride, and 6 guest ales incl. Summer Lightning as the regular guest, and one real cider. Honey Dew honey beer is on tap, while I saw them starting selling alcopops which occupy some best shelves for eye-contact... (can't remember if they used to do it, but it surely left a negative impression...) Only one decent bottled beer is on offer now: Curious Brew "Brut" by Hepworth Brewery.

No sign of the previous young and friendly staff, replaced were two barmen in white shirts with lukewarm attitude and poker faces. The crowd seemed to enjoy the beers and themselves as ever, while I noticed that the glasses weren't cleaned thoroughly and left a chemical smell of cleaning agents in the glass, making one of my beers undrinkable.

All in all, if one doesn't pay too close attention, the pub is the same as before: the same interior, atmosphere, and the same type of customers. But I'd say that the beers go down a bit, in terms of choices and condition (even their own ESB doesn't taste as nice as I've had many places else). I hope Fullers can make greater efforts to at least keep the pub as decent as before, if not better.

20/06/05 (a: 3.5, q: 4.5, ser: 4, sel: 4.5--overall: 4.19)
It's an interestingly hidden-away pub on a main street in front of a major train station (Euston), which many pub-goers somehow surprisingly overlook~~ A medium-sized, Railway-museum-like theme-pub at the first glance, it's actually a decent freehouse.

At the L-shaped bar and with a constantly changing beer selections, it offers around eight to nine real ales plus one or two regular real ciders at totally ten handpumps at any one time. Their beers come from all over this country, but during my recent visits for the past four months they tend to sell a lot of beers from the north and north-east, which I am so very grateful to see and taste as they're genuinely hard to find down south. Quite often they do mini-beerfestivals as well, featuring beers from a specific region or of a particular beer-style (e.g. "Mild" month).

The atmosphere is a bit weird, by which I mean mixed. With a lot of real ales around and railway-related memorabilia decorating the place, thus a bit nostalgic, each time I was there (always during weekends) they had football matches on at two/three TVs, in front of a generally quiet and restrained crowd. Although one might ask what's wrong with that, I find the scene intriguing enough.

Some barstaff I've met are foreign (students) and generally helpful but not overly friendly, though they do know how to serve a decent pint. The "mezzanine floor" sitting area is my favorite vantage point, where I always like to sit against the windows and watch people on the street as well as other drinkers inside the pub. In short, I recommend this pub to anyone travelling to London who likes real ales and enjoys a quiet and decent pint.
Aug 22, 2005
Reviewed by GreenCard from Maryland
3.83
/5
rDev
-2%
vibe: 4 | quality: 4 | service: 3.5 | selection: 4 | food: 3.5
As others have mentioned, it's "tucked away" in Euston Station, but it is not difficult to find. If you're standing on Euston Street, facing the station, it will be on the East side (to your right), where the buses drive out. Anyway...

A good selection of hand-pumped cask beers. On the Monday evening that I was there they had: Fuller's London Porter and ESB, Brains Taff End, Ridley's IPA, Bateman's XB, and Hopback Summer Lightning. They also had two ciders; one in a gravity cask and the other on hand-pump. Then there are the requisite bottled lagers and alcopops, plus some tap-beer. The real ales are of good quality, though I suppose my pour was a bit short.

The ambience is low key. No loud music, just a TV tuned to a news channel and lots of people conversing. Had that "a couple of beers after work" vibe. Thankfully, it was not very smoky either.

Pretty good value. I paid £9 for a pint of Summer Lightning, 1/2 a pint Westons Vintage Cider, and the Shepherd's Pie special (with fries, peas, and carrots). The food is decent; typical English fare. They serve "all-day" breakfast, too.

The Head of Steam (AKA The Railway Cafe) is a good place to go if you're in the area. If you happen to be taking a train from Euston Station, I'd definitely recommend getting to the station early so that you can kill some time at this pub. Great view from their bay windows of people coming and going (good for people-watching!).
Aug 20, 2005
Reviewed by JohnW from England
3.86
/5
rDev
-1.3%
vibe: 4 | quality: 4 | service: 3.5 | selection: 4
I agree with the reviews here, this bar is well worth a visit, though easy to miss being right almost on the Euston Station forecourt, not the road alongside! Good selection of real ales, which I guess changes each week. I found it very busy the early evening I went, and standing room only. As others have mentioned, the bathroom is downstairs and you need a key code to get in, so be sure to ask before you go! If you travelling into London via Euston Station, and good place to end the evening before returning home on the train - or to start!

JohnW B'ham area
Dec 06, 2004

Reviewed by Clembo1957 from England
4.14
/5
rDev
+5.9%
vibe: 4 | quality: 4 | service: 4 | selection: 4.5
Handily situated just outside Londons Euston Station, this upstairs bar is an haven for weary travellers, tourists, beer and rail enthusiasts and local workers. It's also handy as a starting or finishing place for a London pub crawl! The Head of Steam has plenty of railway memorabillia and a good selection of Real ale on handpump, toilets are downstairs and require a door code - remember to ask before you go down because it'll save you a walk!

The Head of Steam can get very busy at times so for a quiet drink visit 'off peak'. there's a good view of the bus station from the windows. Quality wise and price wise the bar is better than the Station bars inside Euston. Well worth a visit. Euston or Euston Sq Underground easilly reached.
Apr 13, 2004
Reviewed by Dantes from New Jersey
4.3
/5
rDev
+10%
vibe: 4 | quality: 4.5 | service: 4 | selection: 4.5
The best things about this place were that it was close by where I lived, and is right by Euston Station, which is on the Northern and Victoria lines (including the trains to Scotland!). The last time I was there, they had at least 8 taps, and was one of the few places in London that had Timothy Taylor's Landlord on tap.

Atmosphere: The interior is heavily decorated with train and transportation memorabilia. Everything is brightly polished and almost overdone, but this isn't just a touristy pub. They really run a fine beer establishment here.

Selection: Much better than the average pub. A freehouse, they offer a wide and ever-changing selection. As mentioned, it was one of the few places that often has Landlord on tap, as well as other rarer brews. There are also the standard cider (Scrumpy Jack!) and lager offerings.

Quality: The ales are kept in top shape here. Everything is fresh and well-cared for. The turnover is excellent, because this pub is well-known and gets a lot of foot traffic. You won't be disappointed.

Service: As is typical with most UK pubs, service is very friendly and patient. Prices are also good, especially compared to the "cafes" inside the station, etc.

Food: I didn't eat here, but there are quite a few Indian and Middle Eastern samosa/kebab shops nearby.

Backwash: An excellent jumping off point for train trips to the North. Nothing like a preparatory pint or three before training to Edinburgh! One caveat: things may have changed, but I lived nearby at Mecklenburgh Square and the neighborhood could get a bit dicey after dark.
Mar 19, 2004
Reviewed by zerk from California
4.3
/5
rDev
+10%
vibe: 4 | quality: 4.5 | service: 4 | selection: 4.5
The first time I tried to go to Head of Steam, I made a long trek only to find it closed. Luckily I persevered (and the second time, called ahead), and found it open. This is one of my favorite pubs in London, mostly due to its wide range of cask ales. When I was there, I found 8 different ales on cask, and not one that I had previously tried.

The decor is a mixture of train and bus memorabelia, being just outside of the train and bus station. It's brightly lit, with a wooden bar, floor, and chairs. Definitely worth checking out if you're looking for a good selection of English beer.
Jan 05, 2004

Reviewed by francisweizen from Washington
4
/5
rDev
+2.3%
vibe: 4 | quality: 4 | service: 4 | selection: 4
This is a review for the one right by the Euston stop. I was taken here by Rob at the end of our great pub crawl across London. This was a modern looking place, which was mostly wood, and brightly lit. The quality of the beers was excellent, as were the prices. The bathrooms were in good shape and the selection of brews was also wonderful. This is definately a good place to have a drink if you are in the area!
Nov 06, 2003
Head Of Steam in London, GB2, United Kingdom
Place rating:
3.91
out of
5
with
8
ratings