Bishop's Barrel 5
| Saint Arnold Brewing Company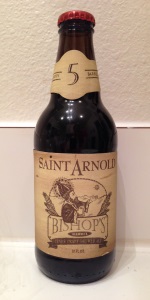 BEER INFO
Brewed by:
Saint Arnold Brewing Company
Texas
,
United States
saintarnold.com
Style:
Scotch Ale / Wee Heavy
Alcohol by volume (ABV):
12.00%
Availability:
Limited (brewed once)
Notes / Commercial Description:
No notes at this time.
Added by VernonBaxter on 11-04-2013
This beer is retired; no longer brewed.
Reviews: 15 | Ratings: 164
5
/5
rDev
+16.8%
look: 5 | smell: 5 | taste: 5 | feel: 5 | overall: 5
If I had one beer to drink for the rest of my life, forsaking all others, it would be this one. Dark, rich, flavorful, oaky, chocolatey, strong... It has almost everything my taste buds desire in a beer. Not as thick and rich as a stout, yet still dark and full. I'm a huge Wee Heavy fan and Saint Arnold didn't disappoint in delivering one here. Yet they added a fuller, richer taste by adding cocoa nibs and aging the brew in bourbon barrels, which adds a sweetness and oaky flavor that really caps off a near-perfect beer. My one HUGE complaint about this beer is that it's a one-off. One small batch and done. That contributed to the hefty price tag as well, ($13 for a 12 oz bottle!) but I got to have a few on my birthday in November and it's the present I'll likely remember most! I will miss this beer, though Founder's made one very similar (again, a limited small-batch) so I can at least prolong the experience just a bit longer.
940 characters
4.69
/5
rDev
+9.6%
look: 4.75 | smell: 5 | taste: 4.5 | feel: 4.5 | overall: 4.75
This beer seemed easier to get than the other BB releases. Smell was great as the Wild Turkey came through easily. Taste was very boozy, but I think it will calm down a little as the beer mellows with age. Mouth felt warm with spicy bourbon fire breath , but overall this is another fantastic release in the BB series from SA.
326 characters

4.66
/5
rDev
+8.9%
look: 4.75 | smell: 4.25 | taste: 5 | feel: 4.5 | overall: 4.5
Worth every penny, I was surprised to see a local gourmet burger joint carrying this and promptly ordered one. My only regret is that I had but one beer to drink there. Have not had it back since. Saint Arnold's really hit a sweet spot with this one and I'm looking forward to a day when this is a regular offering in the grocery.
332 characters
4.52
/5
rDev
+5.6%
look: 3.5 | smell: 4.5 | taste: 4.75 | feel: 4.25 | overall: 4.5
Pours out very dark brown with a tiny white head with little retention. Smell is definitely of dark fruits, brown sugar, slightly chocolatey, a decent amount of booze. Smells really nice. Almost smells like BCBS if I had to pick a beer that smelled similar (different styles but ...). Taste is much like the nose as you can definitely taste everything mentioned before but the booze seems a little more subdued than in the nose. This is an incredibly great tasting beer as far as my taste goes and since I've been reviewing I have never given a beer a 5 but this is close. Mouthfeel is medium thick and great for the style. I just can't get over how much I love this beer. Get one if you can cause they just don't get this good that often -- at least as far as my taste goes. I sure hope this is actually brewed again because this is a world class beer. I got this beer for showing an out of town BA around to the local stores. I feel really rewarded. I assume this beer is fairly new although it is barrel aged. I can't even imagine how good this beer would be with more time. That being said I don't know how much more I could expect from a beer. Keep your eyes out for these guys!!!
1,185 characters
4.47
/5
rDev
+4.4%
look: 4 | smell: 4.5 | taste: 4.5 | feel: 4.5 | overall: 4.5
Appearance: Arrives tan-capped with the liquid underneath a root beer brown; strands and dots of lacing are left behind
Smell: Dark fruit and Bourbon with hints of brown bread and molasses
Taste: Brown bread and molasses, up front, with dark fruit (fig and date) flavors building in the middle; after the swallow, the Wild Turkey builds and brings sweet licorice and vanilla elements; boozy aftertaste
Mouthfeel: Full-bodied with moderate carbonation; warmth in the gullet
Overall: A really excellent beer; I would like to see some peat flavor come through as well, but every other aspect of the beer was quite enticing
624 characters
4.43
/5
rDev
+3.5%
look: 3.75 | smell: 4.5 | taste: 4.5 | feel: 4.25 | overall: 4.5
A: Pours a dark brown with some ruby highlights around the edges. A bubbly beige head noisely forms. Then recedes in a second. Little lace is left behind.
S: Just an awesome nose. Toasted and caramel malts up front. As this warms big barrel aromas come out. Oak and vanilla are very welcome. All with a chocolate finish.
T: Like the nose, the malts of the base beer are up front. Toasted and baked bread like. A caramel sweetness. Maybe a bit of smoke peaking through. Again, as this warms all the barrel flavors come out. Oak, vanilla, and that great lingering chocolate flavor.
M/D: A full body moderate carbonation. Smooth and velvety. A bit of heat though overall, so easy and enjoyable to drink. Everything is so well integrated considering the alcohol and barrel. A treat to drink.
Another excellent offering from Saint Arnold this year. My biggest complaint from previous BB releases have been the thin mouthfeel. Knowing how good DR 4 was to begin with, that was not a concern here. A great all around offering.
1,022 characters

4.37
/5
rDev
+2.1%
look: 3.75 | smell: 4.25 | taste: 4.5 | feel: 4.25 | overall: 4.5
12 oz bottle courtesy of fthomasl pours a dark mahogany color with very little head, what is there sticks to the side quite well.
Nose is sweet molasses, plums and currants. Malt is probably more unsweetened chocolate than anything else...prett faint. The barrel character is light but noticeable.
Taste is earthy and creamy with a fair amount of booze. The chocolate malts is a unique approach to a wee heavy. Mouthfeel is medium, I dont think its too thin as I have seen some others mention. The Bishop's Barrel series have all had such a nice smoothness to them that is really cool, this one is no exception. Excellent beer.
630 characters

4.3
/5
rDev
+0.5%
look: 4 | smell: 4.5 | taste: 4.25 | feel: 4.25 | overall: 4.25
Pours a finger or more of tan head that fades away. Color is a deep caramel hued copper brown.
Flavor profile: caramel and toffee up front. A lot of vanilla, oak, and bourbon. Some fig, molasses, and cinnamon. A lot of malts. Very smooth and rounded out.
Mouthfeel: warming, smooth, creamy. Medium to full bodied. Good amount of carbonation. Ends clean.
Overall, a really nice beer. Easy drinking with a lot if flavor. I could drink a lot of this.
451 characters

4.29
/5
rDev
+0.2%
12oz bottle poured into an unlabeled snifter 8/18/2014.
A- The body pours a very silky smooth, dark brown body that is nearly black, very much like a stout. Up rises a thick, creamy, foamy mocha head that extends to two fingers evanescently; with just the right amount of retention- lingers long enough to get a man excited, but disappears quickly enough that you can start drinking without getting a milk mustache. [4.5]
S- Clean bourbon flavours with wet oak, vanilla notes and a lingering toffee sweetness from the base malt. Smells like tootsie rolls soaked in bourbon. Not particularly complicated, but very delicious. [4.25]
F- Toffee, tapioca sweetness up front that clears out almost immediately for a clean whiskey-forward smoky charcoal sweetness, finishing up with the barrel's oak and vanilla contribution; predominantly oaky of course. Transitions very nicely and very elegantly. [4.25]
M- Medium in body, well carbonated with a strong smoky bourbon finish. Definitely a sipper as the heat on this is quite strong. [4]
O- This is an excellent barrel-aged scotch ale. There aren't very many out there aside from Backwoods Bastard which is still the leader in the genre. To me, this beer strikes a nice balance between sweet maltiness and sweet smoky bourbon and vanilla- Backwoods Bastard tends to favour the latter but strikes a good balance; this is somewhere closer to the former but without sacrificing much of the latter. Again, this is a barrel-aged scotch ale worth getting. [4.25]
Final score: 4.2875
(Using the above ratings for each category and the weights below, per the old system)
Appearance 5%
Aroma 20%
Taste 45%
Mouthfeel 10%
Overall 20%
0.05*4.5+0.20*4.5+0.45*4.25+0.1*4+0.2*4.25
1,717 characters
4.26
/5
rDev
-0.5%
look: 4 | smell: 4.25 | taste: 4.25 | feel: 4.5 | overall: 4.25
A: Heavy sediment floats in the dark, brown liquid inside my chaliced wine glass. A thin head came up on the top, which dissipated quickly.
S: Vanilla, bourbon, chocolate nibs, dried oak.
T: A woodsy character is the first piece, followed by a rounded vanilla flavor. The bourbon and chocolate are rather prominent, too, and the finish is sweet and playful.
M: A slight prickly carbonation helps the full-bodied notes. It sips well, and obviously gets better with warmth.
O: Backwoods Bastard is my standard for BBB Wee Heavy, but this is a very solid attempt by my fellow Texans. Their Bishop's Series continues to do good work.
637 characters
4.2
/5
rDev
-1.9%
look: 3.75 | smell: 4.25 | taste: 4.25 | feel: 4 | overall: 4.25
Coffee colored; minimal beige head.
Smells like dark bready malt and whiskey barrel; has some savory nuttiness along with sweet malty and barrel notes - coconut, spice, vanilla - all meshing very well and smelling quite delicious, especially as it warms in the glass.
Tastes good, just as it smells; dark bready malt, nuttiness, and bourbon barrel flavors mesh nicely. Medium level of sweetness, well balanced, and eventually ending dry and a bit woody; good length. Tasty.
Good stuff.
488 characters
4.18
/5
rDev
-2.3%
look: 4 | smell: 4 | taste: 4.25 | feel: 4.25 | overall: 4.25
Dark ruby red body and a thin lightly tanned head forms from a bartender pour into a snifter.
Sweet fruitiness - cherry and dark fruits and booze with a little wood on the nose.
The taste is boozy and warm from the bourbon. Little bit of coconut from the barrel. Dark fruit and cherry. Caramel and sweetness from the big malty beer and bourbon.
Smooth medium bodied with soft carbonation.
The barrel and spirit seem to dominate this beer which works for me.
462 characters
4.14
/5
rDev
-3.3%
look: 4 | smell: 4.25 | taste: 4 | feel: 4.25 | overall: 4.25
Saint Arnold Bishop's Barrel No. 5 has a thin, cream-colored head, an opaque, brown appearance, with little beige chunks suspended throughout, and some lacing left on the glass. The aroma is of rich, very sweet, brown bread crust, strong bourbon, some vanilla, coconut, and alcohol. Taste is of bourbon, vanilla, coconut, brown bread crust, lots of alcohol, dark-roasted malts, and a bit of hop bitterness. Mouthfeel is medium and not cloying, and Saint Arnold Bishop's Barrel No. 5 finishes semi-dry, surprisingly mellow, and rich. Overall, this is very well done and more drinkable than one would expect for such a high-alcohol beer. It is really delicious!
RJT
669 characters
4.06
/5
rDev
-5.1%
look: 3.75 | smell: 4 | taste: 4.25 | feel: 3.75 | overall: 4
Serving: 12 oz bottle (stamped "102513") poured into a 5.5 oz Libbey Embassy snifter.
Appearance: Very dark brown with reddish hue. Modest head of khaki foam.
Smell: Toffee, vanilla, some dark fruit and alcohol.
Taste: Similar to the nose, caramel, vanilla, unsweetened chocolate, slightly smoky malt with an overall restrained sweetness. Alcohol comes through strongly with a bit of burn.
Mouthfeel: Medium body and smooth feel, though almost light relative to its taste.
Overall: A boozy, warming sipper.
511 characters
4.01
/5
rDev
-6.3%
look: 3.25 | smell: 4 | taste: 4.25 | feel: 3.5 | overall: 4
Poured from a 12 oz bottle into my Saint Arnold Patron Saint of Brewers pint glass.
A: Black. Pours a 1 finger, bubbly, brown-white head. Settles pretty quickly. Very slight lacing mostly retreats back into the body of the brew quite hastily. Head completely vanishes eventually.
S: Roasty malt. Black licorice is prominent. Unsweetened dark chocolate, and a little molasses.
T: Toasted malt grains. Raisin is prominent. Pungent peat. Bitter unsweetened dark chocolate.
M: Thick, hearty, and syrupy. Kind of an unusual cloying sweetness in the end. Dry finish. High alcohol is apparent.
D: Sip and savor. The fullness will dictate it.
Atmosphere is really nice. Dark and intimidating. Light bubbly head which disappears completely leaving no trace of its prior existence. Very minute lacing. Malt is roasty with with licorice, chocolate, and molasses components. Toasty malt, very sweet raisin, pungent peat and bitter chocolate for balance. Thick and full. Overall, this is a really good quaff.
1,001 characters
Bishop's Barrel 5 from Saint Arnold Brewing Company
4.28
out of
5
based on
164
ratings.