Bishop's Barrel 1
| Saint Arnold Brewing Company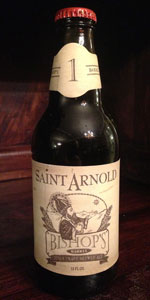 BEER INFO
Brewed by:
Saint Arnold Brewing Company
Texas
,
United States
saintarnold.com
Style:
Russian Imperial Stout
Alcohol by volume (ABV):
12.00%
Availability:
Limited (brewed once)
Notes / Commercial Description:
No notes at this time.
Added by PhatAtUT on 11-06-2012
This beer is retired; no longer brewed.
Reviews: 31 | Ratings: 183
4.73
/5
rDev
+13.4%
look: 5 | smell: 4.5 | taste: 5 | feel: 4.5 | overall: 4.5
Rich, smooth Russian Imperial Stout with a hint of the bourbon barrel finish - Woodford Reserve, I heard. Creamy, slightly caramel head. Flavor continues to open up as it warms and the complexity is incredibly well balanced. Top notch offering from Saint Arnold!
262 characters

4.57
/5
rDev
+9.6%
look: 4.5 | smell: 5 | taste: 4.5 | feel: 4 | overall: 4.5
A - Poured by the bartender from bottle to snifter. Pours nicely, dark black body with a hint of caramel where the light hits the stem. Minimal, beige head, with a lace that dissipates almost immediately.
S - Booze are in the nose, but more of a comforting, rich whiskey smell. A little chocolate, as well.
T - Very complex spices hit the tongue immediately, with a finish of chocolate and subtle whiskey and dark fruits. The booze are well-hidden, considering the beer was touting 9.1% prior to being barreled. The owner tweeted that the beer finished at around 12% prior to bottling. You would never be able to detect it.
MF - Not as syrupy as one would expect, but still carried some weight. Minimal carbonation.
O - I was lucky enough to try this beer in Cedar Park at The Dig Pub. They received 24 bottles, and were only selling 12. Very impressive. As far as Texas beers go, it seems like St. Arnold is just taking over 2012.
935 characters
4.04
/5
rDev
-3.1%
look: 3.5 | smell: 4.5 | taste: 4 | feel: 3.5 | overall: 4
Have had several bottles over the last week at various places in Houston.
A: Pours a dark brown, nearly black color. A one finger tan head forms, and recedes quickly. Light lace is left behind.
S: The barrel is very apparent, and very well incorporated. Wood/oak and vanilla is up front at first. Molasses, and liquorish. Bitter chocolate in the finish. The barrels are awesome in the nose.
T: Follows the nose. Plenty of wood/oak and vanilla. Light chocolate, and even some spices like cinnamon and ginger. Light molasses as well.
M/D: A medium body and carbonation. Not viscous at all. Which I like, though I wish for just a bit more body. Very easy and enjoyable to drink. A good sipping beer.
Overall, I really enjoy what the barrels add. Not that complex, but well integrated and very enjoyable. Something that I would recommend.
837 characters
4.44
/5
rDev
+6.5%
look: 4 | smell: 5 | taste: 4.5 | feel: 4 | overall: 4
Had this one at Luke's Ice House on election night.
Pours a dark coffee black with ruby edges. The head is sucked down under the weight if the abv. Thin ring stays for the remainder of my beer.
The aroma is heavenly! Woodford Reserve slaps me across the face with oaky notes, rich vanilla, roasted malt and chocolate.
The taste follows the nose but is a tad under the awesomeness of the aroma. This beer is mighty tasty. Great bourbon notes dominate followed by oak and vanilla. Roasted malt and chocolate are present in the background.
The mouthfeel is the only weakness of this stout. A tad thin with a little too much carbonation. It's not the worst thing that could happen to this beer though. It keeps it easy drinking and hides the alcohol. I would like for this to be thicker and have a higher viscosity but it's not bad enough to bother me.
Overall, I got to give it up to Saint Arnold's. Not the best BBA Stout but it was a damn find beer. These guys keep on comin with new stuff(minus DR12) and are moving in the right direction. Worth seeking out!
1,064 characters
3.38
/5
rDev
-18.9%
look: 4 | smell: 3.5 | taste: 3.5 | feel: 3 | overall: 3
I tried this one in a bottle at a bottle share with friends and I was not impressed. We poured it from a bottle and it looked and smelled like it was going to be as good as expected, but no dice. The look was that of a robust stout with a thin tan head and the aroma was instantly noticable bourbon. There was a faint hint of vanilla that quickly faded. However, the taste was more of a thin, raisiny porter not a robust stout as I have remembered from earlier versions of the whiskey stout. It definitely has a cocoa flavor as it warms, though. The mouthfeel was definitely bourbo and it goes down easily, leaving a slight aftertaste with bits of the bourbon. To me it did not resemble the Tatanka stout they used in earlier versions that seemed thicker, and got me started on some whiskey barrel brews. I had high hopes for this, and maybe I need one more to change my mind, but from what I tasted I left feeling a bit let down.
930 characters
3.88
/5
rDev
-7%
look: 4 | smell: 3.5 | taste: 4 | feel: 4 | overall: 4
A: drinking in a dimly lit bar, but basically looks like an imperial stout. black with a thin tan head
S: at first whiff it smelled like a shot of whiskey. mellowed out some after a couple of minutes. get vanilla and a little cocoa.
T: the whiskey is definitely very upfront. doesn't really come off as particularly "hot", but there is certainly a very obvious whiskey flavor. get a hint of vanilla and milk chocolate. obviously some roasted malts. it's pretty tasty actually, but the whiskey verges on dominating the palate. a little too much barrel characteristic.
M: mouthfeel is fine. very early reviews I saw said too thin, but I didn't find that to be the case. it's not thick and chewy, but I don't find it to be too thin as to take away from the beer.
O: I enjoyed it. it does taste a little young and I could see it improving a little. wouldn't put this in a class with the best BA stouts I've had, but it's a tasty beer and i would certainly drink again
978 characters
Bishop's Barrel 1 from Saint Arnold Brewing Company
4.17
out of
5
based on
183
ratings.