Priory Arms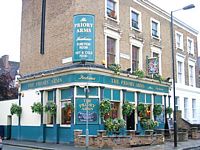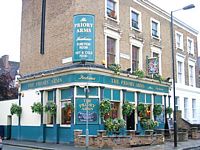 Bar, Eatery
83 Lansdowne Way
Stockwell
London
,
England
, SW8 2PB
United Kingdom
+44 020 7622 1884 |
map
theprioryarms.com
Notes:
Reviews by TheLongBeachBum:
TheLongBeachBum from California
3.94
/5
rDev
-3.9%
vibe: 3.5 | quality: 4 | service: 4 | selection: 4
The day had started with an early morning call in Senec, Slovakia followed by; a drive to the border and a Soviet-style crossing into Vienna, a flight from Vienna to Heath(Robinson)row, a Tube ride to Earls Court to meet BA RichLightWeight, a visit to his pad for a quick bag drop, then a ride out to the City of London for some beer at the Seven Stars and Ye Olde Cheshire Cheese with LondonPorter, a meet-up with wI0307 at Ye Olde Mitre Tavern for a splash, yet more beer and glass smashing at The Jerusalem Tavern followed by a Belgian pit-stop at The Dovetail and then some fine Real Ale at The Wenlock Arms….finally, after all that I made it here; Stop #7 on a superb Friday evening cum night time pub crawl.
Needless to say, a weary aging Bum knew it would only be a matter of time before the infamous SumerianBeerTrance took effect, but before the slumbering siesta, I managed to enjoy at least a partial pint in here.
I had visited the Priory on at least two previous occasions many years ago after the Great British Beer Festival. It has not changed much I have to say, a simplistic unpretentious local that is a true Free House.
83 Lansdowne Way is a corner placement with lots of cream colored and dark green painted panels. A tall wall mounted sign high on the corner is hard to miss, but the coat of arms that swings above the entrance is one of the most attractive hanging signs I have seen from many years.
Single room interior broken up with a raised area close to the traditional looking bar situated at the far end on the right hand side. The usual round tables and chairs help to take up floor space, together with some larger rectangular tables which smatter the edges of the pub and sit easily with the dark red carpet and cream painted walls. Lots of Handpump clips from previous Guest Beers litter the walls and bar area, as do beermats and other beery paraphernalia.
Beer range is superb for such a small local. Six Handpumps deliver a fine range of ales. Nethergate and Bateman's offered up two Guest choices. A few of us opted for one of the Guest beers, Bateman's Brewery, 'England Expects', I am told that this is a shortened moniker for 'England Expects the usual performance and penalty shoot out fiasco', an OK malty dark copper brew though. Aside from the Real Ales there is also a nice range of continental lagers and wheat beers to support the Cask offerings. The Priory has a clear dedication to craft beer and Real Ale and is proud to display it. In support of this it also serves a fine range of Single Malt Whiskies, fruit wines and a decent bottle beer range which includes many Teutonic brews with a handful of Belgians too.
Service was good and the atmosphere was very much that of a local's bar that serves up a fine range of well kept Real Ales. A fitting finish to a fantastic Friday pub-crawl. Tomorrow would be another day, 12 more bars and more beer, but despite my tired and aching weary carcass this was the perfect establishment to enjoy a quiet pint and finish off a hard days drinking, even if it did involve a quick nap!!
Last Visit: Friday 23rd June, 2006.
Jul 03, 2006
More User Reviews:
Xadoor from Texas
3.94
/5
rDev
-3.9%
vibe: 3.5 | quality: 4 | service: 4 | selection: 4
One of the many pubs that wl0307 hauled me around to while on a recent visit to London. As in almost each pub that I visited, I was like a little kid in a candy store. Each pub offered new brews that I had never heard of or been able to try before -- Piddle In The Spring which had a tap handle showing a boy peeing into a stream being one of those beers. At first it seemed like it would probably be like one of the many local neighborhood watering holes, but this one turned out to be so much more. In addition to a good number of handpumps, they had a surprisingly wide variety of bottled beers as well. After a quick pint, Yau (wl0307) selected a couple of interesting beers (see his review below) for us to share and enjoy. Definitely one of the highlights of our pub crawl as I got to try a Rauchbier for the first time.
Jun 29, 2006
wl0307 from England
4.1
/5
rDev 0%
vibe: 3.5 | quality: 4.5 | service: 4 | selection: 4
Visited this back street local along with Houston based BA Steve (Xadoor) two days ago. The exterior seems to have been renovated, looking pretty shiny and clean, not like any sort of run-down local. The pub has a one-room layout, with the main bar occupying the far right end of the pub. From the display of hundreds of pump-clips of those beers served in the past, one can't miss that it must be a real ale heaven!
Five handpumps awaited us, serving mostly microbrews, incl. two Milds, THE beer of May, and the condition of real ales was really good. Czech Budvar and Paulaner weizen were on tap too! Awaiting us in the fridge were around 20 nicely selected micro-brews from Germany, all at 3.5quid which is not too bad for London. We had Göller Kellerbier and Schlenkerla Rauchbier Märzen, both kept at the perfect temp. Some Belgian brews were also available, but mostly uninspiring stuffs with the only exception being the Chimay range (still usual suspects)... I spotted quite some interesting Irish Whiskies and fruit wines on the shelves as well, to complement the whole range of good stuffs to suit various tastes.
It was Sunday afternoon upon our visit, so unavoidably the pub was packed with locals watching live football matches+enjoying Sunday roast, and the decor also had an extra touch of nationalistic feel with St. George's flags/banners hung all over the place, I guess to prepare for the World Cup fever to come in just two months. A bit noisy, but not necessarily uncomfortable. As the football match finished, the pub turned straight back to a relaxing local in no time.
All in all, the place is really a nice back street local with friendly service, serious attitude to supporting British (and German) microbrews. Trust them, they know their beers.
May 23, 2006

UncleJimbo from Massachusetts
4.08
/5
rDev
-0.5%
vibe: 3.5 | quality: 4 | service: 4 | selection: 4.5
During my most recent visit to London in early November 2004, I decided to make the trip to The Priory Arms. As another review mentioned, it is located in an unpretentious area of London, and it seems to be an unpretentious locals pub, but with a good selection of real ales.
The pub itself it somewhat small with perhaps 12 tables and booths for seating as well as a sofa along one wall in a carpeted area a step-up on the left as you enter. The bar is on the right along the wall. The front of the pub has windows that look out onto the street. There were a couple of TVs and there was pop music piped in during my visit. There was a "fruit machine" (similar to a slot machine for gambling) near the front entrance. The walls of the pub were adorned with many beer coasters and there was other breweriana around. The pub is very well lit.
As for the beer, there were ~6 ales on handpumps as well as 4-6 others on tap. The pours were good. I sampled a Morehouse Black Cat Mild and an Adnam's Bitter. Very nice ales. I find it hard to pass up a Mild on cask.
The barman was friendly. The other customers were few during my visit and kept mostly to themselves or their party. I asked the barman about food, but was told that there was "no food, only snacks". It was unclear whether this meant in general, or at the time of my visit (~ 6 PM on a weeknight). I settled for a bag of curry snacks.
This is definitely a nice free house with some very good real ales and is worth a visit.
See my one exterior shot of The Priory Arms here:
http://www.imagestation.com/album/pictures.html?id=2134295712&idx=11
or
http://www.imagestation.com/5248314/4126444205
Jan 13, 2005
saskguy from Canada
4.43
/5
rDev
+8%
vibe: 4 | quality: 4 | service: 4.5 | selection: 5 | food: 4.5
An unpretentious pub in an unpretentious part of London. The Priory Arms has a great selection of real ales. They make an effort to bring in new beers on a regular basis.
The staff is very friendly and knowledgeable about the beer they keep. In addition to UK beer they also keep a selection of Belgium beers in bottles.
The food is good pub fare.
In addition to the main pub space, they also have an upstairs room that can be rented by groups.
The numbering on the street is a little wonky, but worth looking for.
Dec 03, 2003
Priory Arms in London, GB2, United Kingdom
Place rating:
4.1
out of
5
with
5
ratings