Links Taproom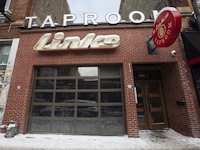 PLACE INFO
Type:
Bar, Eatery
1559 N Milwaukee Ave
Chicago
,
Illinois
, 60622-2009
United States
(773) 360-7692 |
map
linkstaproom.com
Notes:
No notes at this time.
Added by Fluffheady on 01-12-2014
Reviews: 9 | Ratings: 40

3.9
/5
rDev
-7.6%
vibe: 1 | quality: 4 | service: 4.25 | selection: 4.75
The Links is a long, narrow and cavernous space in the main bar thoroughfare of Wicker Park. Full of douchebags and annoying white people, probably from the suburbs. I would completely avoid this place on weekend nights. It is crowded, super loud and the atmosphere is thoroughly terrible... but man, the beer!
35 taps and 2 casks and so much quality stuff: Almanac, Goose Lolita, Madame and Halia, Revolution, Oso, Temperance, Solemn Oath, New Belgium, Pig Minds… pricey for small pours ($7-$8) but such cool shit, yo!
The loud and douchey atmo ruins it for me, but maybe on a weekday it is not as bad. Service at the bar was surprisingly fast and attentive.
665 characters

4.06
/5
rDev
-3.8%
vibe: 4.25 | quality: 4 | service: 4.25 | selection: 4 | food: 3.75
Another good place in ChiTown. Selectionn of brews was good, and larger than some in the area. The layout and service were good. Foods were good and well prepared. I'd recommend checking out. There are also a few good craft beer stores in the walking area, and at least one brewery close by. A half days visit.
314 characters

4.49
/5
rDev
+6.4%
vibe: 4.5 | quality: 4.25 | service: 4.75 | selection: 4.5 | food: 4.5
This is my kind of place. Stopped by at 6pm on a Sunday. Not packed at all but a solid rotating crowd. 40 handles including 4 cask handles if that's your thing, concentrated with a few locals when I was there. Bartenders were quite attentive. Didn't get any food but the sausages looked and smelled awesome. My only knock is that lots of offerings were on short 13 or 9 oz pours
378 characters
4
/5
rDev
-5.2%
vibe: 3 | quality: 4.5 | service: 3.5 | selection: 4.5 | food: 3.5
Let's be honest. They are named for serving sausages...no homo. And they do just that, very well. The vibe is that of a restaurant which serves beer as a secondary...not quite a gastropub. Their selection is great, and diverse. I have been there about 5x and each time there has been a very knowledgeable employee. I don't think the food is worth the cost imho, but it is tasty. Give it a try and tell me I'm wrong. I love it because wicker park desperately needed a diverse taproom, and it filled my hole (no homo).
516 characters
4.93
/5
rDev
+16.8%
vibe: 4.75 | quality: 5 | service: 5 | selection: 5 | food: 4.5
Great beer selection. Love the screens with beers on tap and even showing keg status. Had the Goose Island Bourbon County Coffee Stout, which was amazing itself. Bartender was very knowledgeable and a great guy.
211 characters
4.63
/5
rDev
+9.7%
vibe: 4.75 | quality: 4.75 | service: 4.5 | selection: 4.5 | food: 4.75
I have visited several times, and would recommend Link's to anyone looking for good beer and food. Each time I have visited they have had a good mix of different beers, including beers on tap, cask, and bottles. It is clean, the staff is friendly, and the food is very good, and reasonably priced for Chicago. They utulize a cool menu that is displayed on TVs, that shows all the beer (and wine) they have on tap, with notes, as well as how much of the keg is left. Great spot!
481 characters
3.9
/5
rDev
-7.6%
vibe: 3.5 | quality: 4 | service: 3.75 | selection: 4.25 | food: 3.5
10/24/14:
Links has improved since my last visit, the bartender greeted us, explained the ordering system, and what beers had just tapped. Also he produced a bottle list when we asked, and I noticed a new sign over the coolers mentioning this. They had 3 casks running, and several 4 Hands beers had just been tapped for the night. Better variety of draft seasonals and one-offs as well.
2/14/14 - 3.8
Stopped in here recently to see what all the raves were about. Sure there's a great local/regional craft focused tap list, but that alone doesn't necessarily make a destination in itself anymore. It seems like everyone is opening a brewery or new beer bar nowadays, it takes something unique to keep people coming back. I'll avoid making the obvious Bangers & Lace comparison.
Once inside and past the bouncer, the wooded ceiling and exposed ductwork and brick interior stood out, lending to the minimal industrial vibe. Quirky beer themed touches like growler lights and keg tables, bottlecap flooring, magnum bottle lamps, with tap list screens glowing like giant iPhones on the wall. It was almost as if someone let an interior designer run wild with the whole "beer" theme. Modern and hip, though ultimately sort of sterile... not so much of a cozy place to drop in whenever, but still much less cheesy than 99% of the Wicker Park bar scene.
Everything is self service, kitchen and bar, no printed beer list available when I asked the bartender, they directed me to the overhead screens. There were 2 cooler doors full of bottles towards the back, but no mention of them or prices. Kind of awkward. Noticed Navaja, Pipeworks, Une Anée, and La Roja in there after I'd ordered a beer already. Local stuff on tap like Half Acre, Revolution, Solemn Oath, Temperance, Buckledown, and regional staples like Founders (Imperial Stout and Backwoods Bastard), and Stoney's favorite: Green Flash Palate Wrecker. No imports. Prices were fair, though they charged tax on beer at the bar which is an annoying pet peeve. Oh, that $6 beer will be $6.57... and get your own water. Tragically hip and cafeteria-style, a fairly by-the-numbers experience that left something to be desired. Not at all a bad option if you're intentionally hanging out in Wicker park, but more often than not i'd rather be at Piece or Map Room.
2,318 characters
4.74
/5
rDev
+12.3%
vibe: 4.75 | quality: 5 | service: 4.5 | selection: 4.75 | food: 4.5
Links Taproom is exactly what a craftyish wannabe strip of Milwaukee Ave in Wicker Park needs, an actual Craft Beer Bar! What a joy it has been in the three times I have visited it since the grand opening earlier this month.
Where to start... there are nearly 40 taps all dedicated to craft beer and most of them being from the midwest! Not to mention 3 cask beers and even wine on tap. Now these choices aren't simply a bunch of common everyday craft beers.... they actually have seasonal, hard to find varieties, one offs, and just a perfect selection of delicious beers for everyone to enjoy. Some highlights from my recent visits include: Founders Backwoods Bastard, Bells Harvest Ale, Goose Island Bourbon County Stout , Goose Island BCBS Barleywine, Half Acre Heyoka, Revolution Anti Hero IPA Cask conditioned with Sonnet hops, Founders Breakfast stout( with double chocolate CoffeeBourbon soaked oak schops and Arbol Chili Peppers) just to name a few of my favorites. I am an avid beer drinker and proudly say that I have over 1300 distinct beers on untappd but still found that over half of the list of Links beers I have never tried!
I also absolutely love the unique way that they have giant HD TV screens displaying the tap list which has so much detailed and useful information all over it including Brewery name, Beer Name, ABV, IBU glass wear and oz of beer being served! One of the coolest feature in my opinion is the green to red colored keg next to the beer info that shows how much is left.
Next to the two massive HD TVs are a few large coolers for large format bottles filled with local favorites such as Pipeworks and I even was lucky enough to grab a rare Deschutes Abyss on opening night!
Besides all of the delicious rotating craft beers, Links also has a very tasty sausage bar area (hence the name Links) that is tastier each time I try a new variety! I have had the Sweet Italian, which was good...then had Duck Your Face, which was even better...then this past Friday had a super delicious Elk Sausage! SO many varieties, so many great flavors. I look forward to trying their epic Fry monstrosity called Buried Alive with fries, sausage, bacon, giardiniera, cheese and I believe a few more artery clogging deliciousness! I will hopefully be splitting that bad boy with a buddy.
Overall, to quickly sum this up... this is the ultimate craft beer bar of the entire near north of Chicago and easily pushes its way into my top 5 craft beer bars of Chicago! Links, keep it real and keep rotating those tasty beers as I know you will!
2,566 characters

4.61
/5
rDev
+9.2%
vibe: 5 | quality: 4.5 | service: 4.75 | selection: 4.5 | food: 4.5
I've been waiting for a bar like this to show up in Wicker Park/Bucktown for a long time. It's safe to say I've found my new spot. Seriously. Links rocks. Links Taproom features 40 taps including 2 Nitro and 4 Casks. They also have an amazing digital beer board that displays the tap list, is updated in real time, and displays everything from ABV and IBU to the color of the beer and KEG LEVEL. If you check in to Untappd, Foursquare, Instagram, or tweet the bar, it scrolls across the screen. About 2/3 of the tap list is from Illinois or states that touch it. These guys are incredibly passionate about serving local good beer and it shows. The only macro is PBR...but it's Wicker Park. Links has a service model that isn't seen too often around Chicago: there are no servers, but there is a large service area where you can go quickly grab your own beer. If you want food, you order it at the food window and it's delivered to your table. The service model is actually very similar to the Founders brewpub, and it's honestly my favorite kind of service at a craft beer bar. When I'm drinking craft beer, I don't want to wait on a server only to have them come back in 10 minutes and tell me the beer I ordered is out. It also makes sitting at the bar a better experience because people aren't constantly reaching over you. Overall, this place feels incredibly homey. I really dig the vinyls. I will be back. A LOT.
1,438 characters
Links Taproom in Chicago, IL
4.22
out of
5
based on
40
ratings.