The Maltings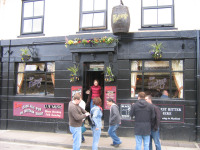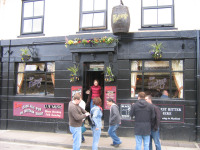 Bar, Eatery
Tanners Moat (at Lendal Bridge)
York
,
England
United Kingdom
+44 (0)1904 655387 |
map
maltings.co.uk
Notes:
Reviews by TheLongBeachBum:
TheLongBeachBum from California
4.88
/5
rDev
+13.2%
vibe: 5 | quality: 5 | service: 4.5 | selection: 5 | food: 5
York is a very popular tourist destination, mainly because of its extremely well preserved ruins from the Roman era, when it was called Eboracum, yeah I prefer York too.
I used to live in the adjoining county West Yorkshire & at least 4 Saturdays out of the year would be spent Pub Crawling around York's many varied & historic Ale Houses with friends. We would catch the train from Leeds, & we knew that once we arrived at the historic York Railway Station, we would exit turn left & only have a very short walk to that first beer in the Maltings. *Always* the first Pub on the Crawl, & so very often, it was also the Last, as we could not resist temptation to have "just a quick one" before we would make the mad, drunken dash for our Train home.
An Alehouse since 1842, known as the Railway Tavern, linking it to the modern day past of York as one of the great Cities of Victorian Railway Engineering, then renamed as the Lendal Bridge, because it is well erm, at the base of Lendal Bridge, & since its private purchase from Bass in 1992, now known to thousands of CAMRA Members & RealAle fans as, the Maltings.
A striking frontage is recognisable from a distance. The lower floor frontage is painted black, whilst the upper floor is starkly white in contrast. A solitary hanging wooden cask is accompanied by hanging flower baskets. This Pub just entices you to enter. Inside it is classic wooden fittings, tables & chairs. Basic boozer surroundings but very cozy.
Beer range is superb; it should be for this is a true Free House. I believe it only sells Black Sheep Bitter as a permanent regular. I always check the chalkboards that list the day's offerings of some of the finest cask-conditioned beers, I loose count of how many; it may well be double figures. Also, sells Foreign beers, about 5 on draft from Belgium, Czech Rep. & Germany; as well as around another 20 from bottles as well. Not only does it sell quality beer, but it serves quality drinks in general; a Real Cider, traditional Fruit Wines, Single Malt Whiskies, etc. Food is only served at lunchtime, we always had something to eat here first, before we embarked on a good days drinking. Food is superb & well priced, the RealAle & Beef Pie is my favourite.
Wow, doing this Review brought back more happy memories than I care to share.
Quite simply, one of England's greatest Real Ale Emporiums & the 'unofficial' Official Start & Finish Line of many a York Pub Crawl I can tell you!
Just make sure you don't miss your Train though!
Jan 04, 2003
More User Reviews:

Dreyski from England
4.19
/5
rDev
-2.8%
vibe: 3.75 | quality: 4.5 | service: 4 | selection: 4.25 | food: 4
Jan 21, 2018
BlackHaddock from England
4
/5
rDev
-7.2%
vibe: 4 | quality: 4 | service: 4 | selection: 4
York is a fine drinking city, with many good, quality bars to choose from, almost all selling cask ales. The Maltings is popular with locals, as well as tourists. Over the weekend of the Christmas Market (26 Nov-28 Nov 2010), it was full to the rafters with both. Doormen having to monitor the flow of customers from early until late. Every hotel and B&B fully booked and over 200 coaches on the Saturday alone, York is a very popular city!
My little party of 16 arrived at The Maltings in dribs and drabs (otherwise we wouldn't have been allowed in), we got seats and a table in the end, and as our group grew we spread out even more, taking over almost a fifth of the pub by the end of the night. Single room, basic place, difficult to comment on the decor, etc, because it was so full.
Good friendly atmosphere, staff busy but pleasant, serving as quickly as they could and without favour, cask ales in good order and all in all a good place to be on a frozen Saturday evening.
Nov 29, 2010

JohnfromDublin from Ireland
4
/5
rDev
-7.2%
vibe: 4 | quality: 4 | service: 3.5 | selection: 4.5
I had been on a visit to York (for business) and took a taxi towards the train station. As I was early, I asked the driver could he recommend a place with a decent beer selection and that was close to the train station. He asked "were you ever in The Maltings?". I replied "no" and he instantly said "well, you're going there now!".
I was very glad he did, this is a place I never would have known about or stumbled upon, and yet it is close to the station. It has a very good cask beer selection, and I whiled away a couple of hours going through some of them. All were in good condition. This place is popular, so it starts to fill up as 5pm approaches.
The interior is of wood, with wooden tables and chairs. It seemed to be frequented by a friendly lot, but maybe that's just the way Yorkshire folk are! Great spot.
Sep 02, 2010
mdagnew from Northern Ireland
4.03
/5
rDev
-6.5%
vibe: 4 | quality: 4.5 | service: 3.5 | selection: 4
Visited here in June 2010 after a trip to the National Railway Museum which is just round the corner...
Inside has lots of dark wood - floor, wall and tables all kind of meld into one. Kind of cosy though... The walls have lots of old beer signs etc.
There were 7 or 8 handpumps in action when we were there... i only had time to try the Banks and Taylor Dragon Mild which was tasted excellent and was served in perfect condition...
Service was a bit frosty - a couple of young barmaids didn't look particularly interested in what they were doing and couldn't even manage a smile...
Didn't try the food but what i saw looked pretty good...
All in all a fine bar and probably one worth going out of your way for...
Jul 08, 2010
surfadelic23 from Florida
3.94
/5
rDev
-8.6%
vibe: 3.5 | quality: 4 | service: 4 | selection: 4
This is a fun little pub that you'll likely walk by on your way from the rail station. We sat in the table in the front with the toilet bowl next to it and had some delicious pints. My wife had the darkstar espresso which was good as always, I tried an offering from the atomic brewery fusion which was just ok. I followed it up with the oakham ales offering which was inferno. The staff were very friendly here and really knew their stuff. In addition to the beer selection, they also have a wide variety of counry fruit wines, and a hell of a large selection of ciders to boot. This is one place where you can have a very good session. It's also close enough to the rail station that if you have time to kill while waiting for another train that you can grab a pint...
Nov 12, 2008
JohnW from England
4.35
/5
rDev
+0.9%
vibe: 4.5 | quality: 4 | service: 4.5 | selection: 4.5 | food: 4.5
This well known "real ale" pub in York is only 5 minutes walk from the Station, and visible below & on the right as you join Lendal Bridge walking towards the Minster.
Interior seems a bit dark at first, with bare floor boards, plain wooden tables with benches or chairs. Walls dark wooden panels, then rough plaster above painted dark brown. The ceiling in many places is door panels! The walls are covered with old traders signs and beers of yester-year, making it an intriguing place! Eight hand pulls on at time of visit, with Black Sheep Bitter being the regular ale. Other beers from York, Roosters and other local breweries - great selection. Pub was very busy on our two visits, one lunchtime and one evening, but just managed to get a seat each time.
Excellent service from keen knowledgeable bar staff, and good mixture of drinkers - both local beer enthusiasts and tourists, making it a lively but not "over loud" atmosphere.
Excellent food in huge portions is served lunchtimes only, and very good value.
The beers we had on both occasions were in excellent condition and much appreciated. Good range of bottled beers too.
As others have said, this is THE place to visit for real ale when in York, though do not be surprised if you cannot get a seat - it is not that big a place, but definately worth a visit, and lunchtime food is very good.
Beer prices average for York (£2.60 - £2.80 a pint from hand pull) in April 2008.
JohnW
B'ham UK April 2008
Apr 25, 2008

GreatPondBrewer from California
4.86
/5
rDev
+12.8%
vibe: 5 | quality: 5 | service: 4.5 | selection: 5
By far the best pub I vistited during my stay in England. In a strange place considering the old look of the building, but inside you could forget that there were so many modern buildings about. This place was the real deal including a nice warning to those who like crap on tap and loud music (they weren't welcome). There was all sorts of signage on the walls of whiskys, tobacco and breweries. Old wooden floors and traditional pub furniture were all there. The bar was replete with at least 10 hand pumps and so much selection that it was hard to choose. They had some nice obscure German and Belgian beers on tap as well as some great local beers on cask. Everything tasted great and the service was wonderful. The people who came to drink beer there were certainly happy to sit and chat and not make a big deal about anything. This was just a place to meet, talk, enjoy comfort and a pint. Nothing more, nothing less.
Mar 24, 2005
GreenWBush from Oregon
4.56
/5
rDev
+5.8%
vibe: 5 | quality: 4.5 | service: 4 | selection: 5
A great pub in touristy-but-still-stunning York. This pub served as home base for a long weekend of pubbing! By the time I left, I almost felt like a regular, something that rarely happens when you are drinking in someone's local.
The location of the Maltings is under an overpass by the river. It seems like a bit of a shady locale, but once you are inside you know its right. They have a nice selection of local and not-so-local real ales as well as a nice selection of single malts. I spent most of the time in York drinking from the York brewery, but I did catch up on some great small breweries.
The interior of this pub might be the coolest thing ever. It has the perfect combination of classic public-house interior blended with post modernist touches like street signs and antiques. There's plenty of room to move about, but count on it being crowded.
Do yourself a favor and pick yourself a Maltings pint glass from last year for a pound. I'm sure glad I did.
Jan 21, 2004
The Maltings in York, GB2, United Kingdom
Place rating:
4.31
out of
5
with
9
ratings