The Seven Hundred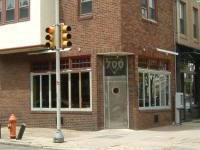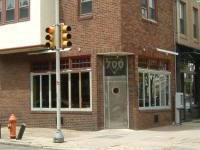 Bar
700 N 2nd St
Philadelphia
,
Pennsylvania
, 19123-3008
United States
(215) 413-3181 |
map
the700.org
Notes:
PLACE STATS
Reviews:

10

Ratings:

pDev:

6.3%
Reviews: 10 | Ratings: 12
Reviews by jrancan:
4.22
/5
rDev
+2.2%
vibe: 4.5 | quality: 4.5 | service: 4 | selection: 4
I'm with Davo on this one. On it's own, this place would be a great find, but the fact that it's only a block away from Standard Tap hinders the rating. Good to very good selection of Belgian's, German's, and American Micro's. Nothing much to look at. Beer's were averaging $4.00. Between this place, Standard Tap, Druid's Keep, North 3rd, and the newly opened Abbaye, Northern Liberities might be my favorite area to hang out.
Update: I Have to up my rating on atmosphere because 700 Club is dog friendly. Dogs are welcome in the front section of the downstairs bar.
568 characters
More User Reviews:

4.14
/5
rDev
+0.2%
vibe: 4 | quality: 4 | service: 5 | selection: 3.5
Visited 7:30-8:30pm, 9/11/10
You just hafta love a bar that's name so blatantly rips off the Pat Robertson-founded right-wing institution. Probably didn't need another beer, but after a dusky walk spent nosing around at a couple options and eyeballing the rebirths and neglect in the surrounding blocks, I settled in at 700 Club. Average to look at from the outside, but inside is an understated mossy green, an elongated wedge with a single TV (tuned to MLS - Philly v. Chicago action! - someone(s) there is/are big 'footie' fans, just look at the chalkboard for the next televised match) and a stocked cooler of beer.
A modest selection in this trendy-ier corner bar: basics from the likes of Hoegaarden, Carlsberg, and Fullers anchor the menu; but a cask choice (which I forgot to note), the Victory Stout, kolsches from Lancaster and Gaffe, and a Cricket Hill Bitter (my choice) more than make up for it. Good beers, not a 'destination-worthy' list, but a few gems and more in bottles...and if you or a friend are more inclined toward a cocktail, they seemed plenty capable of satisfying your urges.
Best here was service: Anders was managing about as friendly a tap as I've enjoyed in... maybe ever. From his 'welcome to the neighborhood' greeting to his frank talk about soccer (and sports in general) to his insistence that a favorite David Bowie album fill the air, a really good 'tender. He shared samples and recos for not just beers (which he seemed to know well) but things to see and do in the city. And the rapport seemed ongoing with everyone: while I enjoyed chatting with a couple from the area (Long Island transplants), he carried on with them in the same witty/snarky candor. Attentiveness was, possibly, helped by a room that wasn't very busy, even midway through a Saturday evening, but still an impression was made for this first-timer, and it was a good one. (reading below, it sounds like roan22 had a similar experience).
Perhaps not a spot to go out of your way for, but since there are a number of other interesting places on nearby blocks, it wouldn't hurt ya to throw in a stop at 700 Club, would it? I missed out on the dance party that may or may not have happened later upstairs, but I'm probably too old for that anyway...oh well.
Cheers, 700 Club. And thanks for letting me park out front overnight. Walking to the hotel = good idea.
PS: free temporary tattoos for the asking...or permanent ones down the street.
2,453 characters

4.2
/5
rDev
+1.7%
vibe: 4.5 | quality: 4 | service: 4.5 | selection: 4
I go to 700 Club whenever I'm in the neighborhood after a night of drinking to have a good craft beer and dance through last call. The downstairs is a respectable beer bar with about 10 taps of mostly local beers and several cask ales. The emphasis here is on well made beer at an affordable price.
The bar is dark and dingy with nostalgic decorations and wallpaper that would look at home at Grandma's. The downstairs bar is normally fairly patronized by and interesting crowd of local hipsters and travelers from outside the city and Jersey. The upstairs is where the party's at--a DJ spins records and plays an eclectic mix of music from what looks to have been a bathroom. That past Saturday, I heard Phoenix, Paul Simon, Michael Jackson, Arcade Fire, and Edward Sharpe deftly mixed.
It's a nice place to hang out if you are in the neighborhood and want to meet some cool people and get your dance on at the makeshift house party.
936 characters

3.5
/5
rDev
-15.3%
vibe: 3.5 | quality: 3.5 | service: 3.5 | selection: 3.5
Located at 700 North Second Street in Philadelphia, hence the name ! ; you will this bar on a corner with big windows open to the air in these warm weather months, filled with a mostly young crowd. I was here late at night on a Saturday and it was loud, but hey last call is coming up soon, so that is to be expected. As stated earlier, they have 10 taps and a couple casks. Some PA area beers, Yards, Victory, etc, Guinness, Fullers porter... They have some pretty good bottles too : Chimay, De Dolle Oer Bier, Delerium, and some more. I would have preferred it if it was a little less crowded. But if the people are thirsty, let them drink !
643 characters
4.34
/5
rDev
+5.1%
vibe: 4.5 | quality: 4 | service: 5 | selection: 4
This bar I went to the other night on my Northern Libs neighborhood mini-crawl. This was the last stop for the night, on a Monday, and the bar was almost empty. There may have been 4-5 other people there the entire time I was here, which was only for one round. I have been to this bar once before a long time ago, when there was an upstairs lounge. I am not sure if the upstairs of the 700 club is still open. Maybe just not on Mondays.
Looking around the bar area, the atmosphere is best described as "no frills." Its on the divier end of the spectrum. The bottle selection is advertised to the left of the bar on the wall, with adhesive letters. Many spaces existed where a beer had been removed as a product for sale. This made the bar appear a little shabby. Small complaint, because besides the new Foodery (which is located one block up and one block over), the 700 club has the most selection of bottled beers in this entire neighborhood.
They had 2 casks conditioned beers, one being the Yards ESA. They had a Sierra Nevada Pale Bock, which I liked when I sampled it but a pint of it was too much, too sweet for me. They had the Yards Philly Pale Ale. My friend was happy because they had Young's Double Chocolate Stout there.
The bar is long, straight across, and a piece of molding actually fell off the bar, from underneath when my friend scootched his bar stool in LOL. There is a cold case where all the bottles are kept. The liquor bottles and glassware were kept in a neat shelving/cabinet system. Someone's books were also in one of the shelves there. I liked this, this reminded me a bit like you were drinking in someone's house (only sitting at a long bar).
The bartender appeared to be really bored, and was doing a crossword puzzle when we came in. So I engaged him in a conversation about music and beer. He was a self-proclaimed beer geek and we discussed the current Yards beers and bock beers in general. I was shocked to discover that 700 club had a record player as the source of the Interpol I heard playing. Next the friendly bartender played My Morning Jacket's "Z" album. He let me look at the record sleeve since I hadn't heard it before. If the taplist was just a wee bit better, I'd be super happy. Still though, I think I have found my new hang-out spot on Mondays. Thanks dude!
2,329 characters
4.14
/5
rDev
+0.2%
vibe: 4 | quality: 4 | service: 4 | selection: 4.5
The epitome of young Philly attitude can be found here. Since I am young, born and raised in Philly, and can cop an attitude from time to time, I think I fit right in. Anyway, the place has the usual Nothern Liberties atmosphere, with the dim lighting, small rowhome space, and college music. But the beer is worth going for. I had a Fuller's London Porter, and the boyfriend enjoyed the tough decision between two hop-filled casks: Yards or Hedonism. Everyone is very friendly here, from the bar staff to the regulars. Everyone wants to know where you came from, and in return you'll be treated like family. This is a very comfortable hangout, and you'll be sure to find a beer you'll like here.
696 characters
4.5
/5
rDev
+9%
vibe: 4.5 | quality: 4.5 | service: 4.5 | selection: 4.5
So it's your typical frigid February Friday in Philly, and I'm on my way to the Tap for beer and food. I get to the Tap, and it's packed - like seriously packed, to the point that I cant a seat anywhere in the entire place. Methinks I'll come back; in the meantime, I'll head down the block to the 700 to see what's on. Well here's what was on - a hand-written label on a hand pump attached to a cak reading "Troegs Nugget Nectar." Methinks I'll be staying here and drinking my dinner, especially when I have a seat right in front of said hand pump. And so I did. And everyone was happy.
I've never ventured upstairs in the 700, but the downstairs has the exact vibe and atmosphere of this whole NoLib (yeah that's like SoCal...and maybe I AM the only one who uses it) neighborhood: laid-back, artsy, chill, bohemian, unpretentious, etc. Very cool. Service was great - prompt and friendly. Some very good bartenders behind the bar.
10 taps, 2 casks, and a fridge full of interesting bottles. The taps have some locals, some "Euro" standards, SNPA and Fuller's London Porter (nice!). The two casks were Yards Philly Pale, and the aforementioned liquid ecstasy known as Troegs Nugget Nectar, which IMO has become exponentially hoppier in all forms since they began bottling this gem. And a pint of it was a mere $4. Huge bonus for having 2 PA casks. Awesome. Quite a few interesting bottles from what I could see as well - read Colonel Slander's review for a take on this.
Pretty good selection of Scotch in the cabinets behind the bar as well. They play some solid jams on the CD player and old record player; there's a mess of old records behind the bar. It ranges from eclectic jazz/funk to hip hop to Bruce. Really cool. This place is just screams laid-back good times. A must stop in the Northern Liberties, and part of my "laid-back kick-ass beer and great vibe" trifecta of bars in the neighborhood, which also includes the Tap and North 3rd, all of which are 2-3 blocks between them.
2,001 characters
4.22
/5
rDev
+2.2%
vibe: 4.5 | quality: 4.5 | service: 4 | selection: 4
I'll start with atmosphere, because it's really unique...
Downstairs there's a bar with about 15 stools, plus a few tables. It's dog friendly, so some locals bring their four-legged friends along. The dogs are always well behaved and add a friendly, down-home feel to the joint. On weekend nights, there's a DJ upstairs spinning great old hip-hop and funk. This is not an expensive, wannabe Studio 54 place; instead, it's like the coolest private party you've ever been to. Dress how you like--there's no cover, no bouncer excluding you and letting in the beautiful people. The crowd is bohemian, artsy without pretension, and just down right cool. The upstairs is a gutted apartment, so in the seating area near the mid-sized dance floor, you'll sit on cool old couches and recliners. The bar area is a stovetop with glass over the burners. Don't be surprised if there's a bathtub by the DJ booth.
The upstairs bar is small. The downstairs bar is the full-service bar, so that's where you'll get your beer. The selection is very good, with a diverse mix comprising mostly familiar but good belgians and local crafts (e.g., Victory and Troegs), but with some definite curveballs thrown in. Expect to be able to get beers like Hop Devil, Chimay, Duvel, Delirium Tremens, Yards, Franziskaner, and so on.
Note: There's no kitchen, but they do have packaged peanut-butter crackers behind the bar! I don't mean any sarcasm in that exclamation point. They're an old junk food favorite of mine.
1,496 characters
4.3
/5
rDev
+4.1%
vibe: 4 | quality: 4.5 | service: 4 | selection: 4.5
Hangin' gumboside at The Abbaye, talkin' to (evil) Davo on the phone, says he, "Yo dude, definitely check out The 700 Club if you're over that way". We had passed it on the way up so we'll take it in on the way down. Pretty jumpin' on this Friday afternoon...
A corner bar with giant windows that open out onto North 2nd, and people sitting in the open sills. Bar seating for about a dozen and a half and tables to the rear in this long lime green room. Behind the bar are large glass cupboards 'o booze and bottles of all sorts, smokes and glassware galore, and piles of discs and vinyl below. Vinyl, baby, vinyl. Long playing rec-ords. And a big old fridge in the corner full of bottles. Youngs, Samuel Smith, Orval, Corsendonk, Lindemans, Delirium T & N, Mackesons, Unibroue, Chimay, Youngs, Franziskaner, Julius E., and I'm thinking that I can see a De Dolle Oer Bier. Who the hell carries that? I'll have that please. I love this beer. You get good marks for carrying the Oer Bier. What else? Victory, Yards, and Bells? Bells?? They've got the Bells Cherry Stout? That'll be my second beer, I'll have that please. Points for that one too. The bartender says, "Yeah, we just have a few. We also recently had Rodenbach". You get big points for that, big points.
10 taps and a pair of casks. Standards, Guinness, Stella, Hoegaarten, Boddingtons, Sierra Nevada Pale Ale, Paulaner Hefe, and Fullers London Porter, Youngs Ram Rod, Stongbow Cider and a single local micro, Yards Philly Pale Ale. Oddly enough, the 2 casks, Flying Fish XPA and Yards ESA are also local/regional.
Service was attentative and prompt. Good little bar in the Northern Liberties.
1,658 characters
4.24
/5
rDev
+2.7%
vibe: 3.5 | quality: 4.5 | service: 4 | selection: 4.5
You know, I'm surprised I haven't reviewed the 700 Club yet since I've been going there for years... but maybe that's why. It's a tiny corner bar that offers friendly faces and a good selection of beers on tap and in bottle, but no food. However, Chiamachellos is right across the street and will even deliver if you desire! It's small, quite retro, and very cool. Everything else has already been mentioned in other reviews. It's worth stopping in if your in the area. ... ... ...since I wrote this review 700 Club has become much more trendy, and they opened up an area upstairs. It's still good, but it's got a little bit of a different vibe at times. Still a favorite!
672 characters
The Seven Hundred in Philadelphia, PA
Place rating:
4.13
out of
5
with
12
ratings